Microsoft introduces new OneNote APIs, free desktop apps for Mac and Windows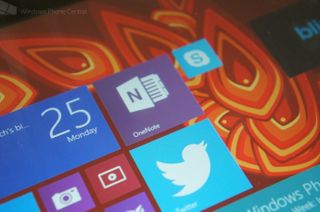 OneNote is one of the best note taking service out there right now. There's competition from apps like Evernote and Wunderlist, but OneNote is still an exceptional product from Microsoft. It gets better and better as time goes on. Not only as an individual app, but as a service. Today Microsoft is announcing three big changes coming to OneNote.
OneNote is now out for Mac, is now free everywhere and there's a new OneNote API for developers to tap into.
OneNote now available for Mac
Starting today we're truly getting OneNote everywhere. We've had OneNote built into Windows Phone since the dawn of the OS. There's also a killer desktop application for Windows users and a touch friendly one on Windows 8. You of course can get apps for iPhone, iPad and Android. And last but not least, your OneNote content is available anywhere online through your web browser.
Now OneNote is available for Mac and is free. Like all other OneNote experiences, the Mac version will stay in sync with your other devices.
Now free on the desktop for Windows users
It would be a little asinine for Microsoft to keep the desktop OneNote app for Windows as a paid offering now that OneNote is free on Mac. Which is why starting today, you can download OneNote for the desktop without needing to buy an Office product. It's free and available to all.
Having free desktop apps for OneNote on Windows and Mac is big news, but it gets even better for fans.
OneNote cloud API
There's a new OneNote cloud API that will allow Microsoft, partners, and developers to build and connect to OneNote. The new API will enable a completely new OneNote experience as it developers build new experiences and connect their apps.
Microsoft and select partners already have been working on new applications for the OneNote cloud API. Here's what you can look forward to doing soon thanks to the new APIs. It'll also give you an idea as a user what developers might be able to do with the new OneNote API. And if you're a developer, you might want to start thinking of creating innovative and unique hooks for your apps with the new OneNote API.
A web clipper for saving web pages to your OneNote notebook
me@onenote.com for emailing notes to your OneNote notebook
Office Lens for capturing documents and whiteboards with your phone
Send blog and news articles to OneNote from Feedly and News360
Easy document scanning to OneNote with Brother, Doxie Go, Epson, Neat
Write notes with pen and paper and send them OneNote with Livescribe
Mobile document scanning to OneNote with Genius Scan and JotNot
Connect your world to OneNote with IFTTT
Obviously there are some exciting new features that we'll be tapping into thanks to the new OneNote API. For example, Microsoft is releasing a browser extension that will allow you to save web pages to OneNote. Or you can send blog and news articles to OneNote from services like Weave, IFTTT, Feedly (check out Phonly on Windows Phone) and News360. Check out the full list of compatible apps on OneNote's website.
Home office scanners from companies like Brother, Doxie Go, Epson and Neat will easily be able to send scanned documents to your OneDrive notebook. Or you can use Livescribe's innovative note taking products to create notes with pen and paper that automatically go to your OneNote.
And finally, we're super excited to see Office Lens integrate with OneNote, which has just launched on the store. At the time it was undergoing an internal beta test at Microsoft. Office Lens will allow you to snap pictures of text and turn them into notes for OneNote. It'll leverage the power of optical character recognition (OCR) software to turn those images into recognizable text. We're very excited to see this come to Windows Phone and presumably other platforms. Sharing notes with classmates just got a whole lot easier. Go ahead and download Office Lens for Windows Phone.
The possibilities are endless with the new APIs and we're very optimistic about the future of OneNote. Head to the OneNote website to grab the web clipper, set up your sending an email to yourself and more! Or if you're a developer, just jump directly to the development portal on OneNote's website.
What are you looking forward to? Sound off below and share some creative ideas that you'd like to see with OneNote integration.
Source: Office Blog, OneNote
Get the Windows Central Newsletter
All the latest news, reviews, and guides for Windows and Xbox diehards.