Microsoft introduces new Surface Arc Mouse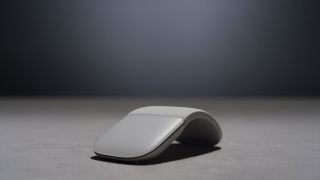 Though it didn't get any proper stage time during Microsoft's education event today, the tech giant has introduced a new Surface Arc Mouse alongside the Surface Laptop. In fact, the new mouse was only glimpsed briefly on stage in a promo shot for the Surface Laptop, but Microsoft has now released a quick video highlighting the accessory and some of its features.
Pitched as the "travel companion for your Surface," the Surface Arc Mouse is actually a new version of the Microsoft Arc Mouse. Able to be stored flat, the mouse can be snapped up into its distinct arc shape before being used. A full scroll pane also lets you scroll in either direction right from the click surface.
The Surface Arc Mouse's landing page lists it as coming soon for $79.99. There's no word on when to expect it to launch, but it will be available in Burgundy, Light Grey, or Cobalt Blue once available.
See at Microsoft (opens in new tab)
Dan Thorp-Lancaster is the former Editor-in-Chief of Windows Central. He began working with Windows Central, Android Central, and iMore as a news writer in 2014 and is obsessed with tech of all sorts. You can follow Dan on Twitter @DthorpL and Instagram @heyitsdtl.
huh? what? that looks awesome!!!

Any word on what's improved over the arc mouse Surface edition?

The whole front part is vertical/horizontal scrollable - unlike now, in which there's a touch strip in the middle for vertical scrolling only. I'd upgrade my mouse to this one, even though it's an Arc Mouse too

you'd think essentially wrapping a laptop track pad around a mouse to create something like this would have been done a while ago. i wonder if you can tap on this and use other gestures as well.

It has been done... the Apple Magic Mouse

FINALLY, horizontal scroll on a touch area. And you guys tried to burn me at the stake when I mentioned it a couple months ago.

SHUT UP AND TAKE MY MONEY! My HP mouse has been glitching-out for months now....

I guess it's just me. I really didn't like the experience of holding the arc mouse. My fingers naturally rest on the sides of my mouse, where this one just has air. Pass.

This was my problem with it. The first arc mouse was downright uncomfortable to use, especially coming from a DeathAdder

I love my Arc! Not cheap but worth every penny due ability to flatten to store. Works perfectly. Bluetooth! No funky wireless.

Wish it worked on Windows 7. Want a BT mouse that works with my personal laptop on 10 and my work laptop that's stuck on 7.

I bought a BT mouse years ago, back when I was on 7, and it worked fine on it. I wonder why it would have issues on 7.

Can't live without my bluetooth AND non-bluetooth Arc mice. Will be purchasing this one as soon as avaialble.

Just my luck. Bought a Surface Arc mouse a couple days ago. Oh well, back to the store it goes!

Omg, I was about to buy an arc bluetooth on my company store, time to wait for this one to arrive!

The touch strip on my Arc Mouse becomes unresponsive frequently, forcing me to flatten it/shut it off, then arc it again to get it working, often one or more times an hour. I hope that bug has been fixed with this model.

I still don't get these. I can't justify $80 to test it, especially when I see I lose mouse buttons and a scroll wheel. To me, it looks like paying $80 to give your computer a touchpad you don't like.

If you happen to—and I realize you might not—live near a Microsoft Store, Best Buy, Staples, Office Depot, or any other electronics / computer store that lets you get hands on with hardware, you could just go try it out in the store and not drop 80 bucks to test it.

Well this is more for on the go use, not meant to replace say a desktop mouse. It prioritizes portability over functionality.

But I wouldn't want to use this on the go, either. I lose to much basic functionality when you take side buttons away, and I'm a big fan of a scroll lock. I'd just use a trackpad, if it were about avoiding carrying a mouse.

Then don't buy it. Microsoft doesn't sit down to design a product and think, "What does Keith Wallace want to use?" before they start.

I'd totally be down for this, but dang, $80 for a *mouse*??

they added side scroll. crap, i have to replace my arc touch now...

I love my Arc mouse but I sure do miss having a back button on the side like my Logitech has.

If it supports browser back/forward gestures then I'm sold.

A full bundle will be rather expensive, especially for students.

This is the highlight of the hardware. Right here. I loved the first Arc mouse, just wish it had bluetooth. It got it in the Surface edition (got that). Then I just wanted horizontal scroll. Now its there, bluetooth, anywhere scroll. I want this to work with my Mac!

if they built it, I will buy it. Time to upgrade!

Looks like it wold hurt my hand after a while.

I've never had much luck with these mice and I've had three of them no less. In each case, the scroll would stop working and necessitate collapsing and arcing the mouse before it would start working again. This wasn't a rare phenomenon either, it would happen two or three times an hour. Fool me once...

Still rocking my Microsoft Wireless Laser Mouse 5000 (10 years old!)...one of the two best mice ever made (other is Microsoft Mobile Mouse 4000). Love the button customization, but sadly, it's begginning to act up and lose connection...so I ordered the Arc Mouse Surface Edition (which now makes sense why it had a substantial price drop on Amazon).

Is this new Arc Touch Mouse able to perform a "Middle Tap"... is so, how? I loved my original Arc Touch Mouse (the one with USB dongle)... it had a high quality build and lasted for 6 years of use, the companion software was full of features and I loved being able to configure the middle button for each program... Now the Surface edition (the one with bluetooth) had left me with mixed feelings... the build quality is clearly inferior, the gray area of the buttons has darker spots from my use, and this happens only after a couple of months... and the companion software is severely limited, since you can only set the global parameters of the mouse... And on top of that, the touch strip occasionally becomes unresponsive, so I need to turn it off and on again.... I do love the portability and form factor of these mice, and I wanted to love the Surface one, but I would be hesitant if I need to buy a new one....
Windows Central Newsletter
Thank you for signing up to Windows Central. You will receive a verification email shortly.
There was a problem. Please refresh the page and try again.