Microsoft introduces two new mouses; invents the "Windows touch tab"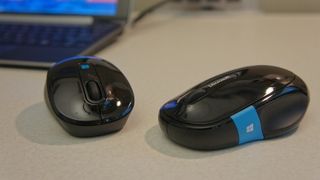 Today Microsoft added two new pieces of hardware to its accessories arsenal, the Sculpt Comfort Mouse and Sculpt Mobile Mouse. The two pieces of input hardware are designed for Windows 8 and allow users to navigate the OS with ease.
The Sculpt Comfort mouse features a touch sensitive blue strip with a white Windows logo, known as the Windows touch tab, on the right side. The tab allows users to navigate Windows 8 with the touch or swipe of their thumb. The bright blue tab can also be clicked in, delivering the user to the Start screen just as a regular Windows logo key would do.
Gestures for the Windows touch tab are as follows: swiping up – cycles through all of your open Windows 8 apps, while swiping down – reveals the multitasking list on the left side of your screen.
As many other Microsoft mouses, the Sculpt Comfort mouse features BlueTrack technology, so it can be used on any surface, and Bluetooth connectivity. The device will be available in June for $39.95.
The Comfort mouse's smaller brother, the Sculpt Mobile Mouse, is Microsoft's evolution of the Wireless Mobile Mouse 3500 and features an integrated Windows button. There is no Windows touch tab or Bluetooth on this little guy, but it still packs Redmond's BlueTrack technology. The Sculpt Mobile Mouse will premier sometime this month for $29.99.
Both pieces of hardware are served to complement Microsoft's Sculpt Comfort Keyboard which was announced summer of last year. The goal of the Sculpt Comfort accessories are to take advantage of Windows 8 navigation while providing "advanced ergonomics" for the user.
Microsoft is no stranger to developing hardware and its latest creations in mice, webcams, and keyboards are challenging competitors like Logitech to work their hardest.
What accessories do you use with your PC – are any of them Microsoft products?
Get the Windows Central Newsletter
All the latest news, reviews, and guides for Windows and Xbox diehards.