Microsoft job opening points at holidays target for the 'next release' of Windows Phone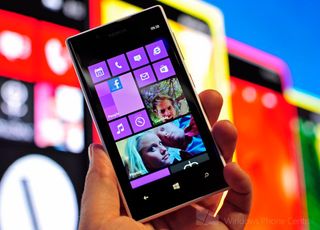 We've lightly touched on the proposed batch of updates, codenamed "Blue" that will affect multiple Microsoft platforms and service. Yesterday a job opening at Redmond was spotted and has confirmed that Microsoft will indeed be targeting the holidays, when plans to release the next major version of Windows Phone will be put into play.
Blue is an internal codename for Microsoft's products and services to be updated, refreshed and further integrated with one another - though the extent of this integration is still uncertain (unified store, etc). The job posting, which is seeking a Software Development Engineer in Test (SDET), confirms the above with the following excerpt:
Before consumers are able to access the next major release of Windows Phone, it's believed that Microsoft will release a number of minor updates (think Portico - "GDR1"). As well as GDR1 (or General Distribution Release), we'll be set to see GDR2 this coming summer and GDR3 thereafter. These releases will include bug fixes and minor features bundled.
Windows Phone Blue will be the next big milestone for the platform, although further details aren't yet available, including what will be bundled. This is the same for the next update we'll be expecting, GDR2. The timing for Windows Phone Blue could well slip into 2014, and this job posting further adds to the possibility with the company looking at a release in the holiday season.
Microsoft has shifted from shouting out about future updates to keeping quiet and banging new versions out more frequently. Note that the recent Portico update failed to change the version number of the operating system itself (to Windows Phone 8.1 for example), which leads us to believe the GDR updates prior to Blue will be build revisions.
Source: Microsoft; via: WMPU; thanks to everyone who tipped us!
Windows Central Newsletter
Get the best of Windows Central in in your inbox, every day!
Rich Edmonds was formerly a Senior Editor of PC hardware at Windows Central, covering everything related to PC components and NAS. He's been involved in technology for more than a decade and knows a thing or two about the magic inside a PC chassis. You can follow him on Twitter at @RichEdmonds.
For those of us who don't stay in the States, just when are your 'holidays'? June/July or end of year?

"Holiday" means Easter, right?

I hope this next update brings
1 links all of Microsoft platforms together like other os
2 play a game from any Microsoft platform and it syncs to every platform
3 better games
4 Skype integrated like face time and I message
5 fix video playback controls
6 fix storage space issues

If 4-6 are not fixed by year's end, then there really is no hope for the platform.

Seconded! I'm still waiting for the Skype app to leave its "preview" state and become official! I know there are some who want it part of the system and not a separate app and that's okay. There are some like me who want it treated as an app, but fully run in the background. Both sides have their pros and cons, but to be honest, I prefer a feature rich app version. That's me though and it doesn't make either side right or wrong. Sorry for my $0.02 :-(

And music still needs a fix!

I am with you on that. For me,
Skype integration with People Hub. Store integration with the desktop OS

Question. Skype doesn't run in the background in WP8?

It does. However Portico broke this. An uninstall and reinstall of Skype is required to restore full background functionality. Many users would not be aware. .

And also fix, in decreasing order of importance:
1. Email
2. Notifications
3. PDF
4. Crashes
5. Backup
6. Volume controls
7. SharePoint

OK so this means 2014 will be the "big year" for Windows Phone, right? ;-)

is it not getting big enough already? :)

To a Jehovah's Witness, there's no such thing as a holiday. :P

How did we go from updates to (my) religion?

Actually, we do have holidays, or I should say one holy day. The only one commanded in Scripture for Christians - the Memorial of Christ's death.

I have a wp7.x and will hold on to it now.
Wp8 devices could be legacy devices by Christmas this year!!!

"Wp8 devices could be legacy devices by Christmas this year!!!" "Legacy" in what context? Blue doesn't bring a kernel shift so today's WP8 generation WILL run Windows Phone Blue. Still, if you don't want to go through a year waiting for fixes, then yeah, hold on to that WP7 for sure.

There has not been one windows OS for phones that the next MAJOR update did not make the previous device legacy. My wp7.x still has 1yr on contract so I will wait. Who knows, maybe expandable memory, 1080 resolution or quad core offerings. To me the above are worth the wait on equipment purchases.

You should read more, wp8 has at least 18 months commitment time for updates and improvements.

They also said there would be an opt in program for early updates for ppl willing to be beta testers. I see that no where. I'm learning that with companies, promises are made for stock price increases but rarely kept for customers

So we need to wait till christmas ?
I though we gonna get blue at April...

APRIL? What made you think that?

Well MS told that we gonna have big updates with messenger changes and etc at april.

Well, I hope MS will be able to fix the random freeze and reboot issues this time ... Portico did not!
(Everything else is "nice-to-haves")

Will blue work on current wp8 devices, for example, the Lumia 920?

I love WP but MS seems to have just one old guy in a broom cupboard using a 10 year old pc working on the OS. When the contract is up on my l800 I'll probably skip wp8 and check back in a couple of years :(

The GDR2 is slated for the summer. Let's assume July as release date. Then the GDR3 would be launched between July and November, assuming the Blue update coming in November. The GDR 3 would be released within 4 months only? It makes sense that? GDR2 - July GDR3 - September Blue - November
Wouldn't it make more sense if it were something like this? GDR2 - April (~ 4 months after the GDR1) GDR3 - August (~ 4 months after GDR2) Blue - December (~ 4 months after GDR3)

It won't in August. Maybe July??? Or September...

I've set my expectations that Blue ships with the New phones in November and Blue for 920 gets announced at Nokia's September Event and is much like 7.8 was to the 900. Look for Blue on February 1, 2014 for the 920 generation. If there is a GDR after that it's mostly bug fixes as in the 7.8 tiles issue.. If the real timetable is more aggressive great. I doubt it. After the next Summer GDR some Blue features might creep onto the 920 before the official Blue release but I'm not counting on much.

This guy makes most sense going by how the os has been treated up to this point

I doubt there will be anything meaningful until the fall. MS are trying to catch up by going slowly.

Omg I can't believe we are talking 2014,I can't wait to see what's next for wp8 hardware and software

Ok so my update wish list: 1. Ability to disable Bing search button or change it to universal search.
2. More message tone customization
3. Notification light used for missed calls, messages, vm, or to choose what it's for
4. Forward button in IE.
5. Speakerphone fix. (am I the only one having this issue?) I'll add more when I think of something LOL!

Do you mean hardware buttons? In Russia it's customizable and I have google as a default search system

What device do you have? Also I'm talking about the search button on the right side of the windows button

Oh and I forgot 6. Date at top of screen like the time is. Date and time visible from all screens.
7. Full screen view in IE
8. In private or incognito setting to automatically erase history, files, and cookies upon exit
9. A simple clear phone cache or refresh button
10. A simple one touch gesture to power phone off...could be a touch screen button or gesture instead of holding down power button and sliding down.
11. When scrolling through apps via holding back button, the ability to flick the app up to close it. Or a one gesture way to close an app rather than hitting back button 1000 times!!! ....still thinking of more...lol

According to the information being posted about windows blue it will be a major update that will go across all current Microsoft windows platforms. The link attached if it works will lead to an article on zdnet mentioning the rumored update and what it may bring.
http://www.zdnet.com/microsofts-next-windows-blue-test-build-said-to-be-...

Hope they address the OS speed of the shell/UI. Compared to WP7 it's slower, easily notable when going into settings, back, home, etc. Even the power button lags to light up the screen. 3rd party apps do launch and operate faster. Looks like they didn't complete speed tunning for the rest of the OS.

Just in time for AT&T Nokia Lumia 900 owners upgrade eligibility. We supported you when you (Nokia) launched in the U.S. (on WP), so please have Santa bring us something nice. ;-)

November 2014 is when I'll upgrade my WP.
Windows Central Newsletter
Thank you for signing up to Windows Central. You will receive a verification email shortly.
There was a problem. Please refresh the page and try again.