Apple gets Microsoft to show off productivity on the iPad Pro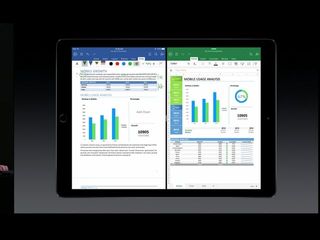 Apple's press event in San Francisco got a surprise appearance by Microsoft, which announced it would launch an updated version of its Office apps for iOS 9 and the newly revealed iPad Pro tablet.
The iPad Pro could be described as somewhat 'Surface-like' (or a lot Surface like) with it's keyboard dock, kickstand and pen, sorry, Pencil. But since Apple's own iWork apps aren't a patch on Office, Cupertino and Redmond came together in an unholy union to show off productivity on Apple's new tablet. Because Microsoft is still the big dog in that yard.
Microsoft showed off how the updated Office apps will support split-view multitasking on the iPad Pro. It will also allow for those apps to be marked up with Apple's new Pencil stylus tool, including highlighters with thickness controls. Users can draw shapes in PowerPoint slides that will automatically convert into objects, with 20 different object types.
An unusual turn of events, for sure. Have your say in the comments below and for continued coverage be sure to visit our pals over at iMore
Windows Central Newsletter
Get the best of Windows Central in your inbox, every day!
Bend over and take it, Microsoft! Thatta girl

The iPad "Pro" isn't a "Pro" at all, it is still just running IOS, NOT OSX - still just a toy.

Yes ... You are right ... As a owner of an iPad i can say its just a toy ... Anyway OSX also doesn't makes any sense to me.

It is a nice toy, however. Definitely sleek and one of those look-at-me toys that people like to have. As for OSX, trying to copy some files to the desktop was ridiculous. How are people even thinking it's easier to use?

Problem is this toy which has already done before (Arm based Surface RT) costs as much as the real thing (Intel iX based Surface Pro)

Errrr! Drag & Drop or Copy & Paste just like Windows.

That is precisely why people buy it....as a "look-at-me toy"!!!

Well if it is fast enough for Office, web, email etc, has a good battery life, a decent keyboard and and available dock it IS Pro enough for most people. I would guess that most of the users (the average user) will be more than happy with the iPad Pro. In fact the average user will find it more suitable than the Surface Pro. Time will tell but I do not think things are looking good for Microsoft.

Is a OSX- RT, like Surface RT (R.I.P. by the way)

I see it differently. Apple goes and shows their new hardware which appears much like the Surface, but Microsoft isn't about the hardware. The hardware was made so that they can sell their software - W10, Office. Now, from Apple's perspective, they know their iWorks is crap. If you're gonna show "Pro" hardware, you'll have to show Pro Office productivity software. So, it's more like: Move over and let me show your audience real professional software, Apple. In the end, the more people who buy iPad Pro, the more they'll also sell Office 365. That's a win for MS even if I don't like the way it looks. On the flip-side, do any PC users buy Apple software? No.

I agree! I think Apple knew that if they started selling something named "Pro" without any pro features, it would fail. Office is a big name in the industry, and any computing machine being able to boast this automatically have office cred. Many people seem to think every person on the planet needs CAD software, but the fact remains that Office is far more used, and that Apple would have made a mistake not letting Microsoft up on stage. And also, I think Microsoft is, silently, laughing at Apple's take on the Surface Pro range, so even I would have gone up on stage for Microsoft for that very reason.

So true we alwys like to cry and complain but this is alwys business and money talks.

Exactly what Satya said in his second email talking about the future of Microsoft. Now you see why Cortana needs to be on rival platforms too?

I haven't gotten around to attempting to fix my Lumias, so I'm still on iPhone 6... Using all MS apps. I can't wait for Cortana to arrive. MS be like the guest at Apple's party that they don't really like all that much, but has to invite because their guests likes having them at the party - lol.

Do you prefer to get fractions of the total turnover or the main chunk? And, what if Apple develops a better Office than what they have today? They can of course do it so it is only a matter of focus/time.

By the reaction of the Apple fanboys, it is Apple that is taking it. At the website the author of this article used to work, they are trying to get people banned simply for comparing the Surface Pro and iPad Pro. They are, once again, reinventing history by denying that Steve Jobs ever talked disparagingly about styluses; that no one ever claimed that the SP3 keyboard was too expensive, that no one ever said anything negative about how selling a keyboard and pen seperate was confusing, that no one ever moced the SP for having to pay for a pen, that Steve Jobs ever said that the iPad screen size was perfect size and a smaller nor larger screen was horrible, and so on, and so on, and so on. Once again, Apple reinvents, not products, but history, changing history so all their attacks against other companies and products are now good features in their own products.

If Apple wants to truly get into the enterprise, it has to get on the Microsoft train.

I'm not surprised. If you're in the Apple camp, you have to literally be in the Apple internment camp. Much like how a friend of mine went through 8 rounds of interviews at Apple for software development and was asked what his favorite feature on the Macbook Pro was, to which he stupidly answered that he didn't own a Macbook Pro. Needless to say, he didn't get the job. Also, it's going to be a throw-up-fest listening to tech podcasters drool over the announcements as if Surface Pro didn't exist. Also, "Pencil". LMAO, it's naming conventions like that that tells you who they are marketing it towards.

The best part of it is the Pencil. A few years ago when Apple changed the name to iPad Air, they had a commercial where they declared that the pencil was not neeed, all you needed was an iPad Air. https://www.youtube.com/watch?v=BQ4ak4eM_Ac Now the Pencil has been reinvented, it is a magical device that will revolutionize your life and if you don't have one you are a failure in life.

Favorite feature on the Macbook Pro ... that's a tricky question... not sure how I would answer that, so many choices... For hackers, it must be the choice Apple does over and over of hype over security by including insecure by design ports such as FireWire and Thunderbolt, which enables anyone with a malicious device to get full memory access through DMA, completely bypassing the CPU and any OS-level access control. So the rootkitability of the Macbook Pro is probably their favorite feature. For developers and professionals, it must be Boot Camp, which enables them to keep the status symbol among the sheeps while getting rid of OSX and install a real operating system so they can get some real work done. So the Windowsability of the Macbook Pro is probably their favorite feature. For insecure people and followers, it must be the company cult that, just for a premium extra price, lets them feel like they finally are part of a group, that they can belong with the choosen ones in the elite club. So the jerk-as-a-way-of-life of Steve Jobs that makes them feel that if they hold as many devices with an apple logo as possible, they too could finally feel overconfident and stomp over others, including friends. So many things to love in the Macbook Pro :) (No need to respond to ex​plain how this is not true and how blind I am, this is of course intended as sarcasm. You might however be interested to read on DMA-based attacks and check out the percentages of Mac users who also own a Windows PC for real work)

Today I learned about Macbook insecurity by ports. Interesting.

Reinventing history haha. Such a silly claim to say. Posted via the Windows Central App for Android

Apple profit ~ $1000 MSFT profit $65 x forever. Looking forward to office presentation on the next Android Pro.

Actually, it's Apple bending over as this product has no chance without the Microsoft apps and services. Once again Apple needs Microsoft. They may spin it differently, but that is what this is. Microsoft really does not care as long as their product is the main attractor here.. Apple is catering to consumers who need/want Office here, not vice versa

:))) what??? ipad pro has no chance without ms products?? are you joking?? as like all people only use on their ipads nothing else but ms office... :))))yes it needs a good office suite, but clearly it would do very good without it.

I wouldn't say it has no chance (if its apple, it'll sell). However, this is the iPad PRO, not your regular iPad. They want to attract a different audience with this model. If it sells 20 million but eats away 18 million of iPad air sales, then its a failure. To market this model they do need office (and a whole lot more). Good thing for them many company apps these days are build for the browser, and have a (functionally limited) app for iOS. However, if I was Microsoft I would increase the cost of office 365. The professionals who want to use apple, no matter how incontinent it might be, will get their boss to pay for it. Microsoft might lose some money on Windows sales but they'll make more than up for it with lifetime office income. Posted via the Windows Central App for Android

That might work but only til Apple launches a real Office suit that they have put some effort in. Who knows, they might develop that right now..

So the winner is the one who takes fractions of the total sales price? Thats a very biased way of looking upon this.

I think the really sad thing is your actually reasoning behind this comment

I think you mean Apple.... this only shows that iWork is a complete joke and trash app.

Microsoft doesn't care if you buy an iPad Pro or a Surface Pro ... they care about that Office 365 subscription ... Microsoft will be "taking it" all right ... taking your companies' money whether from an iPad or Surface.

Wow top comment is a rape joke. GG Windows Central comments. Posted via the Windows Central App for Android

This makes an iPad almost appealing for the first time... Shame

Well its good for MSFT. It'll sell like crazy and office is THE productivity suite so its all money for MSFT. Win win.

Well, 30% of it is money for Apple.

70% of something... Apple recognises it needs to up it's game for Enterprise - hence the ibm and cisco tie up - and they clearly recognise the surface set up is productive. Great artists steal and all that; Apple recognises the threat and adapts. They NEED msft. And, bottom line, there are still more apple tablets out there so its good business for msft - the services company - to provide the goods. Win for everyone.

Microsoft don't care anymore till it makes money for Micro. .... Push their Ecosystem.

Does that apply to service subscriptions or just app purchases? Office Apps on iOS don't cost you but the Office 365 sub does.

If you buy your O365 via your iPad app, it counts toward an Apple Store buy.

I believe the iPad "Pro" is over the "FREE" screen size limit for office so user will pay for office (subscription or not)

You don't buy the 365 subscription from the store. The apps are free, but you need the subscription to get the full functionality. Does Apple get a cut from the subscription?

O365 is available as an in-app purchase. In that case, Apple gets their cut. Forever.

Will sell to consumers more I would imagine. Businesses will likely opt for SP as its the serious business product.

True. I question why one would buy this when, for pennies more, one could get a mac book pro...
.
Then again there are some fantastic brokerage software out there so this would be all one needed. Personally I'm not convinced and think the surface is the better bet but we'll see how it does.

How does MS making money on iOS (and if that continues, migrating to iOS) help you, or me?

Office 365 subscription, Onedirve subscription, etc.

MS won't migrate, they just realise that some people buy ipads, and well, they may as well use office, whatever platform they choose. This is just good business, from all sides.

Microsoft makes more money on Office than it does on the license for each Windows OS on a PC/tablet/phone.

Really? Even tho the cost of the pen is +$100 (free with a Surface) and the keyboard is +$170 (only $130 with the Surface)? And the iPad Pro has only 128 GB max and no Micro SD card?

Yeah, I saw the Microsoft rep show up at the Apple event. *Mind blown* Honestly, I think it just killed the Surface Pro whatever.

Will anybody even know there is a Microsoft event coming up anymore?m

It was always going to be a pretty subdued one, especially now. Apple is basically offering a spruced up Windows RT device, but with many more apps from iOS, and a stylus. Somewhere, Microsoft engineers are screaming in agony.....

Honestly, I think that since the Surface Pro runs a full desktop operating system that it is very much still alive and going to continue to be better in almost every way than the puny"desktop class" iPad Pro. My opinion! :)

I totally agree, but the majority of the world won't have a clue there is a better option. I don't mind being part of a select privileged few to use a better OS, but if we are too few, we are going to end up with nothing...

I don't think Pro is for majority of people, neither Surface Pro nor iPad Pro :) And the Pro minority can for sure tell the difference.

I agree with ap3rus. If you're into something more costly than an iPad mini or something cheap from Android, you're not an idiot. You know what you want and where your money goes. And for $799, you get A LOT more from an SP3, even if you don't need all of it every single minute of your life. But needing pro-level hardware maybe 30% of the time is already reason enough not to buy an iPad pro.

Frankly i have both a Surface Pro and a cheap Linx 10 Windows tablet, and id still take both over the iPad Pro. Its not even funny how far it misses the mark.

Most of the world doesn't agree with you. People are going to go nuts for this new iPad.

Most of the world is dumb, see the most popular music and movies..

True, but might as well be dumb and use MS office than just be dumb.

Apple have just shown how Pro Tablets should be done. SP4 is dead in the water, because most Tablet Pro users don't want bloated Windows. They want Graphics design and or Office with Touch. The iPad Pro is sufficient and appropriate to mix with MacBook OS high end. Apple were stung by Graphics artists flocking to Surface Pro 2, and have responded. With the death of Legacy Win32 development (name any critical Win32 mainstream Application) most Pro users want the lighter weight Windows RT, iOS or Android. Apple and Google are moving the capabilities of Android and iOS to work in Enterprise and Pro users, because those users have grown tired of unreliable and constantly updating, rebooting Windows.
Game over Microsoft. IPad Pro is the Surface killer

You definitely never tried to use Office Mobile for a real work day. It's impossible. You can use for some light edit (and your company needs O365 subscriptions for that), but its impossible to do a real work on it. Can see why not getting a SP3 with full Office or even S3 LTE instead of iPad Pro (can you even attach that Pencil somewhere?)

"Impossible" - Total nonsense. Granted if you are serious about formatting and styling your documents you need full desktop experience, In which case limited size Surface Pro is rather weak at as well. But for medium level content entry, the mobile iOS version (O365) on an iPad proplenty good enough to type medium level content in, with either Cover keyboard or Bluetoth, just as well as the Surface Cover keyboard. The SP3/4 with full blown Office, has to be attached to a full sized monitor/ keyboard to do serious work.

Yup, the surface pro 3 is a joke compared to the iPad Pro. You have to admit it.

How exactly is the iPad Pro better than the Surface Pro 3? All the iPad Pro really is, is a larger iPad. Whereas the Surface Pro line is an actual laptop replacement with full support for desktop applications.

Without any experience with it, I'd guess it works decently as a designer productivity tool, while still being a good tablet, which is not really true of Surface Pro.


It's true. People looking for a tablet experience will love an iPad, people who want to do more will love a Surface. Mostly though, a great tablet experience is what people want.

Agreed, and it's decidedly a mixed user experience on the Surface (I've owned a SP2 for two years and do architecture/design). Although it can do far more and is far more powerful, for simple productivity, and sketches I can see this being much more efficient. Most people will leave the heaving lifting to desktop-class machines - not all of us want to be able to edit our CAD files on smaller screens. That said, isn't the 128GB version almost the same price as the SP3? It's almost sad to say the Apple products will always outsell even when put next to more "capable" machines

I believe the 128GB version with a "Pencil" is actually $99 more expensive than an i5 128GB version of SP3 (which comes with the pen). I'd easily take a SP over this iPad, but like you said; it will likely outsell it's competition.

700 grams and its for reading emails and doing some stuff with 1-2apps rly ? :D

People who want a wide range of modern Apps will choose iPad Pro. With iPad Pro now supporting full graphics pen and keyboard cover input only fools would choose Surface Pro to run aging Win32 Apps. But the need for legacy Win32 is small compared to modern Apps. Windows is going the way of dinosaurs .

No, it's not. For many businesses that rely on Windows and it's legacy apps, the iPad Pro is only a stop gap device. Keyword here, "Enterprise." Wether you like it or not, that's where MS shines over everyone else. Other OSs do not have viable options that enterprise needs. So, Windows going the way of the dinosaurs, unlikely. With so many businesses running full Windows OS with software to boot...yeah ok. On the other hand, the average consumer is probably going to choose iPad Pro over SP3, if for no other reason than popularity and Apple apps. For many, the iPad will be enough., I'm not going to argue that fact. In fact, the average consumer does not use or need all the power of a Surface Pro device. However, for sometime to come, Windows will still be needed and wanted. People still do like, or at least, have to use Windows and Windows 10 is giving most people and Enterprises what they want.

Exactly! They used hospitals as an example during their keynote; sorry, but I don't see very many hospitals switching to iOS over PC anytime soon, given how much they have invested in the software they currently use. Not to mention the fact that finding the right replacement in app-form, then training everyone on how to use it, and trying to migrate existing data to the new system, would be one heck of a headache. This is exactly why enterprises and hospitals rarely update their software or hardware; it's not only experience to purchase, but time consuming to migrate everything over to and train everyone on how to use. Enterprises will consider Windows 10 because it supports their existing software and gives more control to their IT departments (huge plus in Enterprise).

Yep: Those billions of Enterprise users, will continue to use Desktop PCs running Windows. But I am challenging the use case for Surface Pro devices, which is a very narrow 'Two in One' use case, where the use of Win32 legacy Apps is further limited. Those users are dominated by simply Office, and the iPad pro will meet those needs just as well or better than Surface Pro Devices. Remember , no one is investing in new Win32 development anymore. Even new Enterprise development is more centered on Web or Android/iOS based Clients to Whatever backend.

"Remember , no one is investing in new Win32 development anymore. Even new Enterprise development is more centered on Web or Android/iOS based Clients to Whatever backend." This is simply not true. Chrome, FireFox, and Adobe CS are still Win32, as is the full Office Suite (which is more powerful, especially Excel, than the app versions). Furthermore, you clearly know nothing about how manufacturing plants, hardware development or the security industry works. All 3 require very complex applications, most of which are much larger than most tablets (or phones can support). Not to mention the hardware requirements are significantly higher. And while design can be done on a iPad (or other tablet), I don't know a single designer that wants to be stuck with one screen or the low power capabilities of an iPad. However, I do know designers who have switched to Surface Pro 3's (fully spec'd), and are quite happy. Yes, it's a slower experience than a full PC, but it has a decent amount of power, and the ability to use a hub is pretty much a must in Enterprise. Lastly, a 32GB iPad does not even come close to offering the space needed for running all the applications my company uses. We have a minimum storage requirement of 128GB, in order to ensure the device is future-proof for the various software we use.

A joke? Please explain. Nevermind the marketing and hype genius of Apple or their visibility index, please explain how it is superior. Is it apps?

Usually when people proclaim that something is "a joke" with nothing else said, it means that they have nothing else to add.

Even with a gun pointed to my head, I couldn't see your logic.

The iPad pro is really just an iPad XL.. you have to admit it...

LOL! Apple's paid trolls are making the rounds.

Haha, Apple doesn't need to pay it's trolls, they do it for free. Besides Apple got all their money last time they bought an iDevice. LOL

camping outside all night didn't do you much good

The joke is on those people who willing spend hundred more $$ for less machine. Everyone already knows about the Surface Pro... People are smart enough to see through the iPad Pro as a "me too"/copycat device.

Really? Cos this is basically a Galaxy Note Pro, which still doesn't compare to Surface Pro.

I'm speechless! Apple admitting Microsoft is right lol http://finance.yahoo.com/news/apple-just-admitted-microsoft-180625141.html

iPad Pro is basically Surface RT. It isn't pro device at all

RT never got the apps, Apple won't have that problem.

But the RT has a desktop, hdmi adaptor, standard USB port, expandable storage, can run a full fledged browser and natively connects to over 450 million peripherals, none of which is available for the iPad pro

Yes, it is, via a $20 lightning port adapter.

That stuff you just listed is not cared about by most people, which is why Surface RT failed.

RT failed because people expect Windows to run all programs. Its been fixed with Surface 3 and Surface Pro 3. Now, Surface has access to more apps (programs) than Apple ever could.

Apps don't make much of a case in making this device more than the iPad already is, though. It'll sell easy enough, but it's still limited in the same ways that the RT was (i.e. can't utilize complex software suites). It's just a more effective consumption device than the Surface RT was.

Seriously what 'complex software suites' do you run on a 12" tablet ? That is a very narrow use case. iPad Pro will kill SP4 before its even launched. Windows 10 on Tablets is dead in the water now.

Yup, actual use cases for iPad pro are very limited

I doubt that. Wait till the SP4 is out, till then relax on the doom and gloom..... Posted via the Windows Central App for Android

Right, like Clash of Clans and Tetris.

IPad Pro is running iOS 9, so still a tablet

LOL you're a moron, what don't you still don't get...it is just IOS not OS X. What are you a toddler, Surface pro is a tablet computer...iPad is just a damn tablet. Why am I even wasting my time!

Honestly I don't think you understand business then. This is about Microsoft dominance in Enterprise and extending their services. Surface Pro buyers aren't going anywhere. The majority of PC users are likely to purchase or upgrade to Surface Pro 4. Last I checked thats somewhere around 90+% of the market. Apple users are going to usually stay loyal, but if all those Apple users begin to adpopt Office more than what Apple offers. This is win for Microsoft and shows the leverage they have moving forward.

Oh please. It's a "me too" device and everyone knows it...

Don't understand why they don't release the same UI to surface or tablet owners

apple will win in the end. always.

Join the iCult and kiss their asses then bruh. Posted via the Windows Central App for Android

No they won't, not this time. This cant begin to compete with the sp3 let alone the sp4

To the average consumer the iPad wins, unfortunately. Most people don't even know what a Surface is.

Sales of the ipad keep going down yoy and surface keeps climbing in sales yoy. So surface is geting more spotlight with it being used in the nfl so people are taking notice

The iPad still sells in much greater numbers.

He's got a valid point. Apple has a good track record for making remarkable products so thus has a bit of a "cult" image. MS on the other hand is changing up to remove its' older, less appealing image of unreliable products. So naturally, Apple products will always sell. Just look at the bloody Watch. That was awful and it still sold millions :S

The unfortunate part of iPad Pro is that it will sell better than Surface Pro, even though Surface is miles better. Everything about the iPad Pro screams "Copy".

Really pitty MS how hard they worked to bring a best productivity device like surface pro 3 ..Apple simply copies which is not even by far except display n markets as if there invention n gets the applause n credit!!

Nono, apple "invents", they don't "copy" or "steal"

Please god, stop this madness!! LMAO... It just gets better.... Another apple rip off from Microsoft and the victim is helping the crook. Not to mention, Apple is once again prepared for its customers and Microsoft is once again late late late... Waiting on W10M

Next we need to see an unveil of Apple iLens, which bears a striking resemblence to HoloLens, and they have Microsoft reps show how you can play Minecraft on it :-D LOL

"Rip off? What rip off?" -Lenovo MIIX 700

The victim is getting quite a bit out of this in Apple users who will now purchase 365 subscriptions.

Bill and Steve were friends so I never expect the two companies to become as hostile as the level of competition might suggest... Plus they're both united against Google.

I agree with you and their strategies are beginning to align against Google taking over the world

Hmmm
In return gift of..
Projects Islandwood :-D

Why does everyone keep saying islandwood?its islewood as far as I remember,even Daniel mistyped it

You have Google/Bing, yet rely on your memory....
https://dev.windows.com/en-us/uwp-bridges/project-islandwood

@rahul Please change your username. You are a disgrace.

but would instagram and other apps transition to windows mobile, the only chance to grow up windows mobile is showing up that can lure to developers and get an viable os , about the surface just do not know what are talking about we in chile is not imported the surface, but the ipads yes with an proper support, probably there should msft start with.

Cause Microsoft is blowing Apple everyday -_-

This is why I like Microsoft!

MS should fix bugs in w10.

Is this the bad news? cause I'm ok with this.

I'm waiting for Daniel to tell me how this was a good idea and how it'll benefit Microsoft in the end.

Use the Apple event to whet the appetite for those who want that kind of productivity.
Then remind them that they can do the same thing on a Surface, for half the cost.
Brilliant.

Looks to be about same cost, or double if you go with the highest end SP.

how will it not benifit MS, tell me what makes more money for them Office or Surface?

It is going to be real interesting when Microsoft stops supporting their own products because of lack of user base...

Already happing. This month my Windows phone will be changed out to a iPhone 6S, next will be going from Surface 2 to iPad. I'll have to wait a while to swich out laptops as I recently purchased a new one but the next one will be a Macbook Pro. All this becasue Microsoft stopped supporting my Surface 2 and I won't be able to get a new Windows phone on Verizon.

Office is also decades older than Surface. One is the unquestionable market leader, the other a newcomer in an already saturated market. Maybe not a fair comparison there.

Microsoft is still a software company first. No, it doesn't help hardware, but it sure helps the bottom line.

This is true. Hardware is very much a side business to Microsoft. It isn't the end all-be all as some fans of this site would suggest.

They really should hire daniel for microsoft. He has the superpower of taking what is obviously bad or outright ludicrous and spinning it to making you almost buy that it is a good idea :D See nokia X

Lack of people's reading skills amazes me when they are able to produce seemingly coherent sentences.

Watch all these sheeps suck on Apple's sac. I swear people think Apple is that innovative.

Compared to all the Microsheep here doing the same?

Use the Apple event to whet the appetite for those who want that kind of productivity. Then remind them that they can do the same thing on a Surface, for half the cost. Brilliant.

And Guitar Hero and iPad games on a $99 Apple TV? Bye, Nintendo Wii, it was nice knowing you. Siri controlled Apple TV? 'Show me, Game of Thrones'. Some impressive stuff, and we're not even up to the new phones yet.

Voice controlled experiences has been on the Xbox one since 2013, with Cortana coming this fall

Cortana offers up movie suggestions? Apple just demoed Siri cueing up your movie request: "How about all the Sean Connery Bond films?" Boom.

Cortana is not World Wide. Siri is available in most of the world. Big difference...

Already have these features with my Xbox One

Its $149 for the 32GB but looks pretty cool I have to say.

lmao.The iPad Pro is basically a ripoff of the Surface RT but Apple just blew it out of the water

Wonder if those apps are in the same woeful beta state as Windows 10......

For sure not. Coz even Microsoft apps on iPad was more complete than on Windows 10

I look forward to Surface pro 4. I do not use my iPad anymore. Windows 10 is just far better than Apple iOs :-)

Oh stop whining, I'm pretty sure it was Apple who invented the Surface Pro 3..... even though I can't find their logo on mine. Just ask any iSheep.

It's part of Microsoft's mission to be everywhere no matter what device you have

I think some are forgetting that Office sales and licensing is a bigger priority to Microsoft than Surface sales, which is very much a tiny side business.

But Windows is still a big seller, even to non-business users, and iPads etc. are quickly stealing those consumers.

Not a surprise to me. This is, "the empire strikes back" against Google docs! While most of you here in this forum will say why do this,, it's a perfect business strategy to counter Google docs.

While everyone is pissing the bed over this let me remind you that Microsoft is a software company and is trying to sell as many Office subscriptions as possible.

"Pro" at the end, doesn't make it more productive or useful than a non Pro iPad. I mean... it's office, not even office make an OS more productive or better. I know this sounds like a recording, but being able to run Photoshop, illustrator, AE, Maya, 3dsmax, Black Magic's fusion or resolve, or ​having vray, or corona renderer, and in a second switch to games like Fable Legends or whatever. Run Unity or Stringray or Unreal, or just anything like this.... THAT's what make a device Pro, in my opinion. you know real software, not stupid word that even office webapps or libre office can be useful for most people. But this is my opinion. but no "pro" doesn't make it better, like other have said it's a pro toy now. not more useful than the old one.

Exactly. They say it's about productivity, yet a programmer/developer/power user simply can't do anything with this. It's almost useless.

Thank you! this is exactly my point. this is useful to SOME people who use office, because let's not be fool, these mobile office apps are limited compared with Office desktop. Like I am sure excel pros can't use it for formulas and million things like my dad does it.
But for other people who are programmers and developers, and designers, video editors, photographers... this is just useless, so where is the Pro in this device? yes, it's just a name and some people will fall for that, but it doesn't change it's dumb to call it that way for splitscreen and office.

Thats nice, but I dont use any of the software you mentioned, but I would like a device for work. Currently, the Surface RT is great for me. This looks like my RT, but with more apps and a future of support.

well that's because you don't understand my point. yeah some people will find office useful, but 1. this is mobile version of office which is not close to be like your RT version of office which is still limited compared to desktop version.
2. I am talking about other people who need a real PRO device because they do NOT work only with office, or they don't work with office at all, or are they not pro? Tell me, what can this do comapred to older iPads? split screen for what? have to documents open. well that sounds like a waste of money (we know it will not be cheap) when you can have the same limited office on your iPad "2014" and do the same thing, editing documents. and then, that would be useless to most people who need real software, people who are designers, programmers, animators, developers and fields like that.
And these mobile office apps are basic, you can't do much with them, for example my dad uses Excel for accounting stuff and do you think he can do the same thing on these limited apps? it's not =2+2 it's real excel stuff I never really got interested in. RT is dead anyway, that's why it won't get anything more. but this new iPad is advertised as PRO, while Microsoft never advertised RT as a Pro device because it was limited to what it could do, hence why they made Surface Pro which runs the software I mentioned, plus others like zbrush and rhino, Substance painter, etc, etc, etc. Others could have mention solidworks, revit, sketchup, manga studio, corel painter... my point is the same. is this only pro because it got office and split screen? well... that sounds dumb in my opinion. because in the end is the same toy device with limited Mobile apps that won't do what many people in the world do. I mean, for example... I wouldn't exactly call a person in a bank "pro" only because they are using Office word... and less if they use a Mobile version with limited features compared to desktop one. Like I said, this is my opinion. since I don't work with office and if I have to, I have the web version which I rarely open.

People have to understand that Office365 is a MASSIVE MASSIVE success for Microsoft and cross-platform Office365 is key to the core mission of Microsoft which is to reinvent productivity and business processes for ALL their users, no matter what devices they use. At that price point, I'm pretty sure the iPad Pro will be a flop, it's just too expensive and doesn't do much. Let's all wait for the Microsoft event early october.

Someone's gonna end up trying to sharpen Apple's Pencil thingy

799$ for 32gb non expandable memory, +99$ for the pencil, and 169$ for the keyboard case = FAIL

The goddamn pen doesn't even come with it?!

A fully loaded up pro, the biggest and baddest with all features is $1350. Damn.

My guess is folks will be camping out in front of the Apple Stores to buy these on day 1.

Why didnt they just call it the iPad Surface?

MIcrosoft ditch the Windows RT and gave the credits to Apple

So its basically office apps, the surface pro is a different class than this. Am not worried about this. Am sure the Enterprise market still will no really be moved by this, it's just a bigger ipad. The surface pro and surface 3 are better for productivity. As usual the stupid zombies at the verge think otherwise.

Still runs a tablet OS, one day they'll get it right :)

http://finance.yahoo.com/news/apple-just-admitted-microsoft-180625141.html

Excellent summation of the whole iPad Pro concept! Thanks for posting.

Apple just released 3D TOUCH......i can't. MS always losing in mobile.

Which doesn't look that ground breaking, perhaps a nice addition, if well implemented, but doesn't seem to bring more ease of use than a simple long press.

The way they implemented it, it is a simple long press. Something our OS dropped. You can use an apps features without opening the app.

Patently Nandela. Make W10 crappy for tablet use and then go all in with Apple tablets.

I am not sure why everyone is getting so worked up about this. We already know Microsoft has been putting its services across all platforms, and this is another example. The only disappointing thing is how they have the software available immediately on launch of the new iPad, and on top of that it seems to be a very polished version. Compared to Windows where we have to wait for months after release for a proper version.

MS has penetrated into the heart of apple ;)

And yet I can't buy a Surface 3 or Pro 3 in Mexico

I know the feeling. Can't buy a surface or a pro in Brazil but I bet that in no time the iPad Pro will be released here...

Also not from Dell or HP? Otherwise coming october you should be able to get a Surface Pro.

And everybody will say that the iPad Pro is all inovation just because the Stylus is named as Pencil and the split screen feature...hahaha.

They should have called it Apple Snap.

So they cannot have it run the same OS as their computers and the one App they use to advertise comes from Microsoft?!?!?!!? Really?!?!? Go Microsoft! I (L) it. Lol

Finally ... Apple Trying to compete with microsoft Surface Pro ... good news for Microsoft . Microsoft has nothing to lose , I hope for this appearance microsoft made some deal of Office salse on Apple & this gamble payoff Microsoft + won't affect surface salse much.

Honestly, it looked pretty good. I wonder how the SoC compares to what's inside SP3 (or 4), or how the mobile version of it compares to the SD810 in 950XL.

So...the iPad Pro is for those that want to look productive/professional while playing trending iOS games on an overpriced toy. Gotcha.

Was trying to stream the event on Edge, but no go.

Firstly iPad pro is still just an iPad. Overpriced iphone with a big screen, less multitasking and comes with a keyboard. No universal apps and slow in comparison. The surface pro is the same price, runs windows 10 with superior multitasking and has cross buy/play IPad pro isn't even remotely close to the same thing. Apple are desperately worried how fast windows 10 is being adopted.

Universal apps doesn't belong in the 'Pros' column. Theyre so buggy, it's more like a 'Con'.

Really lol. The iPad pro, doesn't belong in the pro coloumn. Seriously.

Hell will freeze over for all the Apple fans. A pen. But Steve Jobs said..oh wait :) Anyway a Surface Pro can do much more being also a PC/Laptop. Easy win for the Surface Pro. This iPad Pro model will probably just fill a niche.

APPLE announced NEW TECHONOLGY called LIVE PHOTOS...UH, LIVING IMAGES??

But, but Apple did it first. Microsoft copied, right. I can just see the uninformed arguments now from people thinking Apple invented something that has been out for years.

What makes me sad is that iPad pro will "win" by being released in way more countries in less time than Microsoft has ever released the Surface line. I live in Brazil and it makes me really upset with Microsoft...

I feel the same... At least Lenovo is bringing (I hope) the new Surface-like W10 tablet.

I always see the connections that Microsoft makes with Apple as a win-win. Anything the two can do together to ultimately marginalize and then destroy Google. They will always compete with each other, but the common enemy makes them strange bedfellows at times.

Comparing apples to Apples, Surface 3 is a full blown computer with countless functions for every task imagined. This is something like Windows RT if it had 1500000 apps in the store, in other words, the original Surface was ahead of it's time! And if this device can't even compete in the same league with Surface pro 3, then Surface pro 4 will run cyrcles around it. Yeah, you could call it pencil, yeah you could bring MS emploees (for the people to laugh and feel superior), but in the end of the day, or should I say, by the end of this year, this device will be a toy and just that, while Surface pro will always be a productivity tool. Seriously Steve Jobs's lose of Apple is getting clearer and clearer each year and this is seriously bad because technology will not rise with the same pace.. Thank god (or better, thank Panai) for the surface line because today it showed the world that if they can't beat you, they will copy your success..

Funny thing is according to the video, Apple invented the Surface Keyboard used on the iPad Pro and the Live Images, ahem Living Images. This is going to be interesting to hear people saying to me that my stuff is an Apple rip off again. I think they needed it but I hate it when they say they created it first and I have to hear it from the uninformed. And often they say it with contemp as if somehow I personally did it.

They also decided to steal living images and state its never done before.

Doesnt come close the surface...just another ipad with bigger hardware...not a productive device...

Office 365 is obviously more lucrative than giving away windows 10 at the near term
the only problem I think is that the new form factor will pick again ios developers interest luring them from developing for win 10 natively the up side is the new productivity apps optimized for this large screen would been better when converted to win 10

Looks weird, but business is business. Besides, this proves that Microsoft is a larger company.

Hmm MS in an apple press event, someone wake me up

I may get flak for saying this, but I hope this results in some useful reciprocation for Microsoft at its event, or even later on. Like Apple announcing their music app for Windows 10 Mobile. I'm not particularly fond of it as it looks and feels, currently, but having it on the ecosystem would be a *great boost* for Windows Mobile as a whole.

Good reason to see why Windows 10 will not mean anything in the phone game all the support is driven to Apple and windows phone is completely dead

Ipad RT! There's no Pro there.

Siri running on Bing? iCloud running on Azure? Apple supporting Edge? Microsoft on stage at WWDC? Sounds to me like the beginning of a beautiful alliance...

aw...that's really nice! =)

I think that was awesome! It showed to the world that if you want the iPad Pro to be really productive, you better rely on Microsoft products. And now imagine those products running on a Microsoft device... I see the SP4 killing it.

true tablet/laptop(surface) cant be copied by apple unless they market more as those where their innovation which only idogs will believe.

I feel betrayed by MSFT and Nokia is also felling alike, Windowsphone is the reason of their death now MSFT is betraying windowsphone users like me, we have nothing great in our phones. iOS user will enjoy 3d touch finger print scanner and all the buttery fluid touch and smooth user interface experience, and what we have a third class app store, crashing apps and nothing new. God help us all.

And they say the Type Cover is expensive... No USB3 on the iPad Pro, How a professional photographer gonna edit his awesome RAWs? I call the new iPad Pro an iDiot Pro~

Apple are basically trying to turn iOS into Windows...

Folks please chill it. the fact is Microsoft and Apple have been working together since whem Apple made the Apple 2 and first Mac. so to see Microsoft show it's software on an Apple Product is not NEW. Mcirosoft office is being used on an Awful lot of Macs these days. MS CEO Nadella is software orintated that is where Microsoft makes it's money. Nadella wants MS office on the Ipad Pro it gets more cash coming into Microsoft. Microsoft's best Mobile product is the MS Surface line. in fact it is now a BILLION dollar business. The Surface Pro 3 design is so tough to beat Lenovo had to copy it. I cannot wait to see what the Surface Pro 4 has to offer I bet we we see the brand New Surface Pro 4 big ass 13 to 14 inch screen Model. WOW! pr

Steve Jobs would never have allowed this! By showing people Microsoft does productivity better, it's gives their hardware efforts more credence. I feel Apple dropped the ball here!

Can't believe that happened. I am suddenly disillusioned with Microsoft. Suddenly I feel like there is no hope for Windows Phone or the Universal App plan. For the first time in my life, I'm considering buying an iPhone.

Why? Because Apple plainly admitted that productivity equals Microsoft, even on an iPad? All Microsoft has to do when the SP 4 launches is to show the world that REAl productivity means Office on Windows 10. I for once will ask anyone in my office (should they look at the iPad Pro for productivity) why they would skip the compromise and go for the real work horse, which will be the SP 4. In my books this event today was quite a win for Microsoft.

Things Apple devices have that Windows Phones don't: Biometric pass codes (yet)
Mobile Payments
Massive app catalog
Microsoft rolling out on stage showing custom made software for said device
Wide array of accessories

Again, why is it always Microsoft's fault? It's the people man, the PEOPLE... @-@

When they were demoing the Force Touch thing, i could not help but to think of the exploding tiles concept Microsoft had years ago. You pressed down and the tile exploded up with several contex sensative additional options. Once again Mcrosoft comes up with a great concept, abandons it, and then lets Apple pick it up and act like they invented it. When are they going to learn?

This. A million times over.

Microsoft always gets dogged for the things they do, so if their users don't like it, why should they? "It's only ever okay if Apple does it" (Hidden UI) =\

Why would you use this? I'd still rather just go on my Desktop or Laptop.

You might as well ask the world why mobile is a thing...they just as well don't understand you either. =#

Sitting here with my overpriced surface pro 3 looking at a much more overpriced ipad

I still think the Surface Pro 3 is better then the iPad Pro, no wait! I know its better ;-)

Surely, there must be something Apple can do/must be doing for us....

I can't see the video at work. Did it say anything about requiring an Office 365 subscription for basic creation and editing. I thought tablets over 10.1 inches required O365 to do anything at all. I can imagine some pissed off people buying an iPad pro and then finding out they can't do even basic editing like they can on an iPad Air.

I actually think it's to show more software developers that are developing for the new iStuff...Microsoft included. Now, if only these same people could reciprocate for Microsoft...no? Hmph, I guess not. =[

...and the take over began!!!

this is just what the doctor ordered, a real surface killer! :D

I still don't get why they wouldn't update Win RT to Win 10 Mobile. Abandoning it is just such a gross display of one's failure.

But aren't capable of do the same things in Windows phone instead Microsoft have abandoned to Windows phone, we demands quality apps and best quality of is is very poor Windows phone and the resuming thing also, when you upgrade a OS you improve the features but we have lost features

Wowee! Utterly amazing. You can now use Word and Excel - at the same time - with a stylus (sorry, Steve, pencil). This was absolutely impossible before - except for those of us who had Windows XP Tablet Edition in 2003. But hey, Apple is Apple and first is first. Whatever will Apple innovate next? USB? Surely not......

All the Apple fanboys are sad and defensive today. Surface is actually more popular than what many of here think and the fanboys are sad coz their god blatantly copied the surface and in true Apple fashion priced it higher.

What!? Microsoft up on stage for apple? Why don't Microsoft get their things right first?

Next is Halo and Forza will be out on PS4 with better perfomance because of GDDR5 or something... eh?

LOL Its the fucking Surface RT. HOly shit apple. Copy harder!!

Lol. Yesterday was unusually quiet amongst a certain group of friends and actually none of them watched the key note. Whereas previously they would've actually take the day off work to watch it...

It's adorable that Apple thinks real work can be done on a grid launcher. I have Office on my work iPad and all I've ever been able to tolerate is viewing Excel documents, only to turn it off and boot up my Lenovo X230t for actual work. Now, you can be frustrated twice as much with side-by-side spreadsheets. Fun!

This is what Microsoft wants, so I don't see the issue here.

Apple has effectively legitimised and promoted awareness this form-factor. I expect C-level execs will now regards a large tablet with optional keyboard as a 'must have' item and their CIO can provision them with Surface Pros. From a corp. IT point of view, the Surface Pro is ideal as ir runs Office apps and Outlook, it can be managed with SCCM, login is via Active Directory and all proven corporate stuff like anti-virus and VPN can be dropped onto it.

Microsoft now just have to make bing better which theya rent doing except in the USA. USA bing is close enough to google whereas here in other countries its just not great.

Two words: Die Apple! and the world would be a better place.

This device is what Microsoft wanted the surface RT to be