Microsoft Launcher beta gets To-Do and Sticky Notes integration, 'Hey Cortana' support
Microsoft Launcher 5.1 brings another big batch of features to the table.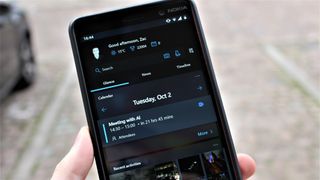 Microsoft Launcher has been on a tear lately, most recently adding Windows Timeline support and a revamped feed with its big 5.0 update. With the latest update for beta testers, now available as version 5.1, Microsoft isn't slowing down with major features.
Microsoft Launcher 5.1 is a significant update for anyone who lives in the Microsoft ecosystem. Not only does it bring added integrations with more prominent names from Microsoft's portfolio, such as Outlook and Skype, it also adds the ability to sync your tasks and notes from To-Do and Sticky Notes.
The update also brings handy features like tracking your screen time, as well as the return of "Hey Cortana" support. Here's a full look at what's new with Microsoft Launcher version 5.1:
Track your screen time, app usage and phone unlocks with the new screen time card
The Launcher To Do card now shows tasks from apps like Microsoft To Do, Outlook and Skype
The Launcher Notes card now shows your Notes from Sticky Notes on Windows, Outlook and OneNote mobile
Cortana now has an updated card with commute/traffic
"Hey Cortana" as a beta feature for the en-us market
Cortana support in the ES-ES market
Bing mini-answers shows you quick answers for stocks and currency
If you're a beta tester, you can grab Microsoft Launcher version 5.1 from Google Play right now. Otherwise, each of these new features should hit the release version soon if testing goes well.
Thanks for the tip, Tyler!
See at Google play (opens in new tab)
Windows Central Newsletter
Get the best of Windows Central in your inbox, every day!
Dan Thorp-Lancaster is the former Editor-in-Chief of Windows Central. He began working with Windows Central, Android Central, and iMore as a news writer in 2014 and is obsessed with tech of all sorts. You can follow Dan on Twitter @DthorpL and Instagram @heyitsdtl.
Hey Cortana support?!?! Please tell me this will work as well as it did back on Windows Phone. That is one of the things I miss most!

It works really well on the Home Screen, but as far as I can tell doesn't work at all while you're in an app.

Yes, it works very well, while on the Launcher homescreen. It will not work in other apps, as mentioned in article and it will not work with the Launcher screen not active. Meaning, if your phone is locked or glance screen is on, it will not work. Its nice to have some voice activated feature with Cortana again. Now, if Google allowed for other voice assistants to use voice activation, when set to default that would be perfect.

That's the issue with not having control over the platform, even on customizable Android.

I wish there was a way to test drive this. I have an iPhone now, and I'm pretty scared of Android/Google. I would at least like to see Android works with all this Microsoft stuff, but don't know anyone with an Android phone. I don't even understand the concepts of Android, like what is a launcher? They should try and make the platform more accessible and less confusing.

Think of a launcher as your home screen experience. Basically a skin for launching and customizing the layout of your apps, but there is definitely more to it than that, especially with everything Microsoft is loading into the Microsoft Launcher.

Can you have more than one launcher? It would be cool to use Launcher 10 for the W10 tiles, and use the official Microsoft Launcher for better Cortana integration.

Yes you can use multiple launchers. You will have the option to set one as the default or select each time you hit the home button.

I like Launcher 10. It would be nice if Microsoft just incorporated an option to have Live Tiles. In my opinion, I think MS Launcher would be what the UI would probably look like, if MS ever decided to (unlikely) do over.

Buy you a cheap $100 Android phone and test drive it. Hell buy a $40 cheap android and test drive it. You won't get a real experience with the phone because it'll be crap, but you can load the launcher and get familiar with "some" of android basics and I use the term "some" very loosely because it will be crap, but if you're not loading anything on it, it will work for you. All launcher is a layer on top of what the Android OS is. Launchers will have features to accommodate the OS core. YouTube it.

> Buy you a cheap $100 Android phone and test drive it. Hell buy a $40 cheap android While, as the general advice, this certainly is useful, a lot of modern day low-end phones are running Android One, which has non-obvious app compatibility rules. Could someone with Android One phone confirm that Microsoft Launcher could, indeed, be installed on it?

Go to best buy. Look at all the low end BLU devices. None are running Android One. You can get a Nokia running 7.1 for $100 So no, not all low end budget Android phones are running Android One.

You are absolutely right -- there are more than a few budget Android phones that *do not* run Android one... much less so in 2018, hence "modern day" clarification. And, answering my own question: Nokia 3.1 with Android One will happily install and run Microsoft Launcher, so it is not a concern after all.

Where do you get a Nokia 7.1 for $100 ? just paid $350 for mine through Best Buy.

I didn't say Nokia 7.1 I said a Nokia RUNNING 7.1

How are you liking your Nokia 7.1? I've had mine for three weeks and so far I am happy with a far better and more reliable camera and camera software than the Nokia 6.1 I was using. Also, being a bit narrower, the 7.1 fits perfectly in a convenient spot in my car. The only downside I've seen so far is that the phone really needs a case because it is super slippery without one.

A Launcher essentially augments your Home Screen, the core of your smartphone where you go to launch all of your apps, along with other tasks. iPhones have a notoriously static Launcher. For you, that's the grid upon grid of your apps, along with a basic search function. On Android, you can replace the default Launcher with something more powerful and customizable. For example, Microsoft Launcher integrates natively with a ton of Microsoft services, as well as gives you way more customization options to make your phone look the way you want it to.

Does it allow you to make the Apps on the home screen more like W10 live tiles?

That would be 'Launcher 10' -- AFAIK Microsoft Launcher (deliberately) does not resemble Windows Phone.

Trust me, it's NOT the same thing. I've tried it. I have a Huawei device that I've TRIED to gut as much of Google's FILTH from it as I can and configure as much of Microsoft's stuff as I can. It doesn't even come close to what I have on my Windows phones. Cortana is the most disappointing part in comparison.

Interesting. Unfortunately, Microsoft doesn't have enough control to make Cortana really sing on Android.

There are w10 clone type launchers, but they will not function like live tiles.

Launcher 10 (paid version) will do a half-decent approximation of live tiles. NOTE: I am *not* affiliated with it in any way other than paying for the app to soften the shock of migrating senior relative from (dying) Lumia 650.

All I want is for Outlook calendar to integrate with Android natively.

Hm... that (Outlook calendar) worked for me rather well. Now contacts are wholly different story...

When I add someone to contacts on my Android device, I know to do it twice: once for Google Contacts, and once for MS People -- the latter online or else it won't save. I prefer Outlook and MS People over Google Contacts and Google Calendar.

Nice. I've been waiting for To-do and sticky notes integration

I'm still waiting for Cortana to be released here in Brazil (PT-BR).

I was already using Microsoft Launcher as my primary Launcher. This update is just the icing on the cake. Sticky Notes support is fantastic, and I've been waiting for To-Do support to. I also missed saying "Hey Cortana" so I'm happy about that too.

I uninstalled MS Launcher from my Android device because of the lack of MS To-Do support. I have been using MS To-Do religiously; it's a big part of my daily workflow. I'm not going to reinstall that launcher until the MS To-Do integration is complete. Otherwise it is useless to me.

When I go to Google Play, I only see the same 5.0.2 version that I already have installed. A search on Microsoft Launcher Beta doesn't yield the 5.1 version either.

That's because you have to be signed up for the beta to get it, similar to Snapchat beta which I'm also getting.

Get the beta by downloading the regular launcher. Then pinch to zoom out on the home screen. Tap on Give feedback. Then tap "beta sign up" option.

Also from the play store scroll past the description and there will be an option to join the beta.

Great! But about a year too late for me to care about cortana anymore. I had 2 invokes in my house until last week. Replaced them with Sonos because of a lack of multi-room support, which in 2018 should be considered criminal neglect.

Cortana fail. "Hey, Cortana" only works if another app isn't active. Cortana does NOT offer to read incoming text and is NOT conversational. You CAN initiate a single text via "Hey, Cortana", but that's as far as it goes. Still useless for 100% hands-free operation, particularly in my car. So, this is a step in the right direction, but woefully inadequate.

It's almost there with Google assistant. You can summon it by saying ok Google and then ask it to read your texts. After doing that it will ask to reply etc. Not automatic, but it's there somewhat.

Neither works how Cortana did/does on Windows 10 Mobile... Yet. Both are inadequate.

Can someone confirm that landscape mode works on the *phone*. It works fine on my tablet, but I had to roll it back on the phone last time I tried...

To Do integration is neat, but not as functional as the ToDo widget.
Hey Cortana is nice, but very limited.
Sticky Note is AWESOME! the perfect solution for quick notes, and copying text across devices.
Digital wellbeing/screen time is very nice addition, MS Launcher is becoming mature really fast! BUT Where's the close app animation?

Just to ask: when do you use Sticky Notes vs Microsoft To-Do? I'd just as soon use one app instead of two, except if together both add something.

Cortana in Spanish? Now we're getting at something. Will convince someone with an Android phone to try it.

How did they miss integrating smart lists along with simple ToDo integration. I'm still using the ToDo widget instead.

Bringing up the rear here, but how do I get Launcher To-Do card? I'm not seeing it. I have Launcher tasks, but that's not what the release notes said.....and I'm not seeing a way to add Microsoft To-Do....

Only need to make Cortana available in PT-BR for Android!

Is not Microsoft giving up Cotana? I have been uneasy with the integration news recently with Alexa. More and more Cortana seems to be pushed back. It seems to be pushed back even within MS products and services. When do you support different languages? I am living in Korea, and the Google Assistant is already in Korean language support. Apple's Siri has been supporting Korean for a long time. Are you developing for multilingual support? I am a longtime disgruntled as a Microsoft enthusiast. Please understand that I have used Google Translator.

I keep getting a message that the "Cortana SDK is uninitialized" whenever I try to enable "Listen for 'Hey Cortana'."