Microsoft Launcher for Android sheds beta tag, launches in full
Microsoft Launcher for Android is officially dropping its beta tag starting today.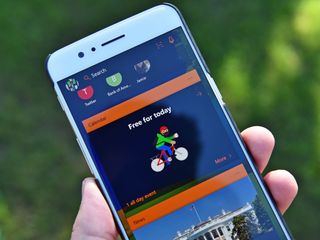 The rebranded Arrow Launcher, which recently graduated from Microsoft's Garage division to join the company's suite of Android apps, is moving on from its preview status. Announced by Microsoft's Joe Belfiore, Microsoft Launcher has started its rollout from beta, ensuring that everyone with Arrow Launcher will eventually be migrated.
Also.. MICROSOFT LAUNCHER starts it's rollout from beta to "launched" today. Everyone with Arrow Launcher will get migrated gradually.Also.. MICROSOFT LAUNCHER starts it's rollout from beta to "launched" today. Everyone with Arrow Launcher will get migrated gradually.— Joe Belfiore (@joebelfiore) October 12, 2017October 12, 2017
Aside from its recent name change, Microsoft Launcher picked up an overhaul that brought some notable new features. Part of that involved Microsoft's push to more closely integrate Windows 10 with your mobile device with a "Continue on PC" feature. Though it requires your PC to be on the Fall Creators Update, Continue on PC will let you long press on documents, images, and other files to continue what you're working on your PC.
Here's a recap of the new features in Microsoft Launcher:
The Feed — Info at your Fingertips. With just a quick swipe-to-the-right, Microsoft Launcher offers a tailored feed of your important events, top news, recent activities, favorite people and most frequently used apps.
Beautiful and customizable — Launcher has wide-ranging ways to let you personalize your phone, it's easy to set colors of backgrounds, and new "gesture" support will let even hard-core customizers create the environment that makes them most productive.
Continue on PC — And of course, Microsoft Launcher has been designed to make it easy for you to continue what you're working on seamlessly — whether it's photos, documents and more — on your PC
Microsoft Launcher delivers a beautiful Android experience
Microsoft Launcher was already available for anyone to download, so the move from beta likely won't bring any noticeable changes for anyone who was already using the app. Still, it signals that Microsoft has managed to iron out any critical issues and that the launcher is ready for primetime. If you want to check Microsoft Launcher out, you can grab it for free on Google Play now. For more on Microsoft's Android efforts, check out our early hands-on look at Microsoft Launcher. And if you're looking to round out the Microsoft experience on your Android phone, the company just launched Edge for Android in preview on Google Play.
See at Google Play (opens in new tab)
Dan Thorp-Lancaster is the former Editor-in-Chief of Windows Central. He began working with Windows Central, Android Central, and iMore as a news writer in 2014 and is obsessed with tech of all sorts. You can follow Dan on Twitter @DthorpL and Instagram @heyitsdtl.
Microsoft is on a roll on android 🤣

The Massively Screwed-up dys-Functional Team has a $594B market value and has a VP that is crowing about an Android launcher?!?! Air Launcher that is make by SK techx (http://www.sktechx.com) gets a top rating by Toms Hardware. I wonder if SK TechX even has $1M in revenue. Very strange that MSFT is hyped up about a launcher that most Android developers are using to build their SW portfolio and are giving away on the Play Store. I guess if you set the bar low enough, "the next big thing" only has to eclipse an Android launcher.

It is hard to build simple new things in big companies these days, internally it was probably an Everest effort :)

I dislike the font change

Oh android... My bad.. I was trying to find the download button.

I much prefer the Blackberry Launcher on the KeyOne - Besides, Cortana doesnt work via the BT headset I have so ive gone with Google Assistant, have to say, its better than Cortana.

they should make android handle app switching the way winpho does

I tried to download it yesterday but it kept showing as Arrow. Looking forward to it rolling out to me finally.

I had a lot of trouble getting it too. I had to download it from an APK I found online then it updated in the PlayStore right afterwards

Seriously, who outside our tiny shrinking fan club will use this?

It has over 5 million downloads.

It's an awesome launcher. A good number of people use it actually.

Don't think I could use anything else now to be honest...

Yeap. I'm using it. It's awesome. Can't believe how my new honor looks like. Just switched from 950xl

I wish they had put the same effort on UWP apps.

They did, just look at Groove. Oh........

I love this launcher but now I'm wishing they'd gone all out to create it with Live Tiles etc. They could easily have done what SquareHome and Launcher 10 have done but dome it properly and officially. They would have made migration from Windows to Android a lot easier for a lot of people. My only theory is that they didn't want to alienate the current Android users who wouldn't get it

The APIs don't exist to do it properly.

Surely they could make it look and feel a lot closer to the real thing than current W10 style launchers though? It's never going to be the real thing but it Android launchers can get the UX pretty damn close

It will be surprised if Microsoft keeps the Live Tile interface for Windows Core. I would expect a new interface that they can successfully market. Live Tiles were tainted by Windows phone and Windows 8.

Giving up on tiles would also be bad. Actually, what is worse is to keep forcing your ideas, even though many don't like it. They should offer both, so any app would have its icons, and its tiles. And then you can choose. Or even combine the two, like "I want a calendar tile up there, and weather tile right here, and those icons over here", so you would have icons, and something way better than those inconsistent widgets. Same hold for desktop. Why limit store apps to start menu, and desktop apps to desktop, and make it easy for users to customize these things. But yeah, we're talking about Microsoft, so your scenario is more likely. Not making it better for everybody,and get better products, but to make few steps backwards by saying "users didn't like it". But they could make those tiles so much more attractive, especially on desktop, such as with transparency and acrylic effect, but no...

Or they can just make the Tiles fully functional so they might actually be useful and add something to the experience other than frustration.

That too. There has been so many ideas, but they did nothing...

Windows 10 allows that choice.

No, Windows 10 offers so little options regarding icons and tiles... It is so limited, and yet they could easily make it far more attaractive.

Not sure why they'd want to. Why try to copy the interface from your failed product to your new software launch? The tiles don't spin around. It's really not that big a deal.

It's not a big deal but most Windows phone users still love the live tile interface. It's still very much present on Windows 10 PC's and tablets so it's not like it's dying with Windows mobile either

I tried this, but cannot find how to add my Google account for my contacts and calender.
Other than that, I'm not sure I like it, like most launchers out there. Sure, there are some nice things, but nothing special imho.

I bet i will remove it after 5 minutes, i will find something annoying like i did with arrow launcher then remove it and set nova back to default

Why not just *not* use it at all? ¯\_(ツ)_/¯

A lot of work to do. Grid is what you see every day. I use 5 wide... Not avail. I will wait.

Changing icons to smaller size allows for 5x5 grid option.

Once again, my life has become about what I need over what I want...android or ios? Life is all about settling for lesser of two evils.

@lucktr android for customization, ios for continuous upgrades

Except Google Pixels only have 3 years of support...

Only? I rarely keep a phone as long as 6 months never mind 3 years. I don't know many if any people who do

We pay full price for our phones that is why we love continous upgrades offered from Apple

Really? Guess I'm poor! Don't forget about the invasion of your privacy with droid!

Funnily enough, Android users are hesitant to try these new Microsoft launchers and browsers because of privacy concerns too. The amount of permissions they ask for when installed points to data mining

The definition of ugly belongs to Google pixel

The Black and White Pixel XL says you're wrong Oh and I pay full price for all of my phones so don't really understand your point?

You should donate your old phones, profits could help those less fortunate.

My old phones get sold to fund my new phones. I'm certainly not wealthy but I like trying new phones and tech. It's a hobby

I thought Apple had basically given there phones a lifespan now too? Don't they only update for a few.years like Google's Pixel?

Will it take your arrow launcher setup or do you have to do everything all over again

Your Arrow set up will carry on as before. Mine was untouched when I upgraded. Always best to back up in Arrow settings beforehand just for peace of mind though.

Does this mean there's supposed to be an update? Have not seen on if so. And I'm just meh, it's not so stable. I've seen hangs on an LG G6 and a Moto G5 Plus, also icons disappear from the home screen. I need to restore the config to get my icon layout back. Gonna continue to use Nova until Arrow improves...

Seems to use a lot more battery with this running as launcher instead of Nova which I used before

On the Galaxy Note8 I find my battery life is longer than using Samsung default launcher. I haven't used other launchers though as I really like the MS one now I have set it up how I want it.

Let's see, the Massively Screwed-up dys-Functional Team's Galaxy S8 Microsoft Edition has already been dropped from MSFT's online store. The cat's stripes haven't changed in that they won't stick with a consumer product. Being one of the last drowning rats who is still using a L950XL, if I go Android, I'm skipping a MSFT launcher. They won't support it and you'll just be left hanging again. It is comical at how "proud" the Massively Screwed-up dys-Functional Team is of their launcher. 1 person coding shops have deployed a launcher app before with lots of integrated services. I am sure that MSFT is happy now that they won't have to develop a UWP app in 6 months to follow an Android app release. What is the over/under that this will be supported when the next version of Android comes out after Oreo? Sure I'm bitter! Make be feel better with a down-vote!

Then switch launchers, its easy enough to do. its not like theres an actual investment in it.

Microsoft support of their Android apps has been pretty darn good really. You can not compare it to Win Mobile support. Regular updates come through all the time. The Microsoft experience on Android rivals the Google experience, except for the dissolution of Groove Pass, but that makes sense really when other services can do more at present. Onedrive and cortana integration are the only things lacking really, but that is understandable given they are third party to the OS.

I hope they don't screw it up now that it's an official Microsoft app.

Tried it twice on my Galaxy S8. For an unknown reason after a while Main camera t does not focus anymore and reset device. May be (Samsung support says) a wrong driver. I'll tried a further version (but not yes as it takes a day to recover properly

I was a beta tester, but I deleted the app cos it ran my battery down a lot

Good launcher actually, but it definitely uses battery faster which is no bueno

My battery use has improved since switing from Action launcher, which was itself an improvement from the native launcher.

I've used Arrow off and on since it first came out. Nice to see the official MS blessing.....
So close to being really good: MS needs to provide a launch function to get right into Outlook's calendar rather than just the mail page. And integrate Launcher's Reminders to To-Do rather than just Wunderlist. In short, provide an option to tie Launcher deeply with Office365....

I just installed it. Liking it so far.

Using it right now. Enjoy it ALOT. Love the features and the feed pain.
Windows Central Newsletter
Thank you for signing up to Windows Central. You will receive a verification email shortly.
There was a problem. Please refresh the page and try again.