Microsoft launches new time-saving features for Word, Outlook and PowerPoint users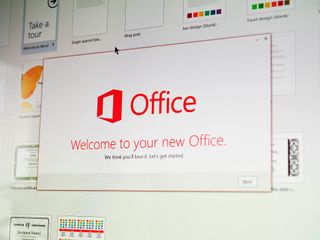 (Image credit: Windows Central)
Microsoft has announced a number of new features for its Windows Office 365 desktop users. They include adding new research and editing features for Word, Focused Inbox in Outlook and Zoom in PowerPoint.
For Word power users, the new Research feature offers a faster way to find and incorporate reliable sources for papers. Microsoft stated (opens in new tab):
For those of use who need help finalizing papers and documents, the new Editor feature in Word will be a big help:
The Focused Inbox in Outlook, which was first made available for iOS and Android users, is now available for Windows, Mac and on Outlook.com:
Also, Outlook.com users, along with Windows and Mac Office Insiders, can now access @mentions on Outlook, with plans to make it available on iOS, Android and Windows 10 Mobile in the future. It is designed to quickly find emails that need attention:
Finally, PowerPoint Office Insider users can try out Zoom, which offers a way to make interactive presentations:
Windows Central Newsletter
Get the best of Windows Central in in your inbox, every day!
Looks like it has Sway feature.

Windows Central devs, please consider supporting full screening of YouTube videos in the app, similar to how the engadget app does it...

Super awesome! Thank you! Posted via the Windows Central App for Android

Sometimes when I see how good Office 365 is with all the great features, I just wonder why people are not on this platform yet. Very good one Microsoft!

Is there the focused inbox on W10M for Office 365 subscribers? I miss that, coming from Android... (not O365 subscriber yet but very likely in the near future)

No we don't have focused inbox on w10m.

Sad, I hope it's coming. It's not a must have but it's a very good feature that you appreciate once you get used to it.

What is it? (alas don't have time to read entire article & any linked content) TY!

Focused inbox puts your messages assessed as important (usually the ones from real people instead of newsletters, etc) into a virtual "focused" inbox. All other emails are in "other". When you receive an email, you can configure it by setting for example all future messages from abc@aaa.com to go to focused.
It allows you to check only the focused inbox first and quickly see the important messages. After you can have a look at the "other" inbox, where you'll find all the newsletters, ads, emaila from unknown people, etc

Mail for W10 really needs a lot of Outlook.com features. My biggest complaint is lack of categories.

That wasn't a Windows Phone in the first video...was it?

Looks like PowerPoint just grabbed Prezi's main advantage!

These are great additions. Some thoughts: I don't write a ton of papers anymore, but this might make it even easier to quote in a blog article if you have all of the citations available like that. I could leave the bibliography in there to look smarter. I wonder if there's a way to change the behavior to just put "Source" after the quote and make it a link to the original content. Zoom seems like it's borrowing from Microsoft's own Sway and/or Prezi. I like it! I do wish that Focus was on Windows Phone first, but this is the new iDroid obsessed Microsoft.

When will this be rolling out? I haven't been upgraded to the new Outlook.com yet.

I just got it today :-).... It's already rolled out to the desktop apps for users with an Office 365 subscription. The new Outlook.com was said in a previous article to be rolled out to everyone by end of summer.

I have Office 365 and I'm not seeing it on my desktop. :/

Mmm. The Editor and research thingie sound awesome. Will be great help

There was already an add-on called ppt plex that makes the Prezi effect from PowerPoint
Windows Central Newsletter
Thank you for signing up to Windows Central. You will receive a verification email shortly.
There was a problem. Please refresh the page and try again.