Microsoft launches new training portal to get you started on Windows Phone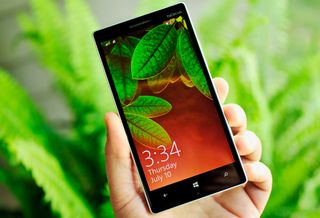 Not sure how to use Windows Phone? Are you migrating from a rival operating system like Android, iOS, or BlackBerry? Microsoft is now launching a new training portal to help new users to the platform get acquainted with Windows Phone with an interactive tutorial filled with videos.
After having launched a training video to help users get started with Cortana, Microsoft is now taking the idea a step further by acquainting users with Windows Phone 8.1 through a dedicated training site.
If you need help getting started with a Windows Phone or want to learn more about the platform, be sure to click on the source link at the bottom.
Source: Microsoft
Windows Central Newsletter
Get the best of Windows Central in your inbox, every day!
Chuong's passion for gadgets began with the humble PDA. Since then, he has covered a range of consumer and enterprise devices, raning from smartphones to tablets, laptops to desktops and everything in between for publications like Pocketnow, Digital Trends, Wareable, Paste Magazine, and TechRadar in the past before joining the awesome team at Windows Central. Based in the San Francisco Bay Area, when not working, he likes exploring the diverse and eclectic food scene, taking short jaunts to wine country, soaking in the sun along California's coast, consuming news, and finding new hiking trails.
Use my mobile data through USB tethering!

Isn't that already available? It's been on WP7 for years

Nope, not on Windows Phone 8.xx, WiFi is the option. Never use Bluetooth, so clue!

I'd like to know how to use my bank's app. Oh, wait. There isn't one. Posted via Windows Phone Central App

Buy an Android phone then. There's a lot bank app :)

Going to take alot more than a bank app to get me back on Blandroid, or iOS.

There are a lot more apps/games that they have that we don't have. If we do have it, it is most likely a 3rd party app. And MOST (not all) of them aren't even half as good as the official apps on their platform.

I think you know where the door is.

Woah, that's harsh. Talking to a fellow WP user like that. Just because we like WP, doesn't mean we can't acknowledge its faults/cons.
And the more of this bs I've been getting from a lot of you guys, the more I want to switch from my 920 to an M8.

Ha ha ha, Good luck with Android fan boys. If you think WP fan boys are bad, you are in for a treat.

I'm not FULLY leaving because of WP fanboys...

So has WP. All the banks in the Netherlands have a WP app. So it just depends where you live.

Just like Länsförsäkringar in Sweden. Their bank app for WP is even better than the iOS and Android version! And it looks great with modern UI :)

And lots of Malware to steal your bank app credentials and empty your bank account too! Then you won't need a back app anymore, so might as well stick with WinPhone and keep your money!

This is absolutely the dumbest shit. Posted via Windows Phone Central App

When will ppl realise that the "malware" on Android almost ALWAYS comes from side loading apks from shady sites.The option to install these apks is not even enabled by default in Android.If you install apps only from the Play Store there's hardly a chance of your phone being infedtected BUT don't forget that DONT INSTALL SHADY apps.Basically all it requires is a little brain and A LOT of common sense Posted via the WPC App for Android!

Maybe a discussion to have with your bank?

Exactumundo. With the attention the Surface Pro 3 brought to the media, people are flocking to that tablet. It's only a matter of time (I.e., when Threshold launches) that Windows 8 RT and Windows Phone merge. Then.....a third contender hits the stage, and most will be from that tablet and the Windows Phone users elsewhere. So yeah....looping back, bank, where's da beef?

WP's major issue, not many apps. It has MOST of the big name apps, but like none of the big, but not as known, little apps, like your bank's app.

Yep. It's the only thing I hate when using WP. It's missing quite a few apps I use regularly.

But at least there are a lot of compatible and comparable web services which we can just pin to our start.

How can you use them regularly if they are missing?

I switch between WP, iOS, and android for my daily driver. I don't like being tied down to one OS!

This is all we WP users get and will get, web apps that are mobile site wrappers. You think that experience is just the same as a native app? Ya, don't think so. The Uber app on IOS and Android is better than using the mobile site on a WP, it's a FACT.

So has WP. All the banks in the Netherlands have a WP app. So it just depends where you live.

WP users (more specifically Nokia Lumia users) would rather driver their own cars and use HERE Drive + or Transit and take a bus? /s

Bro we all know this faults before picking WP ok yeah sometimes it hard, and it not Windows phone fault entirely its not easy to convince companies to make apps.

The only thing I use my bank's app for is check deposit using the camera. That won't work through a web app. Fortunately I don't need a SIM in my Android phone to use it, though, so I keep it around just for that and a few other things.

Send them,a lively email!

Why would anyone use a "bank app"

Exactly what I was thinking...

Why would anyone use a smartphone then?

Unfortunately the circumstance that both Windows Phone and BlackBerry will have to accept, permanently.

Called my bank the other day. Asked my financial advisor whether or not there're planning on releasing a WP app. I was told that they're not. So now I'm changing bank. ;-) - I live in Denmark. A fair share of our financial institutions have a WP/Windows 8 app, even some of the smaller ones. So it's no big deal. What I'd NEVER do, is buy a crappy itoy or a shitty lagdroid. :D (seriously...)

Just two of the banks in my country have windows phone app and am switching to one of them in coming month

#1 complaint is the amount of missing apps, plus apps that just do not get updated regularly. Nightmare situation for us loyal users.

What good does it do to have a training portal if noone buys the phones. Been having my 820 for a year and a half and was looking for a new Lumia but nothing they are producing now looks worth it. Guest Ill keep the 820. I like it even though they still have not released 8.1 except for a few isolated instances. Maybe its for the better.

Same with my 920, but since HTC is doing Android RIGHT, I'll probably get the M8.

If you are an Aussie customer with Commonwealth Bank, I have found their WP app awesome. Only feature missing is the cardless / NFC function that is available on the Android platform. Still, the WP app is near on close to perfect. Uses the metro interface really well.

Hrrm...switch banks then :) If you have family in US military I suggest USAA over all others.

I actually switched from Bank of Montreal to Royal Bank, because BMO didn't have a Windows Phone app, I stopped using quite a few services when I switched to Windows Phone because there weren't any apps available, and found better equivalent that did support WP. Now I don't use any services that do not support all major platforms. Also if you switch banks you tend to get better deals than the one I was with for 2 decades.

For now... Pin your banks IE website as a tile to your start screen. Voila you have a pseudo 'app' until the real one comes out

Yep, my bank doesn't have an app for WP. But they have great mobile page. There is nothing that I can't do on the mobile site that is offered on the IOS or Android app.

Capital One and Capital One 360 have excellent mobile apps. I have the site pinned to my Start Screen, so it appears like a native app. My main bank is Chase, which does support Windows Phone. The only thing that the Chase app has that the Capital One 360 mobile app doesn't is the ability to deposit checks. Otherwise, I can do everything on the Capital One 360 site that I can do in the Chase app.

Huntington needs to get their app onto WP, and so does every other bank.

Why can't we all just get along???

Switch your banking to one with a WP app. I did....I moved from Halifax to Barclays.
It was a painless process too

I have the Chase app, but I still use the mobile website more often than not. Not sure why people want to clog up their phones with apps for such things.

Great idea Microsoft ! +925

I want that wallpaper for 720 anyone have please upload it

+620
I want it as well :( *Inserts Gollum's voice*
"We wants it.We NEEDS it,my preciousssss." :p

Same. Love that background.

here are all 20 stock wallpapers in 1080p guys :) http://1drv.ms/1kJWult

You sir, are a saint. Thanks a lot :D

You guys know how to get the full res versions of those wallpapers right? Go to the full Onedrive desktop site and "view original"... that's the one you want to save! Thanks pancoq!

Thanks a lot pancoq! Downloading them right away :)

Thanks a lot ..... Can you upload other stock wallpapers or pm them to me

My bank has a Windows Phone app as well. Yes there is always an app lacking.. But hardly something we can blame Microsoft for. I'm hoping universal apps will not only help WP but Windows 8.x / RT as well.

Barclays have an incredible app, other banks should looking at them for the gold standard.

Yes. NatWest has done a pretty good job too! :)

I switched my banking to Barclays on the strength of that app! Glad I did, as I now have the Pingit app too!

The last thing you should ask about when buying a phone is if there is a training video.

Yes except that used to be a selling point for rim is the training materials

I actually would thing that would be great since people don't know how to navigate every is out there

Dear, T-Mobile... I'm sitting on my hands with this fucking JUMP upgrade. I'm waiting for my new flagship fucking WP!! PS. WHATS THE HOLD UP??? Yours truly, Fuck yourself.

Has T-Mobile ever had a flagship WP device? Seems like they always get second tier handsets for one reason or another.

First thing that came to mind is the Titan and Titan II. Then the 925.

Isn't Jump a rip off? Lumia 1520.3 works on Tmobile

Alternatively just buy the phone outright from Amazon since (a) its sim free so you can use on whatever network and (b) over a typical 2 year contract it will actually cost you less since you won't be get extorted over crappy plans dressed up as good deal because they include a phone on your monthly cost.

Go to eBay. Search for Nokia Lumia 1020. Find a nice one for a nice price. Click commit to buy. Get the phone unlocked(if not already unlocked). Boom. New flagship.lol And if you like big devices, look for the 1520. Seriously I am a T-Mobile customer and I am NOT waiting for them to realize the value of a true flagship(not some 16gb almost flagship with no memory card) on our carrier. With the news of the cancelled McLaren and no conformed device to replace it, I would go unlocked. You'll get the phone cheaper(especially if you buy the ATT version) than you would through any store anyway. I just bought a mint, and I mean mint(like new), L1020 for $280 including tax. That was a no brainer for me as the 1020 is a once in a generation device. Until T-Mobile officially confirms they are getting the next flagship, I am not putting my options in their hands.

My issue is... I need bigger. 1520 seems too big though

Have you tried out the 1520 in person though? But as far as compatible devices for T-Mobile, I'm not sure the 930 is available to be unlocked and definitely not for cheap since ATT doesn't carry it. You can try Negri Electronics if you have the money for it. I really wish Microsoft would announce a new replacement flagship for the cancelled McLaren but seeing as how they are taking their sweet old time and T-Mobile is love with the 521s and 630s of the world, I decided not to wait another second for them.

This should be mandatory for Windows 8. Then a lot less people would be complaining about it.

The fact that you don't really need much training was one of the selling points of Windows Phine for me. When I first handed my wife a WP7 device it was intuitive enough that she got it pretty quickly with very little help from me, unlike the barrage of questions that came with her iPhone.

Don't mix the few people that they confused with Windows 8 with those more considerable numbers of people that just DON'T LIKE IT.

Personally I have no problems with user guides. Tried looking for 8.1's review guide & only found 8.0 & 7's guide for wp

Wp must die. Betrayed thousands' of workers and the memorable name of Nokia, Microsoft killed years of investigation and innovation. Microsoft is the Israel of the mobile phone industry.

So who did Nokia investigate? Was there a co worker found dead using a samsung phone :0

I think he meant research. Btw, why the hell were you awake at 2am.

Sarcasm and humour is really lost on you people aint it.... Sleep is a waste of time :)

Lol. I got your sarcasm. Next time I will make sure to add :) and Lol

Oh dear... We have another one... It truly takes a very special person to compare the daily happenings of the tech industry to a very complicated and serious global crisis. But hey, that's the internet for ya!

So what you are saying is that Microsoft is God's chosen company? lol

Have to say, great site and idea MS.

They should put these on Netflix.

About time, smart move MS

Not exactly rocket science how to use any phone! Unless your a 80yr old granny

Until you start trying enterprise these things, the a guide becomes nice.

No difficulties at all when I ditched my iPhone about two years ago, but never stop wanting to switch back.

Send your bank an email. this is the Only way they will listen. Someone should develop an app that lists missing apps and also provides an easy way to contact them to develop

how about a portal where I can download that beautiful leafy lock screen on my 1020 or 1520 :)

here you are http://1drv.ms/1kJWult

08_854x480_JonnePaulaSippola.jpg https://db.tt/cB0J9YQZ That's the link to that leafy lockscreen

Cool stuff from MS! Filling in the missing pieces slowly! BUT were is Cyan though lol!

I like how they use Mixradio for creating a playlist and discovering new songs / artists as opposed to Xbox Music lol!

Microsoft, you want to improve the transition to WP from another platform? How about improve the apps like Skype (for WP8.1), XBox Music, Office, and OneNote, etc.... You know, the applications YOU OWN that you can improve because YOU OWN THEM....for YOUR platform. Just saying.

They should actually spend some time reading our comments lol but nope we always wait for them "patiently" but the satisfaction has always been average. They need to show us great results beyong what we talk about here, no wonder migration from other platforms seems not so convincing :(

Im pretty sure the MS devs themselves dont use a WP!! Cos think abt it...for an example if they use a WP dnt they ever realise how awful their xbox music app is while listening to music???

Oh look, old Cortana icon in the live tile.

I also want this background for my Lumia 525

Hope windows phone can read flash drive or USB when inserted.

That would actually f%cking rock! SOMEONE AT MICROSOFT HIRE THIS PERSON!!!!! FFS!!

Yeah, what a genius!!! Omg, thinking about Microsoft implementing something has been on the market for years and suggested by thousands of other Windows Phone users for years! OMG, WHATA ORIGINAL GENIUS!!!! No offense, while I'd absolutely die for USB OTG support, to freak out this much for someone suggesting it is just... No.

You must be SwimSwiming in sarcasm free waters....

Not until they implement usb otg

Great!!! Only 6 years late.... Sigh
Lets see... How to insert emoji now while I am typing this on my Lumia 1020 using the paid for Windows Phone Central app.......
.......
error 404
.......
Sigh...

Thats an issue with the app, not the phone. And whats up with the 6 years late thing? Windows Mobile had emojis since 2005

http://i.imgur.com/Wg2jCik.jpg Nice one Microsoft! Awesome page though :)

Oh dear... The anti-Microsoft people are going to have a field day with this (and who can blame them? What a blunder to not even label your own products correctly).

Looks like someone got their termination notice and thought they would have some fun...

Also the "Take Photos" category doesn't work

What's the name of weather application that they use in the simulator?

I don't undersand how this company spend money on this stuff yet can't afford to move faster. Realistically nobody is going to look at this and say "oh, now that you show me this, I'll buy windows phone".

Because not everyone who buys a phone knows how to use it. If people who buy WP's learn how to use it, they can recommend them to their friends.

While this is a great resource, do we really need it? Windows Phone is pretty simple... Different, yes, which can confuse past smartphone users a little, but you quickly get the hang of it. Very user friendly.

Trust me man, there are many douchebags out there who claims that they find wp to be the most complicated os...they say they "cannot find anything"...lol stupids!

http://www.neowin.net/news/windows-81-update-2-said-to-arrive-on-august-...

Oh cool! They show the Music hub in 8.1. We know why ;/

This is a great idea. But they should start with one for the employees at the Carrier Stores first!

the site doesn't work for me......when i click on something doesn't happen anything

Wanna know how the hell can i update my L1520 to cyan -.-

Are you new to wps? Its surprising that you asked a question like that...

Till voice calling feature not in wp facebook messenger,none will migrate to this OS

Who ll migrate from Android,if his gf calling from fb messenger,the poor bf can't receive it because wp fb messenger has no voice calling feature,& his gf ll leave him in anger

Haha....that is the most pathetic thing I've read on here in a LONG time!
Your tragic little story comes fully under the title of 'first world problems.
A little tip.....use Skype!

Microsoft please complete the rollout first.

MS is just messed up now, including their marketing strategies...

That website is just beautiful!

I watched all the vids. It's nice. But the camera vids don't work.

They all show making a call to people who are in the history! You cannot search other contacts from there, which is a shame.

They didn't show how to search the other contacts from the phone hub, but you can search other contacts by tapping on the phone button at the bottom, you knew that right...

Thank god, at least the animations are smooth now...

Nice ! Posted via Windows Phone Central App

OFF TOPIC: When is Microsoft going to include cellular on/off on Action Center? So many good news and yet no fix to this huge problem :(