Microsoft launches Office 365 Video to facilitate corporate communications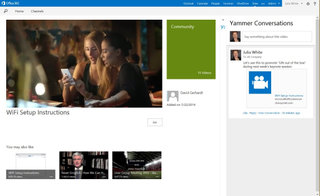 Microsoft is expanding its Office 365 portfolio with a new service called Office 365 Video that allows companies to upload and share videos internally. The feature facilitates easy sharing of multimedia over a company's intranet, negating the need for file transfers. Introduced last November, the service is now being rolled out globally.
Microsoft describes Office 365 Video (opens in new tab) thusly:
Like YouTube, content on Office 365 Video is broken down into channels. The service comes with a default channel called Community, to which all subscribed users can upload videos. IT admins will be able to manage permissions for specific channels via Active Directory. All uploaded videos will be available in several resolutions, allowing those on lower bandwidth to also stream the content with ease. Playback support is available for all major desktop and mobile platforms through an HTML5-based player.
Currently, there's a native app for Office 365 Video on iOS, with other platforms set to receive native clients in the near future. The service is available to Office 365 Enterprise and Academic plan subscribers, and will shortly roll out for Government plan subscribers. Be sure to visit the source link to know more about Office 365 Video.
Source: Office Blogs (opens in new tab)
Y'know, MS should make a YouTube competitor and make sure it is very well available in Windows and has advantages over YT. Google deserves to lose their monopoly on it.

Yeah. They'll post it on IOS first

And it will be US only ;) But a YouTube competitor might not be that bad of an idea. At least we could expect to get it at some point on WP. How about SpartanCast, SpartanTube or MSNTube :D

Isnt that called msn video

I want Windows phones to strive and be very successful in market share and Microsoft creating new services to disturb Google is good. However, I do not think Youtube is a monopoly. People upload videos to Vimeo and other video services on a daily basis. Youtube is just the most popular service in general and especially entertainment videos. Vimeo is popular with artists, art students, instructional video creators and independent animators, etc. Now you have Amazon Twitch TV. They are going to undermine Youtube's relevance in gaming communities.

Lol. Who would upload videos to it? When they can upload it to youtube and have a lot more views.

Vimeo videos are popular to embed on creativity-minded websites. It is not so much about using the website Vimeo, but rather seeing the videos embedded individually. It is about getting as many visitors to your own website as possible, to pitch something using both text and video combined. Youtube usually attracts visitors to the site, where you login and subscribe, search manually for videos, etc. Embedded videos do not work terrific with mobile devices (Windows Phone, iPad and the likes) so I rather visit the site to see the video for optimal playback in full resolution (whatever max res the device in question has) when I'm on a mobile device. On desktop, embedded videos work great, though. That said, embedded videos still are relevant, which makes Vimeo relevant, too.

Yeah Google's support sucks for mobile embedded

I don't think that Microsoft can match google in term of ads and revenue compared to Google.

Agreed. Also, the web is full of video services. It is not necessary for Microsoft to try compete with cat video uploads to Youtube. Things like Office intranet videos like this article talks about ... that is relevant. But consumers ... we can turn to any video site we prefer. It is usually nothing but entertainment anyway. Sometimes educational.

Yeah Microsoft should make a YouTube competitor. Perhaps they can call it Soapbox or something like that.

Useless. Better do a compilation w/Google, so you tube would be available and part of Windows.... Or smth like that

Compilation? You mean cooperative effort? I do not think Google is interested. Only Microsoft would benefit from it.

HAHAAHAHAHAHAHAHAAHAHAHAHAHAAHHAAH NO.

When Nadella & Belfiore are fired. Hopefully coming soon.

Does this require the org to be in the fast ring for updates because we're not seeing it in our education portal yet...

I am the admin of our e1 education office365 and video has been available for atleast a month to us. When you first sign in and see the tiles it will be a tile in the list. Its not that usefull unless your orginization has a lot of videos that they need to use.

fast ring got it quite a while back..i think we got it way back in nov/dec. Today is the global rollout on O365. Also it makes sense for MS to be releasing iOS and Android apps for these services as the user base is larger...just look at the comments for this post here.. Most comments are about a google product.. ​ ​ ​ ​

People have the wrong idea about this. This is not a youtube clone. This isnt for home use either. its just a way for businesses and schools to host internal videos.

I can see this becoming very useful in my workplace. Distributing training videos within our company is just becoming kid's play with this. It would be intriguing if MS launches a Moodle-like feature within Office 365 next.
Windows Central Newsletter
Thank you for signing up to Windows Central. You will receive a verification email shortly.
There was a problem. Please refresh the page and try again.