Microsoft launches official Xbox blog ahead of next-gen announcements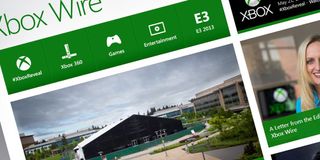 Microsoft has launched a new Xbox blog for consumers to remain up-to-date with all the latest news and content from the company.Microsoft has been revamping its news sources across the board, but the video game console has been left with no official source for some time, except or Larry Hryb ("Major Nelsen").
Taking the Editor of Xbox Wire position, Lisa Gurry has published an entry (opens in new tab) on the website to welcome everyone to the new home of Xbox news:
It's perfect timing with the next generation console just around the corner. The blog will officially come out of "beta mode" on May 21st, the very same day we're set to see what Microsoft has planned for everyone. So who's excited for potential announcements?
Source: Xbox Wire (opens in new tab), via: Neowin
Get the Windows Central Newsletter
All the latest news, reviews, and guides for Windows and Xbox diehards.
Rich Edmonds was formerly a Senior Editor of PC hardware at Windows Central, covering everything related to PC components and NAS. He's been involved in technology for more than a decade and knows a thing or two about the magic inside a PC chassis. You can follow him on Twitter at @RichEdmonds.
Can't wait for the next Xbox (Nextbox?) announcement!! Been an Xbox gamer since the beginning. I sure hope they have some truly new and innovative things going on with it. Some deeper windows phone/win8 tablet integration would be awesome!

Nextbox is a registered trademark in Canada by Rogers. Can't wait until my phone is just as useful as the controller!

I agree have always been fan of Xbox am hoping for the best. That said I'm excited for the new playstation as well so hopefully, Microsoft will best them again :)

this site should just be Microsoft Central

You must be stupid mate... Windows Phone = Microsoft OS plus the Central at the end... If you don't like it why on earth are you here....

lol idiot. i never said i didnt like it. I would rename it to MSCentral to make it more broad and appealing to all microsoft fans who reads; xbox, surface, wp, office, xbox live, news.

He never said he didn't like it, stop being a hostile ass. He just said it should be Microsoft Central, with good reasoning. The guys here do a pretty great job of covering all things Microsoft.

Three Screens and a cloud, all of Microsoft's services link back to Windows Phone.

Fair enough, but I think it's a safe bet they're going to eventually add support.

Pumped for xbox 720, woooo!
Lets show sony how its done :D

Nahh, I think it'll be xbox 920.. Why on earth would the next xbox be a 'middle-range model'?
Lol

+920 I like the way you think!

Microsoft should make this into an app for WP.

I was thinking this same thing

I think games on the nextbox will synchronize with Windows PC, Tablets and Phones since it will be running Window 8. If this happens, Windows Phone 8 will most likely become the new it phone.

Yeah I'm hoping for really tight integration with W8 and WP8. Probably won't do it for full games but for arcade games it would be awesome! Buy on Xbox and play on your PC/tablet/phone? Game changer!
Im hoping the next Xbox controller will be able to connect to our phones so we can get some amazing experiences out of them. Man im excited! I hope MS delivers!

You know Xbox will have the option to be always online so what if you can steam full games to your PC and Pro tablets as long as it is online and synched to your Xbox just like OnLive with their servers. Plus the new xbox will become our new DVRs. I'm betting we'll be able to stream our recorded content strait to our Windows 8 PC, Tablets and Phones and if we are lucky, maybe we'll be able to watch live tv from our devices as well.

just read that the 360 is also getting a dashboard redesign, including smaller tiles and other goodies and beta testing in june-july-ish.

Yeah .. At The Verge
This is how u transition from one generation to another
On the other side Sony killed Backwards compatibility lol ..
MS to the win

It would be nice if the new Xbox would allow for multiple monitors/TVs, so when playing local co-op or multiplayer you would not have to deal with the split screen.

Can't you link two xboxes in the same house and do this???

They have to use the xbox to promote windows phone, this is their opurtunity!

Rich, will anyone from WPCentral be at the Xbox event next week?

Isn't it heavily rumoured to be the Xbox Infinity? Can. Not. Wait

I bet Comcast sues them because if the similarity to Xfinity.

They can't name it Nextbox ether because its a trademark of Rogers Canada

Hope this site isn't replacing Major Nelson. Always thought it was strange that the central place for Xbox announcements was an employee's blog but that's how it evolved. Would be sad to see Larry go.

Might be going the way of Trixie... I don't miss her at all. Maybe Nelson I will... What they really need to do is bring back Chobot.

If you read the site, they are keeping it.

And no windows phone app....... Genius.

Backward compatibility and Halo 5 launch title with smart glass integration.

Backwards compatibility yes, but I dint want a Halo 5 launch title until they fix Halo 4 for the competitive players. That's one of the biggest Halo fanbases

I wish certain channels like HBO, Cinemax, and the outdoor channel could be added a la cart. That way we could skip cable and pay for only the channels we want. I would pay $10/month to have only the outdoor channel.

Finally! Hopefully the Xbox blog is updated frequently like the PlayStation Blog.