Microsoft launches SharePoint preview app for Windows 10 Mobile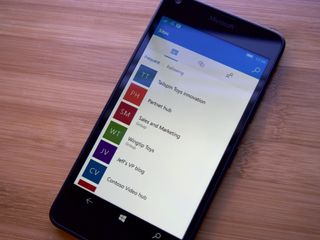 Update: Some users are seeing a "Coming soon" message when they launch the SharePoint app. It's possible that the real version is still rolling out to all markets.
Microsoft has officially launched the public preview version of its SharePoint app for Windows 10 Mobile. The app allows businesses that have Office 365 subscriptions to share news, sites, documents and more.
Microsoft stated in a blog post (opens in new tab):
Here's a list of the features in the SharePoint Windows 10 Mobile app:
Navigate from Sites to team sites you follow or frequently visit.
Navigate from Links to important sites configured by your organization.
Catch up on what's happened with the Activity view, which shows recent file activity in your team site.
Open your document libraries with the OneDrive app and then edit your files using Office mobile apps like Word, Excel, PowerPoint and OneNote.
Learn more about people you work with and discover what they are working on.
Perform an enterprise-wide search to find sites, files and people throughout your organization.
Since this is a preview version, there are likely to be some issues with the app. Still, if you're interested, you can go ahead and download SharePoint Preview from the Windows Store now.
Download SharePoint Preview from the Windows Store (opens in new tab)
It's great to see this come to Windows 10 Mobile, along with the Delve preview. Yes, it's about time it came to W10M but it's here now (in preview) so people can stop crying about it being on iOS ;)

It feels so strange seeing some real MSFT apps coming to W10M now !! Like a dream.
Now only those garage apps and the list will be full (MSFT app list). Looks like the "W10M ignoring drug" Satya Nadella was using has expired ! :D

Don't forget about Sway ;) :D

Don't forget about everything ;)
Things are going good :)

Don't forget that it's confirmed as coming? or MS don't forget to bring it? The PC version of the app looks like a web wrapper at the minute. So hoping for an update to it that also brings the client to mobile at the same time.

@Random DS, they released Sway for Mobile? I don't see it in the store yet.
It was only for iOS and Android till now.

No, they didn't, at least yet. But the option in the mobile app is there to create a sway from albums btw, it just happens to open sway.com. You mentioned, that the garage apps should come to W10M, and I was trying to say that Sway should also be released as well.

Ah, gotcha !! I hope too !! :)

I installed the SharePoint app, and all it says is "Coming soon" on the splash screen...

Yeah get the same here too. Would have been a bit more sensible to release this when it was actually ready to be used.

we did not get that message when we downloaded it..its likely that it is still rolling out to users

Hi John, any chance you can confirm the version number you have on your device? It does just seem like it's still publishing everywhere (When you publish an app in Dev Centre it does say up to 16 hours after all) - But just curious which version it is that works. From the screenshot here and the images in the store listing it looks nice!

I installed 0.8.3.0 yesterday using a link to the Store page on .189 non-Insider (it appears fully working, though I haven't used it much). I don't show any update available for it, so that's the latest as far as I see.

You need to be part of the Insider Fast ring to get the preview :)

I'm a 1020 owner who's been fast ringing since day one; we got bumped out of the system earlier this year so cannot join the fast ring, and the app doesn't work. Great...

Coming soon? U makes my day

The app is rolling out to different groups in Windows insider program. You need to be in Insider Fast group to get the right package for now. It will be rolled out to more groups soon.

I need this for SharePoint, not just SharePoint Online.

Nice. Working OK here in the UK

I still find it a little ridiculous that Microsoft apps are released in preview on Windows, while competing platforms get a non-beta version from day 1. It's as if the team developing for Windows barely knows their own programming language. Not to mention we get these apps well after their presence on other platforms...I can understand if they start elsewhere to test the possibilities, demographic and usage of the service without risking the chance of losing users by pulling the app, but leave that to the Microsoft Garage. We should be getting these Microsoft apps first, and regardless of their potential usage. If it's a service offered by Microsoft, it should be available on everything Microsoft. This whole "best on Windows" promise is becoming harder and harder to believe the more things pan out. Windows has so much potential but Microsoft is practically stabbing themselves in the back with how they're choosing to go about things. They need to put a bigger focus on mobile because they already let the opportunity fly by them when mobile was first on the rise.

Post that in Feedback Hub. We don't know if they read WC comments ;)

Yes The Sharepoint App on Android works fantastic... I was the business owner with 11 Lumia 950's and was holding out since Lumia 822 on verizon.. I finally saw the writing on the wall and am converting everyone to Galaxy 7S... Sad but I needed my Banking and Security apps and Automation Apps...

But it's also, not only in preview... but technically Unreleased

true, BUT, they just released the Updated Ondrive App for Android , IT Now has the Sharepoint link built in.. Works great, dont even need the Sharepoint App now...

I just convinced my colleague to replace his 930 with a 950. When I read about this sw coming ro iOS and android first I really regret this advice. The way things are going I find it harder and harder to justify to myself using windows mobile.

I'm not sure what app you guys tested, but it now just has a screen that says "Coming Soon". Pretty pathetic.

Hi Scott, the app is in the rollout process. Currently, only users in the Insider Fast track in Windows insider program get the right package. We will roll out to more insider groups and eventually everyone. Sorry for the confusion. The app is not searchable in the store but this blog post makes it public. Your app will be updated once it is rolled out to you.

I downloaded this yesterday and got the "Coming Soon" screen. Should we uninstall and reinstall later when it comepletly rolls out, or will this just working when it's ready? Been waiting for this for a looooonnnngggg time on WP.

It will auto update to the right package once it is fully rolled out! Thanks for your patience and support.

Downloaded, working in UK just about, contacts section crashes when trying to dig deeper, but a nice start...

Thanks! You can send crash log to us via the "give feedback" --> "report a problem" option. We'd love to look into this.

Cool... Yes I did that, sent log too :)

I hope this helps WP. Maybe getting an HP Elite 3x might be my next phone...

Why isn't this a UWP, available on both Win 10 Mobile and Win 10 thru the store? Is it too hard for MS to deliver apps like that, to demonstrate the effecticveness off the concept? Even though my 8" full Windows tablet can access Sharepoint normally, it might be more convenient/efficient to do it from an app designed for smaller screens and touch. MS, if you are going to build a new (mobile) app, make use of and support your vision of developing across form factors.
Windows Central Newsletter
Thank you for signing up to Windows Central. You will receive a verification email shortly.
There was a problem. Please refresh the page and try again.