Microsoft launches Windows 8 this week – what to look out for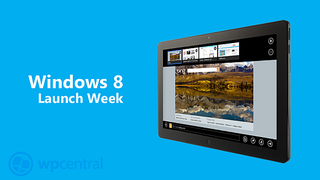 Yes folks it's finally here, the week that will see Microsoft launch Windows 8, spearheading its massive 2012 product launch schedule. It's keystone of the 'Three Screens & Cloud' play and this is where we see how it's all going to shake out.
The pre-orders for Surface have started and even run dry in some regions, invites to the various launch events have gone out and now it's time to put all the cards on the table. With such a wide ranging spruce-up of the entire product line from Xbox to Windows Phone, we're in for a wild ride. Windows 8 will be at the centre of these launches, not just because it's Windows but because with it we will see a whole host of services light up to enable the entire eco system.
The launch of Windows 8 affects us Windows Phone users deeply. Both are now locked together by their common core and more importantly by their set of backend services like Xbox Music and Video. It's the set of services behind Windows 8 that will enable the overarching dream of three screens and the cloud to solidify. How well Microsoft can pull PC, console and phone together will rest on their ability to leverage cloud technologies to help enable a seamless experience across them all. What are we waiting for?
Will we see the Windows Phone 8 and Windows 8 sync client?
We have seen early snaps of the Windows 8 Metro style synchronisation app and it's my hope that during launch we will finally hear more about this key piece of integration. At present we're using the Zune desktop client which provides music management, playback, syncing and converting of music and video files. With the dedicated apps for music and video on Windows 8, will be see only a rudimentary client to sync photos and videos back and forth or will it be more fleshed out, allowing conversion and other capabilities?
While it would be great to hear more about this tie up during the Windows 8 launch, they may hold that one back for the full launch of Windows Phone 8 on the 29th. After all, there is so much we do know about the next version of the mobile OS having a few surprised might be a good thing eh?
SmartGlass
Some of that technology is already in place, we can control the Xbox from our phone or with Windows 8. What we haven't seen is the "glass" experience in final form. That's using your smartphone or tablet to fully navigate around the menus in Internet explorer. If IE on the console is to be in any way useful this experience will need to be top notch. Will they pull off a smooth and seamless effect when using it? I'd expect to see an updated SmartGlass app for Windows 8 on launch day to finally enable this. The potential to see Windows Phone 7 and 8 clients is there too but again this could be held off for the full reveal on the 29th. Either way, an updated Windows 8 app will show where this technology is heading to.
Xbox Music and Video Services
We're about to see the Zune Music service dusted off and given a new lick of paint for the Windows 8 launch. Recently the lights were switched off over at www.zune.net (opens in new tab) and key features of Xbox Music were outlined but we have still yet to see them fully. The Xbox Music website is still only a holding page and while the broad stroke of the enhanced service are there we still could see much more get revealed.
Xbox, Windows and Windows Phone will all share Video and Music services. In many ways how these line up and play out will determine how well this eco system will feel like to use. Jumping between a movie on the 360, phone and computer or syncing playlists and songs to various devices, all of this will add to the feeling of harmony when using these disparate devices. We'd like to see some demos of how well this will all fit together. Will the combination of SmartGlass and synchronised starting and stopping of cloud based music and video files be enough to pull it all it? Could be, eyes will firmly be on these coming demos.
Fresh new start
Windows 8 is likely the most radical release of Windows ever, the changes run not only through the UI itself but in the devices and services that accompany it. The launch represents the start of a series of launches across their entire product line up and should point the way to what we're likely to see when Windows Phone 8 launches the following week. By the end of this month we're finally going to see how Microsoft's 'Epic Year' is going to pan out.
Excited about Windows 8 or just keen to see it out of the way so we can get to the meat and see Windows Phone launch? What are you keen to see with the launch of Windows 8? Tell us know you feel in those comments below.
Windows Central Newsletter
Get the best of Windows Central in in your inbox, every day!
Wish I had a time machine! Maybe Microsoft will invent one!

+999999999
I bet u an apple troll will post here replying to u, about Macs having a time machine. I can read the future.

And if Microsoft made a time machine, apple would make one, then say Microsoft copied theirs by function of going back and forth through time, and would take them to patent court asking for cease and assist order. Even though they both copied Doc Brown anyways.

Ballmer would just go back in time and file the patent before Apple. :)

Err, i think wat he was refering was the backup software/hardware for Mac - Time Machine. I know he maybe trolling but i think u got on the wrong thing as well, lol...
peace n cheers :)
ps: i'm an iMac user but i love my WP, i do like the new W8 interface but i beliv both hav their perks n all depends on every1's working style, let's not blast the canons to each others :)

No no. I was not trolling at all. I just used that word time machine in the general sense of the word.

Apple is a fruit. While iphone is junk. :-D

Microsoft is really bringing it this Fall. I'm excited for W8 just as much as I am WP8.

+1 already had WP8 phone and W8 tablet on the shopping list, and now the beefed up xbox integration actually has my head spinning. Time to lie down in a dark room for a while

I thought we were going to be able to pre-order Windows Phone 8 Nokias and HTCs from AT&T yesterday? What happened to that?

From best buy. And it is sort of gone. It won't pull up in the search, but if you have the link, it works. So you can still preorder it. :-)

Patience my friend patience...

Does anyone know when the AT&T pre-order will be available? I ask because I want to dump my Nokia 900 whiel its still selling for greater than 200 to take some of the sting out of the new 920's full price I'm gonna have to pay...

Were supposed to be able to from Best Buy only for AT&T that is but I don't know what happened with them taking the 920 off.


I wish the Windows RT was less like the iPad and more like the windows 86x

It is less like the iPad.

Do you make that statement because of the price?

Windows Surface PRO will have the full Windows 8 OS installed on it, although at a greater (unannounced) price.

Really, I cannot think of a tablet OS that is less like the iPad than Windows 8. What do you mean exactly? RB

Windows RT depends on the app store like the iPad, while the 86x can run most of the programs I bought

get an Acer iconia W7 tab and it will be. That's the great thing about Windows is you have CHOICE.

The start menu they show, how does one lable the different section of the start menu?I have been running windows 8 from sdk, to beta to rtm. and I see no way of labeling the groups in a start menu.is that coming with the full release?

From the start screen, click the negative "-" magnifier in the lower right side of the screen, the groups will become small, right click the one you want, options at the bottom of the screen will read, "Name Group", left click and type what you want

The option has been there since Release Preview or even earlier.

To label Start Screen groups, you need use Symantec Zoom (pinch on touch screen) then select a group and an option will appear at the bottom of the screen. Have fun!

You meant Semantic Zoom I presume.

Haha I knew how do it since it launched beta. That most basic think to do

All I can say is, finally tablets worth buying...

This week is killing me...
I WANT TO HOLD THE SURFACE IN MY HAND.. I WILL BE AT MSFT STORE THURSDAY AT SOUTH COAST PLAZA IN COSTA MESA IM BUYING IT DONT STOP ME...OR MAYBE WAIT A LITTLE BIT FOR BLACK FRIDAY.. SHIT I DONT KNOW WHAT TO DO.. LUMIA 920 IS DUE TO COME OUT TOO...OH PLEASE...

My head hurts from all your yelling, but I get your excitement.

Here's your answer: buy both of them. I am. :-D

I'm fearing that Microsoft will drop the ball on the Smartglass tech. The Windows Phone app called "Xbox Companion" has been around for almost 2 years now I think, which lets you control your xbox from your phone. Since then not much has been announced in regards to the Xbox Smarglass (which I believe will just be a renaming and upgraded version of the Xbox Companion).



Xbox Smartglass is note quite an App but a technology/API to be used by game developers to release game companion apps for WP, iOS and android. Unfortunately so far the only confirmed SmartGlass app is "Dance Central 3 DJ" coming this fall. And yes, the Xbox Companion app has been around for years, it features a game and app launcher and a simple controller (d-pad and ABXY buttons). Meanhwile the new Xbox Smartglass app on Windows 8, which mostly serves the same purpose, features a silly "swipe" controller instead of the classic d-pad controls, which were actually easier to use.

Silly swipe controler is better than ABXY when using IE on the console? I'd have to say I cannot agree there. Using the great keyboard on the smartphone for many reasons could be a real winner too. This is not tech aimed just at games. RB

I never claimed swipe was better for anything. I prefer the arrow buttons in the old Companion App to navigate the dashboards. It is simply more reliable. (Both the classic companion and the smartglass companion feature ABXY buttons, that is not the difference). As for the new Xbox IE - last time I checked the swiping in the Win8 SmartGlass App made the cursor in IE move only like a pixel per swipe - it was totally unusable.

Dance Central 3 (which released last week) is the first game to include SmartGlass functionality, which you can take advantage of now with Windows 8 RTM. SmartGlass users can add songs to a playlist in the game's "Party Mode", adding a Karaoke-parlor-like vibe to the whole thing... people can choose their songs on the SmartGlass while waiting for their turn to dance.

There's no Dance Central 3 companion app available in the Windows 8 Store yet. And the standard Xbox SmartGlass App doesn't offer Dance Central 3 DJ functionality.

I really welcome this change from Microsoft. It's kinda refreshing.

I'm one of the category that can't wait for this launch to be passed. I'm really looking forward to WP8 & all this windows 8 talk is just not exciting to me. Sorry just not a fan of Windows 8, live tiles on my laptop don't do it for me. But live tiles on my phone I love.

I agree with you. though I've been using Win8 on one laptop and this rig now I must admit that at first I didn't like it now however I could never go back to using Win7..

it's so interesting how everybody use to hate the new look way back when they started the event 4 months ago and now they love it. It's good Microsoft is now showing tv commercial of windows 8 surface and windows 8. I hope they can make a great tv commercial for windows phone 8

This is pissing me off that that we really haven't heard much about where the Ativ S is going to be, because that's the phone I'm getting and im on T-Mobile..

It'll be cool if you could utilize Smartglass to turn your phone into a fully functional controller. Though I haven't figured that part out yet...

I am missing one important thing - since it looks like the XBox console is not ready to replace my Microsoft Media Center, I would like SmartGlass to do a "Play to MediaCenter" instead of to XBox.
There is no way I will have an XBox in my living room until MS ships a 100% silent one. And then I would want TV recording as Media Center does before I would consider it to replace my current Media Center.
Windows Central Newsletter
Thank you for signing up to Windows Central. You will receive a verification email shortly.
There was a problem. Please refresh the page and try again.