Xbox Music set to officially start rolling out tomorrow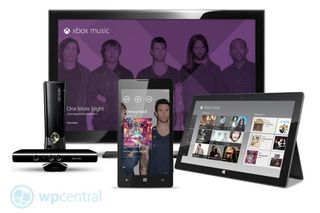 Microsoft have now officially unveiled their new music service. Simply called Xbox Music, it's going to begin rolling out tomorrow.
Designed to replace the Zune services of old, Xbox Music will bring with it new capabilities and eventual availability on other platforms in the coming year.
We had already reported that Microsoft would be adding a free streaming aspect to the service, this looks to have come to pass. The press release only mentions that free streaming will be available for Windows 8 and Windows RT devices in 15 markets initially. In the small print it goes on to say that there will be limited hours of free streaming after six months. From the same small print it looks as though there will be no free option for Xbox 360 owners as it mentions you'll need additional subscriptions (each sold separately).
Xbox Music - going GaGa with features
Xbox Music is a revamp Zune and so with it comes the usual options for buying music a la carte as well as subscribing to an eat as much as you like monthly subscription. The service as a whole looks to be getting a whopping update in how much actual content is now available, comparing itself directly to iTunes, it will now boast over 30 million tracks. The music pass will be available in 22 countries initially with new regions said to be picking up availability in the coming year.
Back when many music services were still selling tracks individually, Microsoft offered its Zune pass to stream and download as much music as you liked. The only problem was that Microsoft never made it available to use on iOS, Android or other devices. That looks set to change with the implicit announcement that Xbox Music will be coming to other devices later in the year. When paying for a music subscription, the expectation is that it's universally available across all devices, so it's good to know there are plans for this.
Zune also had some great but painfully underdeveloped social features which had recently been removed all together from the service. Back when it was operational the service offered the ability to see what other friends were playing, send tracks to people and see how you rated as a listener against others using the service. The press release announces that Xbox Music will add in unique social features in the coming year to share your music experiences with friends and family. How deep that will go and what it will look like is not known, but it's good to hear they aren't dropping the social side of music completely.
With 30 million tracks GaGa wont be the only thing available - phew!
Also set to come will be a scan and match feature which they say will allow you to add your own music to your cloud storage. If this is anything like similar services it will scan your collection to see if it has a particular track in the store and if it doesn't simply upload it from your collection to the cloud, by cloud we presume they mean SkyDrive. Using the good old cloud again they look set to unleash your playlists from being stuck on the device you created it on and allow it to sync across all your Xbox Music players.
Here are the highlights:
Free streaming music on Windows 8 and Windows RT. Enjoy on-demand access to tens of millions of songs for free on all Windows 8 and Windows RT tablets and PCs. Discovering and enjoying free music on Windows 8 and Windows RT is as easy as typing an artist or song name and hitting "play" — songs are instantly available to stream and for you to create an unlimited amount of playlists.
Xbox Music Pass. Want unlimited access to the songs and artists you care about, including offline access? Get an Xbox Music Pass for ad-free, unlimited playback of any track in our subscription catalogue across your tablet, PC, phone and Xbox 3601 for US$9.99 per month. Xbox Music Pass also unlocks unlimited access to tens of thousands of music videos on your Xbox 360.
Xbox Music Store. Want to own the music you love? The Xbox Music Store is a comprehensive MP3 marketplace giving you the opportunity to purchase a single track or entire album on your Windows 8 or Windows RT tablet or PC and Windows Phone 8.
Smart DJ. Creating a new form of artist-based radio, the Smart DJ feature is a quick and dynamic way to personalize your collection, discover new favourites and create ultimate playlists by launching instant mixes based on your favourite artists. With unlimited skips and a view of the full recommended music stream, Smart DJ puts you in control of your Internet radio experience.
Cloud Storage. Available in the coming year, a scan-and-match feature will take you beyond the 30 million tracks globally offered through Xbox Music. It will add all the music you own to your Xbox Music cloud catalogue, including music acquired through other services. This means you can add almost any content you have to your personal Xbox Music collection, even if it's not available in the Xbox Music catalogue.
Social Music. Xbox Music will add unique social features in the coming year that let you share your music experiences with friends and family.
Platform Expansion. Xbox Music will become available on other platforms in the coming year.
Free unlimited streaming music? Wait up, there are limits!
According to the official small print that free streaming option will come with some heavy restrictions after six months. They state that after six months you'll be limited to a paltry 10 hours month. That certainly puts the service in a different league to that of Spotify where its ad supported and unlimited. That could signal Microsoft's desire to get everyone on a paid plan or just simply mean they are hedging their bets until they can fun the service with ads.
In fact, Spotify offer exactly the same restrictions when using their free streaming option. They too want to push users to subscribing. With that in mind and considering the coming music matching service we could be in for an interesting time ahead for music services...
Wait, what about Windows 7 and Window Phone 7 devices?
Xbox music as mentioned above is a revamp of Zune, Windows 7 and Windows Phone 7 both have access to those services now in the form of Zune desktop client and the built in capability of the phone. Xbox music doesn't offer anything radically different that can't be replicated in the existing software and since Windows 7 isn't going to get free streaming anyway it's unlikely anything needs to change.
The best all round music service is here?
Microsoft already had a great service with Zune that was unfortunately left to languish for too long instead of being updated. The intent of Microsoft to become a devices and services company means that it can't leave these features to others if it wants to create a compelling all in one eco system. Xbox Music should help them on the way, we're really excited to see the free streaming option and intention to make Xbox music platform agonistic rather than just be available on MS devices.
The expansion of the catalogue will please many that have slightly less generic music tastes and perhaps tempt them away from Spotify and other services if they have Xbox and Windows 8 PCs. The term "better together" will definitely apply to those who have an all Microsoft setup but with the promise of bringing these features to other users who currently have iPhone and Android devices it could expand the services appeal greatly.
We'd love to know what you think. Miffed at the absence of a free streaming option for Xbox and Windows Phone users? Think MS will convince Spotify subscribers to flock to Xbox Music?
Get the Windows Central Newsletter
All the latest news, reviews, and guides for Windows and Xbox diehards.