Xbox Music set to officially start rolling out tomorrow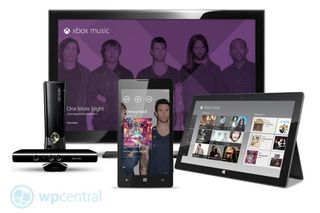 Microsoft have now officially unveiled their new music service. Simply called Xbox Music, it's going to begin rolling out tomorrow.
Designed to replace the Zune services of old, Xbox Music will bring with it new capabilities and eventual availability on other platforms in the coming year.
We had already reported that Microsoft would be adding a free streaming aspect to the service, this looks to have come to pass. The press release only mentions that free streaming will be available for Windows 8 and Windows RT devices in 15 markets initially. In the small print it goes on to say that there will be limited hours of free streaming after six months. From the same small print it looks as though there will be no free option for Xbox 360 owners as it mentions you'll need additional subscriptions (each sold separately).
Xbox Music - going GaGa with features
Xbox Music is a revamp Zune and so with it comes the usual options for buying music a la carte as well as subscribing to an eat as much as you like monthly subscription. The service as a whole looks to be getting a whopping update in how much actual content is now available, comparing itself directly to iTunes, it will now boast over 30 million tracks. The music pass will be available in 22 countries initially with new regions said to be picking up availability in the coming year.
Back when many music services were still selling tracks individually, Microsoft offered its Zune pass to stream and download as much music as you liked. The only problem was that Microsoft never made it available to use on iOS, Android or other devices. That looks set to change with the implicit announcement that Xbox Music will be coming to other devices later in the year. When paying for a music subscription, the expectation is that it's universally available across all devices, so it's good to know there are plans for this.
Zune also had some great but painfully underdeveloped social features which had recently been removed all together from the service. Back when it was operational the service offered the ability to see what other friends were playing, send tracks to people and see how you rated as a listener against others using the service. The press release announces that Xbox Music will add in unique social features in the coming year to share your music experiences with friends and family. How deep that will go and what it will look like is not known, but it's good to hear they aren't dropping the social side of music completely.
With 30 million tracks GaGa wont be the only thing available - phew!
Also set to come will be a scan and match feature which they say will allow you to add your own music to your cloud storage. If this is anything like similar services it will scan your collection to see if it has a particular track in the store and if it doesn't simply upload it from your collection to the cloud, by cloud we presume they mean SkyDrive. Using the good old cloud again they look set to unleash your playlists from being stuck on the device you created it on and allow it to sync across all your Xbox Music players.
Here are the highlights:
Free streaming music on Windows 8 and Windows RT. Enjoy on-demand access to tens of millions of songs for free on all Windows 8 and Windows RT tablets and PCs. Discovering and enjoying free music on Windows 8 and Windows RT is as easy as typing an artist or song name and hitting "play" — songs are instantly available to stream and for you to create an unlimited amount of playlists.
Xbox Music Pass. Want unlimited access to the songs and artists you care about, including offline access? Get an Xbox Music Pass for ad-free, unlimited playback of any track in our subscription catalogue across your tablet, PC, phone and Xbox 3601 for US$9.99 per month. Xbox Music Pass also unlocks unlimited access to tens of thousands of music videos on your Xbox 360.
Xbox Music Store. Want to own the music you love? The Xbox Music Store is a comprehensive MP3 marketplace giving you the opportunity to purchase a single track or entire album on your Windows 8 or Windows RT tablet or PC and Windows Phone 8.
Smart DJ. Creating a new form of artist-based radio, the Smart DJ feature is a quick and dynamic way to personalize your collection, discover new favourites and create ultimate playlists by launching instant mixes based on your favourite artists. With unlimited skips and a view of the full recommended music stream, Smart DJ puts you in control of your Internet radio experience.
Cloud Storage. Available in the coming year, a scan-and-match feature will take you beyond the 30 million tracks globally offered through Xbox Music. It will add all the music you own to your Xbox Music cloud catalogue, including music acquired through other services. This means you can add almost any content you have to your personal Xbox Music collection, even if it's not available in the Xbox Music catalogue.
Social Music. Xbox Music will add unique social features in the coming year that let you share your music experiences with friends and family.
Platform Expansion. Xbox Music will become available on other platforms in the coming year.
Free unlimited streaming music? Wait up, there are limits!
According to the official small print that free streaming option will come with some heavy restrictions after six months. They state that after six months you'll be limited to a paltry 10 hours month. That certainly puts the service in a different league to that of Spotify where its ad supported and unlimited. That could signal Microsoft's desire to get everyone on a paid plan or just simply mean they are hedging their bets until they can fun the service with ads.
In fact, Spotify offer exactly the same restrictions when using their free streaming option. They too want to push users to subscribing. With that in mind and considering the coming music matching service we could be in for an interesting time ahead for music services...
Wait, what about Windows 7 and Window Phone 7 devices?
Xbox music as mentioned above is a revamp of Zune, Windows 7 and Windows Phone 7 both have access to those services now in the form of Zune desktop client and the built in capability of the phone. Xbox music doesn't offer anything radically different that can't be replicated in the existing software and since Windows 7 isn't going to get free streaming anyway it's unlikely anything needs to change.
The best all round music service is here?
Microsoft already had a great service with Zune that was unfortunately left to languish for too long instead of being updated. The intent of Microsoft to become a devices and services company means that it can't leave these features to others if it wants to create a compelling all in one eco system. Xbox Music should help them on the way, we're really excited to see the free streaming option and intention to make Xbox music platform agonistic rather than just be available on MS devices.
The expansion of the catalogue will please many that have slightly less generic music tastes and perhaps tempt them away from Spotify and other services if they have Xbox and Windows 8 PCs. The term "better together" will definitely apply to those who have an all Microsoft setup but with the promise of bringing these features to other users who currently have iPhone and Android devices it could expand the services appeal greatly.
We'd love to know what you think. Miffed at the absence of a free streaming option for Xbox and Windows Phone users? Think MS will convince Spotify subscribers to flock to Xbox Music?
Windows Central Newsletter
Get the best of Windows Central in in your inbox, every day!
I will start using Xbox Music when it becomes available in Croatia. Until then, I`m stuck with Deezer, the only music-on-demand service legally available in my country. Deezer is ok, but it has less tracks and missing some of my favourites. Plus, WP app is very unstable and, well, simply not that good. I`d rather use something that`s built into my phone. Looking forward to Xbox Music, some day... :)

RDIO has been in Canada for awhile. Its an awesome service and has everything.

Does it have an app for the Xbox?

Any news when it will be available there?

Ok, first off, let me say well done to microsoft getting your music service up and running.

but, and i am really disappointed in the service they have launched!!!!

according to liveside.net and microsofts xbox music site (see below), they expect me to pay a subscription for them to hold the music in the cloud which i have already bought and downloaded from THEM (MS). feels like a tax to me. why should i pay 12.99 a month when "the fruit" can sync all my music across all my devices for free (see below).

http://www.liveside.net/2012/10/14/microsoft-takes-the-wraps-off-of-xbox-music/

http://www.xbox.com/en-US/music - under cloud connected at the bottom of the page

http://www.apple.com/icloud/features/

ive been with microsft since win95 had numorous wm phones and have waiting for to get a new windows phone for a good 3 years as i have held off buying a new phone hoping against hope they were going to get everything right this time. seriously microsoft you've missed the boat again, and this time you've done it with media. why should i sacrifice another couple of years waiting for you to get your ecosystem right, (and i need this new thing for work too) im predicting a mass exodus here.

sincerely ms i wish you good luck, you're gonna need it!


Their catalog does need to expand. All to often I gear a tune on Sirius XM and have to go to beatport or amazon to download as its MIA on Zune:(

They've already announced that Xbox Music will have a much larger category with over 30 million tracks compared to Zune.

Yea I agree I lived in the States but a majority of my favorite artists are from the UK so alot the time Zune wouldn't have their stuff available right away so i had to use jump thru hurdles to get some of the stuff.

the library is pretty good, but i can't believe in the UK the only Halo soundtrack i can get is Halo Wars! Loads of EA game music, but hardly any MS stuff. (yes, i like soundtracks)can you play halo 2/3/ODST/reach soundtracks on zune in the states?

Probably gonna give it a try. Id just love to know which are the initial countries

wp7 :( and Philippines...

I would really like to know the initial contries. Also, I dont understand why do they sell different packs for LIVE and ZUNE. They should be bundled together. Free streaming would be really great, though availability even better!!! PS- the whole Xbox music facade would look better with EMINEM instead of GAGA imo.

Will this work with the W8 release preview? Or is it only RTM and above? :/ hopefully NZ is one of the countries mentioned! :D

We'll just have to wait and see what they offer in progressive rock/death.

I have had Zune Pass since the first Zune came out and haven't really transitioned to a different service yet. If this cloud option comes sooner rather than later I will happily throw more money at it especailly since my Zune just died I am at a crossroads to either get an iPod to be my dedicated music service or switch to a cloud based service and use my phone being integrated into Windows Phone 8 is a good feature for me.


If you have a Zune Pass, you don't really have much choice. Zune Passes are being converted to Xbox Live Passes, with 1000 points tossed in. Mine was just upgraded today and the email from Microsoft makes it clear that it replaces the former service and that the transfer is invisible.

I already pay for the Music Pass. I want to be able to play my music on my living room on my Xbox without having to pay for a Gold account!!!

so you dont need Gold subscription to access XBOX Music?????

Looks like we can confirm Lady Gaga will be a big part of Xbox Music. I love it!

Haha, well shes certainly featuring heavily in these initial shots! RB

Do we know if the grandfathered Zune subscriptions of 10 free tracks per month will survive the transition?

Probably not, they removed that option last October unless you had a subscription for over a set time. It would be a defining feature if they offered it though!

Well when I heard about the transition last year, I signed up the night before and am getting the 10 "free" songs a month. I signed up for an annual subscription to save money and it just came up for renewal. It looks like they processed the renewal as is, although they haven't actually charged my card yet. But last I checked, my account is showing 10 credits that expire in November. We'll see if that changes tomorrow. But I may have to go home and download an album tonight just to be on the safe side.

In a way I see this as a bad part for Microsoft. I think for Windows 7 and Windows Phone 7, should still have zune changed to Xbox Music/Video. Even in the form of a client for Windows 7, I am not too bothered about connecting the phone to the computer, but its conventional just to leave the software the way it is.

While it would be nice to see MS rebadge the Zune client on the PC and Windows Phone 7, its really not that important. The service will work as it always did. Its looking likely that the Zune PC client will have far greater features for music organisation than anything on Windows 8 anyway. Unless MS has an updated client in the wings.. RB

I think it would change on Windows 7 considering it relaunching tomorrow & Windows 8 isn't out yet cause I think W8 launches on the 26th. But I could be mistaken.

At the end of the day, this is just Zune music rebranded. The only real new thing is free music for Windows 8 users.

Well, yes, that and the music matching service, playlist syncing and future support for other platforms.. RB

Will my Zune account automatically change to Xbox music on my windows 7computer our will I have to download windows 8.

It's the same subscription, you won't have to do anything, it will just work. RB

Why do I get the feeling it'll be a minor update.

I think this will be the start of a beautiful new commitment from MS to bring the service to where it should be. Expanded service includes more music, more countries and iOS and Android device support too. I'd just like to see more emphasis on drilling down into music genres. RB

I see no justification (yet) in the concern over W7 and WP7. There's no reason to assume that it won't get included in the upcoming WP7.8 update or an updated Zune Client... and quite frankly, you can already go on the Zune.net web site and do streaming that way anyway. And besides, as a Zune Pass subscriber, there's really nothing here that's truly NEW. I want my Zune Video Pass, damn it!

Lol, yeah I want a video pass as well. But you get free streaming cause your a music pass holder, streaming will be free, instead having to hold a subscription, on win8 and RT.

I wish they would just make a Xbox Media Pass... I would seriously pay $25-$30 for it. Or at least combine the music and gold subscription for an option.

Honestly, I agree, if free streaming is available for non-paying Windows 8 users then it makes it hard to fathom why Xbox Live Gold users are being left out in the cold, again. RB

Even more so when the service is called Xbox Music..

I wonder if the US is one of the countries?

I hope so but you're right, that wasn't made exactly clear.

Don't know right now
When I have windows 8 pro and windows phone 8x I will try it let you know
Bes I know when I got wp7 they gave me 1 month free

What I want to know is. Since I have already bought a bunch of music from Zune via my phone. Will that transfer to my Xbox?

I hope Microsoft ups the device limit, especially once the apps are released on iPhone/Android.

this is so weak.....I mean this is really insulting. You can somehow come up with an app that works on a 5 year old OS (iOS) butyou can't show the common decency to make this work on Windows Phone 7 devices...and to cap it all off, you won't even allow free streaming for Xbox.
You bag of tools. As usual for Microsoft, one step forward, two steps back.

This is EXACTLY what I was hoping XBox Music would be. It looks like MS is really getting serious about their entertainment ecosystem. Now if only they can improve on their video library, we'd be all set.

So. . . Now Zune pass has been scratched off the list for reasons to come to WP. I mean I guess it's good for MS at the end but WP is what I care about. Now what's our leg up on the competition?

It's still gonna have a Music Pass, just being rebranded under Xbox.

"The only problem is that Microsoft never made it available to use on iOS, Android, or other devices. That looks set to change with the implicit announcement that Xbox Music will be coming to other devices later in the year."

So what do we wp7.x User get?

It'd be pretty odd if they didn't update 7.8 to include Xbox Music, don't you think?

The ability to purchase a Zune Pass/Xbox pass and download as much as you like on your devices. Only thing you wont get for now is the Free streaming option, that's for Windows 8 machines currently. RB

OK and what about a new pc client that replaces Zune pc software. I hate the Zune software i want something new.

Then you will either have to hold out hoping Microsoft releases an update to the Zune Desktop Client (which I seriously doubt will happen), or upgrade to Windows 8.

Guys it will be $40 to upgrade to windows 8, just get the upgrade

Of course i will buy windows 8 but I'll keep my Lumia 800 and I want a new pc client to sync my phone with my pc

Is the Zune software gonna change or will Xbox music become a internet client.

Will I have to pay extra to store my music in the cloud? I hope not; I already store my music on SkyDrive.

Not sure about that one. Microsoft stated they would release more information later next year when they have Cloud Storage available for Xbox Music. It would make sense for MS to "link" existing tracks you have in your library to the one(s) found in the Marketplace. Then, upload the other tracks it can't match to the same storage location.

I have seen several articles saying that music stored in the cloud, has started to show album work, so it would seem it is possible

Please please please please please! Don't be like iTunes, let us download our songs as many times as we want. iTunes is useless because you can't download a song or a movie without having to repurchase it. I've lost too much on iTunes.

I fully expect it to follow the same model ZUne does today. With the subscription service, I can download a track or album as many times as I want on authorized devices. That is, until the album or track or artist is no longer available in the Marketplace. That can happen, when say an artist changes publishers, or the publisher authorizes a newer album release. That doesn't happen to often though.

Actually, from what I've read on Zune support, you can download an individual song with Zune Pass up to 4 or 5 times. After that, you have to purchase it. And even thenm you can only purchase it once and if you happen to delete that file with no way of retrieving it, you can't purchase it again so you either have to find another copy of that song from a different album or you're out of luck. And I did it to myself too, I felt so stupid after that.

Oh, Microsoft! Why would you abandon me so soon after I purchased my Lumia phone. So now I'm stuck with Zune until I can afford to get a WP8 device. I'll stick with the seemingly limited Nokia Music for now. Cancelling my Zune Music Pass..

Ironic that biggest losers in all this are the XBox owners. I will need to pay $60 to access an app that will be free to access on the PC, Phone, Tablet and even iOS and Android. Then I have to pay $10 for the pass. So Xbox users have to pay $60 more for Xbox Music simply because they own a....wait for it.....XBOX!!! So as a WP7 and XBox owner this is quite heartbreaking that MS seems bent on screwing me over at every turn. So much for defending MS against Apple fan boys etc.

Or maybe the xbox owners will have a windows 8 pc and buy it from there.

We have an iMac and an XBox. The Mac is mostly for my gf as I hardly use the computer at home so buying a PC is not an option.

$60 per year it is but I think the point was lost on you while you were yelling. I have an XBox and it is ironic that while the service is called XBox Music the XBox console owners have to pay more than none XBox owners. Heck if you have a PC you get free streaming PLUS you do not pay $60 to use the app. I on the other hand have to pay upwards of $160 per yr. If you do not see how stupid that is then I don't know. The reason this is important to me is because I use my XBox as my entertainment hub connected to my AV receiver.

I guess , I dont have to use youtube anymore to listen a new song. :P


What is the actual facts on this? Other sites are reporting Win 8 music will not support legacy Zune devices or Win 7 phones, only Win 7 will.

Yeah, I'm worried about how it will affect legacy Zune devices too. I actually still use my Zune HD.

Well, I just got a Welcome to Xbox Music email. As a long time Zune Pass subscriber I'm rather non-plussed with the "new" service, but on the bright side they gave me 1000 ms points as part of my welcome email. That's $12.50 US, kind of a strange amount, but I'm not complaining.
As for dby2011's question, here is bullet point 5 from my welcome email. Keep listening – Your Xbox Music Pass will continue to work in the Zune PC software and on Windows Phone 7 devices. Nothing changes for current users on Win7 and WP7, they work exactly as before.

Just got my email for 1000 points...pretty sweet deal!

Hell yeah got my points, too! Do points expire? I won't have an internet connection again till next year...

Just make it so I can re-download purchased music without having to re-buy it. I bought a song through my Arrive, but my shitty Sprint connection caused the download to stop halfway and it never picked up again. I had 20 seconds of a song for full price and couldn't re-download it again without paying again!

Ad left out the fact you can also download the music with a subscription without buying per song. XBOX Music blows the doors off of iTunes. As for rewards, I use Bing and collect free points as I use the search engine..... I just bought season 7 of Doctor Who and watched the Prometheus movie with my Bing points - free rocks!!!!

It's complete bull**** that you need $60 a year Xbox Live plus the $100 per year pass just to stream on your Xbox 360?

Ok so that is strange, no support for Windows Phone 7, but Android and iOS are getting apps to support Xbox Music. You would think Microsoft would create a app for current WP7 users to get some benefit out of the new music service. Zune is to work as always, but will not get any future updates and will not benefit from new music features included in Xbox Music.

Is it true that Xbox Music has NO Podcast support, unlike its predecessor ZUNE? How could Microsoft not include support for a medium they use so heavily themselves?

Watch Anime Online for Free in High Quality and Fast Streaming at http://www.anime4you.com/

Latest new song of 2015 from movie Phantom. Saware arijit singh lyrics. This is the most sad romantic song of 2015 by Arijit singh. Lyrics are penned by Amitabh Bhattacharya. Music of the Song is given by Pritam. You can watch video of songs at lyricstym with lyrics in written. Song: Saware, Singer: Arijit Singh, Movie: Phantom, Year: 2015. Lyrics of the song of very awesomely sung and penned. Starr cast of the movie are Saif Ali Khan and Katrina Kaif.
Windows Central Newsletter
Thank you for signing up to Windows Central. You will receive a verification email shortly.
There was a problem. Please refresh the page and try again.