Microsoft Launches Windows 8.1 Enterprise Preview - prepares IT professionals for launch day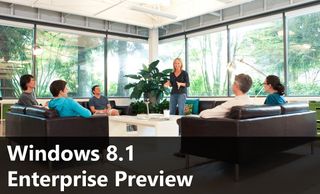 Users have been enjoying Microsoft's Windows 8.1 Consumer Preview over the last few weeks and now enterprise users get their turn. Today Microsoft announced availability for their Windows 8.1 Enterprise Preview. The new enterprise build adds premium features to the platform that improve mobility, security, management, and virtualization.
Added Enterprise Features
Windows to Go Creator will allow enterprise organizations to create manageable USB bootable Windows 8.1 desktops. Employees could boot a secure corporate operating system from their own machine at home, using the USB flash drive, without creating security risks for their company.
IT departments are also given control of the Start Screen's layout to make sure the correct apps are available easily, in addition to preventing users from pinning unwanted content. This new ability allows consistency across corporate machines.
Direct Access will also be included in the enterprise preview, allowing employees to access resources from company servers without the need to setup secure Virtual Private Networks each time. The technology also allows IT admins to push updates and policies to connected machines.
New enhancements in Microsoft RemoteFX and Windows Server 2012 will allow users to enjoy faster, latency free, remote desktop connections and the ability to use touch-enabled devices across LAN or WAN networks. The company claims that users would even be able to enjoy "the ability to play 3D graphics".
AppLocker also makes a reappearance, allowing IT organizations to restrict file and app usage to specific users or groups running on a PC.
New Enterprise Features
In addition to familiar features above, new enterprise features will also be added including Assigned Access, Inbox VPN Clients, Open MDM, Workplace join, and Remote business data removal.
Assigned Access allows IT departments to enable single Windows Store application experiences while restricting users from other system files and applications.
Inbox VPN Client will allow third party VPN services to include versions of their inboxes. This functionality will work on both Windows 8.1 and Windows RT.
Open MDM enable mobile device management for devices for Windows 8.1 and Windows RT devices.
Finally, Workplace join and remote business data removal will allow trusted devices and personal to access, store, and manage company content.
For the full list of features, you can check out the TechNet post located here (opens in new tab).
If you are ready to dive in and download the Windows 8.1 Enterprise Preview you can find more information and guidance on Microsoft's Springboard Blog for IT professionals.
A Reminder
Although this is an official release from Microsoft, it is still a preview and should not be deployed fully through a corporate network. This new software release is for IT administrators to test upon a few machines to see how Windows 8.1 integrates with the latest version of Windows Server and current network policies that are set in place.
Microsoft reminds customers that they have two years to move to Windows 8.1. During that two year span, Windows 8 will still be supported.
Development tools and guidance are also available from Microsoft to make the update easier for the average consumer who might be bringing their Windows machine to work.
Enjoy the latest preview and let us know what you think.
Source: Windows Blog
We test and review VPN services in the context of legal recreational uses. For example:
1. Accessing a service from another country (subject to the terms and conditions of that service).
2. Protecting your online security and strengthening your online privacy when abroad.
We do not support or condone the illegal or malicious use of VPN services. Consuming pirated content that is paid-for is neither endorsed nor approved by Future Publishing.
Get the Windows Central Newsletter
All the latest news, reviews, and guides for Windows and Xbox diehards.
Let me correct you: SOME "Users have been enjoying Microsoft's Windows 8.1 Consumer Preview"

I had to restart my entire computer, and revert back to 8.0... W8.1 wiped my computer clean of my McAfee protection software, and it refused to let me load it back.. WTH❕❓

Any antivirus program is a virus itself.

Don't ever use McAfee.... EVER. O_O That being said... many antivirus software is not yet compatible with Windows 8.1. You can continue to use Microsoft's Built in "Defender" software (which is decent) or download something better like Norton's latest Beta (which supports Windows 8.1).

LOL
Norton is even worse than McAfee.
I've had both... many times.

No, McAfee is and has been poop for you he past few years... Norton is better if you must pay for security software... You can always just got the security essentials and malwarebytes route.

Norton has improved greatly over the last few years and I can easily call it the best antivirus protection available for anyone. If you must go the free route, AVG Free is your best bet. MSE and Defender are "alright", but have lower detection rates.

Heh, I agree McAfee and Norton are junk. Kaspersky is the best I've found so far but they do not yet support 8.1 as it's not stable.

I have to agree with Michael, McAfee is the worst. Windows Defender or AVG.

Vote for Windows Defender. AVG is still worse though.

Why isn't it a store update? Can't be bothered burning a new DVD right now. Yawn.

its a preview, one of those once you go for it you can't come back things (at least thats what i heard)

I 'burn' the ISO onto a flash drive. Simple enough.

Finally. Start screen layout control! Its been a bitch to deploy windows 8 through SCCM with a custom start screen.
Just wish there was an easy way of pinning to the taskbar.

As a fellow sccm admin, I hear ya brother!

Pin to taskbar can be achieved with powershell and GP easily... Screen layout in Win 8/2012 shows MS forgot about business OSD requirements... not exactly zero touch build & capture...

Question... I installed W8.1 on my W8 laptop, and it totally would not accept my McAfee virus protection software... Will this be fixed in the final release of 8.1❔

You don't need 3rd party AV for Win8, it comes with built in AV

This is a question for McAfee, not Microsoft. I was using Norton's beta, but it became a pain because it kept expiring. Finally decided to jsut use windows Defender. My 8.1 is on an old laptop that I don't use for any important work in any case, so if it gets hosed by malware, no big deal.

Yea the first they said during the preview Is virus scans won't work but once its rtm it should

Is that in response to my question above❔

Wish I could install 8.1 but I'm afraid I will blow up the world + screw up my ASUS tablet. . . Sigh

i wouldnt be too worried about it. iminstalled it on my Acer Iconia W510 and it works great!

Yea for @rodneyej they should work once its out of preview but the windows version should be sufficient and like the above post said I think Norton has a version that's compatible, haven't had any problems on my desktop yet, I did it for surface rt first to try and saw no problems

I wish I were a professional Windows 8 user.

Windows 8 is much easier to use than Windows 7.
I've been using it since the developer preview, and it's cool!

Is this 8.1 going to be downloadable from the store or are you going to have to go on the internet or something?

I got my preview thru the store and installed that way after a minor update from Microsoft went pretty smooth and preview should just update to full version once released unlike the windows 8 preview

How do you find on store? Can't seem to locate it.

Think I'll wait, if it can go wrong it will go wrong. Murphy's law applies specifically to me

You should download the update required for upgrading to Windows 8.1 Preview. Just search in WPCentral pages (they have made it first a month ago) to find how to download the update, and install Windows 8.1 Preview.

I wish they used Windows 8 in our organisation... Most of the people are on XP, and they're only just getting us in the IT Department to move people over to 7... :-/

Same here where I work...
Btw dude I stumbled on this word like 20 ("organisation") times until I realized what you meant, lol.
No disrespect intended, just had to laugh at myself for sounding it out in my head a few times, lol.

I installed 8.1 under Windows 8 Pro using Hyper-V and just ran the image instead of buring it to a disc. I'm also running Visual Studio 2013 Preview under it as well. It is running great and I haven't had any issues with Norton either. Also, I have the Hyper-V image on my external USB 3.0 drive and boot time and access time are really good. If you are interested in trying out 8.1 and have 8 Pro, I would recommend that you run it under Hyper-V so you can check out all the new features and don't have to go through the whole process of allocating a whole system for it. Plus, restore is a snap, just delete the access in Hyper-V and delete the file. It doesn't get any easier than that.

I'm running 8.1 preview on my Acer icona w500 tablet that was win 8 pro its running okay but ie keeps saring recover webpage so its throwing errors. Other than that its okay. Checkout my video on YouTube at cowboy6201 video is 8.1 preview.