Microsoft lets slip an image of the upcoming Messaging app for Windows 10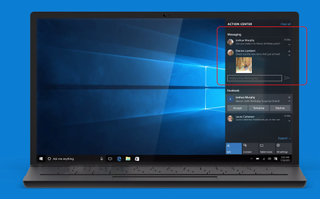 Windows 10 is due next week, and one thing we know won't be available is the new Skype messaging experience. First announced in January by Microsoft (opens in new tab), the Universal Windows messaging app will let users chat using Skype directly from the Messaging app and switch to SMS for Phone users. Indeed, in the Windows 10 PC app, users can even see the ability to switch texting from Skype to presumably the phone, using the OS as a conduit.
Unfortunately, not much has been said about the Skype and Phone messaging app except that it will come later on. Some of our sources have suggested that Threshold Wave 2, which is expected in October, will attempt to bring this feature although plans are not yet finalised.
Interestingly, in today's Windows 10 video posted by Microsoft, you can clearly see the Messaging app and its integration into the Action Center at the 24-second mark including inline responses. This is similar to how it works on the Phone as demonstrated in January, so in that sense it is not particularly surprising. Regardless, it is the first look at what the app could look like when it finally does come to Windows 10 hopefully later this year. Seeing as it is just a mockup, design elements could change before its final release.
The concept of being able to send chat messages through Skype or even your phone from your PC is the dream experience. Here is hoping that we get to see this feature sooner than later. October would be a worthwhile wait.
Source: Microsoft; Thanks, TechmeIN64, for the tip!
Daniel Rubino is the Editor-in-chief of Windows Central, head reviewer, podcast co-host, and analyst. He has been here covering Microsoft since 2007 when this site was called WMExperts (and later Windows Phone Central). His interests include Windows, Microsoft Surface, laptops, next-gen computing, and for some reason, watches. Before all this tech stuff, he worked on a Ph.D. in linguistics and ran the projectors at movie theaters, which has done absolutely nothing for his career.
Wow...Windows 10 apps are soo beautiful

And, not to mention that you'll probably be able to use Cortana with it..

Does this means that Skype will use your phone number to identify you like WhatsApp? If so that would be great. : )

Excellent point. Contact discovery in Skype is hopeless. After years of using it I still only have about 15 people in my Skype contacts. Why do Skype contacts have to be separate from all my other contacts and why can't I use my Windows people/contacts to discover other Skype users?
I hope Messaging is integrated with Send, not competing IM solutions.

If Skype changes the way people sign up it will be a game changer, because Skype has the best quality of them all.

They've used the UI from the phone messaging app (which is GREAT!). Very useable, clear and concise! I always had problems with the Skype UI- it was difficult to distinguish between my messages and the contact's messages.

MS...so many delayed promises...

Shut up and enjoy the magic!!

Sounds like how MS usually responds to user complaints, since their actions speak louder than their words.

Piss in your own corn flakes and let us enjoy ours.

You enjoy a delay? Enjoy.

I enjoy a finished product, not something rushed out to meet a date.

You don't understand Axmantim, none of Paul's software has ever been delayed, so he doesn't understand what delay means.

did they mention this is going to be a paid app.

And where's your source on this?

It was unfortunate that its been delayed. I really hope they will make it really great when its ready. :(


You have to think in Microsoft terms; Delay, delay, delay, delay!

So bring back Hub from WP

The hub is dead and will never return. Accept it or move on to be honest. Best of luck.

Unfortunately, Microsoft seems to be saying that same thing to far too many of their users about user concerns. Not good, especially concerning mobile.

Microsoft killed the Hub because few people used it. Simple as that.

Has Microsoft released any information concerning the grade of encryption this messaging application will use? 256-Bit AES Encryption? Hopefully, Peerio, Avaamo, Cyberdust, and Threema will be releasing Windows 10 desktop & mobile apps this year. All use enterprise-grade encryption.

Wish were could get some aero effects like that in phone.

Really? Most of them are lackluster and wholly incomplete. Where are you getting this "beautiful" from?!

Agree with you. They are beautiful and much productive than 8.1 apps

I just hope they give a dark theme option. It looks nice in the action center but the app is blinding white like everything else they've been making.

Symbian phones used to have this feature. I could use Nokia Suite with my C6 & my PC connected via USB or Bluetooth, and the suite showed all messages from the phone. I could just type on my PC and the client used the phone to send the texts..

This is beautiful, and what I've been waiting for all long. I hope it's not too far away.

SMDH...... So, what's it going to be? The 950, or XL❔❔ Sorry, no 1050, or 1550, in site...
....
Or, are you going iDroid❔

You should be. That was hilarious. One says Thank you and another also goes off on a tangent posting something totally unrelated. Reading comments is the best entertainment. If you come looking for good laughs, there is no better place.

I love this comment. Thank *you*, sir. :P
They make me pretty mad reading them sometimes too though.

MS Lumia 940 S808 / XL S810 MS Lumia 950 with Snapdragon 820

July 29th. This is one of the surprises.

I really hope there are some....but I doubt it.

It wouldn't be a new feature. It's an app. If you go to messaging you see you can use default messaging app. There just isn't a list now. This is why I like that Microsoft has focused on an app driven model. These can come anytime without some sort of release schedule. Remember new store launches there will likely be new apps too including facebook.

Looks like a windowed version of the messaging hub they ripped out of Windows with the 8.1 update...

Similar to iMessage app Mac with iphone

Similar to texting from your PC(Nokia Suite) when your Nokia Dumbphone is connected to the PC via Bluetooth. This has been there since 2005.

Exactly, microsoft in 2015 gives us the features we had 10 years back.. Symbian phones used to have this feature. I could use Nokia Suite with my 5233 or C6 & my PC connected via USB or Bluetooth, and the suite showed all messages from the phone. I could just type on my PC and the client used the phone to send the texts..

And how well did that work out for Nokia?

So Microsoft shouldn't do it because Nokia did it a decade ago or what?

Microsoft should do it.
Microsoft are doing it. My response was to those boasting about Nokia doing this years ago. If Nokia were so brilliant how come they had to sell the devices side!

Because they became like blackberry, stagnant and slower than tortoises swimming in molasses.

How about that laptop though! I want it.

Might just be a Dell XPS.

Might be a turbosquid 3d model.* And by "might" I mean... might be from turbosquid but is almost definitely a 3D model. I wish they had rendered a UVW reflection pass so that they could update the reflections on the keyboard in post from the screen and actually layered the reflections from the glass over the screen but oh well, nobody is perfect...

U must disapointed nao XD

What version of Skype is that in the screen shots? It's got the windows 10 theme. I'm only able to download Skype for desktop now.

It's the mockup by the Skype team from January, not the actual app.

in my opinion, it's one of the biggest mistakes of windows 10, shipping without proper messaging app. sure, skype desktop is there, but it sure feels it doesnt belong there. and don't even mention using it on the tablet mode (on hdpi surface screen). it's embarrassing. broken even.

No, delaying an entire operating system for a messaging app would be the bigger mistake. Especially with this OS we get a new browser uncoupled from the OS for the first time - this alone is about 100x more important than a messaging app. OTOH, Satya definitely should go to the Skype department and give everyone a hard kick in the rear and make some heads roll to put them into their places. It's been so long that Skype been bought by MS but they still act like they don't work for MS.

@houkoholic:
No, the real mistake here is Nadella laying off tens of thousands of people, but that incompetent hobo that plans Skype's development schedule to always reliably make Skype on Windows lag behind other versions of Skype is still not fired. He or she would've been the first on my list.
Come on, that Skype concept is six months old and they still have nothing REAL to show?!
Microsoft promised for one and a half years now that the release of Windows 10 will be that ONE BIG watershed moment, where everything falls in place miraculously. And yet again, Skype is not ready; as ALWAYS!
By the way: Did they finally solve the problem where Skype couldn't decide where to deliver notifications to, if a user is logged in on multiple devices?

Is Edge really uncoupled from the OS? EVERY update to it in the insider program had to come via new OS builds, so I'm guessing Edge will be updated not via the Store but through Windows update, just like IE is now.

The videos showcase what will be available July 29th. A nice surprise :)

oh please i need to get rid of skype apps somehow

I love it too, I was worried by the keyboard that will be in contact with the screen when you close it, but when I see the quality of the kickstand (specialy surface 2), I have no doubt that Microsoft is able to create a laptop with a retractable keyboard with an higher key travel path(when you turn it off or close it) instead of having a the generic and old hole that keep the keyboard from touching the screen like macbooks or other followers

Looks similar to the old windows 8 messaging app.

In my opinion, that is a good thing...

Yh, i missed the old app but this looks great.

me too, since I moved to Android, there are so many things that I've missed... begin to moving back to Windows phones now...

That w8 messaging app was great

Yeah, that was inspired from the original WP7 messaging app that had Facebook messenger integrated. That was a pretty neat feature and I wasn't too happy when they had to nix it due to the compatibility issues with Facebook. Glad they added this back with Skype instead. Good thing they're making good on their promise of integrating Skype into the OS properly. WP8/8.1 were utter disappointments in this regard.

Hope very soon. Am tired of Skype desktop already.

Excellent news day today.... Keep them coming Daniel! I like the sound of this feature.

This is the action center reply like the wm10 does

How similar will this be to imessage for iOs?

iOS has end-to-end encryption

I hope that's the action center we get for WX mobile, so intuitive and interactive friendly

Nice! Looks similar to how iPhone and Mac OS X works using the Continuity feature. The integration is great. Really hoping the experience is as seamless on Windows too.

Yeah. It is only called OS X, though. They dropped "Mac" back when Lion was launched. Most likely because they began inserting iOS GUI elements into OS X, so "Mac" was no longer solid as a prefix I think. Regardless, messaging hi-speed from computer keyboard will be wonderful, and I hope for desktop cellular calls, too. I would really enjoy that while I use the computer from a stationary place. Obviously not interesting while I'm out and about, where the phone is flexible and the right tool for the job.