Microsoft lets you link your Xbox contacts to the Windows 10 'Redstone' People app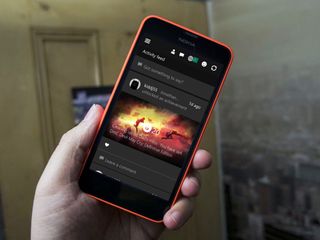 (Image credit: Windows Central)
In a surprising find, in the latest 'Redstone' Insider builds (Fast Ring) Microsoft is evidently expanding the People app with Xbox contact integration.
The feature was brought to our attention by @woelfel who spotted the addition. In essence, Windows 10 and Windows 10 Mobile will soon have the ability to link your Xbox friends to their full contact information in your People app.
Microsoft has already begun to expand the People app, which took a massive hit in functionality from its Windows Phone 7 days. Years ago, users could link apps into the People Hub to get a birds-eye view of a contact's activity. That feature was stripped in Windows Phone 8 and 8.1.
However, the Windows 10 People app does let external apps share information, such as Facebook (beta), Skype, and the old Twitter app (ironically, the new one does yet have that feature). Now, we are getting the first signs that the old People Hub functionality may be returning.
The new ability is still in the early days and as such there are some caveats. Here is what we know and what you need to make it work:
Windows 10 or Windows 10 Mobile 'Redstone' build 14295 (or higher)
The Xbox (beta) app for Windows 10 and Mobile. Download that app here

(opens in new tab)

The Xbox contact must be using their real name and not a 'handle.'
It took us a few tries once we downloaded the Xbox (beta) app as it appeared to download a patch from the Store. We also had to have the People app closed out and it took a few opens and closes before the two apps synced together.
Eventually, we were able to open the People app and using the Filter Contacts feature choose Xbox (beta) from the options menu. Afterwards, you can find a contact and hit the link account button to add their Xbox account
What's it used for?
So far, the Xbox integration is used for messaging. Under their profile you can choose Send message and pick either Skype, SMS, and now Xbox. Doing will open the Xbox app, although it is still a work in progress.
Perhaps later more features will be added including, fingers crossed, their Xbox history, which could show up under the History section of the user.
Overall, this is a very neat expansion of the People app and it should give Windows Phone and Windows fans something to look forward to in the coming weeks. Even more exciting is the possibility of other social networks being able to do the same.
Windows Central Newsletter
Get the best of Windows Central in in your inbox, every day!
Daniel Rubino is the Editor-in-chief of Windows Central, head reviewer, podcast co-host, and analyst. He has been covering Microsoft since 2007 when this site was called WMExperts (and later Windows Phone Central). His interests include Windows, laptops, next-gen computing, and for some reason, watches. Before all this tech stuff, he worked on a Ph.D. in linguistics, watched people sleep (for medical purposes!), and ran the projectors at movie theaters because it was fun.
Great! I love this - it seems like there is a path for the People app to become the hub it was meant to. Now...... bring back my Live Tile pinned contacts please!

I can pin contacts right now that have live tiles, so can you elaborate a little more if I'm misinterpreting your statement. Posted via Windows Central app for Windows 10!
Proudly rocking my Lumia 1520!

Contacts have a live tile of the image. What the old one did is show the last communication, like text message or email. I think. It's been a while since I used windows 8.

Redstone completely ruined my Lumia 640! It would boot up, then 5 seconds later it would restart. It was going on for hours. Back at 10586, but I miss the maps

Well it's made my Lumia 830 butter smooth! Sent from my Lumia 830, speeding along on Windows Mobile, build 14295.

Yes, what poopyfinger said. The bouncing picture is cute and all, but the 8.x live tiles used to show a contact's latest Facebook update, or tweet, or a new SMS/email I got from them. It really lit up Start!

I don't know how but im getting official windows 10 update on my Lumia 720

This is nice and I'm sure it'll be good for some people, but I'd be way more excited if they brought back LinkedIn integration (even if it required them to do it through the app instead of directly through the cloud now).

Im saddened when i think of the debacle that is LinkedIn in windows phone. It seems not many care about it here unlike the other big social networks. I use LinkedIn the most after twitter but unfortunately i have to use the browser because the mobile app is severely underpowered

You can only blame LinkedIn for that, not Microsoft. They are responsible for their own app...

Nowhere did i say Microsoft is responsible. I just find it odd that a WM is targeting business users in many respects but doesn't even have a usable LinkedIn app

This showed up with the last Beta app they released for Redstone users. If you're not seeing any body on your people hub be sure to launch the app and open up your friends list as that will refresh it and add it to your people hub.

I'm on build .164 production and I have this. I noticed it yesterday when I added a contact and it automatically linked with his Xbox account. Doesn't anyone else have this? Från min Lumia 1520

I'm hoping this is the start of Xbox on WP to. If they can add remote play to wp or even continuum that would be amazing as this works now through remote desktop so if wp got it it's a big selling point.

This was in a screenshot in the Facebook mobile app when you go to Settings ---> Overview and it displays it on contact sync. Zachary Bowling - ZAD Apps

Worked out of the box on my laptop - just had to open the Xbox (beta) app once then check the People app. They showed up on mobile once I checked my friends on the Xbox (beta) app as someone said here. It's pretty cool to see the contacts there, and finally all my Messaging+Skype contacts synced properly!
Next step: let me use the People contacts to add people on Xbox.

This is really cool. Only thing that bothered me with xbox messaging is that you never got notified of a new message making it pretty useless. Is that still the case?

Lol if you configured your avatar there is a quick animation in games hub. but for both smart ass/xbox app you have to enable notifications via settings in those apps

Once Microsoft gets this sorted out, they need to fix the disaster that is the Xbox account system. It makes no sense to be used with Groove, and the 30-day waiting period to fix your account is asinine.

Lol & to rollback damage caused by hackers(eg. I have an achievement for madden which I dont play but only way to remove is if they consider me a cheater)

The people app is better but why can't I have groups anymore, that's a HUGE disappointment. If I see a funny pic for a example and share it within messaging I can't type in "The Fellas" group anymore. I have to save the picture and send it that way. That's weird they did that, it's definitely a few steps backwards.

Do you mean rooms? Because groups is still there and you can send 1 msg to entire group

I cant download the app, it says something went wrong on our side! Is it because I have a Lumia 1520 or the older app is already installed?

Try again. Posted from Windows Central for Windows 10
Using the Alcatel OneTouch Fierce XL for Windows 10

Lol typical xbox.com message wish they'd fix 360 download history on console side its irritating to have to search a long list on xbox.com

Xbox live seems broken at the moment, can not access account.

So MSFT really moved to RS, no more update to build 10.0.586.x? Posted from Lumia 640 XL DS
Build 10.0.586.164

Build 10.0.586.168 or .200 are coming

Where did you get that info? Lumia 640 XL DS
Build 10.0.586.164

I'd like to know as well, because .164 was a noticeable step backward on my L925.

It will probably be like the Cortana/Xbox Link and only frggin work in USA.

Is that Nokia 625? Lumia 640xl

the new twitter app for windows 10 has removed the people integration... hope they put back again...

When will the non-insider get the redstone update?

Give it time. It's still full of bugs and half-baked features. No need to rush it to everyone just yet.

The people hub was the one thing I missed when I stopped using a windows phone as my daily driver, they butchered it in later versions though as was the case sadly with so many other features. Posted via the Windows Central App for Android

I really miss the peoples hub from WP7.
I hope all the features come back, I loved posting to FB, Twitter, link' den from the peoples hub. Remember smoked by a WP those were great with Ben the Pc Guy. Those were great times.

Last year I saw Ben at a MS event and joked with him that my One would be smoked by WP7.

Can any one tell me is L625 eligible for the update .164 preview developer.And also for official windows 10 update in India

That UI... You'd think MS would hire decent designers by now instead of letting the college intern slap it together on his lunch break.

Unpaid lunch break. Posted from Pornhub

Simply combining contact info doesn't seem that spectacular to me. What would be nice if there was some API behind it for apps to use.

There is... That is what is happening here

Not able to sign into Xbox beta on both mobile & pc. Anyone else having this problem ?

Seems that same problem here. Can't even open web page login. Live. Com

I hate it when it failes to sync the contacs together tho... i cant get my Skype+messaging contacs to show and so i cant see the linked ones :3 there goes my favorite skype messaging xd

Actually the OS build can be as low as 10586 at least.

People app was one of the best and unique features of WP, some friends of mine switched from WP when they revived it...

Shame the rest of the build is so completely and utterly ******! On Lumia 1520 at least. Loads of apps say pending on the all apps list, tap one and is says try updating from the store, but the store gets stuck on the loading screen. The people live tile is screwed. You can't share pictures from the photo app, try to and you briefly get a list of options and then it crashes back to the start screen. I know this is fast ring but ZOMG it is so utterly messed up I'm not sure why they bothered releasing it. It should only be the new stuff or tweaks that break not existing stuff that was fine in previous builds.

Have had same issue on my Lumia 1520 but it went ok after some hours.

I just upgraded to the new 14295 from 14291 so far all but the people live tile bug seeto have been fixed.

This is nice but I'd really like my Outlook contacts to start synching again. That's kind of where ALL of my contacts are stored...

Awesome I've been wanting this feature since WP7

I just want to be able to create and email a group of contacts. Why is such basic functionality still missing? I just don't get it.

How about letting us add pictures to our contacts through the web on our £100 Per year Exchange/Office 365 plans MS? And save the ******* Xbox integration for later? It's only been five years. You know, pictures? For your ******* contacts?

Let Microsoft know in the Feedback Hub you don't want them to abandon the Messaging app -- ask them to integrate SMS / MMS / RCS text messaging and calling, Skype messaging and calling, GroupMe group chats and Xbox app conversations in the Messaging app on Mobile & PC!

Stop this and just add FACEBOOK photos to profiles again... just like in phone...

Update: Seems to be fixed.... Redstone works now

Seems that I can't get the app.. It says error code: 0x803f7000

This isn't just for fast ring. I have a 950 on the production ring and I can do this.

This is a great feature. I tried it out, and only got Larry Hryb (Major Nelson) added to my contacts. All other friends have nicknames. Now just for Steam to make a UWP app and add People Hub integration! Same for Ubisoft with Uplay! Posted from Windows Central app, Built for Windows 10.

This is good news from MS. I love it!
Windows Central Newsletter
Thank you for signing up to Windows Central. You will receive a verification email shortly.
There was a problem. Please refresh the page and try again.