Microsoft looking to hire for opening of Holiday stores in NYC and elsewhere in US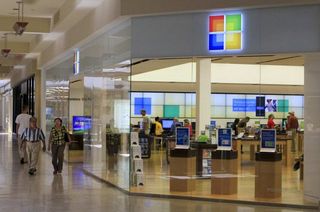 Microsoft is set to unveil a number of holiday retail stores including Manhattan in New York City, according to a handful of published job listings. We previously looked at a number of potential locations for Microsoft stores in an unofficial list, but it's good to see evidence of actual positions at future stores open up.
The positions available at the these "Holiday Stores" -- as they're referred to in the job titles -- are retail product advisors, who would be tasked with completing the user experience when potentially purchasing Microsoft products. Here's an excerpt from the job posting:
Here is the full list of "holiday stores", according to the Taleo website:
We could only be seeing the bricks and mortar from Microsoft at certain places for a limited time, but if they're a hit there's no reason why Microsoft couldn't keep a permanent store open in busy locations. With Windows Phone 8 and Windows 8 just around the corner, it makes sense for Microsoft to expand their stores, even if they're just temporary to see the year out.
Check out the Taleo website for more information. Will you be applying, or are you too excited as a consumer?
Thanks, Travis, for the tips!
Rich Edmonds is Senior Editor of PC hardware at Windows Central, covering everything related to PC components and NAS. He's been involved in technology for more than a decade and knows a thing or two about the magic inside a PC chassis. You can follow him over on Twitter at @RichEdmonds.
If I didn't have an awesome job now, I would be there (FYI I used to work at the Apple store) =D

Still nothing for Michigan.....

NYC finally! :D I'll apply for the heck of it, I already have a job but this could be a fun side-job. How do I apply?

unfortunatly this sound like a temp store (like the NFL shop during the draft or those halloween custome stores). Not sure why they don't want a Microsoft store in NYC. I know it's considered Apple territory but that didn't stop them in the sillicon valley (where they have two stores right next to Apple stores)

Why apply if you already have a job? Don't steal someone else's

It's Part-Time. No one is going to live off of PT wages.

cool to see San Antonio listed. I have a really good feeling it will occupy the former Sony store in La Cantera. I'll probably stop by after it opens to see if there are any weekend part-time positions available just to geek out.

That makes sense, but I hate the location of the Sony store and its pretty small. San Antonio needs a nice, permanent store.

Dallas needs a Microsoft store

+1. I agree, Dallas needs one too!

You forgot Cincinnati, OH at the Kenwood Town Center... although it might be opening much sooner.

http://www.kenwoodtownecentre.com/directory/k-p

Theyve already completed the hiring process

meh....holiday pop up stores...only interested in a permanent store.

I don't understand how these are pop up stores

They can rent a high-priced location for as long as the money is hot, then once that dies down they vacate the premises...unless they can afford to stay.

I think the Manhattan store will generate alot of foot traffic with Surface and WP8

Would love a store in Philadelphia but they are opening one in Newark, DE so I guess that's close enough.

So let me get this straight. These stores are only temporary brick and mortar stores?

wait, Vancouver? YESSSS!!

They posted the same here in Puerto Rico a few months and I applied, nothing :(

Holidays haven't come around yet, don't lose hope... =)

Omg, San Antonio is on the list!!

Damn, I need 2 years of experience. :(

I'm excited about the Cleveland store, since it's actually one I could visit. Hopefully it will be a permanent location.

I guess la won't be a holiday store

Yes finally NYC, let's hope it's not only during holiday season!

Two spots opening up not 30 minutes out this month...the city is a LOT harder to pull off. =/

VANCOUVER, BC??? AHHHHHHHHHHHH!!!!!!!!! YES!!!!! Now I can try out the Surface before I buy it.
Surprised Vancouver is the only Canadian store.

Awesome!!! About time we get one in Miami.

Woot downtown Chicago, I'll apply since I need a job. EDIT: none of the links work

Portland Oregon...... sweetness.

Remember that just cause it Sais "Pop Up/Holiday Store" doesn't necessarily means it's there for only 3 months or so. Pop Up Store Can last for 1 Year or even more, plus, if Sales go well prob they could easily estend the contract!...still waiting for a London UK Store ;)

Cleveland, huh? due to their track record of going into malls with apple stores, I suspect it's gonna be on the west side, which is a bit too much of a drive for me to apply for a position. Oh well, I'll have to visit it, regardless.

What about orange county??
Im definitely applying

Definitely some excitement for San Antonio, hope it turns into a permanent store.

Yeah so Microsoft should pay attention to other parts of the world. Europe is a huge market and places such as London, Berlin & Paris should have a Microsoft Store by now

I was going to apply for part time in Newark De. It won't accept it without a resume. :(
Windows Central Newsletter
Get the best of Windows Central in in your inbox, every day!
Thank you for signing up to Windows Central. You will receive a verification email shortly.
There was a problem. Please refresh the page and try again.