Microsoft Lumia 535 apparently due for a 'software update' to address screen sensitivity bug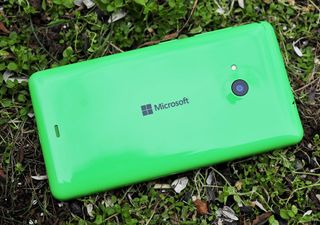 During my hands on mini-review of the Lumia 535, there was only one issue that stood out on the otherwise outstanding Windows Phone: touch screen sensitivity was lower than ideal.
Evidently, I was not the only one to experience this as a few other reviews – both professional and from consumers – have noted that it can take more than one-tap to register on the Lumia 535. Some have reported that disabling 'Screen Magnifier', found under Settings > Ease of Access, helps improve things, which we can confirm, but others are still having problems. Now, at least according to Microsoft Lumia Malaysia via Facebook, a software update is in the works.
The news of the potential updates comes from our Lumia 535 forums, where user Jakez98 inquired with Microsoft Malaysia about the problem. Microsoft's response appears to be quite definitive on the matter:
When it comes to touchscreens, there are two components that could affect the sensitivity, including the hardware itself or the software (often mediated via firmware or the Lumia Display settings). It is not yet clear where the problem lies on the Lumia 535, but software is the most likely candidate.
No details about when the update could be expected were revealed. If the fix can be mediated by a simple software update for Lumia settings e.g. Display or Touch, then the update could come at any time. If, however, the update requires a new firmware, things could take much longer and would most likely come in early 2015 after the holidays.
Although not a deal breaker for the otherwise excellent Lumia 535, touchscreen sensitivity issues can indeed be frustrating. I hope that a fix arrived sooner than later and not require new firmware.
Thanks, Jakez98, for the tip
Daniel Rubino is the Editor-in-chief of Windows Central, head reviewer, podcast co-host, and analyst. He has been here covering Microsoft since 2007 when this site was called WMExperts (and later Windows Phone Central). His interests include Windows, Microsoft Surface, laptops, next-gen computing, and for some reason, watches. Before all this tech stuff, he worked on a Ph.D. in linguistics and ran the projectors at movie theaters, which has done absolutely nothing for his career.
What about Lumia 730's purple tint issue Daniel?

My bro 730 captured pictures are so blue if he was capturing a white thing

Mine is fine, never had this issue with my 730

Wait, what you talking about?.. My 730 takes pics just fine

Amazing what software can do.

Lumia 535 or 735 ? Help me please D:

535 show off that Microsoft pride!

Xbox or Xbox One? Please help.

What is this MS you are loosing market share worldwide from 3.6 to 3% but still producing products with unstable software.plz get your acts together or else fall by the windside. Posted via the Windows Central App

Every single piece of technology has bugs in it, regardless of what OS it is, that's the nature of the beast.

Exactly. I'm just glad they've taken notice of the issue and are working on it, unlike the live lock screen beta app.

After cyan update I can't play 1080p videos what the hell Microsoft degrading the quality of Lumia 720

With a 720p display, native 720p looks better than native 1080p downscaled to 720p for your device.

Even though the 720 has an 480p display.

I have a 720 on a cyan. 1080p works just fine.

What on earth are you talking about? The Lumia 720 has a resolution of 480x800, why are you trying to play 1080p video on it?

My 635 has low sensitivity too

Hopefully they fix the screen issues on the 635 when ending a phone call or checking visual voicemail.

I wish for all existing touch-sensitive devices, there was a touchscreen calibration tool built into the firmware. Just for a bit more precision with the display.

They can do this for the 535 but can't get the 1520's ghost taps sorted out. That phone is a year old and I still have this ridiculously annoying problem.

Ghost touch problem here too on 1320 from last six months !!!

It's a hardware issue causing the ghost taps on the 1320 and 1520. Sorry, software can't fix that.

I doubt that. If it was a hardware problem it wouldn't just go away after a few seconds on its own, without me touching the phone. You just read the article about it maybe being a HW problem and believed it, didn't you?

It is a hardware issue. Go to the forums on this site and you will find a post that succintly describes why the issue occurs and HOW TO FIX IT. While the fix is not permanent, knowing what causes it and how to mitigate it, has helped me control it on my 1520.

its weird how cleaning the screen fixes it for a couple minutes. I dont think its hardware. The screen is too sensitive.

Just because of this touch issue I didn't buy L535. I am going to buy after the update is released, the sooner the better.

When it's a hardware issue, however, Microsoft refuses to acknolwedge that there's a problem at all, as with the infamous swipe/tap/scroll bug in the Lumia 1520.


Have they addressed this issue for the 1520?

Please any solutions for network related issues and screen flickering issues in 730 !!!!!

Yes I'm also facing call drops and data connection issues

I compliant to Lumia and its help center via Twitter with screenshots they told me to use recovery tool itried that too. After reinstalled complete package it worked fine for a week and the problem comes again. :(

Should have been sorted out from the beginning

MS?? r v lacking Nokia's quality??

Riiiight, because Nokia's were always stellar. The Lumia 900 didn't have a purple display, the 928 doesn't creak, the Lumia 1520 doesn't have touch screen issues, etc.

Actually, MS have done a really good job with the 535. It's great value for money, and hope they make a great flagship soon. So no, they aren't lacking Nokia's quality

MS falling from the first step itself? it's a long way go.Step careful -_-

what happens if its because of hardware :(

Recalls and replacements perhaps? Since it is newer.

You are welcome to release an update to fix the 830's BS screen/capacitive button problems when you get around to it. Never owned a phone that didn't work with a screen protector applied.

Isn't the Lumia 830 also having this screen sensitivity issue? I keep reading about it.

The 1525 needs an update for the bug in which stops the device from getting the shelves of our local Microsoft Stores.

Did anybody notice that with the latest update the newly provided mobile data toggle is getting activated while u pull down the notification centre and the phone calls are freezing the mobile?

Just got a Lumia 535 DS and it works fine without any screen issues...

What if there is a hardware problem not software ? whose Going to pity the buyer ? (I'm one of them)

Some reviews talked about not having HD playback.
While they are at it, should also support 720p video playback through firmware update. Otherwise, it is a deal breaker for a phone with 5" screen.

The 535 doesn't have a 720p screen. Having 720p video playback on it could not be more useless. Seriously just think for a second about it.

Very true. People don't understand the problem well sometimes.

That's not good. Now I know what I'm getting next year.

No problem with my 620. It has supper sensitive touch and probably one of the first windows phone 8.0.

Why there's some users creating drama!!

Its not darama I bought 2 sets today both have the same issue explained on different sites.

I am a new user of windows phones and bought Lumia535. But along with the screen touch sensitivity I am facing another problem. My music player getting stopped when I am travelling by bus or by car. Please help me to sort it out .

Hi,
After my 520 Passed away! Recently I bought Lumia 535 Dual sim after my 520 Passed away! and I had a lot of issues with touch and i got the update 2 days ago, but after updating it still had the same issue?? My OS version is 8.10.14226.359

I am a new user of windows phones and bought Lumia535. But along with the screen touch sensitivity I am facing another problem. My music player getting stopped when I am travelling by bus or by car. Please help me to sort it out .

Hi ive got a brand new lumia 535. However it digest display the homescreen, except for the 3 buttons at the bottom. when I lock the phone, everything is normal and the display works. so far I haven't even setup an account through it. Can anyone help me with this ?

Same problem for me plz help
Windows Central Newsletter
Thank you for signing up to Windows Central. You will receive a verification email shortly.
There was a problem. Please refresh the page and try again.