Microsoft and cyclist Danny MacAskill recreate Cortana on the River Thames in London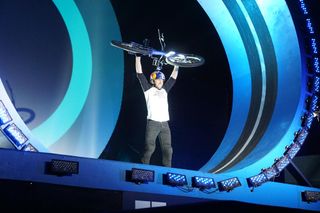 Microsoft invited the media to the River Thames in London this evening to see something special, the #MakeItHappen stunt. The company put on quite the show for Cortana, partnering up with "legendary trials cyclist" Danny MacAskill who attempted to recreate the famous Cortana icon in a loop on his chosen two wheels. The end result was impressive, as was the show itself. MacAskill performed the stunt not only in the vicinity of the river, but in the middle, between the banks, aboard a float, and situated just in front of the London Eye.
A short video was played just before MacAskill dropped below from the stand he appeared on. The stunt itself was short, a single run through the loop with Cortana appearing in the background. What was interesting was just how much preparation went into the stunt, from MacAskill getting the idea in the first place (with the help of Cortana and his Lumia 930, of course) to actually testing the loop before the evening commenced.
So what does MacAskill and tonight's event have to do with Cortana? It's an interesting question, which was put forward to Microsoft's Adam Johnson (opens in new tab) once the event was over. Microsoft plans to show off Cortana and how the personal assistant is not only a handy feature for consumers to take full advantage of, but how it wraps everything together within a Microsoft ecosystem, coupled with Xbox One, upcoming Windows 10 and cloud-based services.
Image 1 of 9