Windows 10 family settings updates lets parents give more screen time to kids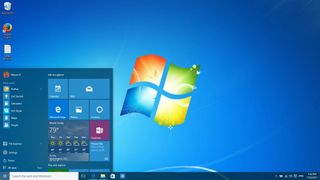 Windows 10 has a number of features and settings built in to give parents a way to make using the OS safe for their kids. Microsoft has been receiving feedback on those features since Windows 10 launched and they have recently updated them with some new additions and improvements.
The list of new features and changes is quite extensive, but here are some of the highlights:
Kids who want more time on their Windows 10 PC can now be given extensions, via email or on Microsoft's website, in 15 min, 1-hour, 2-hour, or 8-hour increments
Kids under 8 years of age will automatically have the safer settings turned on as their default. Parents can turn on the safe setting manually for kids 8 years of age or older.
Web browsing limits and web browsing activity reporting will now be used just on Microsoft Edge and Internet Explorer browsers.
Windows 10 Mobile users with the same Microsoft account on their Windows 10 PC will see their family settings automatically apply to their phoe. Here are some of those features.
Recent activity to see their activity from Windows 10 PC and Windows 10 mobile devices. When this is turned on, we display reminders to the child that their activity is reported to adults in their family.
Web browsing limits to automatically block adult content in Microsoft Edge and Internet Explorer. You can also allow or block individual sites.
Apps, games & media limits according to their age and content ratings. You can also allow or block individual apps and games.
Find your child lets you find your child's device on a map when they are using a Windows 10 Mobile phone. When this is turned on, we show reminders on the phone that their location is available to adults in their family.
You can see the full list of changes and additions to Windows 10's family features at the link below.
Thank to Nicholas for the tip!
Source: Microsoft (opens in new tab)
Easier access to apps purchased by other family members cross user would be great. Rather than logging in and out of the store on each child account to install apps.

You don't need to do that anymore. As long as they are associated in family safety and you have purchased the app on your account, then just go to the store as the Child account and click on purchase for the app. If you have already purchased the app on your account it will just install, if not it will ask for credit details. I have not found this documented anywhere, but it works for me and my kids.

They removed the option to set which apps (or none) can be downloaded. Now I can only block the store app totally. (n)

They need to add this to Xbox one too.

This is a very good direction for protecting our kids from the world's crap. Keep up your great work MSFT

If only they would update this feature and return it to include local child accounts. Why should I have to create an email account for a 7yr old kid in order to use the child safety features in Windows 10?

Are you sure you can't? I thought it's still there, just hidden.

I've got local child account with family settings enabled on win10. It's after upgrade from 8.1.

Erm... This has been around for... IDK. Months? I figured there must have been an article and I'd missed it.

Er, yes, certainly the first bit about asking for more time has been around for a while now

Even the others, I think. I had questioned Gabe Aul about the phone part... a while back ;). I could find exactly when if I was bored enough to go digging through tweets.

I found when I updated from Windows 8.1 to Windows 10 my children could no longer request additional time, they just get a sign in as another user or shutdown option. Maybe it came back recently and I just didn't know about it. I'd given up expecting this to get fixed so it's good to read that it's now available again.

This! MS should really really promote Family Settings! I mean which other platform allows to set these limitations on children's devices?

None on tablet or phones. I guess Chrome OS to some degree when it comes to PC and that's it.

S​till no way to block all websites and only allow approve sites! This was available in windows 8. This makes no sense! Please let the parent decide what the kids have access to not Microsoft!! And you still can't give more time from the kids computer which you could do in window 8. It used to prompt if parent was there and the parent could select more time.

Now you can approve yr child requested extension time through ur email or modify family website.. I just discovered it yesterday.

Until I can block all websites except those that I choose, programs and apps as well I won't let my child use the Windows 10 PC. Can't believe they took those essential controls away.

Web activity reporting and adult content filtering aren't working for W10M...at least for me. Works on the PC as advertised...

Yes, it does not work on W10M but works perfectly on W10PC. Has any body found a solution to this?
Windows Central Newsletter
Thank you for signing up to Windows Central. You will receive a verification email shortly.
There was a problem. Please refresh the page and try again.