Microsoft is making a ROM that allows Android smartphones to run Windows 10 for phones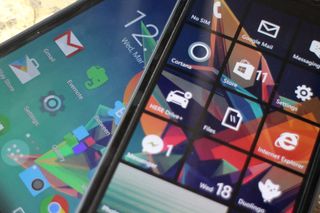 Microsoft announced earlier today that it was collaborating with Xiaomi in providing Mi 4 customers with a flashable ROM that allows them to run Windows 10 for phones on their Android devices. It looks like that program is set for a wider rollout, according to a report on TechCrunch:
Microsoft is said to have selected Xiaomi as the first partner on account of the generous amount of feedback the Chinese vendor receives from its customers on weekly software updates. The Redmond giant is reportedly looking to "make this software available on more devices in time."
Source: TechCrunch
Yes. Flash a galaxy with Windows

Just bought a s2 for 20€ I'll definitely try it out :)

You can't. It's only going to work with Xiaomi phones for now.

C'mon man, you think Microsoft are going to produce a ROM for your phone which is now 4 generations old? Get real.

theres some decent roms on XDA for the hercules. (sgh-t989) (t-Mobile US variant of the s2) its still a pretty good phone for as old as it is.

As long as cyanogen and other high end developers from XDA are still alive, we can expect windows ROMS for all the arm 7 android devices i believe.

Galaxy Nexus from the same year is running custom Lollipop. The ancient HTC Dream got running Ice Cream Sandwich. You'd be surprised at what developers can do.

Am I the only one missing the picture here? Everyone seems to be happy, but to me it seems like we're straight up giving Windows 10 to Android. They get to use either OS they want on their flagship hardware. Why bother making windows phones anymore, if they can just be lazy like HTC and literally stick windows into their device specifically designed for Android?

They were able to do that before. OEMs have always had access to the roms. This is a move for consumers who want to try WP on their existing phone.

Think back to how and why Windows became the dominant OS. Because they didn't care about the hardware, they offered an OS you could run on what you wanted. If they do extend this out it's basically going to be PCs all over again - that can only be a good thing for Windows on phones.

I agree. But I'm worried this will be more like Linux. You generally take PCs running Windows (the dominant OS) and put Linux on it. In this case, we're taking Android phones and putting Windows in them. Not many people use Linux as their primary OS.

it can go either way at this point, but which ever way it goes, its going to go all the way, meaning this will either be an epic move, or this will be a really bad idea, eitherway, this is gonna be interesting to watch!

While this is true, I'd argue Linux has a bigger learning curve than Windows 10 for phones and that could contribute to less widespread use.

Eh, not really. Windows Phone has a lot more reach than Linux does. Can you even buy Linux (besides ChromeOS) in a store? Frankly, this is a win-win, since we'll have Windows 10 sold through retail stores for normal people and a flashed ROM on other phones for enthusiasts and tinkerers.

You all do realize that Android IS Linux based kernel right?

is just a version of w10 for phones. not the real deal. edit: but i do see too that someow some of them will be happy enough with half os, + google services and android apps, so the will actually turn to never consider wp again.

Really, after this why would I bother buying a windows phone if I can buy an android and have both? That way I could enjoy all the android apps and MS services.

this is not Dual Boot in my understanding

Give W10 out to flash for cheap throw away Androids where there is little to no profit to be made compared with how Chinese OEM does it, then focus on making high end, high margin Surface Pro 3 like experience for phones. Sounds good to me actually!

Um, how is this any different from HTC M8 for Windows which is a WP device? A phone originally designed for Android but runs WP. It's about compatibility. And it's not an Android ROM with a WP skin, it's real actual Windows Phone.

Only if they did something which allowed us to run android apps :P

Yes. It is this or die, period. There is no other way forward.

Windows 10 phones running Android apps would be the immediate death of Windows phone development.

I doubt it. It is one of smartest move MS has ever made. It is the only way that will help WP to crack into the Android dominated (90%) Chinese market. It will help the Android users to try the W10 phone and realize it would be a perfect companion phone to their W10 desktops. The W10 conversion pace will be huge in China with MS's decision to allow the pirated Windows users to upgrade free. There are about two third of Chinese Windows users are using pirated copies. Those people will definitely take advantage this opportunity to convert. The huge number of W10 new users will pressure all developers, Chinese developers include, to jump in the Universal apps development aggressively. The are in effect developing apps for WP without targeting WP. The increased WP apps will in turn help selling W10 phones. I see all the positive impacts to WP in the long run. Nobody can afford to leave W10 ecosystem. Android OS is the one has to worry about its long term future.

How? In what world would there be incentive for developers to produce a Windows app then? Look at Blackberry, wow the Android app compatibility has really helped them!

yup, what you just described were all the reasons NOT to add android app emulation at this point

Seriously no. Android is a sloppy OS. Besides, with the trend starting I don't think we'll need android crapware.

The apps and the OS are different things. If the app crashes and doesn't affect the overall OS, going back to the Start screen than what difference is there between that and a poorly written Windows Phone app? Android is a buggy OS, but I don't know how the ability to run the Linux programming language as well as Silverlight, C++, HTML5, etc would look on Windows - would need to see how they manage and support it. It wouldn't turn Windows into a Linux based Android OS though. Android is so unstable on low end hardware, even Samsung are talking of ditching them on low end phones for Windows Phone. Stability on low end specs is actually more important than apps.

Please note now nothing is a low end with 100£ android phones having 1.5gb/2gb of rams runs better than same price windows phone with 512 Mb/1gb ram..
Windows phone can't stand infront of android and windows10 is MS last hope in phone ecosystem

Are you stupid? I am a wp fan, but Android is the most stable os on the market... And sells the most.. And is used in Game consoles, phones, tablets, cars, TV's, and more, so don't knock it Windows fanboy.

Most stable os, come on that's not even a fact lmfao, IOS is more stable than android always will be FACT

http://www.techtimes.com/articles/32936/20150216/android-5-0-lollipop-stable-ios-8-report.htm

Where Windows is used in Game Consoles, phones, tablets, cars, TVs, laptops, desktops, workstations, render farms, ATMs, point of sale, servers, and running Nasdaq. Android has been a laggy crashy mess in my experience with it.

in my experience the android experience ios linked directly to the phone you buy, i had an low end samsung.. it was the WORST, also had a samsung galaxy s2 that was meh, wasnt horrible but it wasnt really good, but then you get things like the HTC one which run android beautifully. I think androids performance depends on just how much attention the company gave it

Agreed. Teh app gap is HUGE, and more developers are dropping from WP daily.

No he has it right... I am a developer, and know quite a few other devs.. Wp lost quite a bit in the Last year.

The growth of WP will be flat for couple more quarters until W10 is released. W10 is game changer. The W10 upgrade will be massive. The developers who choose to ignore Universal apps development will be pushed aside in a few years. The smart ones have already jumped in aggressively and they will be rewarded. The others who choose to sit on the fence will be dragged in later anyway but they will lose the edge to the early adoptors. It would be a cold and cruel fact.

What is disappointing is that android users brag about the "millions" of apps they have on play store but when you look closely, half of them are fake and viruses

They have a wide variety of apps though.

Variety? Yes. Stuff people use daily? No. Major players? No.

I have tons of apps that I used daily, first party apps included.

A.) That is completely wrong. B.) Even if you took a small fraction of the Android or iOS store, it would be multiple times larger than the Windows store. WP has 70k apps. Android has 1.6 MILLION. And of the 70k Windows has, half are crap, and don't even include official apps from the biggest names like facebook, pandora, LinkedIn, Tumblr, Instagram, Fitbit, etc etc etc. No apps = Failure of a mobile device.

Oh, Kyle. Windows Phone has Facebook, Twitter, Instagram, Vine, kik, fitbit, pandora, etc. Check the Store - http://www.windowsphone.com/en-us/store/top-free-apps/social/social

Facebook, third party. The others, not updated in a year or more. Most, two years. Tumblr, 2013. LinkedIn, 2013. Instagram, in BETA for over a year now. Yeah, be proud of that, I guess. And companies pulling support daily. But hey, whatever helps you sleep at night. The fact remains. Dead platform for now, and the big players know it.

Big players ha most apps on android are junk and crap, big apps always crash randomly, apps that aren't on WP are always updated cause they always have bug fix's, need to support all the random forked android devices, etc. the "big" guys never gave windows a chance ever, the fact that making an app for pc/wp in one app will solve that problem and how many people act own a PC making it a major player makes them stupid and lazy, and if u really think wp is dead, why don't u leave us get an android/ios and get off this site :)

YOU dont know what you talking...

70,000 apps? No Facebook or Pandora etc? What the hell are you talking about?

What kind of crap are you pulling out of your ass? Literally all of those apps you mentioned have an official app, instagram being in beta, but they exist. Also, even in windows phone 7 days we had more than 70,000 apps, at the moment we're at more than 300,000 apps.

My bad, say 300,000 apps as of 8-2014, per the wiki you pulled that from. Still a minute fraction of what's available on other platforms, and none of those apps have been touched in a year or more from the major players. See my response above.

you are the good example, of those ppl that goes and buy phns just cuz it has more apps, or think more apps out there the better your phn is. REALLY ppl????? Ok YOU said you have TONS of Apps on your phn. Please give me a number. I want to know what is TONS (40, 60, 100, 200, 300....) i need to know a number. For now , lets say is 150 apps, from 1,000,000+ apps that is on android store. So using 150+ apps on your phn makes the best platform/phn to use?????? are you hearing yourself??? even if android or ioS crap had 1 trillion apps, but their iSHEEP users can only use 150, 200, 300, 500..... does it matter how many freaking useless apps are out there??????????? Also, of those 100000000000000000000000000000000 useless apps out there, how many of them are actually useful and are NOT copied/repeats????? How many calendars, same games, weather, calculator, photo, REPEAT APPS do we need?????? FYI, my Lumia 1520 CAME with some killers apps installed, like Nokia photo, Here Maps GPS, Nokia camera, Office, and so many more................installed on it, that is by far better than any crappie app out there, so i have about 40 apps i got from MS store. I have EVERYTHING i need, NEVER missed anything coming from Android. Actually my factory apps, are so awesome, and way better than any apps out there, which no iOS or Android has. LOVE my 1520, and will NEVER go back to android again(forget about the garbage iOS made for iSHEEP). Also, IF i don't see an app, i go to the site, and PIN IT to the Start. in many cases, web site is by far better than the stupid app. I like EBay classic site, way better than ANY of their apps from Android, iOS, or even windows. I prefer the site/classic viewing. So any site can be PINed to the Start screen for quick access(kinda like an app).

You sound really foolish. First off I give you credit, for the android play store has many apps, as do ios. But what does 50-100 of the same apps accomplishes? More apps in the store? Smt if you were to pull all those duplicate apps away you would probably end up with the same amount (slightly more) than the windows store. I had an iPhone (5S) an I liked it. Liked the way it felt etc. But the camera wasn't good. I also owned a Samsung S3 it was all beautiful when I first started it up...but then again it kept freezing, apps kept crashing for no reason but not only that I was limited lame camera. Which brings me to Nokia 1520 (Windows Nation) everything was fast with no lag. Apps don't crash (not on me) camera is fantastic, rarely any duplicate apps in the abundance of android or ios. My point is at the end of the day windows platform is more stable and more well rounded. Windows 10 will solve all the missing app problems with there universal code.

Dumb, Windows store have 500k+ apps. And facebook app is official. Do you ever use WP? And 90% big apps crashes on android. But only 10% big apps crashes on wp. I can run subway surfer smmothly on my 630 but my friend cant play it on his 1gb ram crapdroid, because it lags and crashes.

Lol Subway Surfers. Why don't you compare World of Tanks, or Xcom Enemy Within, or Monument Valley, or Hearthstone, or Need For Speed Most Wanted, or Real Racing 3, or Call of Duty Strike Team, or Deus Ex: The Fall, or Epoch, or Shadowgun: Deadzone?

ok the subway surfers on android is bullshit, It barely runs on my 520 but runs fine on my moto g

Did you even bother to see that those apps are available, or are you just spewing the same line of BS that all the other haters out there.........

No.... That's complete bs. Less than 1% have viruses. Google does a amazing job at screening all apps that are put up.

Wish they did a better job screening their OS, or supporting it after it fails. (RIP, Jellybean)

Incorrect, it's only since yesterday that they now manually verify apps going onto the store i.e. the same thing that Microsoft has been doing since day one of WP.

No they don't, google has far to many virus running around in there store.

Re: Kylecpcs, WOW losing apps "daily"! So 100s? Each and every day? Or is that an exaggeration? I can think of 4 and there must be other insignificant ones we haven't heard of, but "daily"? The trolls / haters say things like that.
Best Wishes

They may be pulled to be re-writtern for win10 in order to work on multi-platform.

No, don't want android apps

If they allow Android apps then all development will stop for Windows phone. Game over. Why make a Windows app when people can use your Android app? If we adopt Android apps they would have to change the OS extensively to make it use all of their features. Goodbye live tiles, Android apps don't use the API for them. We'd just end up being a little Android fork that dies. Seriously, every time people suggest this I wonder why they don't realize that BlackBerry tried this and look where they are now. Even the Amazon fire phone, which runs forked Android isn't selling well.

why make wp apps when you can run android apps? live tiles, performance etc.

the better question is: why make a windows phone app for 4% market share, when you can make an android app for 60% world market share PLUS the 4% windows market share. Only the truely dedicated developers that care about the WP platform will make a WP native app. Otherwise its much easier and more cost effecitve to just use an android app.

Because with windows, and its new app maker, including a web based application development kit, meaning subway surfers can be built in the cloud. As well with that model and free win10 update MS has literally made it 1.5 billion devices and tens of millions gaming consoles and hundred million phones. All with one kit.

Because real developers with half a brain has discovered that on Android people want everything for free and are not willing to pay for anything, while on Windows Phone they can actually make money. And with universal apps real developers can reach more people than ever...
If those CopyJustAnotherFlashlight-developers doesn't get it, maybe that's not a bad thing...

idk why people don't want this, Windows Phone is kinda dead now and there's not enough apps

I would prefer Windows 10 for phones to support Android apps.

Yes me to. Like Jolla and bb. Only run google services somehow

That's evil from MSFT. Bring it to the android and maybe some will switch platforms. I'd love to see the downfall of Google, android. Not the complete distraction, but a important decline to their numbers

It won't even make a dent.

Actually it might attract consumers if advertised well. Most people use a PC so given the ease of use and continuity in using the same OS on two different devices might make people install this ROM. They need to make people aware of this ROM though. And also make it easy to install! :P
They will have to make sure that essential and most popular apps on Android are available on Windows. I don't think the app gap matters a lot. Android has more than a million apps but who uses them? Most of them are crap apps. Microsoft needs to make sure that users don't miss the essential apps on WP.

Agreed. And imagine if they allow game streaming from XB1 to Windows 10 phones? Got an Android phone? No problem! Flash your phone with W10 and you're set!!

Now thats an intelligent comt. You seem to know, what I'm talking about when i say, there are thousands of useless apps are in iOS crap and android stores. the most ppl can install apps on their phns is what? 100, 200, 500.... so who really cares how many useless apps are out there??? does it even matter?? I also agree with you on the EASE of using this ROM, so many ppl can easily install it on their Android phns. It would be nice to see CrApple iJUNK also be able to use this ROM too, and switch their OS if they wish. Before Win8.1 came out on the phns, i heard about this ROM, but then nothing, till now. I really hope that happens, cus i REALLY LIKE Oppo N3(N4 is coming too), LG Flex 2, Samsung Note 5, (i like Big screen phns). that i would LOVE to run Windows 10 on these phns. Even SONY Xperia Z is an AWESOME phn, that would be even awesomer if it had Win10 on it:D just saying;-)

Googles downfall will never happen. They are way too strong and good to their customers. Believe it or not people like that. That's why they have over a billion devices sold. Think real hard about it.

They have that be acause the os was free and the phones cheap, 70% of android are low end droids. So they shipped 300million medium to high end, still a massive number. However with the new toolkit, MS just pulled a active 1.5billion device jump.

Remember BlackBerry and Nokia?... Yeah me neither...

Google's customers are the advertisers. You are their product. and you'd have to be suffering from a special Google brand of stockholm syndrom to think they are ever good to you.

Android Central exists for people like you, maybe you should join them!!!!

sorry, Google/android has horrible customer service. there are NO Phone numbers to call. All you can do is email, and hope they understand what you are talking about ad give you a correct answer back few days later. I have searched and searched for a freaking number to Google/Android and NOTHING. With MS, i can make a phn call to 1-800-Microsoft, and get ANY support i like for any of their device or products they sell with ease. Also, we have a MS Store in our town with UNBELIEVABLE customer service in the world. I have NEVER been more impressed with such a AWESOME service in my life, not even Costco, Sam's Club, or even Bed Bath and Beyond that take things back no matter how long you owned it. MS Store replaced my broken 1520 that i bought else where, with no problems whatsoever. who does that?????? i didn't even had my receipt with me. I told them, i did NOT buy this from MS Store, they did NOT care, and still went out of their way, and gave e a BRAND NEW one in the BOX. (i bought mine USED on