Microsoft is making a ROM that allows Android smartphones to run Windows 10 for phones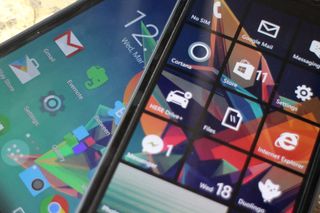 Microsoft announced earlier today that it was collaborating with Xiaomi in providing Mi 4 customers with a flashable ROM that allows them to run Windows 10 for phones on their Android devices. It looks like that program is set for a wider rollout, according to a report on TechCrunch:
Microsoft is said to have selected Xiaomi as the first partner on account of the generous amount of feedback the Chinese vendor receives from its customers on weekly software updates. The Redmond giant is reportedly looking to "make this software available on more devices in time."
Source: TechCrunch
Yes. Flash a galaxy with Windows

Just bought a s2 for 20€ I'll definitely try it out :)

You can't. It's only going to work with Xiaomi phones for now.

C'mon man, you think Microsoft are going to produce a ROM for your phone which is now 4 generations old? Get real.

theres some decent roms on XDA for the hercules. (sgh-t989) (t-Mobile US variant of the s2) its still a pretty good phone for as old as it is.

As long as cyanogen and other high end developers from XDA are still alive, we can expect windows ROMS for all the arm 7 android devices i believe.

Galaxy Nexus from the same year is running custom Lollipop. The ancient HTC Dream got running Ice Cream Sandwich. You'd be surprised at what developers can do.

Am I the only one missing the picture here? Everyone seems to be happy, but to me it seems like we're straight up giving Windows 10 to Android. They get to use either OS they want on their flagship hardware. Why bother making windows phones anymore, if they can just be lazy like HTC and literally stick windows into their device specifically designed for Android?

They were able to do that before. OEMs have always had access to the roms. This is a move for consumers who want to try WP on their existing phone.

Think back to how and why Windows became the dominant OS. Because they didn't care about the hardware, they offered an OS you could run on what you wanted. If they do extend this out it's basically going to be PCs all over again - that can only be a good thing for Windows on phones.

I agree. But I'm worried this will be more like Linux. You generally take PCs running Windows (the dominant OS) and put Linux on it. In this case, we're taking Android phones and putting Windows in them. Not many people use Linux as their primary OS.

it can go either way at this point, but which ever way it goes, its going to go all the way, meaning this will either be an epic move, or this will be a really bad idea, eitherway, this is gonna be interesting to watch!

While this is true, I'd argue Linux has a bigger learning curve than Windows 10 for phones and that could contribute to less widespread use.

Eh, not really. Windows Phone has a lot more reach than Linux does. Can you even buy Linux (besides ChromeOS) in a store? Frankly, this is a win-win, since we'll have Windows 10 sold through retail stores for normal people and a flashed ROM on other phones for enthusiasts and tinkerers.

You all do realize that Android IS Linux based kernel right?

is just a version of w10 for phones. not the real deal. edit: but i do see too that someow some of them will be happy enough with half os, + google services and android apps, so the will actually turn to never consider wp again.

Really, after this why would I bother buying a windows phone if I can buy an android and have both? That way I could enjoy all the android apps and MS services.

this is not Dual Boot in my understanding

Give W10 out to flash for cheap throw away Androids where there is little to no profit to be made compared with how Chinese OEM does it, then focus on making high end, high margin Surface Pro 3 like experience for phones. Sounds good to me actually!

Um, how is this any different from HTC M8 for Windows which is a WP device? A phone originally designed for Android but runs WP. It's about compatibility. And it's not an Android ROM with a WP skin, it's real actual Windows Phone.

Only if they did something which allowed us to run android apps :P

Yes. It is this or die, period. There is no other way forward.

Windows 10 phones running Android apps would be the immediate death of Windows phone development.

I doubt it. It is one of smartest move MS has ever made. It is the only way that will help WP to crack into the Android dominated (90%) Chinese market. It will help the Android users to try the W10 phone and realize it would be a perfect companion phone to their W10 desktops. The W10 conversion pace will be huge in China with MS's decision to allow the pirated Windows users to upgrade free. There are about two third of Chinese Windows users are using pirated copies. Those people will definitely take advantage this opportunity to convert. The huge number of W10 new users will pressure all developers, Chinese developers include, to jump in the Universal apps development aggressively. The are in effect developing apps for WP without targeting WP. The increased WP apps will in turn help selling W10 phones. I see all the positive impacts to WP in the long run. Nobody can afford to leave W10 ecosystem. Android OS is the one has to worry about its long term future.

How? In what world would there be incentive for developers to produce a Windows app then? Look at Blackberry, wow the Android app compatibility has really helped them!

yup, what you just described were all the reasons NOT to add android app emulation at this point

Seriously no. Android is a sloppy OS. Besides, with the trend starting I don't think we'll need android crapware.

The apps and the OS are different things. If the app crashes and doesn't affect the overall OS, going back to the Start screen than what difference is there between that and a poorly written Windows Phone app? Android is a buggy OS, but I don't know how the ability to run the Linux programming language as well as Silverlight, C++, HTML5, etc would look on Windows - would need to see how they manage and support it. It wouldn't turn Windows into a Linux based Android OS though. Android is so unstable on low end hardware, even Samsung are talking of ditching them on low end phones for Windows Phone. Stability on low end specs is actually more important than apps.

Please note now nothing is a low end with 100£ android phones having 1.5gb/2gb of rams runs better than same price windows phone with 512 Mb/1gb ram..
Windows phone can't stand infront of android and windows10 is MS last hope in phone ecosystem

Are you stupid? I am a wp fan, but Android is the most stable os on the market... And sells the most.. And is used in Game consoles, phones, tablets, cars, TV's, and more, so don't knock it Windows fanboy.

Most stable os, come on that's not even a fact lmfao, IOS is more stable than android always will be FACT

http://www.techtimes.com/articles/32936/20150216/android-5-0-lollipop-stable-ios-8-report.htm

Where Windows is used in Game Consoles, phones, tablets, cars, TVs, laptops, desktops, workstations, render farms, ATMs, point of sale, servers, and running Nasdaq. Android has been a laggy crashy mess in my experience with it.

in my experience the android experience ios linked directly to the phone you buy, i had an low end samsung.. it was the WORST, also had a samsung galaxy s2 that was meh, wasnt horrible but it wasnt really good, but then you get things like the HTC one which run android beautifully. I think androids performance depends on just how much attention the company gave it

Agreed. Teh app gap is HUGE, and more developers are dropping from WP daily.

No he has it right... I am a developer, and know quite a few other devs.. Wp lost quite a bit in the Last year.

The growth of WP will be flat for couple more quarters until W10 is released. W10 is game changer. The W10 upgrade will be massive. The developers who choose to ignore Universal apps development will be pushed aside in a few years. The smart ones have already jumped in aggressively and they will be rewarded. The others who choose to sit on the fence will be dragged in later anyway but they will lose the edge to the early adoptors. It would be a cold and cruel fact.

What is disappointing is that android users brag about the "millions" of apps they have on play store but when you look closely, half of them are fake and viruses

They have a wide variety of apps though.

Variety? Yes. Stuff people use daily? No. Major players? No.

I have tons of apps that I used daily, first party apps included.

A.) That is completely wrong. B.) Even if you took a small fraction of the Android or iOS store, it would be multiple times larger than the Windows store. WP has 70k apps. Android has 1.6 MILLION. And of the 70k Windows has, half are crap, and don't even include official apps from the biggest names like facebook, pandora, LinkedIn, Tumblr, Instagram, Fitbit, etc etc etc. No apps = Failure of a mobile device.

Oh, Kyle. Windows Phone has Facebook, Twitter, Instagram, Vine, kik, fitbit, pandora, etc. Check the Store - http://www.windowsphone.com/en-us/store/top-free-apps/social/social

Facebook, third party. The others, not updated in a year or more. Most, two years. Tumblr, 2013. LinkedIn, 2013. Instagram, in BETA for over a year now. Yeah, be proud of that, I guess. And companies pulling support daily. But hey, whatever helps you sleep at night. The fact remains. Dead platform for now, and the big players know it.

Big players ha most apps on android are junk and crap, big apps always crash randomly, apps that aren't on WP are always updated cause they always have bug fix's, need to support all the random forked android devices, etc. the "big" guys never gave windows a chance ever, the fact that making an app for pc/wp in one app will solve that problem and how many people act own a PC making it a major player makes them stupid and lazy, and if u really think wp is dead, why don't u leave us get an android/ios and get off this site :)

YOU dont know what you talking...

70,000 apps? No Facebook or Pandora etc? What the hell are you talking about?

What kind of crap are you pulling out of your ass? Literally all of those apps you mentioned have an official app, instagram being in beta, but they exist. Also, even in windows phone 7 days we had more than 70,000 apps, at the moment we're at more than 300,000 apps.

My bad, say 300,000 apps as of 8-2014, per the wiki you pulled that from. Still a minute fraction of what's available on other platforms, and none of those apps have been touched in a year or more from the major players. See my response above.

you are the good example, of those ppl that goes and buy phns just cuz it has more apps, or think more apps out there the better your phn is. REALLY ppl????? Ok YOU said you have TONS of Apps on your phn. Please give me a number. I want to know what is TONS (40, 60, 100, 200, 300....) i need to know a number. For now , lets say is 150 apps, from 1,000,000+ apps that is on android store. So using 150+ apps on your phn makes the best platform/phn to use?????? are you hearing yourself??? even if android or ioS crap had 1 trillion apps, but their iSHEEP users can only use 150, 200, 300, 500..... does it matter how many freaking useless apps are out there??????????? Also, of those 100000000000000000000000000000000 useless apps out there, how many of them are actually useful and are NOT copied/repeats????? How many calendars, same games, weather, calculator, photo, REPEAT APPS do we need?????? FYI, my Lumia 1520 CAME with some killers apps installed, like Nokia photo, Here Maps GPS, Nokia camera, Office, and so many more................installed on it, that is by far better than any crappie app out there, so i have about 40 apps i got from MS store. I have EVERYTHING i need, NEVER missed anything coming from Android. Actually my factory apps, are so awesome, and way better than any apps out there, which no iOS or Android has. LOVE my 1520, and will NEVER go back to android again(forget about the garbage iOS made for iSHEEP). Also, IF i don't see an app, i go to the site, and PIN IT to the Start. in many cases, web site is by far better than the stupid app. I like EBay classic site, way better than ANY of their apps from Android, iOS, or even windows. I prefer the site/classic viewing. So any site can be PINed to the Start screen for quick access(kinda like an app).

You sound really foolish. First off I give you credit, for the android play store has many apps, as do ios. But what does 50-100 of the same apps accomplishes? More apps in the store? Smt if you were to pull all those duplicate apps away you would probably end up with the same amount (slightly more) than the windows store. I had an iPhone (5S) an I liked it. Liked the way it felt etc. But the camera wasn't good. I also owned a Samsung S3 it was all beautiful when I first started it up...but then again it kept freezing, apps kept crashing for no reason but not only that I was limited lame camera. Which brings me to Nokia 1520 (Windows Nation) everything was fast with no lag. Apps don't crash (not on me) camera is fantastic, rarely any duplicate apps in the abundance of android or ios. My point is at the end of the day windows platform is more stable and more well rounded. Windows 10 will solve all the missing app problems with there universal code.

Dumb, Windows store have 500k+ apps. And facebook app is official. Do you ever use WP? And 90% big apps crashes on android. But only 10% big apps crashes on wp. I can run subway surfer smmothly on my 630 but my friend cant play it on his 1gb ram crapdroid, because it lags and crashes.

Lol Subway Surfers. Why don't you compare World of Tanks, or Xcom Enemy Within, or Monument Valley, or Hearthstone, or Need For Speed Most Wanted, or Real Racing 3, or Call of Duty Strike Team, or Deus Ex: The Fall, or Epoch, or Shadowgun: Deadzone?

ok the subway surfers on android is bullshit, It barely runs on my 520 but runs fine on my moto g

Did you even bother to see that those apps are available, or are you just spewing the same line of BS that all the other haters out there.........

No.... That's complete bs. Less than 1% have viruses. Google does a amazing job at screening all apps that are put up.

Wish they did a better job screening their OS, or supporting it after it fails. (RIP, Jellybean)

Incorrect, it's only since yesterday that they now manually verify apps going onto the store i.e. the same thing that Microsoft has been doing since day one of WP.

No they don't, google has far to many virus running around in there store.

Re: Kylecpcs, WOW losing apps "daily"! So 100s? Each and every day? Or is that an exaggeration? I can think of 4 and there must be other insignificant ones we haven't heard of, but "daily"? The trolls / haters say things like that.
Best Wishes

They may be pulled to be re-writtern for win10 in order to work on multi-platform.

No, don't want android apps

If they allow Android apps then all development will stop for Windows phone. Game over. Why make a Windows app when people can use your Android app? If we adopt Android apps they would have to change the OS extensively to make it use all of their features. Goodbye live tiles, Android apps don't use the API for them. We'd just end up being a little Android fork that dies. Seriously, every time people suggest this I wonder why they don't realize that BlackBerry tried this and look where they are now. Even the Amazon fire phone, which runs forked Android isn't selling well.

why make wp apps when you can run android apps? live tiles, performance etc.

the better question is: why make a windows phone app for 4% market share, when you can make an android app for 60% world market share PLUS the 4% windows market share. Only the truely dedicated developers that care about the WP platform will make a WP native app. Otherwise its much easier and more cost effecitve to just use an android app.

Because with windows, and its new app maker, including a web based application development kit, meaning subway surfers can be built in the cloud. As well with that model and free win10 update MS has literally made it 1.5 billion devices and tens of millions gaming consoles and hundred million phones. All with one kit.

Because real developers with half a brain has discovered that on Android people want everything for free and are not willing to pay for anything, while on Windows Phone they can actually make money. And with universal apps real developers can reach more people than ever...
If those CopyJustAnotherFlashlight-developers doesn't get it, maybe that's not a bad thing...

idk why people don't want this, Windows Phone is kinda dead now and there's not enough apps

I would prefer Windows 10 for phones to support Android apps.

Yes me to. Like Jolla and bb. Only run google services somehow

That's evil from MSFT. Bring it to the android and maybe some will switch platforms. I'd love to see the downfall of Google, android. Not the complete distraction, but a important decline to their numbers

It won't even make a dent.

Actually it might attract consumers if advertised well. Most people use a PC so given the ease of use and continuity in using the same OS on two different devices might make people install this ROM. They need to make people aware of this ROM though. And also make it easy to install! :P
They will have to make sure that essential and most popular apps on Android are available on Windows. I don't think the app gap matters a lot. Android has more than a million apps but who uses them? Most of them are crap apps. Microsoft needs to make sure that users don't miss the essential apps on WP.

Agreed. And imagine if they allow game streaming from XB1 to Windows 10 phones? Got an Android phone? No problem! Flash your phone with W10 and you're set!!

Now thats an intelligent comt. You seem to know, what I'm talking about when i say, there are thousands of useless apps are in iOS crap and android stores. the most ppl can install apps on their phns is what? 100, 200, 500.... so who really cares how many useless apps are out there??? does it even matter?? I also agree with you on the EASE of using this ROM, so many ppl can easily install it on their Android phns. It would be nice to see CrApple iJUNK also be able to use this ROM too, and switch their OS if they wish. Before Win8.1 came out on the phns, i heard about this ROM, but then nothing, till now. I really hope that happens, cus i REALLY LIKE Oppo N3(N4 is coming too), LG Flex 2, Samsung Note 5, (i like Big screen phns). that i would LOVE to run Windows 10 on these phns. Even SONY Xperia Z is an AWESOME phn, that would be even awesomer if it had Win10 on it:D just saying;-)

Googles downfall will never happen. They are way too strong and good to their customers. Believe it or not people like that. That's why they have over a billion devices sold. Think real hard about it.

They have that be acause the os was free and the phones cheap, 70% of android are low end droids. So they shipped 300million medium to high end, still a massive number. However with the new toolkit, MS just pulled a active 1.5billion device jump.

Remember BlackBerry and Nokia?... Yeah me neither...

Google's customers are the advertisers. You are their product. and you'd have to be suffering from a special Google brand of stockholm syndrom to think they are ever good to you.

Android Central exists for people like you, maybe you should join them!!!!

sorry, Google/android has horrible customer service. there are NO Phone numbers to call. All you can do is email, and hope they understand what you are talking about ad give you a correct answer back few days later. I have searched and searched for a freaking number to Google/Android and NOTHING. With MS, i can make a phn call to 1-800-Microsoft, and get ANY support i like for any of their device or products they sell with ease. Also, we have a MS Store in our town with UNBELIEVABLE customer service in the world. I have NEVER been more impressed with such a AWESOME service in my life, not even Costco, Sam's Club, or even Bed Bath and Beyond that take things back no matter how long you owned it. MS Store replaced my broken 1520 that i bought else where, with no problems whatsoever. who does that?????? i didn't even had my receipt with me. I told them, i did NOT buy this from MS Store, they did NOT care, and still went out of their way, and gave e a BRAND NEW one in the BOX. (i bought mine USED on EBay). So if you want Customer service, there you go. Also, i have bought few other things from them, because of their AWESOME CS. Just recently My Wife's MS Band , did not work properly, they gave us a NEW one and a $20 gift card, and a FREE Invisible Shield for the Band(they even put it on the band for us). Who does that???????????????I can tell you EVIL CrApple will NEVER, EVER offer anything like that, nor Google/Android. Microsoft ROCKS and will be for LIFE for me. i dont care whats out there, that might be better or......... MS is it for US. An awesome Comp with An Awesome Customer Service.

So clearly states it's idea to dumping it's own and developing more for competitors... Posted via the Windows Central on my BlackBerry Z10

*developing more consumers for itself.

No as closely watched if windows10 will work better than android.... People will definitely switch to windows phone...
Just MS have to make windows 10 better than competitor..
This is a frontier clash..

is that a bad thing what is Microsoft hmm, what did they start as a software company!

You do know its a windows rom....Windows...................... Not an android rom........windows.......say it again, windows.........

lot of people say that xiaomi is apple from east.. good choice MS!!

HTC probably taught em a thing or two.... M8.... Say goodbye to anything that made wp different. Going generic.....

Lol are you really so obsessed with being "Different" that you can't see this as a good way to get Android fans to give windows a try without investing in a whole new device?

And just stay with an droid..?

No? if they installed windows 10 then it would no longer be an Android... it would be a windows phone.

So the evil angle from MSFT begins.... Its fine for me

Been waiting for that angle for a long time now, playing nice with google was bad for us (MS FANS). Change finally comes.

One question remains though... Is it a complete shift to WP or they will be still able to run their android apps. If later is the case, windows phones may get effected

I believe that it will be a full Windows Phone experience with no android apps since it will be distributed as a ROM that will remove android (hopefully)

Yeah if you know how roms work you know there will be no android apps, it will be full on WP

Yeah, if you really knew about custom roms you would know that anything in a rom can be manipulated to be what the developer wants it to be. All it takes is to have the bootloaders unlocked and a custom recovery installed and the latest gaps loaded on the device........... Posted from my HTC M8

I know enough about ROMS as i work as a technician (mainly fixing computers, but sometimes phones) so i have flashed many phones (briked one lol) but i wasn't entirly sure. Thank you for the info

Well, we're all speculating to some extent, but it does sound like a full replacement of the existing Android OS with a Windows 10 OS. My old HTC HD2 came with WM 6.5, but the community eventually built alternate ROMs for WP7, Android (many versions), Ubuntu, and Meego. This Microsoft announcment appears to be a formalized way of doing a similar thing for Android handsets to become Windows handsets. It also isn't likely a dual-boot situation where the user can simply switch back and forth from Android to Windows and back. The phone will likely hold one OS at a time.

Xda devs have been trying to hack wp8 and then wp8.1 for years, and they weren't limited by the hardware of WP devices, but by the software. It's just an enormous brick wall. So that it should be flashed on devices that primarily use Android or not, it will still be a brick wall. Except it will be on wheels.

Not fully true, there is a few Samsung devices that have been hacked (due to a flaw in one of their apps). I was a big Windows Mobile guy, I used to flash my phone with a new rom like 2-3 times a week as new builds from MS would come/leak out (6.5.3)...

No you idiot it will not remove Android...... It will just let you see what Windows 10 looks like and feels like.

Your source of info??? if u dont have any then dont force ur stupid opinion on us.

Not necessarily correct... It will depend on a number of things. If they take a root similar to what HTC does it will flash a stock factory image. In which case it will retain the same imei # but be a full blown copy of Windows 10. If they truly make a custom rom and the person who wants it on Android.. They will need to unlock the bootloaders if possible since not all are capable of being unlocked easily (Asus Sony Samsung Enoyxs) and a custom recovery installed then flashed. This will cause all kinds of issues just look at the xda forums to see... Personally I think that they will do it like HTC does it now and have a help desk at the Microsoft stores. I still see a ton of issues with doing this... It's not for the faint of heart and you got to really read all instructions and follow them to a T otherwise it will be a soft bricked phone. I hope it's available to do and that they use a cloud recovery system like Apple has. I just don't know if they will have the radios tweaked like the carriers have for the different areas for connectivity concerns. That is the advantages of doing a real custom rom... you can always flash a different radio in it to get the best signal. Posted from my HTC M8

If it's a ROM, it replaces the IMAGE on the phone, so it will WIPE out android and put on Windows Phone. Do your homework, you are the idiot here...

Here, you are idiot dumb.

And you Said you are developer, good joke idiot

Woohoooooo....!!! Way to go MS

So if these news are right, people can buy the android hardware they like (for design or other reasons) and flash them with Windows Phone... This is Microsoft B*t&h SLAPPING GOOGLE ;)

Absolutely correct. I don't know what others are complaining about here. This basically makes phones like PCs; buy (almost) any phone and install Windows on it. And for free, no less. This is what us fans have been crying out for for ages, what's wrong with it?

Since MS is making a little to no money on selling WP hardware, this is a good move. They can concentrate more on polishing their apps and services.

Actually, Microsoft made $300+ million revenue as stated in the last quarter report so they are making good money from WP S/W and H/W, so basically WP and the Lumia line are paying for themselves now maybe even more.

Revenue is not profit. I believe they're losing money on WP.

I might have chosen the wrong word, but you can look at this and see for yourself: http://www.microsoft.com/investor/EarningsAndFinancials/Earnings/PressReleaseAndWebcast/FY15/Q2/default.aspx (opens in a new window)

Omg would you shut up? You don't know $hit. Wp has been bleeding Money.

Re: unity476, "bleeding"? In business, it is called investing. Good or bad, it is done for strategic reasons.

And those stratigic reasons are mainly to make the eco-system more powerful so it can capture customers. unity476 is just running his mouth with no evidence or source to back him up.

First, you need to shut up stupid.

Nothing "wrong" with it, per se, but it will fail miserably.

Care to explain why it will fail "miserably"?? I see this as an extra option for Android users, if they want to use it is totally up to them. But it will be a great way to draw people into the Windows Eco-System.

I don't expect it to be a grand success with suddenly everyone dumping android to install windows on their phone, but lets wait and see before declaring it a fail

No one said this will be a grand success, but rather a way to pull people from google ecosystem to microsoft's one. But it is still a slap to google's face and hopefully they feel the pain soon enough.

Fair enough. We'll see what it does. It's just unless they vastly improve the useablity and app concentration, it won't make a dent. iOS and Android own this segment, but lets see what the cross platform brings to the table.

a smart phn is NOT based on how many apps it has in the app store. NO ONE buys Smart Phns cuz there are 10000000000000000000000000000000000000000 gazilion apps are in the app store, that they can ""only"" installed 40, 60, 100. 200 500... apps on their smart phns. so what does it matter how many USELESS freaking apps are in a app stores??????? I have ALL the apps i need on my Windows phn 1520. Everything else i use the Web, and pin that site to the Start Screen, like an app. I personally prefer Web site, way better than their actual app on ANY devices. (like EBay, Twitter,.......their app for Android, iOS, windows sucks, their classic web site is 1000x better IMO).

Yea it will fail just watch

Why don't you take yourself and your friend, kylecpcs, back to Android Central. Actually they just called to say you two were MIA!!!!

The phone manufacturer still should support it because you would need the driver support on Windows side

Why would the manufacturer refuse to? They want to sell H/W so if the users want something like this, they will listen and make it available. It will also be a cheaper option for them instead of making 2 lines for each phone, one android and one WP.

I don't mind trying it on one of those new phones from Samsung. I think wp will look great.l

As I love the IDEA because there is a Android devices I like a lot as hardware goes. I dont think it will come to the US. This would be a SUPPORT NIGHTMARE for the carriers and they would do EVERYTHING in their power to block it. That would be the crappy part of it...

Who said anything about carriers? They are doing what you could with a PC. Buy hardware then dumb a os on it, anyone building a PC doesnt call Intel for installation help unless its a driver problem. In the end this is what made windows popular, dont care about hw and dump an os on it.

Android will go down, IOS, your next. ;)

Windows phone on iPhone ? Posted via the Windows Central App for Android

Soon as we get iTunes!
Yep.

F iTunes, Xbox music is better.

Zune was better.... They just fucked up Xbox music

Fuck everything, TPB: Here I come. Lol.

Ho. Lee. Crap. WP on my G3? YES PLEASE!!!

Yea, that is one phone I would buy TODAY if I could put Windows Phone on it....pretty bad ass phone (LG G3)

Hope Samsung partners soon. My Note 4 would get way more use with Win10 on it.

Why would you buy an expensive phone, who's main selling point is its stylus, and then put an OS on it that probably will not support this feature? Posted via the Windows Central App for Android

WP10 settings app has an inking category

Win 10 will 100% support a stylus... Did you get dropped on your head?

Yes isn't this likely one of the reasons Microsoft are buying/did buy N-Trig?

Especially with Office and at the same time expand Samsung's offering by providing choice.

Mostly because I love the hardware just don't like Android so much. Not that I use the stylus anyway.

That's a great move .......

That is Microsoft NOT BEING an ar** h*le ! (unlike dooble) Way to go Microsoft ! ... No sarcasm intended.

Lol, why would someone do that?

If you're a techie, why would you NOT do it. If only for fun, to see how it runs. MS needs the nerds back.

Seriously? How do people not get how awesome this is. People can try it now without buying a new phone!

Because it doesn't fix the biggest problem the platform has, lack of apps.

I still don't get this argument completely, I'm sure there are apps certain people really want that are missing, but I can't think of anything off the top of my head that I'm desperately waiting for on WP. I've got access to Dynamics and Base CRM, ZenDesk, Twitter, Skype, my Bank etc. I get that everybody is different but just because some people want snap chat doesn't mean everybody does. I do think MS needs to attract Developers to the platform, so even obscure/new apps are coming to Windows. The biggest problem is the wait between iOS getting an app, and Windows getting it down the line.

Totally agreed with you. People always keep complaining about the app gap as though they are really gonna install those 1.5 million apps from the Play Store. Most of the apps on any apps store are crap. No one uses them. I don't think most people go beyond a certain set of social networks, one or two 'popular' photo editors, 'popular' (again) games, banking/shopping apps and some for music. I might have missed a few essentials but covered most. I don't remember the last time I heard an Android user having installed some indie/unheard app. For me, the only thing WP misses is Clash of Clans and Snapchat. There are others, I know, but its not the end of the world!

Windows 10 kind of does fix it though. Now developing for windows 10 will make you app available to pcs phones and Xbox, reaching millions of users.

Cuz I want Windows 10 on my HTC One M7, that's why.... Posted via the Windows Central App for Android

Question is! Will those who get the ROM be able to still use Android apps?! Because if so, it would mean the end of WP! Why use or buy WP when you can get the ROM and use both worlds.

No because it's going to be windows 10 on an Android phone there would no way Android apps would work on it.

Or Windows 10 adding optional feature of installing Android apps to Lumias and other WP? That would not affect WP

The play here is to increase market share for WP, which would in turn make it more attractive for app makers to develop for WP, which ultimately should mean more native apps for WP, which would benefit everyone in the MS ecosystem...

No, Android apps likely won't run on the Windows Phone ROM. However Android users would still be having a pretty large advantage, as many of those that can install custom ROMs can also learn to dualboot Android and Windows Phone. Posted via the Windows Central App for Android

And the war begins!!!!!!!!!!

What war ? Posted via the Windows Central App for Android

Simply genius, brilliant, magnificent Microsoft! You're on a roll!

I want more of a dual-boot solution. I love Windows, but I always feel left out when I can't use an android app like my friends. Obviously the better solution. Would be to get those apps on windows, but until then a dual boot solution would be great.

Maybe contact the lazy developer who refuses to make a WP app instead of blaming Microsoft of WP for lack of apps.

Even better, Have WIndows Phone, Android and iOS tripple booting on one phone, then you can change your OS depending on your mood... LOL

Wouldn't this require an unlocked boot loader?

The ROM itself will be made to run Windows so you don't need to worry for that...they wont go around releasing a ROM if it lacks something which would render it uunable to run

THe answer to this question is yes. and "most" android manufactures have unlockable boot loaders anyways. problem will just be that you need drivers to get the OS to work with the hardware like Camera Microphone and so on.

They just need an app analyzing the hardware, then creating and downloading a custom ROM. Btw, Win8 is pretty decent with basic drivers.

All I can is cool, but I'm pretty sure some how Google is going to lock the phones down so nothing could get installed not even custom Android roms.

Google locking phones? What gives them the authority to do so?
It can on its own devices such as moto x series or nexus models but others...no way...each OEM has their options to use OS of their choice!

They've been slowly locking down the OS for a while now. Android gets more restricted by the year..

There are many ways that even google doesn't know. They wont be able to do so.

There are probably steps they could take to make it more difficult for the average user. But for the most part, the only devices they could truly lock down would be the Nexus line. Which, would actually be ironic seeing how the devices are meant to be fully unlocked. They have no control over the Moto X series because Motorola now belongs to Lenovo.

But google has the patents of Motorola unit they sold. Google can just block Microsoft nothing else they have the option.

Owning the patents does not give them control over devices that use said patents (the phones themselves are not patents). If they were to try and use access to the patents as a means of preventing Motorola/Lenovo from loading Windows 10 on any Motorola device, they would open themselves up to one heck of a lawsuit. The only device they could potentially block Windows from would be the Nexus 6 as this was a device built for and in collaboration with Google, so they probably have some level of control for this particular device.

For as far as I can remember, it's up to the hardware seller to decide if they want to unlock the bootloader for custom roms, not Google. So yeah, I don't see much or a problem

Correct; OEM's can choose to leave the bootloader unlocked. But, carriers also ahve the ability to lock the bootloader for any models sold through them. Typically, the only way to flash a ROM on a standard phone is to use a tool to unlock the bootloader. But perhaps MS can pull some strings and remvoe these hurdles. In particular, users would be concerned that flashing Windows 10 onto their Android device would void the warranty. So for this to go mainstream, I think the terms of the warranty would have to be modified.

HTC and Sony both make it easy.

Yeah....a short trip over to the XDA forums would convince you that Google would NEVER win a battle down that road.

Hmm maybe. It has enormous resources, far more than xda ever could have.

But all the smart guys in the world don't work on Google...(XDA) ;)

its open source.. so they can't

This is where Cyanogen folks come in.

What do you mean ? Posted via the Windows Central App for Android

He means this is where Cyanogen folks come in.

You mean they are getting ms make a ROM. I think MS is investing for to put MS services in it not expecting services back. Anyway I guess MS got the ROM front. They are a software company after all. This is really exciting

This article made me smile :)

+525 but waiting for Lumia 940 with iris scanner. Going to be my first flagship and saving for it :)

Can this be the way Microsoft solves the massive app gap? I am in the market for a new phone and would love to be able to buy a Samsung Android that runs Windows 10 for everything except for when I need to use an app that does not exist for WP. It would be great to be able to switch to Android for only those times.

We wont see the app gap shrink until windows 10. The universal experience is going to significantly change the development process.

Just wait for a new windows 10 phone.

This is so far the best idea for Android market takeover, I luv it :)

Xiaomi mi4 with all the power it has. Can't even imagine it running windows 10. Amazing. The cameras ability to record 4k videos and the sheer multitasking power. Buying one soon from china. Getting ready for the flashable rom.

I'll agree on the processor but please don't compare the camera man. It's didn't even make a mark. on the mi3. May be the mi4 has improved camera. But my friends who have an mi3 and Lumia 730 recorded our college concert. Guess what? The 730 beat mi3 flat out.

Many Chineese phones with high specs(Mi,Yureka etc) captures poor videos, however image quality is good.

Hot damn Microsoft is finally getting into this war with their suits and armor on. This could be their Trojan horse to google

They need to go the other way around and allow Android on Lumias. Windows Phone is all but dead, not to mention all but unsuable in the enterprise. Let me put Android on my Lumia 1520 for god's sake. At least with Android, I can get alerts about and see messages in my subfolders. For christ's sake, MS, you INVENTED server side email rules, why don't your phones support it? iOS nd Android and even Blackberry do. No business I know wants a Windows phone for this one reason. Not to mention the complete lack of Google stack. And also not to mention that nearly every major vertical is abandoning your platform DAILY.

BECAUSE ITS SOOOOO DIFFICULT TO PIN AN EMAIL FOLDER TO YOUR START SCREEN.........GO CRY ON THE ANDROIDCENTRAL BOARD DUDE.

no thanks... again android no thanks... dont let the door hit you on the way out!

do let the door hit you on the way out*

You don't deserve windows. Leave and go to crapdroid

We have been hearing that Windows phone is dead for years now.

Look at all the brain dead replies. I give specific examples of why it won't succeed, and all I see is one-liner fanboy replies of "nuh-uh." Don't know why I expected anything different.

If you talk crap, you will get these replies. If you are not satisfied leave WP. Nobody forces you dumb

Because you are simply wrong MS rules the business world and....meh forget it I could post links but you would come up with some tard statement.

BECAUSE ITS SOOOOO DIFFICULT TO PIN A FOLDER TO YOUR START SCREEN.........GO CRY ON THE ANDROIDCENTRAL BOARD DUDE.

Just GTFO already, you consistently fails to back up your "facts" with any sources so why bother trying. Troll harder next time!!!!!

Wallpaper of that phone please

I can only see this being adopted by people who's devices are already out out of warranty, at least initially... Good move by MS though... Take up the update mantle for all those millions of devices abandoned by Google with security flaws. Would love to see them find a way to flash an iPhone with W10 at some point too. Sneaky sneaky catchy monkey! Haha!

the real nerds will flash it before that too.

Yeah of course, I meant in an average user scenario :)

LOL situation for Google.! I want to see their faces when they are reading this news!!

They will laugh due to the fact that no one will do this.

Yea only a relatively small amount of tech enthusiasts will try this.

So what ? Windows just got available to a billion pcs and a billion phones.

oh will they? Many, many people have android to play around with customization and ROMs and this is just another ROM for them to try. Also, I'm sure peeps will see the advantage of running the same OS on their PC, tablet and phone.

That is some great news. If hardware requirements are met I'll flash alll Android phones at home with this ;)
So basically we can pick handset of our choice, say Sony and flash Windows 10 in it? If it supports of course

Windows for desktop supports almost all hardware, I don't see it being a major issue to be able to be it on every major phone.

You are unlikely to be able to run it on Sony hardware as they tend to lock the bootloader.

There isn't a way to circumvent it? cause there are a few sony phones running custom roms!

Most high end Sony phones have locked bootloaders (I considered buying a Z3 Compact - but decided against for various reasons....one of which was the fully locked down boot loader).
Some Sony bootloaders are unlocked -- but on the whole, Sony are more restrictive.
Also, keep in mind that Sony phone cameras are RUBBISH! They are also pretty fragile phones...
I am happy sticking with my 1020 until a new MS/Nokia flagship is released :)

Aaah thanks for the info. And yea I am fully aware of their camera. My 720's camera is far better than any 8MP camera Sony has to offer. But I found a few of their handsets to be pretty good.

Windows 10 on my Note 3 would look amazing can't wait though it when that happens will me rocking a Microsoft Lumia flagship

What is wrong with you people "android going down" have you seen their market share. Good idea from MS but all google need to do is do the same thing and have it so people can have droid on their WP. Watch the WP masses disappear when confronted with the apps they have been waiting 5 years for. Also once a droidy downloads WP, they will be amazed by the OS but realize that's where the excitement ends as MS have made sure all the biggy apps are no longer exclusive to WP and that all their fave apps are missing.

Lol. That's a negative attitude. Besides, history differs from your account. Many a product, once mighty and strong, fell to the seemingly lesser.

Windows 10 will be a bigger ecosystem. Do u think Microsoft is going just for users in platform. They want to build ecosystem off course. And this ecosystem will further grow with high graphic games and many cloud stuff support as Microsoft showed that at convergence 2015. Android and google play store though have more apps than us. But Microsoft's productivity approach will drive users to stick to windows 10. For sure. They just have to market quickly.

WP is a closed OS my friend...

WP handsets are pretty secure. I'd imagine it would take a lot of work to unlock the boot loader on most modern Lumias, if it is possible at all.

The awsome moment where ppl will buy android phones and download windows 10 and royalties are paid to Microsoft. Omg google gets fucked then WOW.

Oh google, you seem to have lost users of your services, hmm... Better write some Windows apps then. The giant will fall. Lol :D

My Lumia 1520 is quite possibly the best phone I've ever used, but Windows Phone is one of the worst OS I've ever used. Not because the OS itself is bad, but because there are next to zero apps (and dropping daily), business email from Exchange doesn't toast for subfolders unless you pin every single folder to the home screen, no Google stack, third party hacks for every app that doesn't exist (most are just web wrappers), etc etc etc. MAYBE this might change with the unified desktop/phone OS, but I highly doubt it. Phones are now just a gateway to online services, and WP is lacking in spades. It's dying a slow death, and something major needs to happen. Give me Android on my Lumia with Bing services, and things are looking up. But WP on my Android? Really? No one wants WP on Android hardware. People want Android on WP hardware. Get it straight.

That's simply not true. The app count goes up daily. Sure, we've seen some big players leave, but we've also gained more. 1 out, 2 in.

The big players leaving is the problem. For every new one-off video game we get, a major bank leaves. That's not good.

I bet there are a fair few people out there with 1-2 year old, laggy android devices, that have been abandoned by Google that would welcome a smooth refresh. We already know W10 supports some 2 year old hardware configurations. If 2% of android users try this, MS has pretty much doubled it's phone market share. Lol.

There is no way they will release WP10 to work on older devices. You people are jumping to conclusions.

If its a rom then shouldn't it be available to any android phone? Even old ones?

No, it doesn't automatically support all android phones since they have different hardware (i.e. cameras and drivers).

W10 will work on the 520. A two year old, entry level device. >IF< a suitable ROM became available, there is no reason to believe that it will not work on equivalently aged and specced android devices. Beyond the nerd crowd, this is exactly the type of device MS should be targeting this toward... If expanding their install base is their intention with this.

If these people really wanted to use WP they would probably go out and buy a cheap WP. Also, who is going to sit there and make compatible drivers for old android phones to work with WP?

Were talking about win 10 here not windows 8.1

Fair enough. I do actually hope that Windows 10 will resolve my issues, because I will switch in a heartbeat. Not because I "hate" Android, but because I genuinely like the WP OS better, and most CERTAINLY the hardware. Nokia makes the best hardware around, but if my phone can't "do" what I need it to do, it's worthless.

Are you just going to keep spamming the same essay over and over again?!!!

Lol, smart people don't want lagdroid on WP. But may be Dumb like you want. Many people will installed WP on lagdroid like my friends who are fed up with their laggy android.

90% of the world says you're wrong. Try again.

Cheap is cheap 70% is old hardware cheap droids and more majority of their users still on JB platform.

Now i will definitely buy zenfone 2 with 4 GB ram, and maybe den flash a windows 10 rom, if it comes...... Woooo o jst can't wait for this

Finally maybe some hope for my Sony Xperia! I'm imagining the Lumia camera on my Sony phone.


I would guess Sony would be one of the few manufacturers that choose not to support this. They already lock the boot loader on most of their phones, and are in a pretty big battle with them in the console sphere!

Android better not get Win10 before my Lumia.

Simple tell oems to install Windows 10 and market otherwise pay royalties. Once windows 10 gets the market oems won't give a shit to Android if they love their money.

COMPANIES WHICH MAKE CUSTOM ROM LIKE CYANOGEN DEPENDS UPON ANDROID TO SUPPORT THEIR PHONES........SO IF MICROSOFT MAKES A ROM FOR ANDROID .....IT WILL BE SOMEWHAT DEPENDENT ON GOOGLe.....it means it will help google .....as people will buy android phones and with Microsoft's ROM they will run windows10 on it.........ultimately OEMS WHICH MAKE WINDOWS PHONE WILL BE EFFECTED

MUST SHOUT LOUDER TO GET MY POINT HEARD.
:-/

@spinzeroWL.........What do you mean????

That there is no point in CAPITALISING words to get your point across. In fact, it is considered rude to do so!
So next time you want to vent some anger, do so via the quality of your sentences rather than by being LOUD ;)

This is wrong in many ways.

SPEAK UP I CAN'T HEAR YOU!

Fundamentally the custom ROMs are still some form of Android, hence some dependency on google... This ROM is Windows (i.e. a completely different operating system) and therefore no dependency on google. Essentially the same as overwriting your Windows partition with Linux (or visa versa) on your desktop PC.

Sony Xperia will be my next phone this happens.

If Win10 is not well received, I'd like MSFT to make an Android ROM we cn install on Windows Phone...

I KNEW IT!!! I think this is that "Big Thing" they were talking about before where they said "We could do that?!?"

Finally, MSFT woke up :-)

Holy crap, the day I could get an LG G3/G4 and put WP10 on it...Whewww!!

Have faith for it....this day is coming :) Posted via the Windows Central App for Android

Rom porter will be available soon for lot mobile phone, wkwk.. Not exclusive anymore

I am die hard fan of Microsoft but If this happens i will switch to Android, because then there will be no more left to support this OS

You clearly either did not read the article, or don't have the wherewithal to understand its significance!!
Microsoft is potentially creating a system whereby Android users can fully convert their phones to Windows 10.
That will cut Android market share, boost Windows, AND open up entirely new purchasing options for people when buying phones.
If every Android phone out there could be easily converted to Windows 10, you can bet there will be a good number who choose to switch. That is an entirely positive thing for Microsoft....and directly helps Windows device manufacturer's & the developer community.

You are not understanding anything

Yeah.. OS Counts is based on OS installed and not Smartphone sold.. If Microsoft be able to lure Android Smartphone owners to install Windows 10 on their device, that would be +Count to Microsoft.. More users switching to Windows 10 OS, more devs converting their apps to support Windows 10 OS..

Oh Microsoft, you troll you

Yup it lazcks apps bt most of them have come nd will come.... Windows store have quality apps. But play store have most of the fake nd scams....

Yes and yes great news, maybe this might encourage Microsoft to make an Android based ROM for our Windows phone. Oh it would be so cool.

I don't think they're gonna do this.... Posted via the Windows Central App for Android

Better if windows with own style :)

When i will get w10 on lumia 520?

Don't know, ask Microsoft... Posted via the Windows Central App for Android

Maybe before lumia 620 :)

when it is delivered obviously

Android wanna be like windows, windows too, maybe after this appear question, how to install android on windows device. Hahaha.. No problem, just make windows stable, for system and app. Its smooth enough, but not powerfull. I support u dev

Another reason to switch to android... !!!

They should allow Hisense X1 to run Windows 10 for phones.....that phone is huge I'd buy it if it could run Windows 10

Ehm.. Where did you get the background from on the wp phone? :-o. I would like that :D

I wish they released a ROM and tools allowing to flash the android HTC One M8 with Windows Phone.

Now Android customers will feel the taste of Windows Phone.

Ooh that's awesome! Looks I'm gonna wait & see how this goes before I upgrade to a new device.

Wouldn't this actually kill off users from getting a Windows Phone?

Microsoft has realized that a Windows Phone is simply a phone running Windows. ....after they squandered 7 billions on Nokia.

So why were users angry with Cortana being shared and not this? Just basing off comments the last few days...I don't see any of these benefitting WP fans at all. Maybe everyone secretly wants to move to Android. That's how it feels reading the comments on this article.

Because "being different" (or, actually "less the same"), seems to be what counts the most to people these days. None of the recent moves are going to benefit WP fans. But that's the point: a company can't rely on a small hardcore group of fans, it needs to reach out for the masses.

Gives a wider range of hardware for windows

And I have been waiting for this since inception

RAM them Microsoft . . . Uh I mean ROM them.

Also my M8 Posted via the Windows Phone Central App for Android

The ROM is thus designed to go beyond Microsoft's Android apps and offer a native-like Windows experience on Android phones

a native-like experience? TechCrunch should just drop the word tech from their name if they're that clueless. It's simply installing the Windows OS on a compatible device (which with the changed Microsoft has been making to their WP OEM requirements means almost any Android device). It's actually a great idea, release ROMs for popular Android devices and allow advanced users who know how to flash their phones to try it Windows 10 on their existing device. They'll be able to compare performance and features and easily switch back by flashing the Android ROM once they realize the apps the like are missing.

In the early 80s, when all the IT giants did vertical integration - making their own hardware, and the OS for their hardware, and the software for their OS - Microsoft came up with an operating system and programs one could run on hardware from different vendors.They conquered the market. Android owes it's huge market share to having applied the same strategy to the mobile world. Microsoft is doing nothing but taking their masterplan back, you can see it also in the release of Cortana and Office to other platforms.

I don't even know what to think anymore... oh look a gun weilding ninja grumpy cat on a fire breathing unicorn

Microsoft should simply get Google's VP Sundar pichai and and then see how google themselves get fucked.

..Righly said in the first comment .. the downfall of android begins ..

this can be huge for microsoft .. if they get it right ..

Microsoft is doing some Hannah Montana stuff.

Appa engana....... oru palam itta agottum igottum vende Android ingot kittan bella bella vzhiyum ndo avo...! android ne thakarkkanulla psycological movement

Haha
People still here
People still got hope of winshit I use to be like you people waited 3 years of my precious life waiting for MS to come up with something useful and is 2015 and still no APPS no customisation shit you guys love to wasting time

ANDROID NE THAKARKKANULLA PSYCOLOGICAL MOVEMENT never forget

Your brain is filled with shit, go and eat crapdroid turd. And who says your life is previous? Your life does not matter.

My Windows Phone is useful because it allows me to make calls, send text messages, leave voice messages, send instant messages, send e-mails, view, create and edit Office documents, notes, PDF files, scan documents and edit them with OCR capabilities, use Twitter, Facebook and Skype, Telegram, WhatsApp, Fhotoroom, UC Browser and other apps, play music, watch videos, buy stuff online, play games, read online or offline, stream podcasts, translate text, manage my 1 TB of OneDrive storage, use a calculator, alarms, calendar, have weather conditions at a glance, take and edit INCREDIBLE pictures, record HD videos, having offline maps, and etc. PLUS, my phone has seen more updates than my friends' Android flagships... and I don't need to worry about a malicious app taking control of my phone and data, or having to install an antivirus. ;) Yes, there are still apps missing, and yes, some of the present ones are not as feature-rich as their iDroids counterparts, but my phone is really useful for me and a lot of us. Because it doesn't have Snapchat or a fully featured Instagram app, or because you can't change your system font to something horrible it doesn't mean that a Windows Phone is not useful. And if it doesn't fit your particular needs, go to Android or iOS. Period. Act like an adult. PS: You said we love wasting time, yet you are on a Windows centered blog wasting your time being a childish hater. Have a nice day! :)

Could go the other way too... Google could make a Android ROM for windows phone.

No chance. Windows phone os is shite. I'm off back to android as soon as the HTC one m9 is released

Based on the heatmap benchmark, good luck cooking your bacon on it.

Wow. Good move by MS. I can't wait to see how this plays out!

A flashable custom rom of Windows 10... This is going to be interesting... Can't wait to see if it's going to be like how HTC does it or if it's truly flashable with a custom recovery like all other custom roms. If the later then this is truly huge because the walls just came down around WP os. Posted from my HTC M8

Hmm pretty interesting, let see if MS can pull it off

Why winshit doesn't go ANDROID I used to be like you waiting for winshit to come up with something useful and is 2015 and still no APPS NO CUSTOMIZATION AVERYTHING STILL on beta the apps the os never mind about the phones they're all crappie plastic cheap ugly even HTC came up with the M8 for Windows phone and failed I don't know what else to tell you guys but to get out of winshit and join ANDROID stabled lots of APPS nice premium devices

Moderator please remove obvious delusional fangirl from this message board.

Oh look a mentally deficient troll that has no clue where he is or what he is saying! :D
Excuse me sir but are you high?

Your brain is filled with shit

Imagine a galaxy S6 edge running this ! wow !

Because "being different" (or, actually "less the same"), seems to be what counts the most to people these days. None of the recent moves are going to benefit WP fans. But that's the point: a company can't rely on a small hardcore group of fans, it needs to reach out for the masses.

This will flash Windows 10 on the device, wiping out Android. If you decide to buy one of the supported Android devices, the OEM will have to pay Microsoft the royalties for having Android from stock, generating more money that could be invested in Windows. Then you flash Windows on that device, reducing the Android market share and increasing the Windows ecosystem by one. And then you have the benefit of buying the hardware you want and let it run whatever you like more, Windows or Android. Multiply this and you will have a new and more interesting number to attract developers to the platform. And a potential threat to Google interests. So, there are benefits for consumers and Microsoft too. :)

Brilliant. They have a huge problem with the market being saturated in the west. This is the only way they can really make ppl with abandoned android phones revive them.

Hmmm... Not sure. This is a launcher, not a full rom requiring root. People install it, realise they need boa and go back to the default and don't look back. What I mean to say I'd that it could back fire. Windows doesn't have every app. Will windows 10 (for pc) change that? Will devs begin to bother with msft? For mobile? I hope so but this I don't see as helping. Wp10 on a gs6. Because Samsung won't make their flagship for msft. Isn't Nokia making their excellent z launcher for android? How's that going? I am not sure I like this turn. Smells of desperation. Desperation to be market relevant - msft is pulling a Zune, they have the cash to burn. Hmmm. Not sure about this at all.

It's a risk they take, but things do look positive so far. If they keep on pushing things like these, they'll win in the end

A good start would be getting banks to stop leaving. And, of course, instagram. I hope you're right - my 1520 is a solid phone, though the browser needs to be better and openvpn would be seriously useful. It's the apathy towards this platform that is the issue. Perhaps msft should bite the bullet and offer free 640's for every xbox live member. Every one. That would increase market penetration in an instant. Would cost but better integrated services and all the test - boa and instagram and snap chat would be foolish to ignore that. As would the rest.

To me, it looks like MSFT is allowing this move so that Devs who then make apps for the Android/WP10 amalgamation, will ultimatley have to make the Apps to run W10 hence run on WindowsPhones. No doubt Google will still block there services.

of course they will, but Google is digging their own grave by keeping us in the dark. More and more people are starting to realize that Google is acting evil and does not deserve their monopoly on the smartphone market

We still have 3 better u tube apps then the official ones and doesn't include ads at all.

Now with this move, we can have a news of getting Android app support on my windows phone. That might be the one of the reason wp developers quitting the WP store.
I hope windows platform grows with this move and this is a wise decision.

This isn't going to happen... You do realize this is Microsoft right? They don't care for Android outside of its users and offering their services to them.
And 2, this ROM replaces the OS with Windows 10, no android app support will ever happen. :)

If that is the case. Then i am pleased. But windows should focus on apps ecosystem then. Otherwise this ROM thing will be a failure.

Bhai aayegi kab windows 10 update lumai 535 mein

That means I probably won´t have to throw away my older Android phones.

Finally MS applying some tincture for wounded fans like me... Great Going.. Keep it up MS :)

so I don't need to buy a windows phone, just get an android and use this rom, great :-(

I wonder what they'll call it, Windroid??? Lol

Only 2% (or something like that) of Android users are switching roms regularly. Why the hell would make a Windows Rom any difference?

Because it's getting more normal to flash a ROM by the minute. Especially when it's easier to do, people are likely to start flashing ROMs. Besides, 2% is not even close to accurate..

As awesome as this sounds, Microsoft needs to make sure that W10 for phones is affordable when it comes out. Maybe have a timed trial version once it gets out of beta.

I was sticking with wp coz of its exclusivity... Now android users can hv gun with wp too... No exclusivity,,, time to switch... Dnt blame ios for being expensive... Its expensive coz its unique... Here i come!!

It's not going to support android apps... ever e.e

Can anyone send me that wallpaper of windows phone. Link is also great.

Wow .. Than whats is deference between Windows Phone & Android Phone ?... Windows is unic system... . Microsoft is doing bullshit

Its smart move by Microsoft, it will increase the market share of WP. Btw, after installing WP on android phones, they will become WP. So, its not bull shit.

Haha haha
You guys think SAMSUNG is going to waists time and premium materials on a DEAD NEVER BEEN ALIVE BORING CRAPPIE OS you got to be kidding meee SAMSUNG never made and never will make not even a mid range phone for winshit phone 10 look at LG hahaha they told microshit we will not going to make a winshit phone

LG is actually working on a windows 10 phone behind the scenes. Testing the waters per say. Again, excuse me but are you high?

Hey bitch, first check your brain

Samsung has made and is making a Windows phone. So fangirl above is just plain stupid.

Hay shit, you are just a shit in the wrong place
GTFO of here

Any talk of being able to run WP10 on any device and having more device options now that you can just install the ROM is useless. That isn't going to happen. The reason you ask? In order to install the ROM the phone would need an unlocked bootloader so that it could boot just to windows. Most of the carriers lock their bootloaders so you can't do stuff like that until someone else figures out a way to unlock it. If it is even possbile to unlock it. Samsung phones on Verizon anyone? So the only option you will have is to buy developer editions for full price at $600-$1000 depending on the phone or hope that the other OEM's decide to port WP10 to their devices. It a nice idea. Gonna die in the execution phase though since only a small minority will be able to run it.

I can see a lot of people liking this, personally however I don't know which device I could possibly pick that's better than my Lumia 1520. Sure there's the GS Note 4 or GS6E but they're both too small. They provide a fairly small boost in processing power and honestly that's not what I'm lacking. I want a 1520 replacement with same size screen, fingerprint sensor, pen support, better front facing camera and dual SIM capability. Edge style screen like the GS6E is nice, but obviously no Windows 10 support.

So I'm a bit confused... Is this a forked version of Android that runs a lot like Windows 10 (Like Cyanogen was a highly customized version of Android), or this is designed to completely flash the OS and install regular Windows 10 on the device? I'm assuming the former, simply because it's technologically more feasible, but the latter would be really cool.

No, they are releasing a full Windows 10 ROM so they can get Chinese user feedback.
WP has negligible market share in China, so this is a sensible way of accessing the v.devoted & technically literate Xiaomi users.
Whether it expands to other Android devices is unclear. But the MI4 WILL have a full Windows 10 ROM available to it (and Android will likely be completely removed in the process)

Ahh, makes sense. Thanks.

This must be called..
​. . . . Project - Invasion Normandy! Freaking awesome Title! :D

So I don't need windows phone device to have windows great

Nothing has changed there... BlueWin, HTC, Samsung... Etc....

Just get a ANDROID PHONE and forget about CRAPPIE APPS FOREVER BETA TESTING OS crappie phones cheap

Crap OS with good apps....OR, excellent OS with fewer apps.
I prefer to back the system that has more potential in the future. Android is just a data miner for Google. & quite honestly, it doesn't matter how many apps they have, I simply refuse to give them a licence to target their advertising at me!
A Google run world is not something any of us should aspire to support.
(P.S., the apps I use on Windows Phone are actually better than their iOS/Android counterparts! If you can't be bothered to seek out such options, then more fool you)

@Karlosfirst. Take your glued eyeballs of the screen and get some fresh air, it would do you a world of good :P.

This crapdroid fan is already feeling insecure just by an announcement.....MS going in right direction

MS lets focus on store first!

STOP wasting your time
WINDOWS PHONEHIT WILL NEVER going to get stable apps because windows phoneshit only support webapps they will never tell you that
That's why all the apps are on beta for years

Just get..........a grasp of the English language. Then people may actually pay attention to the nonsense you are currently spouting;)

You replied to the wrong person! Unless of course you believe in the rubbish Karlosfirst is spouting?!

They will never going to have stable app because they can only use WEBAPPS so forget about it and do youself a favor and get an ANDROID OS Phone

Thanks. I'm deffo going to buy an Android phone based on your incoherent recommendation ;)

I'm an ex Windows Phone developer but never got to finish my app before the radio station closed down, I can tell you now you're talking out of your arse.

Your childlike ramblings has piqued my interest, I too am getting a android phone ;)

I think, your brain is damaged after using crapdroid.

Me like this! very very much! hahahaha and flashing Android over Nokia/Lumia phones are not allowed! Nice! I hope you can just download this and install. GO FORTH AND MULTIPLY RAISE TO THE POWER OF N

Aight, I'll laugh when XDA gets a Windows 10 ROM working for iPhone!

Hahaha if that happens I would buy an iPhone to flash Windows 10 on it, and put the Microsoft Unicorn/Ninja Cat sticker on the Apple logo to piss some Apple fanboys off xD

I love the idea, please do it as soon as possible omg xDDDD

You clearly did not read the article. How the retards have multiplied.

Roger that...... Google has been hit (affirmative)

Now MS got just 1 job---make windows 10 better than android and people will definitely switch over...

What's the b point of having a smartphone with no apps no customizable build out of cheap plastic and no more than a 1080p screen resolution
When I fan get a SUMSUNG NOTE 4 SONY XPEDEA Z3 OR ANY OTHER NICE LOOKING ANDROID DEVICES with a 1440p screen resolution hahhahah

Me got NORKEA LOOOMEAR wit 41meGpXles. /s ffs.

Well nobody is forcing you to buy a Windows Phone. If you want a Android phone, go ahead and buy that Samsung Note 4 or Sony Xperia. So what are you trying to achieve commenting here on Windows Central?

My two years old WP is still getting update & behaving like a new phone. But my friends two months old crapdroid cant get lolipop and behaving like a DEA phone. Symbian is Better thn crapdroid

A LG G3 with WP would be cool.

Hmm Windows phone on without an Snapdragon SoC. It's about time. I wonder what Qualcomm will think about that?

They gonna do the same shit they been doing for the past 5 years NOTHING
HAHAHAHAHAHAH

Microsoft has announced many things lately....but still no win10 preview for more phones :(

Braking news
Windows phone is gonna come out of BETA IN 2027
CONGRATULATIONS WINDOWS PHONESHIT

Ooooh just in time for your 18th birthday. Yay you!

Yay braking news! I lerve braking news!

Ooh nice, when released into the wild I'm sure there are many talented devs who would able to shoe horn it into other devices not officially supported. In the process holes may be found and subsequently patched. All the while increasing the reach of Microsoft's services. Of course you can't rule out the possibility some may try to "link" to the google play store to "run" those apps.

Yeah! I'm waiting for xda to post something. I'm not sure I like this idea much but I'll play with out a bit. Can't see it gaining market share for msft. Honestly, why buy an android phone then root and rom, voiding warranty to try out something you could buy a £40 for... Just odd!

I got now the Galaxy S4 with Cyanogenmod. For sure im hopping over! At the end of this year i hope to get the Lumia 940

Dutchyee
You're going to regret it I did the same and i got stuck with the fu....ng phone WINDOWS PHONESHIT IS DEAD

Well you sure have a neutral opinion on this considering your username...

Braking news
Windows phone is gonna come out of BETA IN 2027
CONGRATULATIONS WINDOWS PHONESHIT

Hey shit, how much scroogle paid you?

So, the HTC HD2 Return.....

Again Microsoft share there ROM to android.
what's your plan Ms....
MS share there almost all feature if ms share more features. I am transfer windows phone to android.

Windows phoneshit is dead ain't going nowhere

Lumia is gonna die ur wrong. Its still the best low range smartphone

Can you post the background?

The amount of delusion around here is astonishing...
From Android's >80% of market share, if 10% of people use ROMs it would be too much. But the reality is that the vast majority of Android users do NOT use ROMs. First because they don't know what they are, secondly because they don't know how to install them and thirdly because it immediately voids any legal warranty.
This is an interesting gimmick but just like there aren't flocks of people installing Android on Windows machines, there won't be flocks installing Windows Phone 10 on Android devices.
Microsoft would get more people if they released a WP10 launcher than a ROM.

I think you'll find a launcher soon. The new Kernal is very open to other chipsets hense the whole IoT. As to flocks of android doing this, true it will not be flocks... But it opens interesting opportunities.

can anyone provide that startscreen background in the image?

And please... Make Windows available for Android tablets next. I got a 17 inch HP slate running Android for free and it is only collecting dust. Let me have Windows 10 on this thing and it will actually become usable.

Brilliant move by Microsoft!

I wonder if this so called rom will be qaulcomm chipset exclusive or if it will work with exynos, nvidia, or mediatek. Could definately be a game changer if it happens and becomes bigger than cyanogen you could almost double marketshare in the U.S

Not likely. Cyanogen can access google apps, play store and amazon. If people want apps, the google ecosystem, how would this change anything?

So MS can do this, but they couldn't give WP8 to WP7 owners? Oh snap...

Dude, seriously? It was clear that WP7 wouldn't get WP8... WP7 had a different kernel so they couldn't upgrade to WP8. This has nothing to do with that.

As if Android doesn't have a different kernel? Yeah, that's my point.

So I can run Windows 10 on an android device but can i still run Android apps? If so, there's absolutely no reason to get an actual win10 device, regardless of performance.

Not sure you can. A ROM removes the Play Store. In China that's not a problem since the majority of Android phones there aren't Google certified anyway and don't have the Play Store to begin with. Outside of China this means you'd be left without the Play Store and therefore without a real reason to install the ROM at all. Unless Microsoft makes Google apps compatible with their ROM and puts in the Amazon store or something. But they can't put the Play Store there for legal reasons.

That's a good point, but I guess it remains to be seen if apks can still be sideloaded.

When cyanogen gets ahold of this it will be the perfect OS w10 with gapps. Posted via the Lumia 1520!

So this only works with this one phone? Why is everyone acting like every android phone will be able to do this?

Because the title states "Android smarthphones will run Windows 10 for phones". Not just only Xiaomi.

Any XDA developer can easily port this ROM to other devices, don't say that it's impossible, because they can do it.

Yeah but they aren't going to waste time porting this to old devices.

If this will be the same Windows 10 found on phones from Microsoft with no limitations and stuff I think I will buy a OnePlus One and flash this rom on it. Unless the phones from Microsoft will have some really big advantages.

And that's why Windows Phone will die, many users will switch to Android phones because of this decision.

now u r welcoming the android to windows family... what nonsense..

I want all my colleagues to be a windows phone users... Prayer have been answered.

Wow... this is pretty cool! So if I jump ship and buy an SGS5, what are the chances I'll get a Win10 ROM for it down the road? J/K... but seriously though...

Love the LG G2 hardware, miss WP OS...I would put WP on it if everything worked :)

YESS!! I hope I can install it on my againg Galaxy Tab 2 (strugling with 5.0 Lollipop). It would definetly help with market share. Imagine Microsoft telling people to ""SWITCH" to a whole new phone, WITHOUT BUYING A NEW PHONE" <<< That would be epic for markets like Brazil! :D

I don't think MI user will flash.

Microsoft pls focus on the Lumia win10 until you complete release the update for us, then only talk about rom customization for other platform.

Nice, i predicted this when W10 was announced. Also no reason why you can't port a ROM to an Apple phone either. Just jailbreak it, then write a ROM to work with the components. Ios is Linux after all just like android.

I don't like this idea for infinite reasons.

if Microsoft can give win10 for android device then y they cant get apps and games from android

I think people are overreacting to this. It doesn't mean every android devices released will be able to run WP. Even if flagship android devices can run WP, I wouldn't expect a lot of people to switch. If they wanted WP they would have gotten it in the first place. A small number of users might give WP a try, but id imagine 95% of them will go bs to android when they see that 1) not all of the apps they had on android aren't in the WP store or 2) the WP version of the apps haven't been updated in a long time and are inferior. I don't see this doing as much as people in this thread think. It looks like it will end up being Asha 2.0

Nadella: Let them all buy the Android phones they want. We'll install Windows 10 afterwards. Hehe.. Myerson: And if they decide to go back to Android, we'll only let them flash with CyanogenMod with Microsoft apps! Belfiore: Muahahaha...

NOW that is Good NEWS. Perhaps the end of WP Devices? ROLL IT ON, Can't wait to install on my HTC M7. Cheers from Down Under.

NOW that is GOOD News. Can't wait to load onto my HTC M7. However obviously you're device will have to be " ROOTED ". Cheers from Down Under.

This could be good. I got an old android in the drawer. It would be nice to install Windows X on it and keep it as a back up phone. This could be good. Really good.

Caden. I just agree... Patrick`s st0rry is astonishing, last tuesday I got a top of the range Land Rover Defender sincee geting a check for $6814 this last 4 weeks and in excess of 10k last month. it's certainly the coolest job Ive had. I actually started 8-months ago and almost straight away started making a nice over $86, per hour. pop over here~*~*~*~*~*http://www.netcash99.com/~*~*~*~*~* ♥♥♥♥♥♥♥♥♥♥♥♥♥♥♥♥♥♥♥♥♥♥♥♥♥

...TechCrunch understands from sources that it effectively overrides Android, turning the Xiaomi phone into a Windows 10 device complete with Microsoft services...

Ehm... I think a lot of you are misunderstanding the whole thing, guys. This ROM will REPLACE Android on the device, leaving it being a Windows device. It will not be a dual-boot thing, or a Windows emulator on Android. And yes, Microsoft is giving Windows 10 for free, just like it is doing now with Windows 8.1 for small screen devices (including Windows Phone 8.1). Microsoft and the manufacturer(s) will probably collaborate to release an app similar to the Lumia Recovery Software Tool or the one used to downgrade to Windows Phone 8.1 if you have problems with Windows Insider program. It's a nice and smart move, and alongside the free upgrade to Windows 10, it could really help with the market share thing. And once we have a decent market share, developers will think twice before giving us the middle finger. PS: I really wants this to work and to be a potential threat for those assh*les at Google. I want them to suffer for treating us as a second-class user (even though I'm not a Google services user).

And yet Windows Insider subscribers on non low end devices are still waiting to try it out.... Posted via the Windows Phone Central App for Android

Its a smart move, Microsoft can get partners who will allow w10 to run on their devices. It'll be like the htc one with wp8. I can see LG, Samsung and HTC agreeing to this. Gives people heaps more options in terms of devices, especially high end ones, who want to try w10.

Re: Kylecpcs, WOW losing apps "daily"! So 100s? Each and every day? "Dead Platform"? Or is that an exaggeration? I can think of 4 and there must be other insignificant ones we haven't heard of, but "daily"? The trolls / haters say things like that.
Best Wishes

Instead of asking other android players for tryout their OS, MS should concentrate on Best future proof High and Mid Range Flagship phones in 2015.

some reverse engineering will likely to happen

And what about install Android on Windows 10 for phones

Lol wat about IPhones? Imagining windows on a iPhone

Perfect. Now we know what Microsoft was likely negotiating for with Samsung a month or so ago. So Microsoft builds a ROM for Galaxy S6 and Samsung offers it as an option. Deal. If all the top Android phones are available as Windows Phones, that could be a nice range of device options.

I'd love to flash these on my small tablet.

But they can't bring android to windows phone?

Oh crap, I can see a puddle at Google's feet...

As a current android user (nexus 5) who misses a lot about windows phone (used it from the focus to the 920, then no new flagship came) I am pumped about this. There are a handful of things I like in android that would be nice to have ported through this ROM, which i assume some industrious hacker out there will figure out, but for the most part i am on android because of the hardware.

So I can flash Windows 10 on HTC M9 or Note 4?

Heh heh...this is big! That's why Android users love their phones anyway is because of loading ROMs. This. Is. Epic. I hope WM10 is adopted more for this exact reason :)

WOW, I can get a LG G3 (pretty bad ass phone) and put Windows 10 for phone on it ? Freaking sweet. Sign me up ! Will it install like "Windows" or do you need a custom rom for each phone (drivers, chipsets, etc) ? Hmmmm. could be a nightmare...

Woo hoo!!! Windows 10 ROM for my Nexus 5! I can't wait! Well....it won't be much different than running Windows on my 1520 as they both have the same processor. This is great news!

ohhh....Sounds like a HUGE game changer to me... :)

I don't understand how an android phone can run full windows 10 but the Surface RT cannot? http://www.windowscentral.com/microsofts-windows-10-upgrade-path-chart-s...

Great to see a more mobile Microsoft. Nimble in terms of substantial change of strategies and engagement. From a shareholders perspective, I imagine share prices to slide a bit. Revenue streams will theoretically increase by wider adoption of windows. But not easy sell.

Very interesting. Hope they expand the list of hardware manuf. Think about it. If Microsoft is able to put their OS on any hardware, that would blow the market wide open. I'm already thinking about the Samsung S5 Active and loading Win10 on it. Anyone that knows me, knows how much I have been waiting for a ruggedized device that will run WP.

What about letting current WP user get access to WP10 before knocking on the competitors door! :-/

Think about it... a OnePlus with Windows 10... two good things at the same time :-)

They can get windows 10 to run on android phones but on surface rt and 2. WTF!

Hmm...this is really interesting. I wonder if that means they'll put this out there for consumers to play with, or if this will just exist for hardware partners to continue the path of putting already released Android devices out as Windows ones. If this came out for consumers, it would be really cool, but I'd want there to be a a way roll back to Android, if desired. This would primarily apply to if a user needed to replace a device under warranty. I imagine that switching the OS would cause problems there.

Let's be realistic: Microsoft isn't making much money with Windows Phone.
Microsoft doesn't care anymore you use Windows 10 on a Android phone because it's not making money on the OS but with the associated services.
A Windows phone is becoming just a phone running Windows. And, we'll still get Signature-edition phones, phones built specifically with Windows in mind like with the Lumia product line. That being said, if you've never tried Windows Phone and have an old Android phone or your daily Android smartphone is starting to become slooow... Then, here is an incentive to try something new you wouldn't have considered otherwise. And just remember the implication of one important information dating back from the WP7 days: 80% of the users who tried WP liked it! :)

The only thing that makes google popular is its first party apps and customization. Not every app for google runs smoothly and not every OEM can optimize for the platform correctly. The truth is android is just a springboard platform for google to advertise. They are not a software company they are an advertisement company. Apple is a software and hardware company and Microsoft is a software and now hardware company as well. Yes sure google was smart to package their first party apps with the is, the same Microsoft did back then with IE,office and other things. Times change and so do smart people and change is coming. Just one of Microsoft ways of breaking up the boring smartphone space the we have now. Dev who care more about money only go where the money is and right now that is not on windows. Dev that have a passion for the job that they are doing will create great things no matter the platform.

Microsoft should make a ROM for chromebooks to run Windows 10 IoT

I like Windows phone because it is more secure than Android I'll take security over popularity especially in this day and age

Gimme... NOW! Posted via the Windows Phone Central App for Android

Services! Services! Services! Services! Services! Services! Services! This is why Cortana and all the once Windows phone exclusive apps are being ported to IOS and Android. Its all about getting people hooked on Microsoft software and services. Its also why Windows phone is not going away Microsoft will always have their own phones for the new first time phone buyers, and for those enticed enough to make the switch. If not they'll try to basically turn iphones and android into pseudo Windows phones because of the Microsoft services they are running. Sounds like a smart LONG term plan to me

Yes, just like PCs I we want dual boot.

I'd like to have a Windows Phone that includes an Android emulator so I can run both Windows and Android apps. I guess that's impossible so turning Androids into Windows Phones is the next best way to reduce Android's global market share of phone OS.

Moto X supported? :D Would be awesome.

Best hardware devices are on Android, put a WP10 or whatever Windows and BOOM. good luck with the firmware updates

Do you people even read before posting? The announcement clearly states that W10 will be on any device, making that "lack of flagship" crap redundant, because we will be able to flash Android out of e.g. Galaxy S6 and enjoy the new and butter smooth OS that is Windows.

One for Sony xperia please, with Sony apps please!

I would put this on my Android M8 in a second. I never understood, other than profit, that HTC didn't let us do this anyway.

so would this work with a note 4?

As usaly lots of cry babies making comments and whining over something that don't fully understand. How sad. Anyway, great move by MS. Allowing Windows to run on any phone the same way they do with PCs will no doubt increase thier market share.

just say it loud and clear, Microsoft is releasing the windows 10 rom for phones, anything running the minimum requirements could get flashed with it, yay finally some common sense, now you will see marketshare rise, lots of peple with low end droids begging for a decent, smooth experience will have the option to try this

This would be great if say we could stick W10 on a Samsung Galaxy S4 - my OH's S4 is a POS with Android running on it!

Super great actually, but if you can't bring the Google play store converted, perhaps there are more people will stick with Android, it doesn't matter with the apps between MS and Google but most people adapted to google.

Hopefully! Cant wait to install it to my super laggy asus zenfone 4... cant hold this much. I think asus zenfone 4 hardware is better than lumia 520... so it must can run w10 smoothly. (Sorry for my bad eng) Posted via the Windows Phone Central App for Android

Are there any new update about this?

Please Make Windows 10 ROM for All android Phones (Not only in Mi4 Phones).... So Many users expecting Windows 10 rom from microsoft to Convert their Android Smart Phones to Windows... Windows Phone is the best. And provide some new apps like xender sapia sooperbeam etc.. That makes a Big change in No.of sales in Windows Phone!

My question would be when will Microsoft ever collaborate with Android to set up a dual boot partition that will allow Android users to flash custom roms directly from their devices? I don't want to use a PC to flash roms to my device.

Ive been running windows 8 on mh LG G3. You mean to tell me they just now coming out with this shit were my check or job ?

hope it will reach a time when we just be buying phone H/W like pc and dumping the OS we want on it
Windows Central Newsletter
Get the best of Windows Central in in your inbox, every day!
Thank you for signing up to Windows Central. You will receive a verification email shortly.
There was a problem. Please refresh the page and try again.