Microsoft may be close to releasing the first HoloLens development kits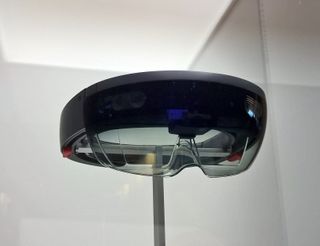 Microsoft could be gearing up to roll out its first HoloLens developer kits in the near future. The company has reportedly manufactured about 3,000 of the headsets, running a recent build of Windows 10.
From Microsoft Insider (translated from Spanish):
Microsoft previously announced that HoloLens developer kits would be made available in the first quareter of 2016, so it wouldn't be surprising if they did indeed start arriving soon. Developer kits are expected to cost around $3,000 per unit.
Source: Microsoft Insider (Spanish)
Windows Central Newsletter
Get the best of Windows Central in your inbox, every day!
First the article says close... Then it says near future.... In the end it says first quarter of 2016... ;P
Microsoft... Coming soon

The first quarter ends in March and February ends on Monday so I do think "Q1 2016" qualifies as "close".

Umm.. Pretty sure end of Q1 is soon in the near future.

Coming soon:) near 2050...

Still waiting on Windows 10 mobile official release first . Posted from my Note 5

Last I heard it should be coming late summer 2015.

I actually chuckled by reading your comment Dan.

Came with Nokia 920 release, I hope this guy was joking

Windows 10 for your Note 5, good luck.

It's already released, you can buy a retail phone with it on after all, so that has to count as released.

Come on already I need to c# a vr girlfriend that's not a Patriots fan.

Thing is I think this hololens is just going to endup like Kenict , I really hope they don't force RARE to work on this again Posted via the Windows Central App for Android

1000 times better than Google Cardboard VR gimmicky.

Kinect was targeting the consumer market first. Hololens is targeting enterprise first. It's hard to compare the two.

Yeah Kenict. That revolutionary device which is yet to be seen.....

I loved Kenict when it first came out for the Xdox 320

Wish they would get closer to releasing the first surface phone which is easier to build than a hololens handset.

Pretty sure HoloLens is a headset. Surface Phone will come when they finish making something awesome, I really don't want them to rush it cause then it will just end up being another phone "for the fans" and make no difference in the market, I want a great phone that my iPhone toting friends will actually get interested in, already got some fan boys to get the Band 2 instead of the Apple watch and one with a Surface Pro 4 instead of an iPad Pro, the reason for this is that Microsoft is finally putting out devices with the right quality and design that can actually rival Apple, personally I hate the whole silver / grey/ almost white look of the new Surface stuff, I loved my old RT in black and would love to see that colour option come back but I'm happy that the new designs appeal to a much larger market. If they can do the same with a Surface Phone then we will for sure see a positive shift for Windows Mobile, I don't think it will suddenly change the market in a huge way but I would hope they can slowly grab 5-8% worldwide mobile market share by the end of 2017.

I agree with all of your statements, but they've been talking about a surface phone since 2012, so actually they've had play of time. Four years is a long time; I've been on the windows phone train since WP 7. My patience is to its endpoint. Satya had until the end of the year with, if they don't create something special, support their platform, and really lobby, pay, and work with developers, I'm out!

@OMG55. 4 years? Panos only took lead last July.

Quite nice for HoloLens as I doubt they are making more than have been ordered / applied for, so that means HoloLens will have a $9M revenue straight out of the gate before it's even publicly available. All those little $1M pocket changes here and there add up nicely

This could easily be our tipical mobile phones in a few years. The first mobile phones were aroud the same price tag and they were a lot bulkier!

Ha I never noticed it until a certain person mentioned it on Twitter...But there really are quite a lot of "may", "might", "it's maybe possible that this may happen, or it may not" articles on Windows Central lately.

It's so nice, I hope Microsoft will also bring it to South Africa and not only limit it to the US and Uk, like they did with the Ms Band.