Microsoft may let you switch between old and new Start menus on Windows 11
Old or new? You might have the choice on Windows 11.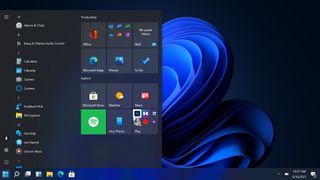 (Image credit: Windows Central)
What you need to know
The leaked Windows 11 build includes a hidden option.
The hidden option allows you to return to the old Windows 10 Start UI.
Update: Microsoft has removed the ability to enable the old Start menu on Windows 11, so this process no longer works. Original article follows:
The recently leaked Windows 11 build has revealed lots of new details about Microsoft's upcoming OS such as the new Start menu and Taskbar experiences. That said, the leaked build is not final, and there are more UX enhancements and features still to come. One such addition that Microsoft may add in a future build is the ability to return to the classic Windows 10 Start menu with Live Tiles if they prefer it over the Windows 11 one.
While there's no setting in the UI to revert to the classic menu yet, Rafael Rivera on Twitter has found that all the plumbing to enable such a switch is already in place, and you can enable it yourself by adding a registry key to the Windows Registry Editor. Enabling this key will bring back the classic Start menu with Live Tiles, replacing the centered Windows 11 one entirely.
If you're already running the leaked build, here's how to do it:
Press Win+R on your keyboard.
Type "Regedit" and hit enter
Navigate to HKEY_CURRENT_USER\Software\Microsoft\Windows\CurrentVersion\Explorer\Advanced\
Right-click and create a new DWORD (32-bit) value
Name it "Start_ShowClassicMode"
Set its value to 1
Restart your PC
Like we've said, it's likely that Microsoft will simply make this a toggle in a future build of Windows 11 for those who don't like or aren't yet ready to learn the new Windows 11 Start menu. What are your thoughts on the new Start menu design? Will you be using it or returning to the classic Windows 10 Start menu? Let us know in the comments.
Windows Central Newsletter
Get the best of Windows Central in in your inbox, every day!
Zac Bowden is a Senior Editor at Windows Central. Bringing you exclusive coverage into the world of Windows on PCs, tablets, phones, and more. Also an avid collector of rare Microsoft prototype devices! Keep in touch on Twitter: @zacbowden.
Makes sense to provide the option since many may not be willing to adjust. Feels like MS has adopted some Linux ethos in this roll out.

But it is not straight forward to do, people have to muck around with the registry and how long will that work for? Should have the option in settings, not that it make any difference to me as I use Start is back.

This is the missing piece I wanted to hear! Love the live tiles, use them every single day.
Now I can gladly upgrade to Windows 11!!

The executive editor was waiting for the readers to tell him this.
I said to him this was the most important bit in the whole 11X fiasco.
Bit my head off and 4 articles later, they write about it

Bit your head off is a bit hyperbolic and I was the one who directed us to write this article but go on with your drama ... And no, this is not the most important bit. It's barely ranking in the top 10 right now on our site. Wallpapers and whether it'll be a free upgrade rank higher.

well... you always tell me about how many articles you write, I'm not a journalist.
I have no interest in writing, you can write what you want.
I just happen to like your site,. So wallpapers are a feature on your site. ok

@Hiswona You will be surprised how many people want the wallpaper that's shown in a review or demo etc.

That wallpaper is important to me than iOS and macOS

Your site is no measure of importance, but your thinking so certainly is a measure of your self-importance. As is your bullying your sycophants. It's too bad that they lack the spine to tell you the truth. No wonder you despise them.

He bit your head off because, on a regular basis, you're a tool.
Not sure what's wrong with you, must be a wired circuit. But;
For some reason, you're routinely troll-ish, inadvertently or otherwise.

Just like the start menu is a tool. It be boring around here girl if all the circuits were on the same bus.

Microsoft should just make Win10 start menu rounded only at the right of the window.
All rounded corner of start leaves a little space at left.

They couldn't because of the poor input they get from journalists. I agree on the right corner but also an option to remove the grid entirely like on W10M.

@Hiswona you can remove the live tiles or pinned win32 applications entirely and just have the basic start menu.

Of course they will. It's not like they are throwing the baby out with the bathwater here. They are the masters of backwards compatability.

That exactly what is needed.
From leaked video only start menu is garbage, everything else is nice reskin. Though i wouldn't make new name for dis update.

Thank god, I thought they went full Gnome with this one.
I hope they get rid of live tiles and make them simple icons and also make sure the ui is uniform across the os.

*face palm* you don't have to use live tiles if you don't want to use them and you can make live tile into simple icons by using the small tile.

You don't even need to do that, you can turn off the Live Tile functionality but right clicking on the tiles

@neo158 Good call, even better for people who don't want to use live tiles - they have a simple solution to turn them off.

That's a relief, far too many entitled morons out there that think just because they don't like or use live tiles others who do like and use them should not have that option. I hope this switch is never removed because I for one am sick and tired of a static grid of icons - that grid has not changed for almost 30 damn years.

Thank God! I don't need those suggestions on the start menu. I organise it the way I want and I want it to stay that way. Those recommendations are already part of the Search UI anyway. My main concern is, they start with local suggestions then introduce useless MSN news feed powered by Bing and it leads to ads right on the start menu.

Good news, I prefer the current start menu

I like the new Start Menu except for the fact that it's not as easy to organise my apps. I've got all of my apps in groups currently. Productivity stuff, game stuff, astrophotography stuff, photography stuff... with the app launcher, am I just supposed to order them without a group?

Yes, that also as well. It lacked grouping and folders that current production build of Start menu has. It's not really superior to the current one, just different and simple, probably too simple for power users not counting for those who also like Live Tiles over new Windows Widgets.

😍😍😍😍😍😍😍Yes yes yes yes love it love it love it. I do all my stuff on the start menu. And I have it full of Live tiles and the state menu is set to full screen. If I can have an option to keep that then I will go to Windows 11

Not updating Windows is no more an option

Any possibilities to turn off the rounded corners or reduce the radius?

I would love that. Also options to set the level of transparency & blur.

I don't have a problem with the new Start Menu layout except that Windows Widgets isn't actually that superior to Live Tiles. It would have been better of Live Tiles were just migrated from Start menu and placed instead on that new Windows Widget sidebar instead. All while building new widget system that can truly replace Live Tiles. The good thing with this new Start Menu though is it is slightly better than Windows 10X one where its Timeline show recently installed apps as well and the All Apps is still an alphabetical list with jumplist where you can click letters to jump through. Windows 10X where just flat grid of icons that can get quickly messy with so many apps installed.

I want the live tiles start menu. But can I still have the start menu in the middle of the task bar?

Exactly this. The hordes of people complaining about the most useful improvement while ignoring the biggest loss, is ridiculous.

Live tiles and dark mode 👍

I'm pleased by this, because like many here, I really appreciate the Live Tiles. I use them to see what's new at a glance on Windows Central (thank you Windows Central Win10 app), news and weather updates, glance at my To Do list, and more. However, I believe I'm in the minority and those of us who like Live Tiles probably won't have them much longer regardless of being able to keep the Windows 10 Start Menu. If it's just a legacy option, support for them in the apps will eventually fade away making the feature useless. I'd love to be wrong, but the writing on the wall seems to be pretty clear.

Most definitely good news. While the new menu is okay, I'd prefer the Live Tiles over it. Good to have the option. Although, I do kinda like the Weather/News menu that pops up, when you hover over there weather icon on the task bar. I haven't played around with it much, though.

Pff. There are two sides of the coin. So on one side I am happy to have the option to keep live tiles. On the other hand what I see is that it comes with the cost of having legacy stuff piling up already in a brand new OS. Microsoft just can't get things right. The moment they wanted to get rid of live tiles, the whole idea was doomed. I simply cannot get why normal icons cannot be simply old icons with live tiles disabled and why a taskbar a widget place a start menu cannot be a place with either icons or live tiles enabled up to user's choice. The same reason I don't know why News and Interests "widget" cannot be a simple live tile extension. Would make perfect sense without having to proliferate legacy controls all over the place. This whole idea attempted to be put in practice is a bad decision made somewhere.

Great news! Now I'm on board. I do enjoy the application info on Live Tiles. The widgets doesn't seem to include this.

Man will Microsoft ever bring something fresh and get rid of "Remnants of the past" ?
Its like WIndows 10 just changed some clothes XD

They should go with the idea of a switch, its likely the widgets menu will be the new place for live tiles for Windows 11, but until that gets fully implemented, they should have a toggle to switch, as long as the old Start Menu has rounded corners and full screen mode 😉

I've never had much use for the live tiles but I am glad we may be able to put the start menu to the left like how we know.

This thing was also on early Windows 10, to use old Windows 8.1 Start, they will remove it, as they did on W10

I personally don't care about the old start menu. I just care about having the same live tiles on the desktop!

I'm a bit late in commenting on this, but here I am with my thoughts. I've been using the Windows 10 Full Screen Start menu for a long time now and the possibility for it to disappear on Windows 11 is something that will let me down considerably. My current menu is full of app tiles of different sizes (both static and live, single or grouped in folders) that are immediately available for opening. I installed the latest Windows 11 insider preview build and found the new Start menu rather disappointing with those static same sized icons. The issue is not the "live" capability (I obviously like those tiles that are supported), it is the layout you build over the time using the Full Screen option where all you need is there (117 apps in my case). I hope that Zac Bowden's "may" will turn into "will" with MS making the option to switch between the new and old Start menu available on Windows 11.
Windows Central Newsletter
Thank you for signing up to Windows Central. You will receive a verification email shortly.
There was a problem. Please refresh the page and try again.