Microsoft Memories - a look back, at the past of Redmond technology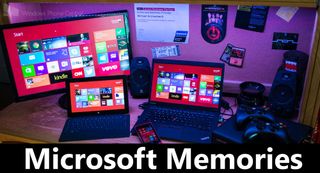 Sometimes technology is a collection of circuitry and silicon, sometimes though – it is a magical moment full of feelings and memories. The best experiences are born when technology transcends our knowledge and connects us with what we love. British science fiction writer and futurist, Arthur C. Clarke, once said:
Microsoft has been around for a long time and for those of us who live off of the technology they provide, some of the memories will never seep away.
In 2007, the company released a four minute commercial that has come to be known as "Your Digital Lifestyle". The ad highlighted the then current hi-tech Microsoft products of the time and how one green shirted hipster used them to party the night away. The commercial is set to a cover of Ash's Girl from Mars by Canadian group, Magneta Lane.
Buckle up, because we are going on a field trip to six years ago; along the way, we are going to jam with our green shirted friend and revisit some of our past Microsoft technology goodies. Windows Vista will probably be seen along the way, but there will be plenty of other experiences to combat that bad flavor.
Okay, roll the footage!
Windows Live Messenger
Our friend Mark, is at work and on his PC when he receives a Windows Live Messenger chat from his friend Pia (she must be the girl from Mars). Today we know that Microsoft's messenger software is deprecated, but in 2007 – most of the world still used it. The service was first rolled out as "MSN Messenger" on July 22, 1999 until it was rebranded in 2005. Until its death, Microsoft reported that over 330 million active users a month used the service.
What happened next you ask? Microsoft purchased Skype and merged the two services. Finally in 2012, the service was killed in favor of fully utilizing Skype. This marks our first evolution of a Microsoft service: MSN Messenger -> Windows Live Messenger -> Skype with Windows Live Messenger -> Skype.
Windows Live Spaces
On we go! Pia sends Mark a link to Windows Live Spaces where he can check out party details and RSVP to the event. Windows Live Spaces was Microsoft's poorly known social network and launched in 2004 as MSN Spaces. The goal of the site was to compete with other networking sites such as Facebook and Twitter (Sorry kids, grandpa didn't have Google+ yet).
The problem with Microsoft's social networking platform was that it didn't offer any differentiating features from its already popular competitor, Facebook. The network was shut down in 2011 and has not been rebranded or reestablished.
Microsoft has launched a new, but unrelated, social networking site called Socl which you can read more about here.
Live Search Maps 3D
Mark decides he wants to go to get his groove on, so he heads to Live Search Maps 3D and spins around a view of the city before dashing off. Why he spins the city around in circles, we can't tell you. What we can tell you is what happed to 3D maps – they died. The service was an attempt to achiever near-photorealism of a city with high resolution models and aerial photography. Needless to say, the service was expensive and less than 68 cities were rendered before the program was dropped in 2010. According to Microsoft, they wanted to focus more on their new service – Bing Maps (more on that in a bit).
Windows Live Search
With his dashing lime green sweater now on, he pulls out his HTC phone and uses Live Search to look up traffic. Microsoft has been in the search game for a long time; they launched their first web search product in 1998 and crowned it, MSN Search. The newly launched service consisted of a search engine, index, and web crawler. It isn't well known that from 1998 to 2005, Microsoft didn't actually provide its own search engine results; the company partnered with Inktomi, Looksmart, and AltaVista until 2004 when Microsoft decided to go at it on their own.
In 2006, Microsoft rebranded MSN Search to Windows Live Search then changed their mind in 2007 and settled on Live Search. For the first time in history, Microsoft now powered their entire search engine internally. A problem still remained though, the company wanted to separate their search platform from their Windows division and "Live Search" just wasn't doing the job. On June 3rd, 2008 – Microsoft launched Bing! Another evolution pattern emerges: MSN Search -> Windows Live Search -> Live Search -> Bing!
Zune
Now that Mark is safely buckled in and ready to put the petal to the metal, he docks his gigantic first generation Zune into a car dock and rocks some tunes. You will have to give me a minute to mourn Zune as it was one of my favorite Microsoft babies… okay, I'm good now.
Zune was launched in November 2006 as a direct competitor to Apple's line of iPod multimedia devices. Toshiba helped design and develop the first generation Zune units under code name "Argo". The original Zune was criticized for its bulky size and it's (uh) interesting color choice of brown. It also didn't help Microsoft that on December 31st 2008 at midnight, many first generation Zune 30 GB models froze due to an internal clock driver problem - luckily the devices resumed working 24 hours later.
The second and third generations of Zune were manufactured by Flextronics and gave birth to the squircle (not to be confused with the Pokémon, squirtal) shaped Zune Pad; this ingenious touch-sensitive pad allowed users to flick through content or click in on the edges to navigate the metro style interface.
On September 15, 2009 the last and final fourth generation Zune was released – the Zune HD. Oh, the excitement I remember experiencing when I ran to BestBuy and picked up my beautiful Zune HD with platinum backing. The design of the unit was superb, taking cues from industrial styling. And of course I could not forget the OLED touch screen which, at the time, made the iPhone look dull and washed out. Unfortunately, Apple's iPod Touch had accumulated a massive store of applications while the Zune HD's list of apps could be counted on two hands.
On March 15, 2011 Microsoft's Zune brand was killed as it failed to capture any significant market share. Zune isn't completely gone though, it has been rebranded. Production of any Zune players may have stopped, but the Zune Marketplace services were rebranded as Xbox Music and Xbox Video. The spirit of Zune continues to live on within Microsoft's Windows Phone line of devices.
Games for Windows
Back to Mark - unfortunately his car has failed him and like any true hipster, he has a foldable bike in his trunk. He hops on his bike and pulls out Live Search once again to find directions to the closest pizzeria (although, if he lived in the area, you think he would know where a pizza place is located). After arriving at the pizza place, a semi-psychotic man jumping up and down playing a shoot-em-up video game, is behind the counter. Video games on a PC? This must be a Windows machine!
One of the major reasons Microsoft has been able to keep its following, is PC gaming. For the intense gamer, the PC platform provides a more open and moldable playing field. Using online stores like Steam, gamers can access a barrage of content available for download. Faster and more powerful hardware allows for graphics that can blow consoles out of the water. Quite frankly, if you haven't played Crysis on Ultra settings with three surround-view monitors – you haven't lived.
Games for PC were not united under a single brand name until 2007 when Microsoft launched "Games for Windows". The new service and branding allowed Windows Vista games to access the Xbox LIVE service. With Games for Windows, players can cumulate achievements, chat with friends, and more. Some games, like Shadowrun, allowed for cross platform play between a Windows PC and Xbox 360 game console. The service was eventually renamed to "Games for Windows LIVE" with support on Windows 7 machines. Newer, Windows 8 machines, take advantage of their Xbox integration and run games under the title: "Xbox LIVE on Windows".
Whatever you would like to call the service, it did not fair too well. The marketplace based around "Games for Windows" was eventually scrapped. Microsoft may be the number one PC platform for gaming, but in terms of a marketplace – they are ages late. Most PC gamers will love to tell you all about their devote loyalty to the Steam Marketplace; while they do that – let us, move on.
Xbox 360
The commercial snaps away to a scene of party goers (does that give away how often I am not invited to parties) gaming on an Xbox 360 game console.
Xbox was launched in North America on November 15th, 2001 to compete against Sony's PlayStation 2 and Nintendo's GameCube. The idea was first pitched in 1998 by four engineers working on Microsoft's DirectX team. The engineers built a prototype Windows based console from pats of a dissembled Dell laptop. The idea was pitched to executives and eventually approved.
The marketing team at Microsoft hated the Xbox name and made many suggestions in favor of a name change. In the end, consumer testing had revealed that Xbox was the preferred name for the console and it stuck. If you haven't figured it out yet, the name Xbox, was derived from the word "DirectX" – the software platform the console was based on.
The unit launched with impressive features such as Xbox LIVE, an online based gaming service with buddy list integration, and a build in HDD, to store save game data without the need of a memory card. For those wondering, the internal specs were as follows: Intel Pentium 3 CPU, 8-10 GB HDD, 64 MB of RAM, and a 233 MHz NVidia GPU.
Microsoft's first step into the console world was a success with the Xbox selling over 24 million consoles.
The Xbox 360, the console seen in the commercial, was the second game console developed by Microsoft and the successor to the original Xbox. The unit competed against the PlayStation 3 and Nintendo Wii and sold 70 million consoles as of September 2012. The console was a hit and sold out upon release in all regions except Japan.
Stepping up from its predecessor, the Xbox 360 contained a PowerPC tri-core CPU, a 500 MHz ATi GPU, 512 MB of GDDR3 RAM, and 4GB – 250 GB of internal storage.
Later this year Microsoft will be launching the Xbox One, a new game console, with tight TV and Windows 8/RT integration. The unit will feature an eight-core AMD CPU, AMD DirectX graphics, and 8 GB of DDR3 RAM. If you missed the original announcement for the console, you can check out our Reveal Day Overview here.
Windows Mobile
While our "bestie" Mark is out, the girl from Mars sends him a picture text message via her Windows Mobile device - she needs beer and chips!
Windows Phone Central is all about Microsoft's latest mobile operating system and we could spend a week giving you the lowdown on the evolution of Windows Mobile, so here is the very just of it.
Windows Mobile was launched on April 19th, 2000 and originally called Pocket PC. In 2003, Microsoft decided to rename Pocket PC to Windows Mobile.
The software was released in four editions including: Windows Mobile for Pocket PC Premium, Windows Mobile for Pocket PC Professional, Windows Mobile for Smartphone, and Windows Mobile for Pocket PC Phone. If you think that naming scheme is confusing, just imagine how the average consumer felt.
Eventually, Microsoft narrowed down the operating system to three different iterations including: Windows Mobile Professional, Windows Mobile Standard, and Windows Mobile Classic. Professional was designed to run on smartphones with touchscreens, Standard was designed to run on mobile phones without touchscreens, and Classic was designed to run on PDAs or Pocket PCs (AKA: Anything without a mobile broadband connection).
In 2004, Windows Mobile's market share was 11.3%; it increased to a maximum high of 42% in 2007 and then decreased down to 3% by 2011 – Blackberry and iPhone were becoming too strong of a force to deal with.
On November 8th 2010, Microsoft launched its successor to Windows Mobile – Windows Phone. Besides the massive changes to the front end of the OS and a complete recoding of the backend, Windows Phone was aimed at an entirely new market audience; the previous phone OS from Redmond was aimed at business users and enterprise, while Windows Phone is aimed at consumers.
Currently, Windows Phone has a growth rate of 133% per year, surpassing Android OS' 79.5%. As of now, Nokia dominates the Windows Phone hardware market with an 83% share outside of the United States of America.
More Zune
Like any good guy chasing a girl, Mark follows the instructions Pia has sent him, and heads to a local convenience store to pick up the goods. While there, he notices the cashier has a Zune also and decides to squirt her.
No, get your mind out of the gutter you internet reader! Squirting a user was a feature on Zune in which you could easily share your music wirelessly with others. It was important to note that if the user did not have a Zune Pass they would only be able to share a sixty second clip.
After Mark squirts the woman behind the counter (seriously guys, stop thinking like that) he rushes out of the store and heads over to the party he has been so anxious to get to.
Windows Live Essentials
Know what is cooler than viewing pictures of a party? Viewing pictures of a party while you are still at that party. The girls decide to take a barrage of photos and (because nothing else fun is going on) organize and share them with Windows Live Photo Gallery.
Apple's Macs have come preloaded with iLife, a suite of video and photo editing software, for years. Microsoft needed to badly cut in on the home multimedia action for their Windows platform. In 2006, the company released what they called "Windows Live Essentials" – a package that included: Windows Live Messenger, Windows Live Photo Gallery, Windows Live Movie Maker, Windows Live Mail, Windows Live Writer, SkyDrive (formally Mesh), and Windows Live Family Safety Tools.
The software has proved to work well and it is in its fifth wave (or distribution). The software suite, had been renamed to Windows Essentials in its last release; this ensured that the brand name stayed in line with Microsoft's corporate setup. Just as Live Search was renamed to Bing, Windows Live Essentials was renamed to Windows Essentials - dropping the "Live" branding.
Windows Vista
Mark finally arrives at the party with a collection of pizzas and starts dancing the night away. And as we all know, the perfect way to end a commercial is with Windows Vista – oh my. We have to talk about Windows Vista now, don't we? Let's do this, to spare you pain and to spare myself pain, I will make the Windows Vista discussion brief.
Microsoft's redesigned operating system Windows Vista was released six years ago on January 30th, 2007. The list of criticisms for this iteration of the Redmond OS can go so long that there is an entire Wikipedia page (and many angry webpages) devoted to it.
Here is the just of the worst Windows Vista features: To start, the operating system was incompatible with almost all Windows XP drivers because the code base was rewritten; this caused extreme hardware issues with new and old devices alike. It took manufacturers months to provide correct driver compatibility and even then – they didn't work too well.
Windows Vista was also the introduction of User Account Control, a software mechanisms designed to keep users safe when installing content or running applications as administrator. The problem – the feature was over intrusive and constantly nagged at you to approve EVERYTHING.
Let's conclude with the fact that Windows Vista was bloated and slow. The new aero interface taxed heavily on your graphics card and the system seemed to have no mercy unless you had the top of the line hardware.
Want to know a secret of mine? Windows Vista was so bad, that I ran out and purchased a MacBook Pro. That is right, I switched to Mac during the Windows Vista years and returned when Windows 7 was released.
The Road Ahead
I've had a ton of fun taking a semi-brief look back at Microsoft six years ago. The company has changed much since then and we are being shot forward into a future of crazy bright colors and live tiles. Technology is an industry that is moving faster than ever and it is almost impossible to properly predict. Will Xbox One be a hit or flop? Will consumers grow to love Windows 8 or not? We will have to wait and find out – this road trip is over.
If you are wondering what happened to our friend Mark at the end of the video, check it out for yourself.
Tell us, what is your favorite piece of Microsoft nostalgia? I personally, to this day, remain in love with the Zune line of devices. In fact – just last night I had a dream that I was running Spotify off of my old Zune HD…. Probably a sign that I need a vacation.
Chat soon fellow Microsofties!
Get the Windows Central Newsletter
All the latest news, reviews, and guides for Windows and Xbox diehards.
The Intellimouse is still considered one of the best gaming mouses.

I Love Zune! The Interface is just beautiful

Great article! Zune was also my favorite product from Microsoft. The second generation player was the best MP3 player out there. It had a really fluid design that enevitably led to the Modern style all of Microsoft uses today.

I just posted this on Sam's story about the Zune HD game on Windows 8, but I still use my 8GB every day. Apart from the back button which stopped working a couple monthes ago, it still works great. I dread the day when I have to replace it, I have yet to find a comparable device with physical buttons (any suggestions?).

I still use my Zune as my primary mp3 player... Such a sad marketing failure

A long and turbulent history with many peaks and troughs. More lows than highs really, but at least they had the decency to create WP8!

I really do think that without the failure of Zune and KIN we wouldn't have Windows Phone, it shows that they really do learn from their failed product lines.

Windows Vista was not that bad. Without Vista, you wouldn't have had 7.

My feelings exactly, I used Vista and as time went on it got better and better. It's driver issues that plagued it initially were down to OEMs not being ready in time and the shift to the Windows Server codebase. But without that shift we wouldn't have Windows 7, 8 or the 8.1 Preview.

I agree... I heard it was so bad that I waited until after SP1 before I upgraded. I turned off UAC immediately and I couldn't understand what all the fuss was about - it was a much needed upgrade from Windows XP... everything that annoyed me about XP had been fixed for the better. I ended up using Vista for around 4 years (without issue) before switching to W7.

I never had a problem with UAC, yes it was a PITA while installing applications after upgrading but after that it was rarely seen unless something needed it.

vista was bad, but not bad enough to switch to mac or linux

Thanks for reminding me that Microsoft killed MSN in favour of that stupid Skype crap... Ah Windows Vista...glad I was wise enough to have never met you. Jumped from XP to 7...remains the question "when is W9 coming out?"

You have Windows 8.1 coming out this fall. Believe me, its great!

lmao 2007! I started my undergrad in Sept. of 2007, and in those days everyone had the following:

1. A Windows Vista laptop (usually HP Pavilion or Toshiba Satellite) or Macbook

2. An iPod (I had the 2nd gen Nano)

3. An Xbox 360

4. Cell phone: most had standard feature phones, but a couple had Blackberry Pearls

Those were the days!



I loved my BlackBerry Pearl 8100. It had a notch in it where you could attach a Lanyard to it, and I wore it around my neck. Thought I was so cool. Lol.

Vista worked great for me on my Gateway TabletPC. Without Vistawe wouldn't have the kernel that underlies 7 and 8 both run on the 6.x NT Kernel that Vista introduced, that gave us much more added security over what XP had. The problem was the integrated graphics at the time from Intel were somehow certified to run Vista even if they couldn't even run Vista. If you look back, XP had a similar experience but wasn't as big of a deal because the media outlets were so much smaller then.

I just thought I would point out that it wasn't so much the switch to the 6.x kernel but more the switch to the Windows Server codebase that caused the problems for drivers and made Vista look bad.

Great article but Windows Phone 7 launched in October 2010, not November. October 21st to be exact

Absolutely correct and it launched in the UK first.

Vista wasn't ready for public consumption when initially released. Vista with SP1 was absolutely fine.

Bit silly to put Xbox 360 in this list, since it's still alive and kicking.

If you've experienced Windows ME, Vista was a cakewalk.

Btw, I still have my HTC StrTrk w/ WM 6.5 Standard. I still love that phone. AND I was around when Dan was Malatesta and this place was WMExperts with Mal & Phil on the podcast.

OMG Windows ME...just thinking about it makes me want to throw up.

Ah MSN messenger. Before the time of Facebook!

What about one of the live services which was like avg or Norton, forgot the name but they used to have a anti virus program.

MSE or Microsoft Security Essentials is still around. Built into Windows 8, for download on Win7/Vista/XP.

I just looked it up and I got the name, Windows Live Onecare, which got replaced by Microsoft security essential

Rings a bell, but I don't think I've used it.

As has been mentioned before, Windows Live Onecare. Probably one of the best anti-viruses I ever used. Only downside was that it wasn't free but was a top notch product.

I forgot about that! I wish that it was still around. Back when they shut it down I had to go with mccaffe, which sucked.

Vista wasn't the best product by a long shot but I must say I didn't suffer as much as I did with XP. I always hated XP, My first PC was a Windows 98 and Me and I was hesistant to switch to XP because it had a bad rep among my friends, afterwards I always changed the look and feel of the system and only Vista's redesign had calmed me down. Unfortunatelly, after all those years of 'computing' Windows Se7en came too late for me and I switched to the Mac. When Se7en debuted it wasn't a satisfying change and it felt almost like Vista 2.0, now that Win8 has shaked of the cobwebs I'm interested again in Microsoft. I always gravitate to the less popular choices that bring a different experience (and yes, after all those years iOS looks as exciting as a ton of bricks).

Dude I have the sprint version of that Treo 700wx the antenna broke and my brother had the 700w those were kickass when I had it, couldn't connect to WiFi but I didn't care.

I don't really get the hate for Vista either. The only reason why it ended up being more miserable than necessary was due to the fact that it pushed the limits of hardware (seriously, the transition from 512 MB of RAM to 4 GB was pretty brisk). Vista was power hungry but it represented a leap in hardware advancements because the current stuff is definitely built upon that. UAC was obviously a little too intrusive but Vista was incredibly ahead of its time. Always wanted to buy a Zune...just couldn't justify it somehow when the iPod Touch had the apps going for it. But man does that thing look gorgeous.

Personally, I mourn the loss of Zune and specifically, Zune Pass. Zune Pass was the best deal in mucsic...PERIOD. You basically paid $14.95 a month to listen to all the music you could listen to, but the genius was that you basically got to download 10 songs free every month. Can't believe more people didn't take up Microsoft on the offer than they did.
BTW: I still begrudgingly use my 80gb Zune Brick.

Same here, I still use my Zune HD that I had imported into the UK. If it wasn't for the Zune we wouldn't have Windows Phone so I guess that, yes, the spirit of Zune lives on in Windows Phone.

The metro UI is also taken from Xbox Live

Actually it's the other way around, the Xbox Metro UI comes from Windows Phone and Zune.

Vista was not as bad as people say. If you had a decent build at the time it ran smoothly. I loved it compared to XP

Yeah you really had to have a PC built for Vista to run free. It wasn't all that bad.

I must be the only man in the world that loved vista..also, Zune is crap.

You're not alone! I loved Vista too.

I guess you never used a Zune because it was quite simply the best media player on the market, it just didn't have the market share to compete with the iPod.

i love my Zune HD, i still use it to this date <3
feels great being the only person in Connecticut with one :D

Same here, it's nice knowing that I'm probably the only one in the UK that has a Zune HD!!!!

Zune.... I cry every day I open the program knowing that it will never see that 5.0 update. (Otherwise my overly full Zune HD 32 GB still receives lots of love). They still have a long ways to go before I can wholeheartedly love Xbox Music.

I won't disagree with you there but the Windows 8.1 update, on my Surface RT at least, makes Xbox Music so much more usable as it removes the focus on discovery and puts it more on playing your music.

What is the name of the HTC phone in the comercial? I try to remember it but my head isn't working that well right now :/


It's the HTC Touch. I still have mine. It was a great phone and took good pictures for it's time.

*sniff* Why Microsoft? Why did you not overmarket the Zune?! You had the best hardware and software for music at the time. Still better than some of the new stuff that's out there. What an insult to be rebranded into ungainly Xbox Music... *sob*

For me, Zune and Windows Vista were the two most important landmarks for Microsoft in becoming what it is today. Maybe Vista was bad, but I did not face many a issue back in 2007 when I began to use it on my HP Pavilion Laptop. Also, Vista laid the foundation for Windows NT 6.x which gave us Windows 7 and Windows 8.x Zune introduced us to the Metro UI which has now made my Phone, Console and PC beautiful. Thank You Microsoft :) Waiting for Windows 8.1 RTM :D

Ah, remembering the Windows Live Messenger made me remember about someone... #sigh

I had 2 different zunes, windows on PC starting with millennium(me), a wp7, a wp8, an original xbox(I still have) and 4 different Xbox 360's!

That was fun. Still have my 30gb Black Zune, 80Gb Red Zune and 2 HDs, all of which still rock.
Had three different Toshiba Genio-e Windows CE and Windows Mobile PDAs, PocketPC, and a Toshiba WindowsMobile phone. Borrowed an HTC when mine went into the shop.
Now....last night I logged onto Xbox Music online for the first time and I was blown away to see it quickly populated with all my tunes from Zune through Windows 8.1. I streamed my own music and music from searches. Microsoft is moving quite quickly and it is easy for us to get harshed about this that or the other that has yet to meet our expectations, but when one thinks of where things are today compared to just 2 years ago when we were still waiting for Mango on WP7, it is like an avalanch of changes from Nokia, to Surface, to SkyDrive, to Xbox.

Hang on to your hats.

The Vista-hate wagon even though justified, I have to to say that, as a high school kid back then jumping from XP to Vista was trully an experience. I felt like owning something cool, something modern, or even revolutionary. Despite my machine back then can barely run Vista, it was great :)

This Video is fantastic. It really reminds me what a huge journey Microsoft has taken to stay in the top League. Microsoft gets a lot of crap for the Changes they make but you have to bare in mind, there is a huge amount of research and investigation behind all decisions. They are still the only company in the world which can provide solutions for the whole ecosystem (server, client, cloud, phone, collaboration, platform management, CRM, Gaming, music, video etc,etc).

That is exactly what I was thinking, couldn't have put it better myself.

The pokemon is called Squirtle not Squirtal :3

While I've never owned a Zune device (because they weren't available where I live), I've for the longest time used the Zune software for playing music on all my computers. It looks beautiful and has all the important features without any of the bloat of something like Winamp. Recently I subscribed to Xbox Music and was delighted to be able to use Zune for that as well (since I haven't upgraded to Windows 8 at this point).
As for Vista, my experiences with it were mostly positive. I bought my first Vista PC, an HP laptop, back in 2008, and never experienced any major issues. Drivers were all there (being a business-class machine, HP probably took care to sort that out), UAC wasn't really that big a deal in daily usage (in fact, I turn UAC in Windows 7 up to the highest level), and graphically it was just so pretty I could easily forgive the rare occasion when it may have lagged (though I can't recall that happening with any regularity). As far as I can tell, any issues Vista may have had were mostly either the OEMs' fault (who failed to deliver functional drivers in time and insisted on installing Vista with Aero enabled on underpowered hardware), or simply exaggerated by the tech press. As the driver issues were resolved and the first couple of service packs released, Vista became a rock-solid performer, but unfortunately all people can remember about it are the shitty reviews that blew the initial issues out of proportion and never took the time to revisit them later or consider the long-term influence of Vista (e.g. laying the technological groundwork for Windows 7).

I agree with your analysis of why Vista "failed" and everything you mention is exactly what I was thinking. I also feel that XP era programming practices were to blame for the UAC issues that people were having with constant UAC prompts.

That's also a good point - a lot of software wasn't updated (at least not in a timely manner) to work properly with UAC and the filesystem and registry changes. Microsoft went out of their way to ensure backwards compatibility, but that can only go so far.

I've used Microsoft products since Windows 2.0, so as you can imagine I've seen a lot of failures but also a lot of good things come out of Microsoft. Vista was certainly a low point for Microsoft along with the failure of both Zune and KIN but remember, without those failures we wouldn't have Windows 7, 8, the 8.1 Preview and Windows Phone.

For those of you who wish to know, my experience with Windows has been Windows 2.0, 3.0, 3.1, 3.11 for Workgroups, 95, 98SE, NT 4.0, NT 4.0 Server, 2000, 2000 Server, XP, Server 2003, Vista, Server 2008, 7, Server 2012, 8 and, now, the 8.1 Preview. I've used all Office versions from Office 4.2 onwards as well as the following other products Windows CE, Windows Mobile, Windows Phone, Xbox, Xbox 360 and Zune, both Hardware and Software.

So thank you Microsoft, I look forward to seeing what software and products appear in the future to further enrich my life and increase my productivity.

Michael, I remember the active desktop, which was something tried back in windows 98. I'd like to think that it's an ancestor to metro. For those that don't know or remember, you could set a webpage as your desktop background. It was really buggy, but I loved the idea. As for the whole vista thing, I guess I'm the only person in the world that liked it. Aero was beautiful. Liked the updated design of the start button, and appreciated the search function. That was also my first 64bit os. And my first high end build. Loved that machine.

You're not the only person. I too liked Vista. In fact, I still like it, and still use it on a couple of machines that aren't my daily drivers, as I don't have spare Windows 7 licences for those, nor do I particularly need any Windows 7 features on those machines.

Aww i love that advert and makes me really wish that i had a Zune player they looked so nice and the interface was gorg!

Have to admit i think it may be because i never had one but i kinda wanna have a windows mobile just to see what they were like haha

and the vista note, at the time i used vista i thought it was nice i loved the new look and the gadgets etc i didn't really notice the bugs but i guess they were there lol

Trust me, the Zune was the best media player on the market. I had one imported from the US and still use it for my media playback today.

Bing was unveiled one year after your suggestion. ;) On May 27th it went live as Beta, on June 1st there was Preview for US only and then, on June 3rd, Bing was released in other regions/countries/languages and in US it dropped Preview suffix :)