Xbox One Reveal Day Wrap-Up: All you need to know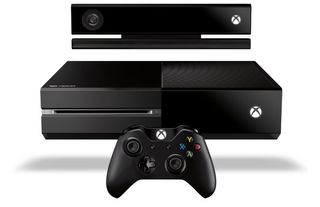 We first began reporting on the next Xbox console (codenamed Durango) earlier this year, but the new console had been rumored for quite some time now. Earlier today, Microsoft finally announced the console during the Xbox Reveal event.
The console's final name is not Xbox Infinity as many had expected. Instead, Microsoft has named it the Xbox One. The name stems from Microsoft's goal of this console becoming the One device you use for all of your entertainment needs. The OS is comprised of three layers: one dedicated to gaming, one based on the Windows 8 kernel, and a third layer that interfaces between the other two. It will launch sometime later this year.
You'll find everything we know about the Xbox One past the break!
Industrial design
In obvious contrast February's Playstation 4 reveal, Microsoft chose to not only show off the new Xbox One controller but also the system itself. In fairness, they did have like three extra months to finish up the console's design compared to Sony!
The Xbox One utilizes what Microsoft calls industrial design. Basically, that means it can be used as a girder when constructing buildings and highway overpasses. Not really, but it's a larger and boxier design than the Xbox 360. Presumably this increased footprint allows for not just beefier hardware but also much improved cooling. Overheating was a major cause of the Red Ring of Death that caused launch Xbox 360s to breakdown. The Xbox One should be resistant if not immune to heat-related issues.
The Kinect finally comes to life
The original Kinect sold pretty well but never really appealed to hardcore gamers and the gaming press at large. I enjoyed it and we covered our share of Kinect games, but nobody can argue that the Xbox 360's Kinect technology had caught up to its promise.
The new Kinect is packaged with the Xbox One, so everybody will be guaranteed to have one whether they want motion-controlled gaming or not. In fact, the system requires the Kinect to be connected in order to function. But the Kinect technology has improved so exponentially that it should become indispensable both inside and outside of gaming, a boon rather than a hindrance.
First off, the new Kinect supports 1080P video capture. Its field of view has increased by sixty percent, allowing it to accurately track up to six users at once as compared to two users on the Xbox 360. Users can stand up to four feet closer to the new Kinect, which also means it can be used in smaller rooms than before.
The new Kinect can detect much finer details as well, such as the position of the players' wrists and even their facial expressions. Even games that use controllers can react to that information. Microsoft promises better user recognition, with the system detecting individual users and signing them into their accounts – a feature that seldom worked properly on the Xbox 360/
One of my big complaints about Kinect on Xbox 360 is that few games supported simultaneous use of the physical controller with body tracking, and that will no longer be an issue on the Xbox One. In fact, the new Kinect can see how you're holding the controller, so you can shake or twist the controller in games without the need for a built-in accelerometer or gyroscope.
Voice and gestures
You'll find plenty of uses for the new Kinect outside of gaming as well. Improved gestures allow users to switch between multitasking functions like gaming and TV. On stage, Microsoft demonstrated gestures similar to the pinching we currently use for zooming on smartphones.
The Xbox 360's Kinect offers fairly good voice recognition, though Kinect games seldom made full use of the ability. The Xbox One's voice recognition is much improved and supported throughout seemingly every function of the console. When the system is in low-power standby mode, say "Xbox On" to launch the console. Voice commands can switch between multitasking functions, return to home ("Xbox: Go Home"), and even answer Skype calls ("Xbox: Answer call").
Controller
The Xbox 360 controller would have been just about perfect if not for its oddly shaped and woefully inaccurate digital d-pad. The transforming d-pad controller offered slightly better control, but still left much room for improvement.
The Xbox One controller thankfully sports an all-new d-pad design that looks much more in-line with Nintendo's excellent cross-style d-pads. Supposedly Nintendo's patent expired recently, so hardware manufacturers are no longer forced to either pay up or use inferior designs.
The controller's shape follows the ergonomically delightful Xbox 360 controller's almost exactly, though the top of the controller is now recessed for aesthetic purposes. You'll find the analog sticks, four action buttons, bumpers, and triggers in the same places as before. The triggers can now individually vibrate, and they also detect more levels of pressure than before.
The Guide button now rests at the top of the controller face, separating it from the buttons formerly known as Start and Back. Those buttons are now called View and Menu. One looks to switch between multitasking functions.
Specs
The Xbox One has long been rumored to have slightly inferior specs to the Playstation 4. During the reveal, Microsoft didn't go into much detail about those specs, which kind of supports the rumor. But the specs they did reveal certainly sound good to me:
8 Core CPU
8 GB DDR3 system memory
500 GB Hard Drive
Blu-Ray Drive
802.11n Wireless with Wi-Fi Direct
Gigabit Ethernet
HDMI in and out
At least 2 USB 3.0 ports
SPDIF output
IR output
Yep, as anticipated, Microsoft has chosen Blu-Ray for the Xbox One's optical drive. Given the system's non-gaming TV features, Blu-Ray movie playback is a must. Games will increasingly need more storage space than DVD-ROMs can provide, so the 50 GB provided by Blu-Ray discs will boost the system's gaming capabilities as well. The lack of Blu-Ray drive was recently cited by Hideo Kojima as a major reason the Playstation 3 got Metal Gear Solid 4 while the Xbox 360 didn't.
The built-in 500 GB hard drive will be invaluable since retail Xbox One games must be installed to hard drive prior to use. However, that same requirement means that avid gamers like yours truly could fill up the hard drive before too long. What happens then? Engadget has revealed that the Xbox One's USB 3.0 ports support external hard drives, thank goodness. External hard drives will have access to all of the same functions as the internal drive such as game installation.
Multitasking
The Xbox One takes a major step towards the world of PC, tablet, and smartphones thanks to its multitasking support. Users can jump back and forth between games, TV, videos, Skype calls, Internet Explorer, and other functions at will. These various applications resume virtually instantly – even games – much as they would on a PC. As mentioned before, there's even a button on the controller just for toggling between tasks.
Snap mode takes the multitasking opportunities a step further. It allows you to perform a secondary function on-screen without interrupting the primary function (games, TV, etc.). The secondary function appears in a vertical slice at the right of the screen. This marks the first time a gaming console offered picture-in-picture functions across the entire system. The applications are myriad, but a couple of common ones will be browsing the internet while watching TV or participating in a Skype video chat while playing games.
Achievements and DVR
Existing Xbox Gamertags/Microsoft profiles will carry over to the Xbox One, including all of a user's Achievements. The same goes for Xbox live subscriptions.
The Xbox One will advance Achievements in a few different ways. First off, developers can dynamically add Achievements to games over time without having to wait for paid DLC packs. Could that hint to a relaxed Xbox Live certification process? We can only hope.
On top of that, the Xbox One will record actual gameplay footage when users unlock Achievements. In fact, the system allows players to record, edit and watch gameplay via the cloud. Sharing gameplay experiences and feats will be easier than ever… No word yet on DVR features for live TV though.
Non-gaming functions
The Xbox One will be a gaming powerhouse, but of course it does lots of non-gaming stuff too. Internet Explorer and Bing Search, already present on the Xbox 360, make their return. Live TV plays a major role, as the new console can input cable feeds while providing access to an Xbox One-specific guide and related services. Check out our Live TV article for more details.
On top of that, the Xbox One supports Skype video calls. Incoming calls show up as a small notification at the top of the screen. These can be answered with voice commands or controller. The new Kinect then captures your video and voice. Many of us have become big Skype fans since Microsoft bought the company and switched Messenger over to Skype. It's good to see strong integration with the new console as well.
Promising start
Microsoft announced a handful of Xbox One games during the presentation: Forza Motorsport 5, Quantum Break from Remedy, several EA Sports titles, and Call of Duty: Ghosts. Check out this article for screenshots, videos, and quick impressions.
After the presentation itself, Microsoft revealed several key gaming tidbits through various channels. On the plus side, the Xbox One will not require a constant internet connection. But the possibility that games can't be installed without an online connection lingers. And just like the Playstation 4, the Xbox One will not play Xbox 360 games due to the change in architecture. Microsoft did promise more news and continued support for the Xbox 360 throughout the year, at least.
Think of today's Xbox One reveal as an appetizer. We saw some cool features, learned much about the hardware, and glimpsed a few games. E3 will be the main course; that's when Microsoft will share more games, details, and hopefully the console's price and release date. E3 runs from June 10-13, and we'll be there!
More Xbox One Stories
Get $10 Microsoft Store credit when signing up for Xbox One preorder notification
Missed the Xbox One reveal? Highlights now on YouTube
Poll: Did the Xbox One announcement deliver?
Poll: How much would you pay for Xbox One?
Microsoft reveals Xbox one, sports over 40 design innovations
Paul Acevedo is the Games Editor at Windows Central. A lifelong gamer, he has written about videogames for over 15 years and reviewed over 350 games for our site. Follow him on Twitter @PaulRAcevedo. Don't hate. Appreciate!
Probably not buying. But still excited to see and try it out.

Yeah I have no choice all my friends will be getting it. But still not feeling the name.
PSONE, HTC one, Air Force one~lol Now Xbox One along with other company's using "One" Not to mention the coming clusterf*** when ppl will be referring it instead of the original.
Also 360 has been used for several things. MS please find a new marketing company.

Everyone will just call it "xbox" anyway

"One system to rule them all" I'm sure that is what the marketing/pr departments had in mind. It's supposed to be a blueray player, cable box, game console, infotainment device all in one. It's better then the 720 but I think I liked infinity better.

I hope disabled people have a choice with the connect, the original connect would not recogmize people in a sitting position, only if you were standing. The only thing a person with a disability was able to use was the camera for online chatting. I would hope MS will fix this issue, especially with how many veterans and disabled there are, 15% of Americans have legitamate disablities. Some of my buddies who got hit by IED's are big gamers, and we all are xbox junkies, I hope MS doesn't discriminate this time

its very hard to do that. otherwise, players couldnt use kinect if there are people sitting in the room, it would get confused and add a bunch of players who arent playing. there are many things disabled people cant do. Why is it "discrimination" just because it wasnt working for them? thats why special proframs are made.

Im buying one.. Maybe two for both my tv's

Two???? There's no Two here! Only One

I'll be getting this and a Playstation 4

not buying since they are still sticking with only inferior conroller setup, and again refusing to add keyboard/mouse imput as an option for gamers that prefer that, until that changes I will be sticking with my gaming PC


Controllers are superior for a variety of genres, just not FPS and real-time strategy games. And no console has ever supported mouse and keyboard across all games.

How are controllers superior to keyboard and mouse in fps?

Yeah I know no console has ever supported it, but the first one that does will potentially be able to gain a lot of PC gamers who just simply refure to use controlers for any games.
Microsoft is in the best position to do something like this. Also imagine if Microsoft made a Windows 8 Pro mode in the Xbox One, meaning you would be able to use it as a TV, Console, and a PC, that would completely destroy any other console and ensure Xbox One supremacy.
Only downside might be that it might piss of some stupid PC OEM, but it would be epic to be able to use a console as a PC as well.


I was most excited that this thing has HDMI , my laptop can be connected to it and thus snapping will be great (also i preordered a Leap Motion usb unit.) so this would be amazing.

Keyboard and mouse just doesn't work with a console. Most people play on the sofa with a big screen. Its just too cumbersome with kb/mouse.

That is why it would be an option, if you want to sit on the sofa and use a controler you still could.

I personally never want to see the keyboard and mouse option only because keyboard & mouse giving an unfair advantage especially for first person shooters. Shadow Run is a perfect example of why not to do it. Personally there's no skill in a Keyboard and mouse option it's just to easy to click a mouse to shoot.

There's still a lot of skill - everyone on PC has the aiming tools, so it's not like the results of matches are just random or something. But yeah, allowing their use in a competitive console game would of course unbalance the game.

I probably will, but not happy about no backward compatibility. I still play a bunch of my XBLA titles and it would have been nice not to need 2 Xboxes for this scenario.

I pre-ordered my pre-order. Can't wait to actually pre-order.

No Instagram? OH BLOODY HELL!

no instagram and no start menu... M$ fail!

This is the best comment I have ever seen... Thanks SpideyCoco... LMAO!!!!!

While others have commented in its appearance, why that's an issue I have no idea, I like the way it looks. And I think its got great potential. I just had a bad day with MS products today so I'm grumpy. Not a real gamer anyway, but if it can deliver, I look forward to owning one someday.

You're the best, XboxCentral! Wait... What?

HDMI ONLY ?
No Normal video Output ?? WTF ??

You still playing on your 1992 Magnavox? LOL
I'm sure there will be an adapter, particularly for VGA... maybe.

Looking forward.. Besides, if you don't have modern A/V equipment then you can't really take full advantage of even a Xbox 360.. If you can afford an Xbox one then you should be able to afford a modern TV, and surround system.. Right?

There are people around that still connect their x-box up to a tube tv. Until last week, I didn't have surround sound in my bedroom. And it was only a month ago that I got my x-box set up with internet. It's not because I don't have the equipment or services in my house. It's not always possible for me to game in our family room, and I only have wireless upstairs. My x-box elite did not come with wireless built in, and I ended up getting a wireless to lan bridge a month or so ago which suits my needs better in my bedroom. This is the heart of the controversy over the always connected rummor that was going around for some time. There is still a very large population that has nothing better then dialup because they are so rural. Does that make then any less of a gamer? No. Nor does everyone want massive player game environments.

Lol! I'm sorry dude I'm being inconsiderate.. But, you got to understand why I'm laughing.. Lol, your comment sounds funny.. I'm sorry. Lol!!. But, for real. I didn't think about all that. I'm just glad everyone is able to enjoy Xbox one way or another..... But, lol! I just keep picturing you in this tiny room with your Xbox in the bed with you, and you yelling at a old 13 inch TV.. No offense, but it's just a funny image.. Anyways, you're right it doesn't make anybody any less of a gamer.. Hey, so you can finally play online now right? I bet you're pretty good. To tell the truth I suck.. I used to have a PS3, but it went YLOD. I'm not a very big gamer, but I plan on getting the XBUno. Are you going to get one?

Oh, found forgot to say that I'm totally in for Xbox one! I just signed up for pre-order notification and got a 10$ credit at the MS store.

Correct, I stand corrected.

Time to get with the times bro. If you're still using component, or, God forbid, composite, it's time to upgrade. "Normal" video output is HDMI in 2013.

One more thing...the xbox controller does not have Start and Select, but Start and Back buttons. The Select button is on Playstation controllers.

Shows ya how tired I am today. Fixed!

Skype has a new design ))) Wait for the update on W8 ;)

BTW what about WP XBLA ??? - do we still have one new stupid game per week for unbelivible price ????

I know its Xbox day, but I'm disappointed that nothing about WP was discussed. Nevertheless, it was cool to see that red L920 used to demo Xbox features.. Hopefully at E3 there will be some Xbox/WP news. I want huge WP news people! Lol!

I'm REAALLLLY hoping to see some cool WP integration with the Xbox One announced then, or SOON.

Now we wait until we see it in practice.

So pre ordering this One tomorrow morning!

I will probably buy one, maybe not immediately, however. I agree that the name is kind of underwhelming though.

I told my wife today that she's the Xbox one for me.

Hahahah disgusting.. ....... I'm using that lol. It'll get a cheap "AW" and a bj hopefully hahah.

Depends on how the used games situation plays out. I'm not a used game person, but I do take my games over to my brother's place on occasion. If it becomes a huge pain to do this because the game is locked or whatever, sorry but I'm going to get a PS4. I'm not happy about it, but I got to do what I got to do.

I am hoping it will be similar to the current system where you cannot use some of the online features without purchasing a code. I know EA is doing that with all of their sports franchises, and I am willing to put up with that. But I hope they clarify the matter soon.

I wonder how it works if you have 2 in the same house. I don't use the kids Xbox today, but we share a Forza disk.

This is one of three planned purchases I would like to make by the end of this year:
Nokia EOS, Xbox One and a Haswell based W8 Hybrid.
It seems that Microsoft will have an explosive 4th quarter this year.

My body is ready... my wallet not so much

I like the unit. If it has a built in DVR for TV I'm totally in on it. What I'm not thrilled about is the required Kinnect and the redesigned controller. The Kinnect will not work in my very small bedroom. To be honest, it's best to use a controller and or remote in the space I will use it in the most. I don't even really have a spot to put the thing, and the depth of my room is no more then 10 or 12 feet. It's just enough to fit a double bed in. I'm also concerned about the controller. There is nothing more annoying then gaming for hours and then have the battery die. Right now, I have a twin charger and about 4 battery packs, so it's no big deal to just pop the dead one out and put a freshly charged one in. But from what I can tell, it's not removable (Was anyone at the event today that can confirm this?). They said this controller was designed by gammers....I find it hard to beleive that I'm the only guy around that has experienced a dead battery. But other then that, the graphics are astounding and I'd be thrilled if I could swap out my DVR that I rent with a seperate unit that plays games.
I was prepared for the lack of backwards compatibilty. So I guess I'll be keeping my 360 so I can keep playing some of my favorites like Skyrim and Fallout.

And to all those irritated about this story on a WP site, there is an ap in the store for x-box glass. I have no problem hearing all things Microsoft related here. In fact, I like this site because of it. All the platforms are merging and this is a good thing.

The voice control will work, that is what we use ours with the most right now, since our living room isn't ideally set up yo use it for games right now.

Check out the Wired story, which has a lot of details and close-up pics. The new Kinect has a much wider field of view, so it's supposed to work in smaller areas, even if you're only three feet away. Plus all the voice control stuff is great anyway. As for the controller battery, the pics on Wired make it look like it's removable. I agree it would suck if it weren't, but that doesn't appear to be the case.

Yes, it does look like the back is removable. It's just not a quick push down a button and pull like the current controller is.