Forza 5, FIFA 14, and Call of Duty: Ghosts coming to Xbox One at launch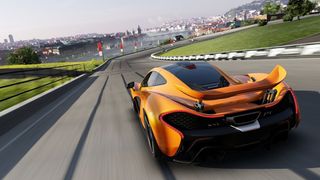 The Xbox One should offer an exponentially better entertainment experience than our beloved but aging Xbox 360. The gaming possibilities are greater than ever before thanks to beefier hardware (16 times as much RAM, for instance) and the new Kinect. That said, Microsoft chose to reveal precious few games during the event.
Let's see what titles they announced and what we can expect when the console launches later this year…
First-Party Games
These Forza 5 pics probably come from the game's screenshot mode.
They started out by revealing Forza Motorsport 5, a game that had been previously rumored. Project Gotham Racing 5 was also rumored but didn't show up during the event, so Microsoft might just be sticking exclusively with Forza for first-party racers. We don't know much about Forza 5 other than it will be a launch title and very, very pretty.
Next up, Microsoft will publish Quantum Break, a new Xbox One exclusive from Remedy, the makers of Xbox 360 and PC hit Alan Wake. The presentation mixed live-action footage with gameplay. As the name implies, the game involves time travel and things breaking. It's too early to know how Quantum Break will turn out, but Remedy has a good track record so far.
Third-Party Games
The Xbox One will have more than its share of sports games thanks to strong support from Electronic Arts. EA teased FIFA 14, Madden 25, NBA Live 14, and UFC Ultimate Fighting Championship, mostly via prerendered footage. EA's sports launch titles haven't always been up to par with previous-gen sports games, so we'll have to see how these games shape up at launch.
Finally, Call of Duty: Ghosts, the latest entry in the popular first-person shooter series will show up for Xbox One as well. In fact, Ghosts is the only game that we saw actual footage of during the reveal. It sports much more detailed character models than previous games in the series, including a fine looking dog. As with the Xbox 360 Call of Duties, DLC for Ghosts will launch on Xbox One before competing consoles.
Thief for Xbox One
After the presentation wrapped up, Square Enix sent out a press release announcing their new Thief game will come to Xbox One as well. The new game (sometimes referred to as Thief 4) will reboot the long-running series, which last appeared on the original Xbox as Thief: Deadly Shadows.
Too much TV, not enough games
Several of Microsoft's key franchises were missing from the presentation, including Halo (though they did announce a new TV series directed by Steven Spielberg), Gears of War, and Fable. Those titles could certainly be coming, as Microsoft to publish promised fifteen games (8 of which are new franchises) during the Xbox One's first year. And as a whole though, the big MS focused much more on the system's features as opposed to specific games.
The reduced focus on games is somewhat understandable given that E3 is only three weeks away. Microsoft can talk about games as much as they want there, now that they've introduced the system as a whole. But you could hardly blame people who are more interested in Xbox consoles as gaming devices for being underwhelmed by the presentation's scarcity of new software.
Still, it would be silly to think that Xbox One won't launch with an impressive array of games. We probably won't see a new Halo until next year, but Microsoft will certainly reveal more launch titles and exclusives during their E3 press conference. We'll be there to cover it, faithful readers!
Windows Central Newsletter
Get the best of Windows Central in your inbox, every day!
Paul Acevedo is the Games Editor at Windows Central. A lifelong gamer, he has written about videogames for over 15 years and reviewed over 350 games for our site. Follow him on Twitter @PaulRAcevedo. Don't hate. Appreciate!
Some nice games in there. I'm looking forward to Forza! Can't wait to see the other IPs when they show them off at E3. I wish Halo 5 was part of the launch.

Isn't it a little early for a new Halo game? The last one just came out.

It will have most likely been out for at least a year by the time they launch Xbox One. Its never too early for Halo...at least in my opinion.

Yeah, we won't be getting one at launch since H4 just came out last fall. But that doesn't mean I'm not ready to finish the fight ;)

Can't wait to get my hands on the McLaren P1™ in Forza !
McLaren them selves teased it on twitter last night!

I was very impressed by the system and can't wait to see more game footage. It's also one of the only times I've been excited about non-gaming aspects of a console.

Those are some impressive spec. The only things that cant get me to move over from Sony is the exclusives. Especially said the Gran Turismo, Metal Gear, and God of War series. A bit hard to move since i've played all these from the very beginning.

Yea tell me about it! Leaving Metal Gear was rough !
Haven't played GT since GT2 lol

The Gran-Turismo CEO said that GT6 wont be limited to PS4.
Apparently they'll reach out to other platforms. (Including PC and Xbox)

Metal Gear wasn't even exclusive last time around, was it? Rising made it to the 360. I've never played those games regardless. Gran Turismo 4 was so bad (liked 3) that I wouldn't even consider 5, and it's widely agreed upon that Forza is THE premiere racing franchise around now. As for God of War, it's nice, but not a dealbreaker for me.

The ONLY franchise I have interest in that's exclusive to the PlayStation is Kingdom Hearts. However, Square Enix is too lazy to make it, so I don't have to worry. I care more for Forza, Halo, and Gears than anythign Sony has to offer, but that's me.

I dont consider Rising needs to be exclusive. It is "not that good", to put it mildly. But all the core MGS 1,2,3,4 has been exclusively for Playstation anyway.
As for Gran Turismo, i have to agree that they are on a decline lately. GT 2 was the best, then GT 3 felt like a test game for PS 2, GT 4 lacking soul for some reason, and GT 5 came out just way too late. Its still fun when combined with the G25/27 though.
Christmas gonna be tough on my bank account this year. LOL

Hoping for an alan wake sequel and hopefully a re-done and actually good fable game.

Watch Dogs was also confirmed, to i'm not sure if it's a launch game.
We didn't see much from Quantum Break, but as it is Remedy made game and they are masters of story driven games, I can't wai to see the whole thing.

Not really sold on Xbox One though. Owned PS3 previously and there's really nothing making me switch to another brand. Like PS's exclusives more, for now at least.

I don't play games so the whole TV and services was right up my alley.. I might just ditch my PS3 for this. But idk if I'm ready to pay that online fee

A little late to the party. Has there been a release date announced?

Id say around November after the release of COD Ghosts.

Sorry to be slightly if topic, but can anyone tell if once the X1 is released will games and support for the 360 cease or has MS said any thing to say what their intentions are for our beloved consoles?

No way it simply dies. The original Xbox kept LIVE services up until April 2010. The games might be less-plentiful, but you'll see the 360 get Call of Duty: Ghosts, and probably iterations of all of the EA Sports titles. I'm guessing 2014, which should bring the next Halo and Treyarch Call of Duty, is when you'll see a noticeable drop-off in releases of the 360.

Thanks for putting my mind at rest and here's hoping your right.

McLaren P1™ + Nürburgring ! BRING IT !!!

Since games need to be installed anyway, hopefully they are all offered downloadable day one.

Any cool Xbox stuff for WP8 get shown?

No Windows Phone connection, unfortunately.

There was the slightest hint of SmartGlass usage, and I definitely saw a red 920 on the stage.

One thing we know now of this is that dvd media is now on the decline due to the much better blu ray standard. I guess it kept Sony happy right?

I wonder how much money Sony lost on BluRay in the end. It took awhile to get where we are today after all.

Sony isn't the sole owner of Blu-Ray. But all of the companies who backed it are surely glad to see its continued proliferation.

My opinion, they did a great overall presentation with showing what everyday tasks most people will partake in. And from the looks of it when cod ghosts is released so will the Xbox One, since what's the point in releasing a game without a big new system? Its only speculation on my part but you put the puzzle together.

I didn't like the presentation. They didn't show off the controller. We found out NOTHING about Quantum Break, except that it exists. Ghosts wasn't enough to get me interested. E3 is the true unveiling for me, because I'm a gamer. Until Microsoft gets DirecTV in on the IPTV stuff, that whole mess that they showed off today is meaningless to me (especially since football is BY FAR not my favorite sport). All I saw today was three minor game releases and a bunch of fluff I don't have present interest in.

I guess they're not coming to windows phone :(

Can't wait for E3! That's when the real fun begins!

Go REMEDY! I want Alan Wake 2 also! Looking lovly.

15 exclusives the first year is great. Ms mentioned they will speak to the games at e3, so people shouldn't be trolling...."games"... Yet

Forza 5 got me hooked so far. That's about it.

Graphics look ok but after owning BATTLEFIELD 3 since day one its hard to get impressed now can't wait for BATTLEFIELD 4 and COD fans quiet hating and join me on the battlefield :D