Microsoft names the winners of its first $100,000 HoloLens research grants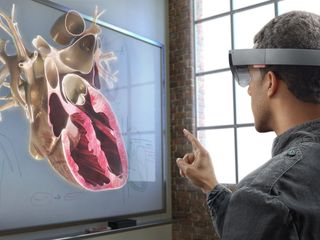 A few months ago, Microsoft announced that it would award $100,000 to academic institutions who came up with new and cool ideas to use its HoloLens augmented reality technology. Now, the company has named the five institutions who have won those grants, which will help them continue to develop their ideas.
Here are the five winning groups, which will also receive two two HoloLens Development Edition devices:
Golan Levin, The Frank-Ratchye STUDIO, Carnegie Mellon University: Open-Source Investigations in Mixed Reality
Emily Cooper, Wojciech Jarosz and Xing-Dong Yang, Dartmouth College: Augmenting Reality for the Visually Impaired with Microsoft HoloLens
Joseph Gabbard and Doug Bowman, Virginia Tech: Collaborative Analysis of Large-scale Mixed Reality Data
Andy Mingo, Tawny Schlieski, Nikki Dunsire, Shelley Midthun, J Bills, Clackamas Community College & Intel, HoloLens Curriculum for Trade-based Education
Allen Yang and Professor Claire Tomlin, University of California, Berkeley: Immersive Semi-Autonomous Aerial Command System (ISAACS)
In addition, Microsoft named five groups as runners-up. They will receive two HoloLens Development Edition devices, but not the $100,000 grants:
Lori C. Walters, Eileen Smith, Fran Blumberg, Robert Michlowitz, Alexia Mandeville, University of Central Florida: Memory Lens: A Dynamic Tool for Capturing Societal Memory
Wen Liu, The University of Kansas: Stroke Rehabilitation
Preeti Gupta, American Museum of Natural History: DinoLens: Seeing an Unseen Past
Pamela Jennings, Center for Design Innovation: CONSTRUKTS: Augmenting design processes with interactive holograms using the Microsoft HoloLens
Carol LaFayette and Frederic I. Parke, Texas A&M University: Extending the range of human senses: Ultraviolet and ultrasonic perception with Microsoft HoloLens
Microsoft plans to release the HoloLens Developers Edition in the first quarter of 2016 for the price of $3,000.
Source: Microsoft
Windows Central Newsletter
Get the best of Windows Central in in your inbox, every day!
Bonus Posted via the Windows Central App for Android

....... Virtual 3D porn.....do I win?

If making me laugh is a win, yes.

Can't wait to check it out... I have an appointment later today for the Hololens developer demo. Really looking forward to it!!!

Just got back from the demo... It was mind blowing! Really impressive!!!

Some brilliant ideas from brilliant minds. Godspeed.

This is very cool. Glad to know the developer versions will be released early 2016. At $3000, it's slightly cheaper than a fully loaded Surface Book. With the capabilities, it is rather reasonable at this time. Price will come down within a few years, I'm sure.

The last one is brilliant and one of the best IMHO

In schools they will benefit a lot using this MS technology and some of us who just what general knowledge on how things work.

I don't understand how they were so far off in the spelling of my name...

ISSACS sounds really cool, using Hololens to pilot something like a jet or a tank or a vehicle.

I wish we could see past/future with HoloLens :'(

Augmented Reality Sex Education
Windows Central Newsletter
Thank you for signing up to Windows Central. You will receive a verification email shortly.
There was a problem. Please refresh the page and try again.