Microsoft now lets you save and autofill passwords across iOS, Android, and the web
Filling in passwords across devices just got a lot easier.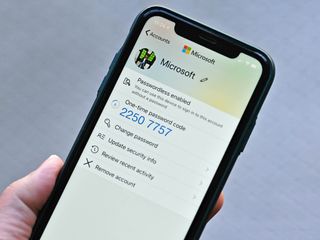 (Image credit: Daniel Rubino/Windows Central)
What you need to know
Microsoft announced autofill capabilities for passwords across several platforms.
Microsoft Authenticator now supports autofilling passwords on iOS and Android.
You can also autofill passwords with the new Autofill extension from Microsoft.
Microsoft continues its crusade against people having to type out their passwords. Today, the company announced that autofill is rolling out to Microsoft Authenticator for iOS and Android and announced an Autofill extension for Google Chrome.
To start autofilling passwords with Microsoft's tools, you need to save passwords under your Microsoft account. You can do this in a few ways, including having passwords saved on Microsoft Edge.
If you don't use Microsoft Edge, you can use Microsoft's new Autofill extension instead. The extension lets you autofill and save passwords through your Microsoft account while browsing on Google Chrome.
Once you have passwords saved, you can then use Microsoft Authenticator to autofill passwords. When you go to a site or an app that requires a password that you've already saved, Authenticator will offer to autofill it.
Microsoft also added the ability to import passwords into the Authenticator app from CSV files or directly from Chrome on Android. We spotted these features on Microsoft Authenticator beta earlier this week, but Microsoft outlines them further in its blog post.
This browser extension lets you save passwords and then can automatically fill them into websites.
News Writer and apps editor
Sean Endicott brings nearly a decade of experience covering Microsoft and Windows news to Windows Central. He joined our team in 2017 as an app reviewer and now heads up our day-to-day news coverage. If you have a news tip or an app to review, hit him up at sean.endicott@futurenet.com (opens in new tab).
Wow. They're moving fast on this. Exciting. I already use Authenticator for all my 2FA sign-ins. I hadn't planned on shifting from my existing password manager, but if they add some more features, I just might, especially because it's free, where I pay an annual fee for my current password manager. A few features I'd love to see, and at the rate they're adding features, I wouldn't be surprised to see some or all of these appear soon: 1. Ability to assign emergency access to certain family members (and will them to someone if I die) 2. Sharing passwords with others, ideally without letting them see the password (or an option to keep them from seeing it) 3. Working with apps and Wi-Fi access, not just web sites 4. Something equivalent to bookmark saving (this has admittedly become less important with Edge working everywhere and its own syncing, but that doesn't work in all profile modes (only personal and the more expensive Microsoft 365 account support syncing, cheaper work accounts do not) or if I'm in Firefox or Chrome on Windows. I'd still like a way to access my master list of Favorites/Bookmarks, which my current password manager does let me do.

Password generator and auditor works be nice features too.

Agreed. Those would be helpful. Maybe even necessary (at least the generator). I guess I assume the generator would be there as an easy feature to add and a core requirement of a password manager (but I probably shouldn't just assume that).

To your third point it already works with apps and some Wi-Fi as well you can autosave to there. You just choose which place you AutoFill in Android you choose authenticator and you can then fill in passwords and authenticate through apps as well not just websites

Like just selecting Authenticator as the password store, and it will automatically open to complete those fields? I have seen some password managers do that well and others, even when selected, just never pop-up for app fields. Not sure where that is breaking down, but it doesn't seem to be highly reliable and does seem to depend on the password app how effective it is.

Microsoft Authenticator for Windows when?

Well I'd like it to authorize logins aside from using my phone

Teams, Skype, Slack, Spotify, WinSCP, PuTTY Pageant (cert manager), iHearthRadio, Pandora, TuneIn, Remote Desktop... many apps in Windows that are not browser-based need passwords. Current windows password apps seem hit and miss on them, sometimes even for the same app -- working perfectly sometimes, not popping up at all other times. Also, as real0395 said, it would be great to be able to respond to 2FA requests from something other than a phone (though admittedly this matters less to me with the Surface Duo, because it's so much more convenient to use and easily linked to the PC with Your Phone; same would hold for newer Samsung devices).

Isn't that just called Windows or Windows Hello?

Unfortunately, Hello is pretty much only used by MS apps. Many of the password managers themselves support it, but I can't think of any other third-party apps that support Hello. For example, Slack, Spotify, TuneIn, Pandora, iHeartRadio, WinSCP, PuTTY, Remote Desktop, also Adobe Creative Cloud, CorelDraw Graphics Suite, ISeeVM for accessing visual voice mail on PC or phone, and many more. Sadly, none of those work with Hello, but all need usernames and passwords entered. Admittedly, it's not nearly as bad as a website, because most of those remember your password after you enter it, but if you move between many machines or update or reset your system regularly, something to help automate and better secure those passwords would be very helpful.

I was actually referring to websites, but more app support would be great. Ebay is an example that I see that uses the computer's PIN to log into the site.

"Microsoft Authenticator for Windows when?"

It's an interesting question and I forgot the specifics, but basically, it won't happen. Long story short is something about a security issue with corporate computers or something. They don't want you authenticating a device WITH that same device.

Aw man :( I'll keep using Authy, then.

Authenticator is already on Windows, but it's only for mobile devices since you shouldn't be authenticating with the same device. https://www.windowscentral.com/e?link=https2F%2Fclick.linksynergy.co... But then again, you could say the same thing about using mobile apps and authenticating on the same device lol. But If i'm not mistaken, Edge automatically syncs passwords with Authenticator. So Authenticator is more of a background service on desktop.

I thought this already worked through Edge?

But that only applies to web pages, and only in the Edge browser. If you use multiple browsers or any apps, something that makes a more universal password store is important.

I tried to ditch Google autofill on Android for Microsoft Authenticator but as soon as I found out that I had to type all my debit cards manually, I switched back to Google autofill. So that's the only feature I'm missing from this app.

Version 2 of Surface Duo needs to have all this stuff activated by default.

It's great but I'm always weary of letting Google know my passwords. For useless services it's fine but for everything else, I'll just view the password in edge.

I just signed up for 2 yrs of NordPass last weekend. So by committing myself to a paid app for the foreseeable future, I pretty much unlocked this reliable, free option for everyone else. You're welcome. (My other powers include buying a BluRay and making the same movie appear on Netflix the next day.)
Windows Central Newsletter
Thank you for signing up to Windows Central. You will receive a verification email shortly.
There was a problem. Please refresh the page and try again.