Microsoft details password syncing for IE11 on Windows and Windows Phone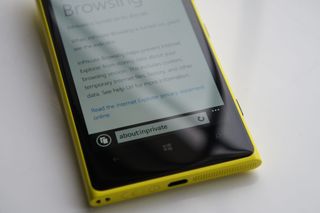 Microsoft posted some new details this week on how Internet Explorer 11 will allow users to share the same website passwords when using the browser on Windows 8.1 and Windows Phone 8.1.
While we have reported in the past that tabs on IE11 can be shared for the two operating systems, Microsoft is now offering up info on how passwords are synced as well. The same feature can also be used for credentials inside Windows 8 and Windows Phone apps. Microsoft stated:
IE11 also automatically pre-populates username and password credentials after a secure web page has loaded. For people who are still a bit paranoid, IE11 still prompts the user to save passwords even if the autocomplete=off attribute is set on the website.
What do you think about being able to save the same passwords in IE11 on Windows 8.1 and Windows Phone 8.1?
Source: Microsoft (opens in new tab)
Most wanted feature for me!!

Too bad I had to revert back to 8.0 because 8.1 has too many bugs on Lumia Icon. Hopefully after beta it will be stable.

How exactly did ye do it??

Download the Nokia software and check for updates, there will be one of WP 8

Ive not had a single but on 920

You mean "bug" or "butt". Yeah, probably the first one

I only had bugs on my icon with the original 8.1 release. Since the 3 other patches have come out, all my problems have been resolved. Sorry to hear you are still having problems.

Got a bit of it but seems awesome to me

Give me a way to integrate LastPass with IE mobile and that'll be all I need.

Absolutely! I don't know why this request hasn't gotten much love on UserVoice...seems like a killer feature to me! http://windowsphone.uservoice.com/forums/101801-feature-suggestions/sugg...

I just hate my Windows phone.it is sucked everytime.sucks sucks sucks sucks...... Microsoft sucks......

Did you bother to read review without buying it.

This guy is paid by google to talk shit here

Hold on. So if I understood you correctly, your windows phone sucks?

If it sucks then why do you still have it or in the alternative why did you by a vacuum cleaner to use as a phone?

Then why r u even here??????

You probably won't win the "Most Original Troll Award" but nice effort anyways.

Awesome and John has been quiet well for wpc. I haven't seen articles from micheal achrambault

Very nice. Waiting for win 8.1 to boot by next week. Running currently win7.

It is good, but not great yet. I hope one day it could truely replace third party password manager, such as lastpass.

First they need to eliminate the long delay of the current syncing before adding more syncing capabilities. Whether it's tabs, bookmarks or history, I cannot just grab my tablet and pick up where I left off on my laptop. The tabs and other information are always from an hour or so earlier. Is there a way to manually sync as a way to view current information from the other browser? Manually syncing OneDrive on both devices does nothing to resolve this problem.

Yes! I read all the comments in this article in the hopes that someone would mention tab syncing. I want to be able to move from my phone, to my tablet instantly or at least have a way to manually sync the tabs!

+925 Sometimes the delay is short, other times I give up and retype, re-search for the url on the other device, or email the url to myself. Incidentally, what I would really like is copy-paste between devices... which would require InstaSync™.

You can use Kopy for that purpose on both Win8.1 and WP.

I've had even MORE issues syncing with kopy unfortunately. I started using pushbullet beta for syncing between my tablet and desktop recently. I wish someone would develop a metro version though!

You can copy paste the URL in OneNote

How long is the sync delay? Is it instantanious with a good data connection? That's the seemingly unresolvable issue, at least on a consistent basis.

Me too. I swear I've seen a sync button in OneNote, but I just looked and couldn't find it....

Using a mouse, you need to click on the three lines in the upper left corner (Android?), then right-click one of those folders on the far left. Sync appears on the bottom left.

Not sure as I haven't fully tested but in moving between desktop and tablet I need to close modern IE to trigger the sync. The tabs are all naturally there, it's not the 'full close' just the drag to close. I should try to see if that makes a difference between WP8.1 and Windows 8.

+8X I love LastPass so much. Not being able to use it on WP (without paying for a premium account or whatever) is one of my biggest (and only) problems with the platform.

I use it already on IE11 and syncing passwords. It rocks! I hate memorizing passwords.

I'm too damn cheap! I'd use it if it was FREE!

Would be amazing if there made a add on for Firefox to provide the same feature

But... It already does, even my Wi-Fi passwords are synchronized between my phone and computers, it doesn't keep the same account sessions from device to device but it has the pw already in there, well one less step is always better right?

Don't use keep or store passwords in IE, just not trusting the security. I may be wrong due to lack of knowledge but prefer to use an encrypted wallet. Also, my bank uses a randomly generated key, so not much use there.

I'm with you. I mean "+1020"

They are stored in Credential Manager in control panel, which is encrypted, not IE. I suppose the passwords on WP are also encrypted; they just need to add a proper manager.

Ummmmm i really confused are we just covering an overlooked feature because its been happening on my phone since day one of the dev preview

Just a little tidbit, syncing settings for IE might be a big part of why people's battery lives are terrible, I turned mine off and my battery is like it is before I updated to windows phone 8.1

Good to know, thanks! It isn't very often that I even care to sync a URL between devices (and browser-based passwords, never).

Same, that's why I turned it off

Microsoft will make this a crossover feature for Google and Apple within the week. Jk

A most welcomed feature for me.

What I need is to open password-protected office files on my phone. Please make it happen.

MICROSOFT OY.. Pushes update for NOKIA CARE & renamed it has LUMIA HELP + TIPS..
You can see the New version sitting at Version 3.2.4.2
By giving General Fixes

Meanwhile, the price of bananas is going through the roof.

Hey, does anyone know when is the WP8.1 official release date?

It depends upon region..
Cyan update will be available by July 1st week to August 2nd week..

Doesn't seem to be consistent. It doesn't always prompt me to save passwords on the phone, but does from the PC. Is this by design?

What are some sites you don't get prompted for passwords on Phone 8.1?

lol , only for window 8 ? No Windows 7

There is a version for Win7. http://windows.microsoft.com/en-us/internet-explorer/ie-11-worldwide-lan...

Great for me, I dont mind this at all makes it a little more convenient to browse on either.

And if anyone is trustworthy of keeping your computer secure, it'd be Microsoft... What could possibly go wrong?

It simply makes sense to have this. What I truly hope we can finally get is a one click log in for stuff like Facebook, Twitter etc. This having to re-key in a password is ancient.

For over a year I would use Windows 8 with the local Administrator account. Just few months ago I started using it with my Microsoft account and I'm loving it!

This and Reading List has made my experience between Windows 8.1 and Windows Phone really sweeter.

I never use anything to remember or save my passwords other than my brain. I also use multiple different passwords. Saving passwords in a browser is an unsafe practice in my opinion. I just don't trust software like that.

All that native synchronizing was the main reason I went from iOS to Windows Phone 8.0 and ASAP 8.1 Totally not looking back except for an UBS Mobile Banking App...

Ubs severs are so slow u'll be dead checking if have use any app of theirs

What do I think? I think LastPass.
But I do wish I could run it as a plugin on IE 11 mobile.

Looking forward to this on Windows 8.

I love this feature, but its very frustrating that a specific website I use everyday, when accessed with IE 11, won't auto-populate the password. Other browsers have a button to populate username/password fields and so i use them often. I wish IE also had that to force filling in the password. Am I missing something? Anyone else experience this?
Windows Central Newsletter
Get the best of Windows Central in in your inbox, every day!
Thank you for signing up to Windows Central. You will receive a verification email shortly.
There was a problem. Please refresh the page and try again.