Microsoft to open its latest small 'specialty' store in Brea, California on July 9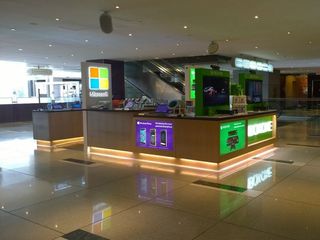 Microsoft will open its latest 'specialty' retail store inside the Brea Mall in Brea, California on Saturday, July 9.
The announcement was made this week on the Microsoft Store Twitter account:
This will be one of the kiosk-like stores that Microsoft runs inside malls, compared to the company's larger store fronts, and it will have a limited number of products on sale, including Surface tablets, Xbox One consoles and more.
This will be the first opening of a new Microsoft Store location in several months. The company opened its flagship location in New York City in October 2015 and its Sydney, Australia store in November 2015.
Windows Central Newsletter
Get the best of Windows Central in your inbox, every day!
Now that's a cool idea... Less space acquired,but the purpose is fulfilled completely

That's cool. Brea is not too far away from me. Victoria Gardens in Rancho Cucamonga would be a good location for one of these also.

MS stores are kind of ugly.

They look like a kindergarten classroom with IKEA furniture.

I'll take their colorful presentation over Apple's whitewashed asylum motif any day.

Wish we had an actual MS store in Chicago instead of one of these. It's Chicago, not the smallest place in the world. There are 2 apple stores, and they're building another. Would love an MS store to replace this kiosk thing. It's not bad, but a real store might be better than they are. Posted via the Windows Central App for Android

The phone display is gonna be awesome!

Woohoo yes! Finally! This is just around the corner!

Meanwhile, they closed the one in McAllen, TX.

Lucky. They inexplicably closed the kiosk in Cherry Hill Mall NJ one of the largest malls in the US and home to a large Apple store. Closest one is now 40 miles of traffic filled roads which makes shopping there a deterrent.

But there is one in Delaware at the Christiana Mall, which has little traffic and no sales tax at point of sale. If you're sure you're going to buy something there, it's probably worth the trip.

It's too bad they closed the mall store in Boise..

when did that happen approximately

I was bummed when they closed the Thousand Oaks, CA kiosk. I think it was around a year ago. Posted via the Windows Central App for Android

I know! Same here, the guys there were so cool and helpful too. Now closest to us is Topanga, followed by Century City.

I think Kiosks by nature have a shorter life span than a regular shop due to only being able to show a small amount of product. So they are more like a marketing tool for Microsoft.

We had one of these in the Thousand Oaks Mall, a 15 minute drive...and then it just disappeared. Now, the closest one is close to 40min away :(

I wonder if I can take my MS Band to this one for exchange under the warranty....

We have one of these at Jordan Creek Town Center (mall) in West Des Moines! I haven't been to JC in a couple months, but last I knew, the kiosk is still alive and well (I say this because a lot of people are commenting that their local kiosks are closing and as best as I can tell, we're not a part of that.) The kiosk is cool! It's where I first got to "meet" the 950 / 950XL "in person", and earlier on, it's also where I got "meet" the lovely Lumia 1520! Sure, a full-on storefront would be even cooler! But I'll take the kiosk for now. JC does have an Apple Store, which is always packed, and it just bought out / shut down the neighboring Brookstone to make itself bigger.

I'm close by this one! I'll have to check it out!

They recently closed my store in the Cherry Hill Mall, in NJ. Closest one is now an hour away.