Microsoft opening up Microtropolis in New York, all are welcome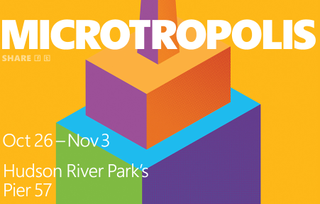 Oh, looking very abstract indeed.
No, it's not an upcoming movie. A new article has been published on the Windows Experience Blog, which details something special that Microsoft has planned for New York. With the imminent release of both Windows 8 and Window Phone 8, as well as Xbox, Office and other product goodness, the company is going social. Literally.
The Microsoft team has created a stylised one hundred and sixty foot version of New York City in an art installation, named Microtropolis. It's stated to be Manhattan experienced through Windows 8, with the erected city acting as a backdrop for the ultimate Windows hands-on experience. Sounds extreme so far, right? Hold onto your hats, it gets better.
Walking into the installation Microsoft has created, one will actually be wandering through avenues and streets with visible skyscrapers above. The interactive experience boasts hundreds of devices located on rooftops within the city, customised to the neighbourhoods in which they are situated. It's a bold attempt to create an immersive experience using products.
A total of twenty-five neighbourhoods will each light up with content that represents people, places and culture that make them stand apart. Microsoft intends to use Windows 8 to show attendees how it can be personalised to create a more individualised experience compared to previous versions of Windows.
A number of individuals and institutions famed for contributions to New York will serve as curators for Microtropolis, including The Whitney Museum of American Art, Keren Craig of Marchesa, Chef Geoffrey Zakarian, the cast of Annie the Musical on Broadway and more.
When and where?
Should you be in New York between October 26th and November 3rd, you're welcomed by Microsoft to head on down to the event at Hudson River Park's Pier 57 to check out Windows 8, Surface tablets and a number of OEM partner products available. A number of talks and events are planned to be held, with a full calendar available over on the Windows Experience blog post.
Below is a list of public events:
Open hours of Microtropolis
Stop in to experience the city with no RSVP or invite needed:
Oct 27: 12pm-6pm*
Nov 1–3: 10am-6pm*
*The shop where one can purchase Surface will be open until 10pm.
Surface shop at Microtropolis:
Be one of the first to explore and purchase Surface by visiting our store.
Oct 25: midnight-1am
Oct 26-27: 10am-10pm
Nov 1-3: 10am-10pm
XBOX Video goes to the movies at Microtropolis
Catch a few minutes of a favorite New York movie or settle in with some popcorn for the full feature. Xbox Video adds to the vibe of Microtropolis with famous NYC flicks projected onto the walls surrounding the city. Screening Manhattan, Muppets Take Manhattan, King Kong (1933) and Ghostbusters. No RSVP or invitation needed.
Oct 27: 10am-6pm
Take a tour in Microtropolis
Real NYC Tours take visitors on hourly tours around the stylized city, giving real information about New York as they guide people from neighbourhood to neighbourhood. No RSVP or invite needed.
Nov 1: 10am-6pm
Nov 2: 10am-2pm
Nov 3: 10am-6pm
Vimeo watches videos in Microtropolis
A day of short films and interviews with some of Vimeo's most exciting New York directors. The best, most artistic and creative films of the city, presented by Vimeo. RSVP recommended via the Windows Facebook page on or after 10/25, but not required.
Nov 2: 2:30pm-6:30pm
There are also a number of private and RSVP events that requires one to head on over to the Windows Facebook page to reserve a spot on desired activities. As mentioned above, such events are listed over on the Windows Experience Blog.
Be sure to check out and follow @Microtropolis on Twitter, read up on more details on the website or by searching through the #microtropolis hashtag.
Source: Windows Experience Blog
Windows Central Newsletter
Get the best of Windows Central in in your inbox, every day!
Rich Edmonds was formerly a Senior Editor of PC hardware at Windows Central, covering everything related to PC components and NAS. He's been involved in technology for more than a decade and knows a thing or two about the magic inside a PC chassis. You can follow him on Twitter at @RichEdmonds.
Nice. I commute on the Hudson River Park (bicycle) to and from work, so I'll be stoping by multiple times!

Wow Wow Wow! Now im Jealous!!! Big Time

I wish they had something like this in Microsoft's home-town of Redmond, so people living near where the products were invented could enjoy some of the festivities. :)

Heading that way from long island myself will be stopping by also.

I'll def stop by and check it out

Plane tickets to NYC maybe?


Cool, but what does this have to do with Windows 8? I mean I don't really see how this compels people to want to use and buy Windows 8 at all. Seems like a bad return on investment.
More of a "oh wow, that's so cool" **Takes pic with iphone or iPad lol**

It's branding. People buy brands more than products. People buy Apple products because it's cool, not because they use iOS. It is the same concept here. MS has not been considered cool for years and they're attempting to change that. If you want normal people to buy MS products you have to make people remember your brand and stunts like this are the ticket.

I think the point the poster is trying to make is that what does something like this accomplish in making MS look cool? Apple creates ads that show off the features of their products to catchy indie songs and young people appearing to have fun doing so. So yes, maybe people are not buying iPhones because its iOS. But they are buying them because not only does Apple make it look cool and because your friends have it, you can take cool panoramic pictures or its designed with using one hand in mind. And I don't know how an event in New York makes Jane or Dick in Boston or San Francisco remember your brand or even care. I know I wouldn't. These things have to be in sight to be in mind. Not knocking its intent or MS. Just I'm all the way here in Amherst, Massachusetts. I will obviously read up on this as its about MS and WP and I am interested in the product already. But it does nothing really to excite me, someone who is a WP fan. I don't see how Bob in Kansas will care.

You do have a point but then, that's what commercials are for, to get people interested in other areas. :-). I will say this, New York is considered to be the place where trends start out, at least it is for women not sure about guys. I also know a fair number of New Yorkers who are very proud of their city and something like this taps into that pride. At the very least they get the people in one of the most heavily populated cities in the US onboard with their products and they get attention in a city where a number of "cool" movements have originated. Last but not least, don't forget that the internet has made the world a much smaller place.

I know a few things about branding. This isn't a good execution of it. The cost is extreme, the target audience is too small, and there is no direct correlation between what they're doing and the brand so people won't link the two together in their minds. Even if every wall on every building said "Windows 8" on it, a lot of people would either not get it or forget about it because it's not important to their lives. Branding is about making people aware of a line based on the needs or wants of the demographic. This again has nothing to do with windows so it will be forgotten if people even realize what it is. Best part is that it's abstract so even fewer will get it.
Why do you think Apple never throws concerts or "stunts" like this? They don't show the brand in action and the link between the two is lost in translation.

If they could call it "Metro"-polis, then it could be good branding. Because the event would be correlate and *click* with Win8. I hope my points makes sense. This just doesn't make you look at it and say "oh, that's windows". Nor does it get the number of eyeballs that branding should for how much this costs. At the least, hopefully you can touch and swipe a part of the building and all the colors rotate like swiping the tiles in windows

Microsoft is going O.D. Lol...

Very neat idea... I wish I had the time to make another trip over to check it out. :(

"Metro"-polis would have been too perfect. Hate that company that was going to sue MS over the Metro trademark so bad. >_<

Micropolis!! I live it! Use this as a replacement for "metro"! :) Micropolis Apps and Micropolis Design. Hey, its better than nothing.

Nope. They're about that Micropolis life. They don't love Micropolis, they live it. Micropolis pervades every aspect of their human existence, so much in fact that one could describe them as being a member of the church of Micropolism. This wasn't a mistake my dear grammar Nazi, this was merely a person declaring their undying devotion to the ideals of Micropolism. Long live Micropolis!

inb4 "it's Microtropolis not Micropolis!"

Nice.....just 5 min from where I work
Windows Central Newsletter
Thank you for signing up to Windows Central. You will receive a verification email shortly.
There was a problem. Please refresh the page and try again.