Microsoft opening up Surface Experience Centres for consumers to 'experience Surface in person'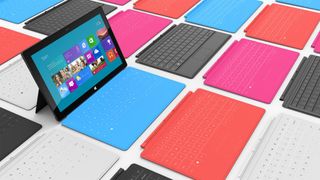 Microsoft is committed to getting as many consumers on-board with its Surface Windows 8 tablets as possible. To help achieve this goal, the company is opening up a number of Surface Experience Centres where consumers will be able to get some hands-on milage with Surface hardware. There's nothing compared to actually using a product before making the purchase, right?
Where will these centres be located? Microsoft has published a page listing all the locations where such places can be found. Note that only Australia, Germany, France and the UK are listed. United States is labelled as "coming soon". But should you reside in the states, at least you have actual Microsoft Stores.
We're not entirely sure what will be present at the Surface Experience Centres, but we'll definitely check them out once they open up. Be sure to look at the list to find a centre near your residence and double check the opening dates and times so you manage to turn up when they're actually presently available.
Source: Microsoft (opens in new tab); thanks, KustomAU, for the tip!
Windows Central Newsletter
Get the best of Windows Central in in your inbox, every day!
Rich Edmonds was formerly a Senior Editor of PC hardware at Windows Central, covering everything related to PC components and NAS. He's been involved in technology for more than a decade and knows a thing or two about the magic inside a PC chassis. You can follow him on Twitter at @RichEdmonds.
I can't believe how badly I want one of these things.

I hope people stop and try these tablets. I can already see people saying... Oh this not bad! or oh this looks good!

My RT has left Harrisburg, PA. Can't wait...

Mine went from China, to Alaska, to Memphis, to Chicago, and now is at my local FedEx office waiting to be loaded on a truck....almost here!

WPcentral needs a RT app. I don't want to pick up my phone anymore to check out tech news.

"IE10>wpcentral.com>pin to start"...tadaa!

I like the WP app better. Too many distractions and ads on the actual website.

How about they just open up more fucking Microsoft Stores and get their heads out of their collective asses. Shouldn't have to wait a year to walk into a store when I live in SF. Uniqlo announced their store, month or two later and it was there. In a primetime spot next to Union Square up the street from the Apple store. Where Microsoft should've been when they announced they were putting out stores.

Well you dont have to leave your country to visit a store, like most of us.
They will open more stores if they do well. Hopefully in new countries before SF. :P

SF doesn't have a store? Now that's unsat!!

If you weren't all such douchebags maybe they would. :-P

The only thing I wish RT had was more magazine apps. That's all I do on my iPad is read comics and magazines (wife got sick of the paper). Oh and play The Walking Dead. I am going to buy one...RT that is going to my local MSFT Store tomorrow. And might I add that Tim Cook needs to shut it. I think what MSFT is doing is a game changer for allt he other wanna be modern day gadgets. Ask yourself this...What is a PC?

I owuld guess Barnes and Noble will have an app, maybe Amazon.

Doesn't the Kindle apphave plenty?

I hope they have one in Georgia.

The country or the state? Because if you're talking about the state, they have a Microsoft Store in Atlanta.

The state. lol and really? I didn't know that.

There's one at Lenox Square mall in Atlanta and a kiosk at Perimeter Center mall in Dunwoody.

Walked up to Westfield Sydney (I work 2 blocks away) they have no information on this...?

What time did you go? It opened at 1PM today. Is only there until Nov 4 and then moves over to Westfield Parramatta from Nov 5 - 11. I'm gonna go check it out tomorrow.

I am gonna check it in Parramatta after my HSC. Can't believe JBHIFI and Dicksmith staffs said "the system doesn't show up any plans of Surface sales". Damn

If you go thru the Pitt St entrance between Cue and Gap, and it's only a table with 6 Surface tablets. The MS rep said there is only 25 in Australia currently. Glad I got my pre-order in before they sold out... The type cover doesn't feel as good when you fold it back... obviously.. when compared to the touch type.
My only issue was when using onscreen keyboard, to move the cursor it doesn't have the same method as Windows Phone where the cursor is set above your finger. Otherwise a brilliant and responsive device.

Does anybody know if you can install additional font packs on the RT or just the Pro version? Wife being a teacher, she may have to wait till Jan to get her Pro instead of Christmas and an RT if it can't be done on an RT.

Fonts and language packs are installable.

Upgraded my Win 7 to Win 8 Pro, am LOVING IT! Surely getting a Surface!

was it easy to install and did you have any issues with it?

I installed from boot. Wanted clean install. Everything gets put in c:\windows.old in that case (inc programs and users, etc) so I just extracted what I needed after on my clean install.

Other than the graphics being extremely blocky until I installed then NVIDIA windows 8 driver no problems. I didn't clean install.

Clean Install here too. My Vaio is like a been new PC. Not trouble is some drivers missing for the track pad gestures! LOVING IT BIG TIME

...personally wish the rt version supported stylus...that my only gold up

I thought only Pro had dual (resistive and capacitive) digitizer.

I kind of wish they made a surface in between the rt and pro that used a clovertrail and had the digital ink 1080p screen. I'd pay 700 for a touch cover 32gb version My surface rt will have to do until that day I guess :P

http://www.lenovo.com/products/us/tablet/thinkpad/thinkpad-tablet-2/

Yea, I've seen that, but the build of the surface and the touch cover is what I'm after.

Dear Microsoft, there are other cities in England other than LONDON!! There are 70 million people in the UK, yet you choose to ignore 60 million of them. Let's hope they don't choose to ignore you because of this. I'm gutted.

And how long, pray tell, is the drive from your city to London? Because the closest one to me is a 6 hour drive.

Well, aeronaught. Prithee, the drive from my "city" to London takes 4 hours. That means around 90 quid in fuel and a battle with British motorways. The train is just as bad and costs even more. Or I could just stay at home and check out other devices.

couldn't have said it better. While iPad has working models in every medium size Tesco, Surface can't get out on London Village. For most people a Tablet is a big ticket, one off, luxury purchase. They are not going to part with cash without trying the thing first!

Annoying... Seems pointless. Living in Birmingham I'd at least expect 1 place there since it's the second city.
Absolutely no chance I'm going to drive hours to play with a gadget.

Going by the locations, they seem to be targeting The City! (I.e square mile workers)

Still no Dutchland love... It looks like Microsoft doesn't even exist here in the Netherlands. Windows 8 is out. Not a single advertisement ANYWHERE. No billboards. No TV adverts. Nothing. Surface is not even being selled here. I find it sooo sad. Comon Microsoft, please make at least some effort alerting people here what you have!! Make me and other MS fans happy!! And sell Surface here too? That would be great, thanks.

London London London London London London.

Typical......so I have to travel 350miles to one of the many events in London.....there are other cities in the UK believe it or not!

I read the article but I felt the need to say. WHO ELSE IS UP JUST REFRESHING THE FEDEX/UPS PAGE!?!?!? god the next few hours longest wait of my life, maybe I will call my girlfriend.....

Call ur gf to keep u occupied. Perhaps ur surface would have arrived by the time she's done w/you O_O

Just don't say the reason you called is to pass the time while you wait for your Surface to arrive, or she really will be done with you. ;)

"We've got 20 centers to open in the UK, where should we put them"
"well, 19 of them need to be in London obviously"

They're all in London. All 20 of 'em

Stratford is London too mate.

Mine's 15 miles away. Woooooohoooooo

I freaking want a Microsoft store in Short Hills Mall in NJ

They need to open one at Garden State, Willowbrook, Short Hills and Cherry Hill. Who the hell goes to Bridgewater?

Its Christmas boys and girls. Just waiting on santa(FedEx and UPS) surface is 6 miles away... At sorting facility

Even though I had order one I had to cancel the pre-order.. :( It's annoying to see they are only showing the Surface in London.
What about other citys around UK? I work in the same business park where MS head office are in the UK and they aren't even showing the Surface off in Reading?
It's a little disappointing.

why did you cancel your pre-order? Maybe I'll get yours :p .... And dont tell me its because of the mixed reviews ...

It wasn't because of mixed reviews. I really wanted it :) Shame I couldn't go ahead with it at this time of moment.
Though I just got a email from MS giving me a £50 off on the online store from the delay mistake email. I now can get the Surface £50 cheaper when coming to order it :D

Even though I had order one I had to cancel the pre-order.. :( It's annoying to see they are only showing the Surface in London.
What about other citys around UK? I work in the same business park where MS head office are in the UK and they aren't even showing the Surface off in Reading?
It's a little disappointing.

Even though I had order one I had to cancel the pre-order.. :( It's annoying to see they are only showing the Surface in London.
What about other citys around UK? I work in the same business park where MS head office are in the UK and they aren't even showing the Surface off in Reading?
It's a little disappointing.

Why do companies do this. Ordered on 16th. Told 26th. Confirmed 26th for delivery. Guess what? Not being delivered on the 26th due to high demand! You'll get an email/tracking number when it leaves the depot. B'stards

I just walked by the Times Square store at 7:30 this morning on my way to the office.... It was packed!

Correction to the article: Windows RT is not Windows 8. The Win 8 Pro Surface devices are not yet on the pre-order list. Win8 will run executables like any Win 8 desktop, while RT is akin to WP7, and perhaps WP8. Cool, yes, Win8, no.

anyone know what is MICROSOFT Complete for surface that is replaced type cover in surface buy page? http://www.freeimagehosting.net/hskyz

Just saw Windows 8 ad first time in India! Yayy!

MS came through with my 64gb surface delivery :) I really didn't think they would but its here :) yay MS

Seems MS fucked up the Surface launch in Germany. I haven't heard of anyone that got one today, although it was promised for 26/10. Instead some people have posted on Twitter that their Surface order was cancelled by MS without any explanation today. Great PR :/
Edit: Appearently there won't be any Surfaces in Europe until 2/11 as they haven't even reached the distribution center in Eindhoven from China yet as there were logistics problems. MS knew about that for over a week now but prefered not to issue any statement....

I hope everyone here knows the difference between Surface RT & Surface Pro.

So, I'm sitting in the Frankfurt airport, with 3 hours to go on my layover. Trying to find out if the surface experience here is open, and id they have devices. Cause I could make it if they are. But the web site says coming soon........what to do
Windows Central Newsletter
Thank you for signing up to Windows Central. You will receive a verification email shortly.
There was a problem. Please refresh the page and try again.