Microsoft opens up about the data it collects in Windows 10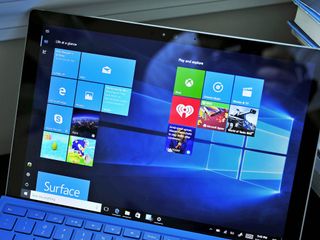 In a move meant to assuage privacy concerns over its data collection in Windows 10, Microsoft has opened up about the types of data it collects alongside a recap of the privacy-focused changes it is making in the upcoming Creators Update.
Microsoft's Marisa Rogers and Terry Myerson took to a new blog post to talk about the changes, with the biggest being a full rundown of the types of data collected by Windows 10.
To check out the information, you can head over to Microsoft's TechNet site to get a full rundown on data collected at the Basic level (opens in new tab), as well as a detailed summary of data collected in Basic and Full levels of diagnostics (opens in new tab). It's a lot to wade through, but it gives a much more transparent look at exactly the types of data Microsoft collects and for what purposes.
Other changes touched on in the post include handy Creators Update changes Microsoft has covered before. Examples include the ability to toggle things like app suggestions and diagnostic data collection on or off during setup. While you can't turn diagnostic data off completely, Microsoft says it is working to minimize its data collection at the Basic level.
Microsoft has faced quite a bit of scrutiny over its privacy practices in Windows 10 as of late, and it's obvious these changes are meant to address those concerns. The Windows 10 Creators Update is set to roll out in full on April 11, and you can check out all of the privacy changes incoming ahead of time.
Windows Central Newsletter
Get the best of Windows Central in your inbox, every day!
Dan Thorp-Lancaster is the former Editor-in-Chief of Windows Central. He began working with Windows Central, Android Central, and iMore as a news writer in 2014 and is obsessed with tech of all sorts. You can follow Dan on Twitter @DthorpL and Instagram @heyitsdtl.
too late, they should have done it on day one

No they shouldn't, as the report says, there is nothing they're collecting that's private. And they've been saying this. Only over-paranoid people needed this initiative to be taken to calm down a little.

They did actually, is just nobody listened

If they had done that at the beginning it would have raised questions such as "why are they trying too hard to look clean". I think they followed the more rational path.

Too late. I am already using Android on everything and sending all my data to biggest advertising company of all times. XD

Me too. All sorts of ads and malwares are welcome to me.

Hahaha, would you look at that, the page containing all the personally identifiable details they collect is gone, nothing suspicious about that, at least not to blind followers who won't dare to question their actions...

Those that complain will always find something. Perhaps Microsoft haven't fully disclosed / they are hiding something etc. Microsoft can't win. These people will already be running an esoteric version of Linux anyway so it shouldn't make a difference.

Unfortunately people would rather believe some random tinfoil hat wearer on Reddit than MS, and no actual proof is needed.

You reckon? No, they will be in blissful ignorance on Droid or iSheep thinking that they are not being tracked, data mined, compromised or otherwise "at-risk". Why? Blind belief, brand loyalty and bias reporting in the tech media.

Not too bright to complain about Microsoft using diagnostic data for future software improvements while selling one's soul to Zuck and G00gle.

I don't care since most people that are complaining about this use android/chrome and Facebook. I know a fraction of my data is gathered compared to the data those people are getting stolen.

The annoying Linux fanatics out there will still find a way to twist this into some big evil conspiracy. Meanwhile they love using their Android phones and have no issue with Google's privacy issues.

Linux? Those people who use Linux does not know which Linux Distro is the best. You ask 10 people they will give 10 different answers.

And they're still all wrong.

Fappening was never done by Microsoft. End of the debate.

That's a bit of a stretch 😄

What I'm concerned about Telemetry services, is not the data they collect, I had issues many times since my hard drive gets usage of 99% when Microsoft collects the data, and then I cannot open Edge Browser or other applications. And this comes from a guy that has a Dell Inspiron 5548 with Intel Core i7 5500U (Broadwell) + 8GB RAM + AMD Raden R7 M270 GPU with 4GB DDR3

How do you link this to collection of telemetry data?

Just today, I went through task manager and one of the services taking all the disk usage was "Microsoft compatibility telemetry".