Microsoft opens up Socl to more testers. May have potential yet?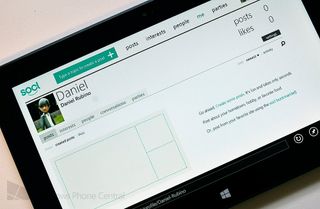 We're mixed on the whole "social internet thing" with Twitter about as far as we'll go with the phenomenon. But there is little doubt that there is a certain demographic who want to engage with others on just about everything these days. Microsoft's Socl (www.so.cl) project is a research effort to see what works and what doesn't. While it's not "public" yet meaning it's not an official service, it just got closer to it today.
This morning, Microsoft tossed open the doors to anyone who wants to jump on board the previously invite-only service. We received an email via Outlook.com asking us to join the effort and since it uses your Microsoft Account, getting your "Me Page" is quite simple...
The service, once known at 'Tulalip', is well designed and eye catching, though Microsoft is not too clear on whom they are targeting with this project. Mary Jo Foley over at ZDNet does a good job of putting it all into context with its history:
With the focus on "parties", search and following, we'd say this looks a lot more like Google+ than a Tumblr or Facebook. But like that service which has struggled for an identity, Socl too may have problems entering the finicky social-networking world as people have shown they only want so many services to log into.
We're not too sure if we'll be using Socl but if Microsoft can tie in their other services e.g. Xbox (Music and Video), Skype/Messenger and more, it could potentially be leveraged as a powerful too. In that sense, we support the "research project" gusto behind it instead of dictating to peeps what they want.
Oh and Microsoft, throw in a Windows Phone and an RT app in there and maybe we'll use it more, ya dig?
Let us know in comments what you think of Socl and whether you'll use it or not.
Source: Microsoft (email) and ZDNet
Windows Central Newsletter
Get the best of Windows Central in your inbox, every day!
Daniel Rubino is the Editor-in-chief of Windows Central, head reviewer, podcast co-host, and analyst. He has been covering Microsoft since 2007 when this site was called WMExperts (and later Windows Phone Central). His interests include Windows, laptops, next-gen computing, and for some reason, watches. Before all this tech stuff, he worked on a Ph.D. in linguistics, watched people sleep (for medical purposes!), and ran the projectors at movie theaters because it was fun.
Is this kind of like Microsoft's competitor to Google+? Another 'clean' version of Facebook?

Not really. This is a more public type social search network. Think bing meets Twitter meets Tumblr all in one with people you follow and others that follow you. You search for stuff of interest then link images, URL links, and such together into a collage type grouping then comment on it. Others then comment and like stuff they see and like. You can tag posts as well to categorize stuff for future reference. Kinda neat.

Think Dan hit it on the head. This needs to be part of the Microsoft ecosystem with things like Skype, Windows 8, WP integration right from the start so at least it can leverage their existing user base as it probably wont be as popular with the majority of people using other social networks.

I'm going to agree you This is something that I would be very interested in. Integrating across the board .

It would be nice to integrate this. Even if it doesn't become wildly popular, it would be nice to have a clean and efficient social networking system where MS doesn't have to worry about a third party's APIs.

It's going to have to evolve - I signed in 6 months ago during the first go-round, and I really don't see much reason to update anything, there's just not much to do here.
I'll keep tabs on it, I guess...

Got an invite early this year and so far soo good. Using it like facebook. I just need apps for my Windows Phone and Windows 8.

I am glad to have been your first follower Daniel! :D

I use it. It's not a completely social network. Functionality looks like a Reddit.

I think it looks a lot more like pinterest

I like the name socl too! I think it will appeal to people as new/fresh and if its good, people will flock to it.

What theefman said Thanks for sharing, just made my account

I like it already. It's a really nice interface. I'm wondering how long it'll be before some people figure out how to post pr0n.

I made an account while on my work pc but I'll have to dive into it more when I get home to my surface

I Like it so far but of course I don't know a soul that is using it. Think WP Central should have a post for ppl to give out their email so we can add each other, like the way Android Central did with Google +


This is very strange, seems like a hybrid of Google+ and Pinterest! I feel like I'm having social media overload w/ accounts on Facebook, Twitter, LinkedIn, and Google+ already! Those who want to follow me can here; http://www.so.cl/#/profile/Mark-Gruber

I agree, which is the reason I stopped using facebook and twitter, only using g+ right now but will give this a shot. Going to follow you and see how this thing goes.

Back at ya, really hoping they add a Win8 app ASAP! Let alone one for my WP7, but that might be asking too much

WP7 is definitely asking to much, but maybe a 3rd party app could happen. App for WP8, ios, and Android is needed tho if MS wants this to become anything, but need WP8 app now

Honestly I don't think it's asking too much. I understand ios and android are the largest markets, but if it works on anything before ICS and ios6, it should be on wp7 too.

I thought it was always open to anyone?

Add me bryantspells@yahoo.com, windows8/rt and windows phone fanatic

http://www.so.cl/#/profile/Joseph-Panarese-2 if anyone wants to folow me

It's pretty cool, been using it for 8 or so months. It's like bing integrated with Twitter and Tumblr all rolled into one. You could even say it's Instagram taken to the next level with integrated search and a collage of images/links on the subject rather that a single image + comments.

Just hit the site URL, its letting you join and create an account, I logged in using my Microsoft account.

I'm in. Wil lplay around when I get home. http://www.so.cl/#/profile/roy-woody
Also looking at the headers "me" "parties" made me think of a song from The newest Muppet movie, "I'm having a me party.....a party for myself....I'm having a me party." LOL!

This is probably the replacement for windows live spaces/profiles

I don't see much use for it

I like it a have been using to go the past 6 months.

Renamed to Xbox Social in 3....2....1...

I'll try it out, I think its smart if its simply for their research...like how text text revolution was their keyboard use test? Not a bad way to see how people prefer their share... =P ...or how Ribbon Hero 2 was their Office training game for using the ribbon. =D

Socl (A terrible name) appears to be in the image of Tumblr or Canvas.
Not overly impressed by Socl so far.