Microsoft People app snags new History tab in latest update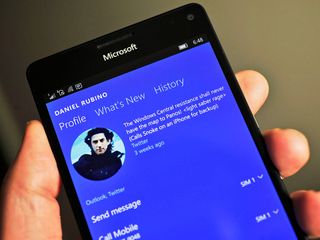 Microsoft has pushed a fresh update to the People app for Windows 10 and Windows 10 Mobile, bringing along the addition of new History tab for each contact. As you can see in the screenshot below, the History section does exactly what its name implies and gives you a rundown of your interactions with a particular person over the past days and weeks.
Outside of the History tab, it's not clear what else is new in the latest update. However, if you're interested in version numbers, the app has moved from build 10240 to 10501.
Additionally, Messaging + Skype has received an update that appears to fix the settings menu (seen below), which simply contained a hyperlink in the previous build. Outside of that, you're simply looking at a bump from version 2.13.24001 to 2.14.23002.
Update: Users are reporting in comments that non-Insider builds are now getting the new emoji and photo options in Messaging. Previously, those features rolled out only to those on the Fast Ring Insider builds.
Finally, OneDrive has also received a pretty minor update the simply moves it from version 17.7 to 17.7.1. It's likely that this simply contains some bug fixes and performance improvements.
Be sure to hit up the links to the Windows Store below to grab the latest updates, and let us know if you spot anything new or notable that we missed.
Thanks for the tips, everyone!
Windows Central Newsletter
Get the best of Windows Central in in your inbox, every day!
Dan Thorp-Lancaster is the former Editor-in-Chief of Windows Central. He began working with Windows Central, Android Central, and iMore as a news writer in 2014 and is obsessed with tech of all sorts. You can follow Dan on Twitter @DthorpL and Instagram @heyitsdtl.
Nice updates...though nothing mind blowing. Also, my evil doppelganger appears!

That Tweet by your doppelganger is pretty fantastic, though.

Hey Daniel, it seems as if this new Skype + Messaging has brought over to non RedStone phones the ability to attach to Skype messages, and post Emojis. (1520 and 1020).

Confirmed Posted from Windows Central for Windows 10

I just saw a post from the Skype Blog about these features, but haven't had a chance to read it yet. Figured they must have added the features in an update, otherwise they wouldn't publicly post about it until it was "available to the masses". This is good news though, because it shows that not all the features added in Insider builds, are OS update restricted. Always good to see these new features hitting phones that aren't running the latest builds. :)

The messaging update is the best here, but the history tab is a nice addition too. I haven't got the people or messaging update on my L950 yet (Running .107). I had a People app update on my surface but that doesn't seem to have a History tab in there. Looking forward to being able to send and receive images in the Messaging app on phone, unfortunately I can't send images via Messaging on PC with the latest Insider Build as I get an error message (Sending location works fine)

I just realised the History is shown in the desktop app, but only when the app is wide enough, otherwise that Pane of the app is hidden. Amazing that it shows the SMS history in there, one step closer to it being available in the Messaging app itself. Here is a problem people can upvote if you are having the same problem viewing the history tab when the app window is fairly narrow: Windows-Feedback:?contextid=143&feedbackid=c249f163-b37d-488b-b592-e8650fbf45b1&form=1&src=2

at one second I thougth he has Kylo Ren (Starwars) in his contacts

That's indeed Kylo Ren picture with Dan's face photoshopped onto it. Posted from Windows Central for Windows 10

People App on desktop shows SMS / MMS messages sent/received from phone in the history tab! Still no "Groups" (Favorites, Groupme, etc.) on desktop, though...

Also, another bug with the People app: It appears that your Skype conversations with a contact don't appear in that contact's "History" pane. Here's a bug report if you are able to upvote it: Windows-Feedback:?contextid=143&feedbackid=8430abd0-9ce1-4052-b41c-c6c2c8618a46&form=1&src=2

I'll upvote that now, it's great the tab shows the SMS history as it's getting closer and closer to being in the Messaging app itself by the looks of it. I noticed the History "Pane" (as it is on the PC, rather than a tab) doesn't seem to be accessible when the app window is narrow, so I created a problem in the feedback app. If others are having the same problem please upvote: Windows-Feedback:?contextid=143&feedbackid=c249f163-b37d-488b-b592-e8650fbf45b1&form=1&src=2

Hopefully we get group support soon, it would be great if it works like it did in WP 8.1 (Not sure if it's the same in W10M, I haven't tried) but you used to be able to do "email 10 of 12", "Text 12 of 12" etc. If we could do this with GroupMe, Facebook Messenger, etc. like you suggest that would be awesome

I see what you did there. Posted from Windows Central for Windows 10

Welcome to Windows phone 8.X

Right?! It's disappointing that both Windows Central and Winbeta don't mention this.

I want feature parity with WP7.5. That includes wireless syncing, hubs, Bing vision, rooms, the ability to open Office binary files, and no more goddamned hamburger menus. Thanks!

Os update required to add an emoji? No thank you. Posted from Windows Central for XL

This is awesome!!! It was a much requested feature.

I haven't read this whole thread, but I'm not seeing the History in People app on my 1520.3 running .107. Confused . . .

The messaging update also fixed the history button taking you to the chat main screen instead of directly to the section of the conversation.

The people app history update is something people have been clamoring about for months! He'll yeah Microsoft

Finally! It's only taken countless feedback requests and upvotes!

It takes time to code. It can't be done overnight.

As a dev myself, I know it takes time to code, but yes it could've been done overnight.

Not to mention that the functionality isn't even entirely new. Alot of the requested features aren't even a completely new features that can be more easily implemented than making a new one. This is why more people are upset about the lost functionality that we used to have. I want to add also that History functionality already exist in People in W10M for quite some time. The problem is as usual as their bad UX decision is (if they even have UX team), they hide the History functionality under the context menu that most people won't even know it exist. So yeah, History should've been done way earlier since the essential code is already there.

Are you sure? I'm not seeing the update on my L950 yet (so don't have the tab) but I also can't find the history from either the command bar at the bottom (when viewing a contact) or from a long press on a contact (when viewing the list of contacts) Could you point me to which menu it comes under in the People app, I want to take a look whilst I wait for the update.

Sorry since I can't even remember exactly how (since I even just accidentally triggered it), try holding-down the contact photo or holding-down the contact number or even outside the contact card by holding-down the contact name. As I said, it's pretty obscure to access it which is why a bad UX to begin with. I don't even thing it was even documented. Some other mentioned that they noticed the History is actually been logged since when you first install the W10M build on the device or after reset, indicating that the functionality is there but it lacks proper UI to access it. Just try updating People app when its possible, there is no point having the old one really.

This. It was present before. Nothing new. Posted from Windows Central for Windows 10

The sad thing is that it still doesn't work for me. I was interested in going back to a conversation in 2013, but when I click to load it i just get the spinning dots of loading until it fails and goes to my most recent text.

I'm not on win 10 mobile, but hasn't this always been a part of wp?

Yes it has. That's why I will keep my 8.1 device until W10 is up to par.

Well, Windows 10 Mobile got tons of new features for sure, so as lost features from Windows Phone 8.1. This is just one of the lost functionality that's been reimplemented, all thanks for the feedback. Seriously though, these lost features don't even need a feedback since it's already in WP8.1 and it was useful that other platforms even have this.

If I`m not mistaking history was in Win 10 also but it was kinda hidden under sub menus

It is, so this implementation could've actually done earlier in theory. The previous implementation is a bad UX simply because it's hidden. I don't even know in the right mind they decided to hide it.

Precisely! I've been saying from day one. Why do you have to provide feedback for something that already existed? Why?!!! That's plain crap! I want Rooms back too! But now people have to give feedback for something that just worked. But I don't even think people even know what was in 7.X or 8.1. All they care about is some Snapchat app or some other app that doesn't really provide any good functionality.

At least for me now it's possible to attach images in Skype chats and they also added the Skype emojis (don't remember the actual name)

Praise the Lord! I was afraid that the History tab would never come back. It was one of my favorite features in Windows Phone 8.0 and 8.1 and was sorely missed in Windows 10 Mobile.

That History tab was there in 8/8.1. I'm glad they bought it back. Still hoping for Sensitive Screen, Double tap to Wake and Turn WiFi on near Favorite Places.

Ditto!, exactly what I'm waiting for as well

Turn Wi-Fi on near Favorite Places is a big omission too! I don't why they even remove/forgot to have it on W10M. They sure love removing things because they can.

Think about it. It's not like they just took Windows Phone 8.1 and started making changes to get Windows 10 Mobile. It's basically a new OS. As such, nothing has been removed. Anything that isn't there that was in WP8.1 is not there because it hasn't been added yet. Seems like common sense to me but they say that common sense isn't too common.

Technically they would started making W10M from WP8.1 codebase and start changing from there, but that's usually under-the-hood. Upper-level of W10M though is a new one built from new framework of UWP. Still with several features are missing that its been on the platform for a very long time didn't make it in W10M initially, some of them that are really affects the overall user experience of the OS. But oh well, I can think it simply because of the lack of time and other resources why several things are lost in W10M. The bigger issue that I have with it though is that it just feels they "totally forgotten" those features we lost that it takes countless of feedbacks to get them noticed what's missing. It leaves me a question how thoughtfully they planned and designed W10M initially which plagues the OS. Example like the missing the obvious way to access History which is quite a standard feature to mobile OS these days yet W10M manage to not have (or ridiculously hidden). On UX-side, the implementation of Hamburger in W10M is still really poor even though how popular that UI control is on other platform, one prominent example is the lack of gesture swipe to open it (though good thing 3rd-party developers implements their own such as this Windows Central app). I can see your point though, still the problem is there that we lost some useful things. The platform is still struggling and we all don't want more issues sticking with it. All I can hope for Redstone, but I won't hold my breath for these things to be completed that soon.

Interestingly, the history in the new People appears to have always been saved. All the recent interactions are listed, even the ones since I started the W10m insider program months ago. For some reason, MS developers took their time to implement this future back. Good thing is that we are getting more Hub functionality from WP7 :)

Yup, I noticed that too which is a huge relief that at the very least they actually implemented the back-end code to make it work, we only miss the actual UX for it. History is actually existed before this new update (finally), but it was hidden under a sub-menu which is well, a bad UX decision to begin with.

Yes, if they bring back double tap, I can finally upgrade to 950.

double tap to wake? I have that! Lumia 640 tho... Posted from Windows Central for Windows 10

Yes, sensitive Screen is one reasonably important feature when it comes to Windows Hello on the 950 and XL because it completes the whole "Leave your gloves on" use case IMO. We know it's slower than a fingerprint reader but I was in Copenhagen over the weekend where it was pretty cold. I could unlock my 950 and keep my hands warm, but had to take the gloves off to use the touch screen.

Nice! I'll take it. Posted from Windows Central for Windows 10

Good updates From the Windows Central Universal Application on Windows 10

Neat updates Posted from Windows Central for Windows 10

wait, I thought that was Kylo Ren in that picture, then I realize it was +Daniel Rubino

I'm only getting the OneDrive update. I didn't get the update for Mail and Calendar from Monday, either.

Yes me too ..seems there are only for insider builds!! Posted from Windows Central for Windows 10

Me too. Still waiting on this one and Mail and Calendar!

This for 107 update or for fast ring only? Becose i am not getting theese updates exept one drive

Possibly Posted from Windows Central for Windows 10

I'm on the Slow Ring for the Lumia 950 and I can see all these updates in the Windows Store. However, on the Lumia 930 (production release) - I don't see any updates

Same here Posted from Windows Central for Windows 10

Weird. Is this region-specific or for preview builds? For some reason my messaging+skype is still on 2.13.20000.0 and I'm on the latest W10M build 10586.107. My People app is also on 10.0.3451.0. Huh.... I don't want to have to do a reset but this is really weird.

Same for me not getting theese updates exept one drive Posted via the Windows Central App for Android

Yep got the OneDrive one too. Yeah maybe we'll get it after a few hours/days... hopefully.

Might take awhile for your phone to see/get the update. Who knows when all these updates were actually pushed to the servers (i.e. could have happened yesterday or early this morning). My phone still doesn't see the latest Windows Central app update. In short, it can take time for the update(s) to reach everyone.

That makes sense. Maybe region has something to do with it, too. I got the OneDrive earlier this morning.

I'm also having the same version numbers. Not getting updates. OneDrive and windows central app gets update but not for people and messaging.. Posted from Windows Central for Windows 10

Me too. Posted from Windows Central for Windows 10

Same here. I'm US, which I'm guessing is the same as in the story above. Also, it seems our version is several versions behind as they state it went from 2.13.24001 to 2.14.23002.

same here i'm on 107 also. Anyone could say, if they have it on 107?

That history tab is a much appreciated and OVERDUE addition. Now if the PC version of the People app could get up to speed as the mobile version, that would be sweet..

Yeah, People app for PC/tablet is absolutely barebones that it still feels....no its still alpha. People app is one of the things in Windows 10 in general that has been stripped down tons of functionality and even aesthetics looks horrible. I can't even consider it as a lightweight contacts app, People app in Windows 10 claims the prize of a half-baked app in a public release OS, together with other communications app like Phone, Messaging and Skype Video.

Is it possible to have your Twitter, Facebook, LinkedIn etc. contacts in the PC app, or is the syncing to the People app a Mobile only feature at the moment?

Nope, there is no sign that you can do all those stuff in "People" app in Windows 10 PC. It's nothing but a less-than-half-baked less-than-basic contacts app.

I hope the they will fix the Outlook Calendar so that it shows detail and information on lock screen WITHOUT needing to pin the app to the start screen.

Nice addition. I wish they include Facebook Messenger into the messaging app, so the conversations from there would appear on the history tab too. Posted from Windows Central for Windows 10

And as I see, the skype messages don't appear there, so they could show them there too. Posted from Windows Central for Windows 10

Skype Messages do show up in the Messaging app (I think you have to set it up). I've seen various people say that there is a huge delay, but it's always pretty rapid for me. Regarding integrating Facebook Messenger into the Messaging app, I would be surprised if Microsoft did this. The problem is that any time Facebook changes their API's, it could potentially break the integration, which could take some time to resolve. And if, for whatever reason, Facebook decides to discontinue API's for integrating Messenger into apps, Microsoft would be forced to pull the functionality out of the Messaging app, and we all know how badly that went in Windows Phone 8.1 with Facebook integration in the People Hub.

Yeah, skype messages show up in the messaging app, but I thought about the new history page, because they don't show up there. Sorry for not saying it clearly. And for the Messenger integration, I didn't know that Facebook decided so. I just wondered, because it was there in wp7 if I'm not wrong, and the people hub synchronizes with Facebook very well on the latest news page, as well as the contacts. So I thought it's possible. Posted from Windows Central for Windows 10

The messaging app needs to be such that social messengers can tap in and put your messages in there. One place for all IM just like what the N9 had is needed :D They have a button for add social so it much be just waiting for the IM to build their stuff to work with it! And then Cortana can be linked up to send message to whatever IM you have linked up.... pieces are all there, lets get it done!

Only one drive update in UK store :-(

Very nice, hoping they finally fix "what's new" section of the people hub

is the people app faster at loading latest news?

Now it would be great if the Me Tile came back!!

I miss the groups social feeds(facebook twitter) that we had on wp7 and wp8...

Not aeeimg those new features on the people app :(

Kylo Rubino??? That actually doesn't sound too bad (better than Daniel Ren)

My 950 XL is taking the updates, but they are all feeling on my 1520.

I'm not receiving updates for People... Messaging....and Outlook mail Calender and I'm on the 107 update Posted from Windows Central for Windows 10

Same here. Posted from Windows Central for Windows 10

ME TOO. I HAVE NOT RECEIVED ANY NEW PEOPLE OR OUTLOOK UPDATE

probably because your phone update had already those app updates with it? Posted from Windows Central for Windows 10

Better to have what's hub.. So we can sink the DP and status easily like face book.

Yeah only received OneDrive update so far Posted from Windows Central for Windows 10

I love the fact that the people at MS is constantly updating their apps and OS. I switched to BlackBerry about a year and a half, but thinking about coming back to WP just because of that. BlackBerry rarely gets updates anymore.

Posted via Universal Windows App on a Windows 10 device

This month february will final public update... Nope...another month...delay... Nope...another year...nope.. Hahaha..

It still pales miserably in comparison to what it used to be. Having all your contact information and feeds (Outlook, Skype, Facebook, Twitter, LinkedIn etc) all in one place for each person in the People App was freaking awesome before Win10. Now, it's basically just an address book.

Well that's the kind of thing that ms needs to do daily for two months or so. And windows phone will be back in business.

Nice to know... Been waiting for core updates Posted from Windows Central for Windows 10

Anybody else, receiving error code 0x80070490.

Facebook messenger would be great, as the app is useless.

Coming from Android, it seems silly to have the People app and Phone app separate. I can search corporate contacts in the People app, but cannot in the Phone app! Also, searching for contacts in the People app turns up different (and correct) contacts than in the Phone app. Please combine the intelligence of both.

Be sure to put this in the Feedback app so that Microsoft can see it.

Posted via Universal Windows App on a Windows 10 device

Can we do skype group calls yet

unfortunately not Posted via Universal Windows App on HP Elitebook / Lumia 950

It seems Skype Video app still lacks group calls still as far as I can tell. What's even more sad that Skype group calls is already available on Android and iOS. So much of a Cloud First, Mobile First to other platforms.

Didn't realise that had rolled out to iOS and Android already, but I saw their recent video announcing that the feature was coming to mobile apps (and the Windows 10 Messaging app on PC I believe). I don't use group video calls that often but will have to give it a go on my wife's iPhone later to see how it works on Mobile.

It's just a recent news and I guess it wasn't mentioned here in Windows Central (well it's not really a news for W10M to begin with). https://www.youtube.com/watch?v=7AuhjzxAudY Pretty sure that Group Calls/Video Call will come on W10 PC and W10M too for their Skype Video app, the question is when and how soon? As far as I can tell, there is no sign that Skype Video app will receive such functionality anytime soon, probably after a few weeks or months.

Not getting update for people and messaging.. Oly OneDrive gets an update.. Posted from Windows Central for Windows 10

Posted via Universal Windows App on HP Elitebook / Lumia 950

Didn't get people and msging+skype update.. I did get one drive update Posted from Windows Central for Windows 10

oh wow! now it can send images if it doesn't crash, but cant see received ones! excellent!

Wow, almost lost hope on that one. Great update. Missed this one a ton from 8.1. . The inability to tie in mail info into history was a head scratcher.

No update on my 640 att .107...

Are you in the release ring

'cause My 1520 is in the fast ring and got. my 640 is on release ring and just got a OneDrive update

With the recent build and app updates. Feels like W10m is almost ready to sing. Not 100% there but u can actually see the light at the end of the tunnel.

Finally, another neat feature from the 8.1 People app makes its way to W10.

It will be great to move whole app from 8.1

Just got the one drive and windows central app update. Lumia 1320 .107 production ring. No people or messaging update.

Still waiting too (Australia)

"new" history tab? Not really. They just brought it back after they removed it.

Generally is people app worst part of WP... Looks terrible... I hate circle photos, and live tile is also step back against 8.1

I too hate the circle photos.

They're ugly. But at least the People icon is square. :-)

Keep the updates coming!!! Posted from my Lumia 1520 high on Windows 10 Mobile

Nice important Posted from Windows Central for Windows 10

When are they going to give us editable Contact labels (mobile1, home 1, etc)?

My old Nokia had that it was nice to have on the phone.

It's already there. Choose custom and then type the label in.

I didnot get this update.
Im on .107 build

Awesome! I was hoping they'd bring it back. Thankfully, they did. ☺

Fully functional People Hub of WP 8.0, could we get that back.

Nice! http://behance.net/kevingates

I HATE Star Wars. Ahhhhh, no, he didn't!

Messaging app wants an install, rather than an update?? Posted from Windows Central for Windows 10

I don't see this update in my people app .

No updates here. Lumia 950xl Germany.

No updates for Lumia 950xl UK insider fast ring. Sent using Bobs fingers on Lumia 950XL

Haha! Love your signature!

Strange I'm not seeing any of these updates in the store I'm using the 550.

Nxt update kindly remove d circles. Posted from Windows Central for Windows 10

People app still crashes.. Please help

950 XL here, on production updates, with .107, and no snagging whatsoever. I just got the OneDrive update. What's the variable here?

Looks like region is the culprit.. I'm in New york city and just received the updates for my unlocked 950Xl

History feature is the one I've waiting for. Not sure why MS removed it in WM10

Still no update heere weird Posted from Windows Central for Windows 10
Microsoft 950 XL

What build are you on? I'm on .107 and Release Preview ring (I was tempted to add my 950 to Fast Ring like my other phones, but was waiting to see if these Skype features rolled out to the current branch first)

Forgot to mention, I don't have it either so far. UK Lumia 950 on .107

I am on 107 official release. But still nothin only got the update for onedrive Posted via the Windows Central App for Android

updated on my surface last night but not on my pc today - very strange

On that picture. Daniel looks surprisingly like kylo ren from star wars :o Posted from Windows Central for Windows 10

Not on PC. On my phone. Same with Mail.

Still no sign in UK store. 950xl. Oh, and 'when in india' ;-)

Don't know why, but the History tab isn't showing on my Att 950 following the update. Any thoughts?

Still waiting for Win10 (not mobile) update in Chicago area.

Weird, I have 950XL with version 10.0.10586.107 NON Insider. And if I try to install this link of Message+Skype it says installing and it finishes pretty soon. Then I click again the link and it says the same. The weird thing is that the messages with emoticons with animations worked. And after restarting the phone the Message+Skype link of the app says it is already installed and now the emoticons with animations do not work. The History part of the people has never worked in the phone. Not sure whats going on, it should be simple but this is a symptom that there is something very complicated behind the scenes, which I don't get.

The something very complicated behind the scenes seems to be Microsoft itself... :D

Am I the only one that can't get this on 950xl? I'm running RTM WM10.

No it happens on others too.​ I've been waiting for both messaging update and more important the people update for a month to see if it fixes my sync problems. I hope i can get it soon too.

Are these only for Insider builds, or why can't I see any of these updates - neither on my Surface 3 with Win10 10586.104 nor my Lumia 640 with 10586.107? Even the version numbers in the article don't make sense to me. I'm on version 10220 in the People app and version 2.13.20000.0 in Messaging + Skype... Anyone has a thought on why this is?

So this was supposed to be a response to previous comment. But apparently "edit" and "delete" are comment features coming in a later build...? :-)

This is probably related to Daniel's 950 in the fast ring. He's in the redstone branch, thus he probably had higher app version that you on Lumia 640. I have both a surface pro 3 and a lumia 604 like you, and all your apps versions matches mine, with my people app on mobile a little older, 10.0.3451.0.

not necessarily, I got the update on my surface but not on my pc

I was talking about different version numbers..

Still no update for this...

I have it on my L640 but not on my PCs. I'm really unhappy though. Since the update i started to have huge battery drains and excessive heating caused to messaging + skype, not to mention my phone doesn't receive messages timely as my pcs with the older version. I'm now trying to delete and resync my conversation and see tomorrow what happens. And the people app didn't solve my problems with outlook contacts sync which are just not appearing at all. (and no, they're not filtered out)

No new updates for People app (history) yet
Windows Central Newsletter
Thank you for signing up to Windows Central. You will receive a verification email shortly.
There was a problem. Please refresh the page and try again.