Microsoft planning go big with rumoured push to produce 3 to 5 million Surface devices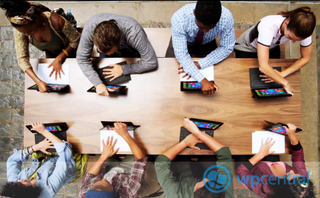 Suppliers in Asia have apparently spilled the beans on Microsoft's production line plans for its coming Surface devices.
If the information is to be believed, MS have put in component orders to ensure they are able to produce 3 to 5 million of the devices for the fourth quarter. With such an order Microsoft looks set to go into mass production rather than just produce a limited run as some speculated on.
According to the WSJ, an order of this magnitude is similar to that which was placed for Google's Nexus 7 devices. They report that full scale production of the Surface started in full earlier this month. Unlike say the Nexus 7 or the iPad, Surface will come in ARM versions as well as Pro versions with Intel chips which means those component orders have to fill a variety of models. Still, its good to hear that MS isn't going to produce the tablets on a limited run.
We have now seen the start of the teaser videos for Surface start to appear, along with those infamous urban art style graffiti paintings. With Microsoft set to spend a record amount of money on advertising Windows 8 and its Surface products there is no doubt they have every intention of fulfilling their promise to make a mark as a devices and services company. If they want to be a devices company, well, they have to make enough of them to go around.
Windows 8 represents a radical departure for the company, both in terms of how it defines its operating system and how it marries software, hardware and services. It's a bold and risky move but the closer we move towards launch time the clearer the picture is coming together. A hero Windows 8 device to show off the OS, shops to sell them in, popup stores to help satisfy demand and a drive for one cohesive eco-system.
It will be a very interesting holiday season, Microsoft are entering a complex market filled with Kindle, Nexus and iPads (and the upcoming mini). We think they have a good chance of turning the tablet market on its head and hearing of such mass production eases our fears of limited availability.
Source: Wall Street Journal
Get the Windows Central Newsletter
All the latest news, reviews, and guides for Windows and Xbox diehards.