Microsoft posts official hands-on video of the Lumia 535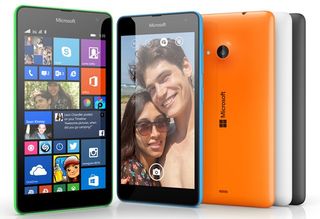 The Lumia 535 is official! The first Lumia device to feature Microsoft's branding, the Lumia 535 is targeted at the entry-level segment, and is set to retail later this month in China, Hong Kong and Bangladesh for $140. To show how the device performs in daily scenarios that involve gaming and multitasking, Microsoft posted an official hands-on video of the device on its new Microsoft Lumia channel on YouTube.
Highlighted in the video is the ability to run games like Subway Surfers without any glitches, as well as the 15 GB OneDrive storage along with the two 5 MP cameras. The front camera has a wide angle lens that is ideal for selfies. Also showcased is Skype integration, and Cortana.
As for the hardware specs, this is what you'll be getting with the Lumia 535:
5-inch IPS LCD (960 x 540)
1.2 GHz quad-core processor Qualcomm Snapdragon 200
1 GB RAM
8 GB storage
MicroSD card slot (Up to 128 GB)
1905 mAh battery
5 MP rear camera
5 MP front-facing camera
Watch the video above, and do let us know what you think of the Lumia 535 in the comments.
Source: YouTube
Thanks everyone for sending this in!
Release 940 or 1530 or 1030 please

Yes, 1530 Would have me throwing my money at em!

1530 with a surface pen and next gen PureView would have me stuffing the money in their pockets..

Same here. My wife is waiting to upgrade her L920 to L940. http://wmpoweruser.com/rumour-alleged-specs-of-nokia-lumia-940-leak-from-chinese-factory/

This rumour is preposterous! How does Microsoft expect to compete head on with the Droid Maxx, when this 940 is "supposed" to see the light of day next year? That, of course, is assuming it'll ship with Windows 10. Not to mention it is said it'll sport Gorilla Glass 4, which hasn't even been announced yet. Other than that, the specs are pretty delicious!

Lol, it indeed is preposterous.

Personally, I believe this rumor is indeed a leak rather than a fake. It is basically a slightly modified McLaren which was cancelled earlier. MS deliberately pushed it back to be their first W10 flagship. It offers a 5" instead of 5.2" size and a 1080p display instead of a 2K screen. The soon to be released WP8.1 GDR2 will support 2.7GHz Snapdragon 805 and 2K screen. The only thing uncleared is whether the 3D Touch is ready for release by that time. The specs is reasonable and logical. The basic specs should apply to the L1030 and L1530. The physical specs of L940 are similar to the L830 casing which is wonderful. The only problem is that we have to wait a while.

I had even forgotten about McLaren, lol. I hope you're right, but I'd definitely hold my breath for now.

This is a serious step from MS in the right direction. If it costs like 520 (or close to it) this will brake sound barriers in 3rd world countries. Fantastic piece of phone for young audience on a budget. Maybe for older too. Well done MS!

Definitely. We Indians love low end and mid-range phones.

Is the 1030 getting an upgraded camera?

It could if MS so choose. The Snapdragon 805 supports up to 55MP camera sensor which would give you even better lossless zooming capability.

They are developing something huge as we speak.. Our dream high-end devices are probably in testing right now... The reason that we aren't getting leaks is because MS is now in charge of devices, and they are very good at keeping the secret.. Look at the Band! The only evidence of it was some FCC filings.. Any day now we're going to see some kind of filling for a high end device... But, don't expect the kinds of factory, and employee leaks, as before because MS strictly doesn't allow that... That next high mega pixel camera is made, is in testing, and probably affixed to a 5.1", and a 6", device as we speak... You can count on it❗

Wasn't there a leak about MS buying some camera tech patents or something??? I don't remember what it was... But there was a leak...

they signed a deal with cannon

Yes then did earlier this year. http://connect.dpreview.com/post/0141982213/canon-and-microsoft-sign-pat...

No, no, no, no.... Not that... Some other patent.. Like it had those drawings of something.. And in the end of the article it said maybe Nokia/Microsoft is working on a 1030... It was before 1020's EoL.. I don't know... Maybe I'm confusing it with something else..

I do agree because even most leaks on this budget phone 535 were never spot on. none of the leaks knew it has 5mp front camera, none of the leaks knew the pixel density. So, I am with you that MSFT is not letting leaks out as much.

They did mention the 5mp ffc. It was in yesterday's article. Microsoft isn't as good as you believe in keeping things quiet.

Daniel even made an article why the band was not leak, he said it was because it was produced in small quantities, there for no leakage.
MS doesn't work secretly on a high-end, at least not as you think.
Probably a high-end device will be announced at Vegas or Barcelona show and it launch in summer, until then keep dreaming.

The MS band was kept secretive because it wasn't mass produced and was only limited to the US and even within the US, with limited units. Leaks happen when things are massively produced as any phone. Specially when you DON'T control the factories where they are produced, such as Foxconn. Also, Microsoft can leak stuff themselves. Just look at Windows. No matter how internally restricted it is, you always get leaks of it way before any public testing takes place. As for "Our dream high-end devices are probably in testing right now"...not sure. 2016 is still a year away...XD
If they're not in testing (probably aren't) they are at least in advanced stages of development. I think it will depend on how much Microsoft repurposed from the late Goldfinger.

Yes,I have it from a reliable source as well, that something big is going to be announced soon.

they should release 835, 935, 1030, 1330, 1530, 1830

May I ask, what would the 1830 be?

Actually, that's probably true.

835 the same phone but with higher ram and periods processor

Well since you said please, it should be ready by tomorrow

Still happy with my 520 (first salary) :B

The 520 is a quite solid device..

Indeed. It's the best Nokia phone I've owned. I've owned many. It's only rebooted once or maybe twice for the 7 months I've had it, Something I can't say for Pre-WP Nokias.

Same here!!! But last week I've upgraded it to 730

same. i even bought a cyan back cover last week lol. i'm looking forward to upgrade to a 730 or 830

That phone looks pretty sexy

Really nice that the entry level stuff is getting more people into Lumia, but how about giving those people a reason to upgrade, and giving those who have high end devices reasons not to go and buy something else? So bored of seeing such good software on such low end devices...

Can't you guys just take a moment from demanding a flagship, to appreciate what an awesome little phone this 535 is?

I agree. For the price, its specifications are pretty well unparalleled. MS needs to get as many devices into people's hands as possible to increase market share, which will attract more developers. A Windows Phone flagship, while it would be nice to see eventually, will not sell in sufficient numbers to do that (yet) so it would make no sense for Microsoft to prioritize it over devices like the 535.

Yeah because the 530, 630, 730, Blu WIN Jr, Micromax Canvas Win W092, Prestigio MultiPhone 8400 Duo, Yezz Billy 4.0 and Xolo Win Q900 and all the other cheapos don't have us appreciating the low end enough huh?

Most of us in the world don't have access to any of those devices you just named.

I do not think this is a good marketing strategy. Ask HTC about how smart it is to have 1 million different devices no one has ever herard of. A few years back they realized they needed to streamline their portfolio. The Lumia line needs to be streamlined and given a naming system that makes since. Also, any future falgship phone should no longer be called a lumia because that name is becoming associated with cheap hardware. I understand that there is a huge market for well built cheap phones and microsoft seems to be serving that market well. However, is that what we want Windows Phone to be? I have read some comments on here sugesting that the naming system is not important but it is. We can not build a strong brand without a name to associate it to. Let the Lumia name be associated with good quality affordable phones and create a new, untarnished brand for high end phones utherwise, the non windows phone fanboy consumer will never recognize them as high end phones.

Lumia is not on these phones....strange that!

Exactly! This 535 kicks iFun 6 butt doing everything for 1/4 the price!

I'm waiting for a 1530 for Verizon!

You might have to wait a while

MS and Verizon.. Two companies you can count on to bring things fast! /s p.s. You'll have to wait for a loooooong time...

Me too, but Windows phone is dying on Verizon, sadly.

Why is there no good high end device being releases? It really blows

What made you arrive at the model no. 940? Do you know it will come with Windows 10, which is another year away? All phones until then will be the x30 series. Go figure.

Just sit and think about it...

When is the 1127 supposed to come out?

Hold on.. 940? The 930 is brand new. This is Microsoft. Sony makes Android phones and releases new phones every hour of the day. Microsoft will absolutely not. Please realise that it's insane (!) to release new phones constantly. It is polluting the planet. Sheesh!

Microsoft has now released 7 or 8 low end phones in row. It's time for a good phone now....

Microsoft Lumia !!! But where is the name lumia?

1530 with 55MP camera, finger print Reader and pen ;-)

Enough of these lame videos.
MS, show us something that can drop our jaws!

This is much like Win HD.

Not in this dimension. In a parallel world where Satya Nadella didn't become CEO of Microsoft it would've been possible to see a #BetterLumia instead of all this redundant #MoreLumia.

I don't like nadella me too, e.g. Office app for ios and Android is an enormous error of this new CEO, i hope they will kick him out of MS soon before it's too late

They were supposed to in 2014

I don't know what to say. LOL
So tomorrow or today what's coming? Just this?

I hope not, but yeah this is probably it for a long time..........

And this is why WP market share will continue to drop even more! Most people with a 920 will either go iPhone or Galaxy...

Count me as one those people now.

I won't jump ship, I'll just go with 1520, unless they release the next high end 5+ inch screen. Seriously, i would never go with iphone or droid

No. This device is well placed to grab share. But no good for me. 2years on 920 and no compelling upgrade option. That stinks.

No compelling upgrade? What about our lord and saviour The Nokia Lumia 1520?

Yea its a problem for many of us...i just don't get how they didn't plan something to upgrade to for 920 owners.

That's because your 920 is so good. Good things are hard to make better. When was the last time you produced some good?

930 is the awesome sauce upgrade to the 920. Released only 6 months ago so don't expect another upgrade for at least another 6 months.

I got a 920 and there is no chance I will switch to ios or android.

Flagships aren't helping with the marketshare anyways, phones like this are.

I was watching the Red Bull cliff diving championships the other day. They had a five minute segment where the two hosts were using a number of 1020's to get the 'perfect' cliff diver shot. Flagships give small platforms such as this one a much bigger mindshare. When my friends see the front of my 1020, they ask 'is that the one with the amazing camera'? & I can of course say, yes, yes it is! This 535 is great....BUT Microsoft is killing the platform at the moment. Office is better on iOS/Android. Cortana will probably be on there too in the not too distant future. The 1530 is more than a year old, the 930 is hobbled, the 1020 is on 2 generation old hardware. There is NOTHING I can use to talk up this platform. I have moved at least a half dozen people to Windows Phone --- I'm not sure I would feel comfortable suggesting anyone else switch. Microsoft needs to do more.

this. a flagship, by definition, is the ship in the fleet that carries the flag. it tends to be the best and brightest of the bunch, so the rest of the fleet is respected and noticed. the flagship phones in the MS fleet are the ones that get the press for innovation and design, they generate buzz and establish the rest of the fleet's reputation as industry-leading (in some areas, like photography) quality products. right now the flagship in the MS fleet of phones feels a bit lost at sea.

People with 920 are 5% of the market. Of those only 0.02% fall into your category. So please switch to whatever you want. One less crybaby here, one more crybaby there..

With an attitude like that, windows will never grow.

The 930 has only been out some 3 or 4 months you know. The US got this as the Icon a long time back yes.

In the US, yes. Overseas, this is perfect for grabbing more market share. Still waiting for a 6" device for Verizon...Guess this is going to be a long waiting game

Great...after that Cortana article I'm done lol was considering jumping ship already but WP was my start in owning smartphones.

Off you go then. Thanks for coming.

They meant Cortana on Windows and Xbox. Not other OSes.

Marcus Ash basically confirmed Cortana on other platforms: http://www.windowscentral.com/marcus-ash-cortana

Given that Windows is converging onto the same OS across all those devices you just mentioned, Marcus Ash's comments would suggest Cortana is indeed coming to different OS's (Android/iOS). Skype, Office and even the Band heath app all work better on the competing platforms. So I'm not sure why you think they will keep Cortana as an exclusive. It doesn't suit the *new* Microsoft.

Something tells me that Microsoft should've just named this the Lumia 540.

May be so. But L535 should be a winner with its strong specs that beats either L530 and L630. MS seems know what they are doing. I begin to have more faith now for their high-end W10 phone offerings next year. The rumored L940 sounds real good.

Wasn't that proved to be fake? I maybe wrong.. Either way W10 phones are a long long long way to go.... .. .. .. .. .. .. .. .. .. .. .. .. Welcome ladies and gentlemen, We present you Windows 10!!! (I believe in surprises since the Band)

Yep, they where. However, with the Lumia 535 now surpassing not only the 530, but also the 63x series, the 6xx series will have to surpase the 535 again, however, that will most likely put it beyond the 7xx series, and thus, that one will have to move up too. And guess what? That will most likely put it beyond 83x, and thus, that one needs to go up in specs too. Putting it beyond the 930, which then has to go higher too. And the specs that where part of this fake leak aren't that far-fetched. They are likely (perhaps GG4 not, but still)., When the lowest-end device suddenly jumps over it's big brother with a mile leap, you can expect good stuff for the next generation.

Damn.. I wonder where 15xx would be..

You know right that the current generation shall have numbering sticking to x30 series only? Or do you seriously think the OS had another major jump post 8.1?

That's not what designations are dependent on.. Just stop.

I bought Lumia 630.. I should have just waited a bit more ! -.-

It makes no sense that anything named a 53x would be better than any device in the 63x series... This should've been called the 54x..

I agree with you on that. Or they could have just called it 440 or something. The fact it has 5" screen, flash, ff cam and and 1gb ram with SD 200 quad then it's the best phone in that price. Really cheap!

Maybe this is what Microsoft wanted Nokia to do with the 530 which my opinion Nokia ruined.

No phone from Microsoft will be in the x40 series before Windows 10 arrives. Series changed always with the OS. x00/x10 series was WP7.5. x20 series WP8. x30 series WP8.1. So, obviously, x40 series is for WP9. Sorry. W10. Just drop it, Rod.

Showed my brother he looks betrayed.

Ive got a 630 just 3 days back.

How could you do that knowing we were on the verge of a new device launch❓❓

Better screen and better CPU. Also sensor core. Don't be sad.

Well who knows when this comes to your country

That's technology for you. You either buy now and risk your purchase becoming suddenly outdated, or you just wait for ever...

Well it is not outdated, not by any means as they will still get updates. MS would be insane to not have W10 not run on low end h/w.

630 has SD 400 right? Better than 530 & 535's SD 200, thus the naming.

Maybe they're trying to simplify the series lineup. The 900000000000 phones with different numbers is really confusing to a lot of people. I know when you get down to it, it's not all that hard, but I'm sure it puts some people off.

Good video. Its great that finally, Microsoft can lay out this phone to smart phone buyers and showcase apps they would truly use. Good to see this.

its wayyyy better if the branding is at the back... Microsoft logo seems too long to be in front.

Rather have Lumia on the back but really noticeable.

Lumia in the front , and microsoft at the back should have been better.

Back windows logo and Lumia shoul have been better

This must be the best low cost device out there right now , hope it has the success of 520

I agree with that.. It has a SD slot, so it's pretty competitive.. And, the FFC is nice... Is it better than the Moto G?

well both cameras of moto G are crappy and android OS is quite heavy especially on these specs so i'm gonna say yes it's better

Yeah, and with 1gb of ram... MotoG killer.

The Moto G also has 1 GB of ram and Android isn't what is once used to be Posted via the Windows Central App for Android

It certainly came across as a solid entry level phone.

I think the 5" screen will be a deal breaker for a ton of people who would buy a successor to their 520.

Are you some kind of dwarf, or something?... 5" is tiny.. How could anyone fiddle around with anything smaller when larger is available?... I couldn't stand to use my 920 for more than a few hours without loosing my mind.. And, I thought the screen was so big... Lol.. Anything under 5" is pathetic.

But 480p recording videos....

Its not a phone you would get probably but its not meant to shoot a documentary but it'll do a birthday cake at a party. On a small screen, it'll look pretty dang good.

even low end androids manage 720 in the back...not sure what's up here.

Marketing has never been one of MS's core competencies and will not given the way they label their phones. While those devices seem to make sense, the product names are a big mess.

This is a whole lot better than what they used to put out, people critisied that they didn't show off enough of the features of their products. Now it looks like they are delivering in that aspect.

Might as well go straight to the 1040, and 1540, because it's taking so long..

They will not use digit 4 as Nokia, I guess.

The next digit is reserved for Windows 10. And as they skipped the 9 with Windows versions, they will probably skip the 4 with device numbers. And as you stated, Nokia never used 4 in device numbers. If we get a flagship before Windows 10 it will be the 935, 1030 or 1530. As they always announce 2 photos at ones, there is hope for today.

I believe they will stop the number series naming Nokia did, like how they dropped the Nokia brand in Windows 10.

If that were true why didn't they start with this, the first Microsoft phone?

Simply because Windows 10 is not released yet. This transition is really awkward, but things will fall in place once MS showcased its new OS. I hope.

I lik dat 535 bcos of the 5mp front and it looks beautiful. Almost lik 625. 1Gb RAM

I wish Microsoft made adv. like this in India also, all we have here is an adv. which shows a red gift box while promoting 730.

I'd prefer 630 rather than 535.

Why. It lacks front facing camera. Led flash. 1 gb ram. And the display 535 is offering. I'd rather like 535.

do have clear black display ?... because if it does... this is a killer budget phone

its a great little phone, I will get one to replace the 635 I have, be patient a high end will come along very soon, WP dominants in low end so that's why the release, more people will buy this and get the word spread.

This will make many people reluctant to buy any of the other models. Why buy an 830 if an 835 may be around the corner, with much improved specs?

True. Why by any phone at all, in fact... ;)

This time next year we'll have a flagship. Hopefully.

A rather soulless video that doesn't hit the mark. Plays like a dull government information film.

Soon we will be in 2015 and still Microsoft gives as a Windows phone without HD display phones and awesome processors it's cheap yes but it is not really good

When my contract runs out I have to sign another two year contract nothing be offered by Microsoft at the moment is tempting me to stay with this platform.
I want a drop dead gorgeous dogs bollocks of a Windows phone not some entry level gubbins

I'm right there with you. Contract ended on Sunday and it's close to 2 years without a 920 successor on AT&T. I wish they would put out the hardware and work on Windows 10 for spring updates.

Same thing. I have a 920 and my contract ended a while ago. I understand why they came out with an entry level device with good specs but I have a SP3 I7, a Band, Xbox one and want the best WP money can buy. This isn't it and the stuff that was around when my current device was made doesn't interest me. I'd love to have a 5-6" device but want a phone that my iPhone and android friends can droll over. Also would love a device that I don't have to charge twice a day like I do now. Gotta wait a year or two I guess. :(

That phone is the 930 but I'm assuming you can't get it cause of carriers in the US. Not sure how it works there but here in Australia sometimes when my carrier doesn't have the WP I want I upgrade to latest iPhone, sell it and use funds to buy unlocked WP.

What about that new HTC phone?

That's pretty nice but the camera is a total crap! the 520 can take better pictures than that "ultrapixel" camera of HTC...

It feels like Microsoft was desperate to get rid of nokias name so they released all the x30 series, no one will be interested in them anymore unless they are x35 or a killer 1030 comes out! Nice way to erase our beloved Nokia from peoples minds.

So this isn't in the U.S.?

Correct, no plans at this point to bring it to the US

Will definately be my next phone...just get Instagram fully functional on WP,throw in tango and am good to go

I'm getting a video not found message

I think this phone has great promise in emerging markets! May even appeal to budget minded here in U.S. if it makes a debut.

No plans at this point to bring to the US

Does these cameras have autofocus???

The main camera is Auto Focus. I think all the front ones are fixed focus.

What is Cortana doing in Helsinki?

Am sick of waiting for Lumia 1320 successor...... As Cortana is said to be given some support to Android and Offline Here Maps are now in Android........ I would definitely switch my phone to HTC Desire 820. If Microsoft Lumia 1330 get announced shortly , then probably I would stick to WP..... Slowness in announcements of devices and taking long time in release to market have resulted in Quarterly loss or less profits of Windowsphone . With that news people will come to decision that Windowsphone is failed or about to be END Please Microsoft, don't be like Nokia for delay in Devices

Well your going to have wait a little longer, the transition from merger doesn't come together fully in a space months. Especially after the firings, everything is bound to be up in the air. Never the less the recent leaks of a successor in the 1300 series looks sort of legit. Plus in the US it is still early morning for the 11th.

cortana is avail in grrmany?

Since when is Helsinki located in Germany?

Many Grr. But not in Germany.

Just curious what name MS will use after every lumia series reaches 100? Will the entire series be moved up like 10xx will become 11xx?

What's the pixel density?

Now who say that the price of Lumia 830 is ok....

Surprisingly nice for a low end phone. Now that's a good upgrade from the 520.

What are the 6 colors 535 got?? :/

Bright Green, Bright Orange, Blue, White, Grey and Black. ;)

Any chance that Glance is included?

Time to upgrade from 520 to 535

Make these types of ad in India.your ads are pathetic to say the least. Come on Microsoft market wp well in India it is great os except for some apps.

Oh look! Another WP... low-end. Carry on, nothing to see here.

I bought a 630 last year just to try the windows experience and love it. I will be getting one of these as soon as it comes out. It has all the things I miss on the 630: camera flash, front facing camera and 1gb ram. I really don't think you need flagship phones nowadays with budget phones as good as this. Posted via the Windows Central App for Android

Oh no, you are making sense! How dare you!? ;-) I'm glad you are enjoying the OS. Despite people wanting a flagship I think this is a good direction for growth and I think MS is holding of until they have a phone to showcase Windows 10 the way they used the Surface line to showcase 8.

flagships are better to be released with windows 10

They better be, just imagine the hullabaloo that would follow if they announced windows 10 with low end phones and then stayed quiet for 6 months :P.

LOL, it would be the end of days around here if they did that.

Should have more battery? Or do those devices handle well for a day?

The screen is fairly low res - that should help a bit

Alright then, this phone is similar to lumia 730.. Now wat happens to L730 and L735

The processor mate 730 has a s400 720p resolution a clear black display Carl Zeus lens is that similar???

Plus smaller size, weight, better video quality, compass, wider availability (at this point and also going forward - e.g. the 535 is not expected to be sold in the US).

This is what the 530 should have been - indeed put in an s400 and get rid of the 5 series! Make the 6 six series the base. This is a more compelling device than the 5 series and, bar the processor, better than the 6 series, though the battery is small also. All these different regional devices - this dilution of the range, the consumer ultimately doesn't know what is what. Really, I personally don't like it. But then I have a 1520 so not really interested in the low tier devices. But I would be put out of I were looking for a low end device and knew I couldn't get this. What nonsense.

Haha, MS has never made sense just like a patient in a mental asylum who has a handful of "sane" days and the rest will never make sense to anyone else but themselves.

Agreed. I understand wp only shifts numbers in the low tier, and generally in markets other than the US or Western Europe (judging from the comments on here, coming from Asia) but power users, those that can afford high end devices and those that wasn't something special - what? They'll be served next year? A shame. But then the 1520 still plays top dog so I can tide over - though I carry a gs5 and now a BlackBerry passport, so I'm covered, have an iphone 5s to boot. But I still want an exemplary wp surface phone. But then that surface phone won't sell well, if any of the other top tier device sales are anything to go by :/

yeah, and sell them at a loss.

Isn't as interesting as other Lumia's video....

Cortana is available in Finland then is it?

So, this was the big announcement? Fail.

This is a sick looking device.

Seems Microsoft is trying to raise future customers rather than appeal to their existing ones.

Waiting to see if Windows 10 gives us parity with iOS office applications before investing further in Windows Phone...

Does this phone have Sensor Core?

No, only sd300+ have sensecore(630+)

The name Microsoft on the back panel is not good as much I expected... Its look simple.i expected more from Microsoft

5MP primary camera! Noooo

Now this is what I call a proper phone! Specs and price are just too hard to beat

yupp i thought 1320 isnt a good phone but ppp here in india are buying it due to its screen size and hd screen. thought it would be a flop but many used here are satisfied

solid device, but i will still wait for a high end lumia even if it costs me more money. yes, let the hunger begin.
sofia vergara's voice:
"BOOOOOOOOOOM! hunggga gameeeessssss!"

Another budget phone. I got tired of seeing these endless budget phones.

That logo!? Another change to the capacitive / on screen keys coming up??? Also not overly keen on the Microsoft Branding either... should have stuck with Lumia and the previously logo. These countries are Nokia hotspots not Microsoft hotspots. That aside this is a decent phone but... where is the live stream lol, that youtube video made it appear there would be an event. I just hope they didn't get people's hopes up just to announce a low end phone via a blog post :P.

As people are Nokia hotspots, Microsoft has made this device to grab a huge audience towards Microsoft

It just doesn't work like that, you are referring about people whose first language is not English and their love for Nokia is so deep seated that it will take years to win over. If the build quality is piss poor and reception / quality sub par... Then they can kiss that market good bye. It is an unforgiving market simply because most don't have that much disposable income this is especially true for Bangladesh.
Also the logo doesn't even conform to their other products and looks like something a 2 year old has drawn in ms paint - it is just 4 squares.

What a good start for Microsoft

I really like the way Microsoft is going now. Maybe the phones are not overhyped, but thats actually i love it. To have something that no one have, especially in the Netherlands were everybody got an iPhone. And still all those users coming to the Windows Phone users asking for the nice features and what phone you got. Microsoft you rock

This only on sale for those three markets right now not NL, it will do well in NL no doubt about that - providing it is price right when released.

When it will be launching in india iam so excited to buy this phone ...

Now this is a joke. A cheap 100 $ phone??? Was waiting for some new 1020. I knew it. Nokia is gone and some nasty sh is about to come. I switch to iPhone now

Relax, if you can't wait for next spring then get a second hand iphone :p. No one is stopping you.

Both Nokia and MS dropped the ball on McLaren and had no plan B.

Dude, get real. The Lumia 535 is much better at its low-end market then the 530 was, a major upgrade was needed to be able to compeet. And this is it. Now we can look forward to higher ranges with even better specs.

The only exciting thing is that they showed a cyan color option. Not digging the Microsoft logo on the front. Very plain.

Does it have glance screen?

This name is not ok.. With these specs it should be named either 635 (which is already taken) or 640

Nha. Now, they have to put higher specs in the 6xx series for the same price. This is a good thing.

I think it's an obvious indication they want to be done with 512 MB phones finally.

I am so tired if these low-end toys!

Very competitive phone but the video recording should have been 720p atleast.

as interest in the WP platform fades away, and now that MS has made it easier to move out of WP to get its services, it is not clear why anybody would want this. I mean it is a way to get less apps basically?

One lie that was told was about the gteat Skype experience on Windows Phone.

I'd change all the Lumias I won for Alexandra. She's really good looking.

No 1080p video recording from rear or front cam?? This is a drawback.. well i guess how gaming performance on this device would show up will b interesting to know.. Posted via the Windows Phone Central App for Android

Still No True Multitasking on WP I will back to Android

LOVE LUMIA 535 :D ... Finally mid mid end mobile phone with 1GB RAM... Thanks Microsoft

She is in Helsinki and uses Cortana. Maybe a hint on more EU states to become Cortana :)

Is that's it?
No more phones?, just that Lumia 535?

so, what's the difference between 5mp front facing camera of 730 and 535?

Great looking low budget phone MS. Not too happy bout 5inch screen tho. Should've been 4.7 out lower. Now I'm expecting the 940, 1030,or 1530 earthy next year for us power lovers

99% the next lumia flagship will have snapdragon 801 , and Samsung's. Flagship will have 808 ....

I read through a Chinese source that the 940 pose to have snap dragon 805. Rumor tho. Hopefully it does ave comes out early next year

Because Android needs it to keep up.

I just want a 5.5" micro SD removable battery phone. Please.

Looks like I'm going to be replacing my Lumia 630 with the Lumia 535 then! ;-)

Just this ? Where is the 1330?

It's just an announcement. #moreLumia has yet to start.

Christ. Microsoft release a crappy low end device after their takeover of Nokia. They shoud have halted all these device realeases until they had something 'WOW'. A true flagship device. Not a flagship based on last years specs. I used to root for WP 5 years ago as the 'underdog'. Today i think this confirms my urge to remain with android and ios

I have a lg g3 seating on my desk, can't compare my 930 to that.
Windows phone is way more fun to use throughout the day....
My opinion

Yeah, good idea to put a stop on devices for which the supply and production chains were already in motion, and for which the sales volumes are likely to be manyfold compared to any flagship device. The only thing they maybe coudl have entertained is keeping the Nokia labeling on a bit longer, but not sure the upside of even that would have been that great. MS needs to start building its own brand, carried by "Lumia" as the marketing lead brand of course.

Is it a conference ? So I can watch live stream ?

Denim is Windows Phone 8.1 Update 1 :-)

I said GDR 2 .. Not denim or GDR 1

I'm gonna get it as soon as it releases in the market, just can't wait for selfies and the bigger screen

+1020 waiting for 1030 :)

Looks great but will wait for a high end phone to switch my amazing 920.

I was at school, can I watch the event??
Thank you

Will the Snapdragon 200 slow down the phone, seeing how it has quite a large screen to push? And is it with ClearBlack tech too?

5" with only THAT resolution?
Oh god...

I thought every Windows Phone was aimed at the entry-level market, given the lame offerings.

Wide angle ideal for selfies? In what universe?

This is not for me as I want a flagship device. However, this is the forst low end device that has impressed me. Sure 200 processor is crap, but 5mp cameras on front AND back, 5 inch display, sd slot, 1gm ram...not bad. Way better than the 630.

When will their marketing team leave? Seriously...

Not for me. I mean, SD 200? Really?

Yes, really, for $140! Btw, perhaps you are not in the US but in case you are (your avatar seems to imply you might) - they are not even planning to bring it to the US at this point.

She should buy some lights for her bicycle...

I'm saving mu money to get an Xbox one now. not interested in biying phones as my phones working fine though little buggy in dev preview. or else if i have to buy one then would wait for flagships to be released with windows 10

So what's happening. Is this the only device being announced??

A lumia with a glowing in the dark back cover would be cool

There are 3d printers, and there is glow in the dark filament, go for it!

NEED a fucking flagship phone already. So tired of the budget bullshit.

People will just get a Xiaomi or Oppo here in Malaysia. With that price you can get a snapdragon quad core 8mp xiaomi 1S. If Microsoft want to have a fight in emerging markets, they don't need more low end models. They just need a very decent low end model and unbeatable low price. Xiaomi has less low end model but they can sell 750000 smartphone in just one day for Singles day 11/11 sales

It's a good phone with nice specs..also I like the feature that it got both side 5 MP front and wide angled camera n 5 MP back camera..n. 5 inch screen...which is quiet good in such a price range....it can compete the Lumia 520,525,620..

Microsoft's One OS dream is slowly taking route am gonna contribute by getting their very first Microsoft branded device Lumia 535 single sim..

We want a hands on video from windows central as well!!!!

Ouch that battery wont last long...

low-ish res screen should help a bit.

I really like this device..i always like cheap windows devices because its feel great to have a smooth experience in a cheap package although now I have the 920

I would like one for Verizon, perfect starter for my mother-in-law.

Only good news for me is the return of the cyan colour.

does anyone know when its going to be available at stores in india??

I have just received my Lumia 735 by courier that I have been looking forward to I have bought it as upgrade on PAYG I have opened it & in the box is a l630 unreal ihave just rang them they just asked for imei on the phone & imei on the box waiting for a call back they need to hurry been looking forward to getting hold of this phone for ages I'm gob smacked by this but in a way its funny.lol

Did not know that they already got Cortana in Finland.

Same spec's as the BLU Win HD. But BLU has a 720p display.

I like it! Personally, I'm not very interested in the high-end phones, and obviously after their experience with the Lumia 520 MS wants to build on their strength at the lower end. This phone will be really competitive in the lower end, and in other countries where a $140 phone is really the top end for most people. Don't worry, flagships are coming, but from a business perspective the mass market is more important. Flagships get the press, but the mass market is where the profit is for Lumia.

Wow, I prefer this to my Lumia 630... Take my money.

It's not even 720p. This is a failure

Specs are low, but for a 140$ phone this is ok. The only thing that is really really crap is the screen with that resolution :(. At 5" it's too low! As for the guys here that wait for a flagship device, my opinion is that I would wait longer if the device that will be released will have far less issues than the current ones and here are some examples: Lumia 930 overheats like hell and for many users because of the heat, the screen lifts up on the bottom right side. Also when browsing web on 2G network (if you are in a non 3G area) the screen is flickering like a mad '80s TV. This is not acceptable for a high end device. Also the 1520 is a great phone despite it's size, but the Scroll issue and the horrible noise when shooting video on low light conditions, or you are filming spots with lower light, well these should NOT be present in these devices! OS flaws can be fixed by updates, but HW failures caused by poor testing before releasing? What can you do in this case? Just return the phone to warranty and "hope" that the new one you receive (if you do receive a new one) does not have the same problems?? I've seem people returning 930's 3 times with the same bad result..so...be more patient and hope that the next high end WP device will be free of such severe hardware bugs.

I'm still happy with my 1020. My battery still lasts 24 hours of normal usage (5% in idle across the night) Now I want a Windows 8.1 tablet and have been seen a Chinese one: Onda Tablet, seems ok and have good reputation on the web.

Is this it for the announcement today? Just the 535 or is there more? Anyone with any leads in that department?

What does Skype integration mean? Is it similar to whatever named thing Apple is doing where you can take a cell call and transfer it to WiFi?

Cyan returned finally! It caught my eye on the first look, love that color!

Not impressed. I too am hoping for a flagship to replace my 1020.

1. is the home button "soft" or "hard"?
2. I love yellow (using 1020), but I would like to try out a blue one.

Definitely on-screen (if that's what you're referring to by "soft").
I really don't get the on-screen-button-thingy regarding Microsoft devices.
I understand they activated it so ODMs could re-tool already existing Android-chassis as Windows Phones.
But Microsoft doesn't have any Android-designs to recycle, so they could cut that cr*p out on their devices and leave the option for on-screen-buttons to the ODMs.
I guess this will the dealbreaker for me. Otherwise Lumia 535 would've been an awesome replacement phone.

No carl Zeiss!n this is the way MS launches its first rebranded phone!

Should hv been a flagship

For now, all I care for is the future of current Nokia WP and Windows 10, has anyone got any official news about that? No more rumors please

Is this the 11-11 announcement?

This has my attention. Possible update from 925?

When lumia 535 launching in india?

& also tell the price of 535 in india :D

Damn nobody is mentioning the gpu??Is it Adreno 203 or 302?

Lumia 535 is having some serious touch issues just bought it today. i wasn't expecting this from MS -_-
Windows Central Newsletter
Get the best of Windows Central in in your inbox, every day!
Thank you for signing up to Windows Central. You will receive a verification email shortly.
There was a problem. Please refresh the page and try again.