Microsoft posts official Surface Hub user guide ahead of Jan. 1 ship date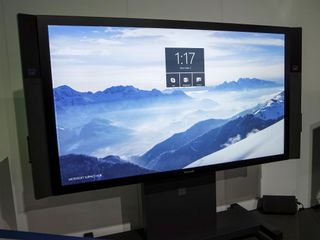 Microsoft is apparently getting ready to ship their big Surface Hub business and education touchscreen PCs with Windows 10 installed. The company has posted up the official user guide for the Surface Hub, offering information on how to use the huge 55-inch and 84-inch PCs for the schools and companies that purchased them.
The user guide gives owners of the Surface Hub some tutorials on how to interact with the PC, via the touchscreen, a touchpad, a keyboard or via the Cortana digital assistant. It also shows how the Surface Hub's whiteboard feature can be used in business meetings, and also offers tips on how to maintain and take care of the PC.
Microsoft started taking pre-orders for the Surface Hub in July, and is assembling the PCs in a factory located in Wilsonville, Oregon. The 55-inch model is priced at $6,999, while the 84-inch version has a price tag of $19,999. Microsoft has not yet announced how many pre-orders it has received for the Surface Hub, stating only that it has "seen strong demand out of the gate".
Source: Microsoft (PDF) (opens in new tab); Via: Petri
Well users should know beforehand what their device is capable off

Does it work with continuum?

Especially if it has a HDMI jack.

you can use the display dock via HDMI or Displayport OR miracast! (page 19 (or 13 based of page numbering in the PDF) of the pdf)

I can't wait to see the Windows Central unboxing. The whole gang should be in the pics and video

It should have a full sized animated Cortana on the screen too, not just the pulsating circle.

I don't wanna sound like a negative nancy, but I am genuinely curious what makes the 55" Surface Hub worth the $6,999 or even crazier, the 89" version for $19,999? In terms of pricing, I understand there are two things that we have to factor in, that are pretty obvious and quite logical: The cost of the hardware. The extra margin to actually make money on selling the device. I'm curious as to how much would a comparable computer cost and a comparable monitor costs.

it aimed at big Businesses and enterprise users.

A 55" Touchscreen plus a business grade video conference system plus whiteboard plus plus plus... and hopefully without much hassle. We have ordered one of the smaller hubs, because it is a very good deal.

"Hey Cortana, start the meeting" = priceless

I dont think there's any comparable computer or monitor of this scale. Hence why Microsoft is able to price it out as it is.

Doesn't hp or one of the other OEMs have one in 20"
Windows Central Newsletter
Thank you for signing up to Windows Central. You will receive a verification email shortly.
There was a problem. Please refresh the page and try again.