Microsoft publishes Remote Desktop Preview for Windows Phone 8.1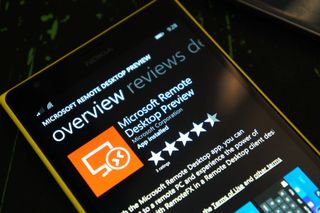 Microsoft has released a preview of its Windows Phone Remote Desktop app on the Windows Phone Store. Should you be rocking the Windows Phone 8.1 Preview for Developers, you'll be able to take part in this beta program too. The app enables users to connect to remote computers and enjoy the full Windows experience through the small screen, regardless as to where they may be currently located.
We previously looked at reports of Microsoft working on a Remote Desktop client for Windows Phone late last year. Some features boasted by Microsoft include a rich multi-touch experience with remote desktop protocol (RDP) and RemoteFX supporting Windows gestures. This support joins high quality video with improved compression and bandwidth usage – perfect for those on tighter data plans.
Neowin also notes that this could well be a universal app, looking into how the purchase history on Microsoft Accounts appears to list only the downloading of the Windows 8 counterpart, which was released back in 2012. It would make sense for Microsoft to make its Remote Desktop experience universal across the board, but there's no indication this is yet the case.
via: Neowin
Get the Windows Central Newsletter
All the latest news, reviews, and guides for Windows and Xbox diehards.
Rich Edmonds was formerly a Senior Editor of PC hardware at Windows Central, covering everything related to PC components and NAS. He's been involved in technology for more than a decade and knows a thing or two about the magic inside a PC chassis. You can follow him on Twitter at @RichEdmonds.
Yet! At last! :D
Even though TeamViewer is not that bad...

Why can't they just make this connect straight away with just a few simple steps? I've tried everything but still can't connect and my PC Remote Pro that I bought can even no longer connect again. I've f**ked my my PC settings now. :( UPDATE: Now under credentials, what is the username and password? The same as my Microsoft account?

The credentials you use to sign in on your PC. If you have a local account, enter your account name and password and if you have a Microsoft account, use your Microsoft credentials.

Is is normal for the PC to go back to the start screen once the windows Phone app shows your desktop?

Yes this is the default behavior of RDC. It logs you out from other session.

Yes, it is. It's the same with a remote desktop connection from another PC. Once connected, the PC shows the Start screen. You can only be logged in from one device at a time.

You also have to make sure that you open/forward port 3389 (default) in your router and PC.
Lastly, go to System Properties, Remote and allow remote connections.

Stating the obvious: If you're forwarding through your router, make sure you have a good login. administrator/password is not good.

TeamViewer required me to do NOTHING to my routers. Once again, third-party apps rule.

TeamViewer also requires you to install an agent on your computer that runs constantly. They are also in the business of helping IT professionals keep multiple organizations organized. RDP requires no additional software. So either way, yes... You had to take an additional step of creating a TeamViewer account and installing on your PC. And... Again... That is their main focus of business: Remote software.

Yeah...that is one way of looking at it. Of course if security is important to you (or regulated by law for your business) then not so much. TeamViewer doesn't require router security adjustments because by installing their software you are creating a constant connection to their third party servers. As long as you trust them to keep those servers (and your computer) secure that is fine, but it's certainly not something that should be built in to an operating system like Windows. Also, if TeamViewer's services go down then you can't connect to your PC. Microsoft's Remote Desktop is a direct connection and does not require any third party infrastructure which is important for security and reliability. In my company, installing TeamViewer or similar software on a business computer can get you fired. TeamViewer is a good product, but it's not the right tool for the job in some cases. Although the concept is similar, Remote Desktop really is targeted at different goals.

That's because an agent running in the background on the destination computer you're trying to connect to is linked to a remote server. When you try to connect from another computer you contact this very server rather than the destination computer itself. All communications go through this server which keeps the tabs on all computers (the computers report to this server). Remote desktop works in a different way -- you connect to your destination machine directly.

TeamViewer connects in a completely different way that is not appropriate for all environments. The reason RDP requires a port forward (if crossing a gateway) is that it is an unsolicted connection going through a router. Those are normally blocked. TeamViewer uses a service which negotiates the connection between client and server, so it uses a solicited connection from the target computer. That is the only reason why it doesn't require a port forward. If it does what you need and meets your security requirements, go ahead and use TeamViewer. Don't pretend it is a substitute for a protocol like RDP. It isn't.

Is there a way to connect to my laptop through the phone even if my Phone is not in the same wifi network??? As far as I can understand I can only connect to the laptop only is both the phone and the pc are in the same wifi network. Didn't have a way to test otherwise.....

The username and password you use to logon to the computer.

I am just not looking at anything since I installed mouse remote Pro. That app is the best one every made.I have my pc pinned to my start screen. Install their app on pc and enjoy the awesome experience. They are updating their app frequently.Teamviewer and this app as well as other ones are shit. Wonder why no one on WP central has reviewed mouse remote Pro.

The mere fact you don't like some apps doesn't make them shit. I bought the PC Remote PRO which also comes with your mouse pro but I love this Remote app from Microsoft better. Everyone has a taste ok...so they're not shitty apps.

Yeah you need the @hotmail.com or whatever in your username

Yay! Microsoft is on steroids.

<ahem> TeamViewer. I use it on all my machines and it works so incredibly smooth on Windows Phone I just can't see Microsoft's Remote Desktop touching it. I'll stick with TeamViewer.

Glad TeamViewer works for you. Personally I'd rather use the build in services of my PC's, so I've been wanting this really bad. If you are using non-Windows PCs and servers then TeamViewer is probably the way to go. Those of us that have been relying on RDP and using it have learned all of the tips.and tricks and we forget there is some work (routing, firewalls, permissions, etc).

This. I have nothing against TeamViewer, but at the end of the day the simple fact it that no matter how good it is, it adds additional attack surface area. Really looking forward to this official RDP client.

This app makes my brain hurt... ;_; Someone hulp

Actually I found a problem. I locked my screen with it running, my glance screen went upside down.

This was my biggest want in the app department RemoteDesktop has been incredibly buggy on WP8 for me, always dropping connections. (now my biggest app request is the Kobo app)

Hey, did you try downloading all your books as epub files and using another reader for them instead of Kobo? I haven't done that exactely, but recall that Kobo used epub files format which is universal so you should be able to still read your books.

I use connectMe for WP, best RDP experience I've ever had. Not buggy at all

Oh XP, how we love you so!

Sweet. Now bring in RemoteApp!

Oh yeah, no more Splashtop

So how do i get this to work with my laptop exactly? Do i need to get the app for it on my laptotp as well

You just need to enable remote connections to your computer. Search 'remote' in your Windows+S search or your Start menu if you're on Windows 7, and you should find it pretty easy by looking for 'allow remote access to my computer'. Don't confuse it with 'remote assistance' which is a different thing.

Tells me mu pc name is wrong. Is the pc name not the same as computer name or full computer name which can be found under System?

Can you not use the ip address to make sure

i am using proxy network for internet connection... for that i set up my lan connection with some ip adress and dns server..... it is not connecting to pc with any ip address(my proxy ip and system ip and system name)..... i have turned on everything related to remote desktop..... any one please tell me how to connect to remote desktop in proxy network......???

This, of course, works only if you have "Pro" version of desktop Windows or higher. Home editions don't have RDP server.

Good point, I always use Pro so I forgot that.

Don't mean to be that "complainer" and I know this version is meant as an early preview for developers but it sure it frustrating that the windows phone app doesn't tell you the reason why it can't connect or better yet simplifty the process of connecting as remote desktop. if the reason is you don't have a "Pro' windows it should just state it when it's trying to connect. Is it that complicated to configure that as part of the troubleshooting? Please keep things sweet and simple. my 2 cents

Trouble is, if you don't have the Pro version then there is no Remote Desktop service to connect to, just as if you had Pro but hadn't activated the service. There's no way the app can tell the difference, and any ability to do so would be a security breach on Windows' part.

Is there a way to connect to my laptop through the phone even if my Phone is not in the same wifi network??? As far as I can understand I can only connect to the laptop only is both the phone and the pc are in the same wifi network. Didn't have a way to test otherwise.....

You can if you open 3389 (TCP and UDP) on your router and forward it to your computer. Try portforward.com to see if they have instructions for your router there. Then you just need to know the public IP of your connection, or use a service like no-ip.org to get a domain name for your computer.

Or you could try Nokia Beamer although you still have to have both your devices connected to any network. Or get the Project my screen app on your laptop, PC and use it with a USB cable

you just need to enable remote desktop on your laptop

OHKAY always used to wonder why that setting was there. Thank You All for your comments

can anyone please two me how to configure it?I use Windows 8 on my pc

Or just tell him like a non dick person would. He asked a simple question like your supposed to do on here. Don't like it? Leave.

I suggest to use something like a forum for that. Maybe WPcentral provides a framework already?

Give a man a fish and you feed him for one day. Teach him how to fish and you feed him forever. Or something like that...

He will learn better by handing him the rod 'n reel politely rather than throwing it at him. Don't we all?

Bing.. Or whatever, here's a link http://windows.microsoft.com/en-us/windows/remote-desktop-app-faq#1TC=wi...

You need to enable remote connections on your PC, then make sure the required ports will come through yoru router's firewall and use the IP your computer ha son the internet to connect. See also: http://windows.microsoft.com/en-us/windows/remote-desktop-connection-faq...

I think mac supports rdp. So it might work

Mac doesn't support rdp, its a protocol built into windows

It doesn't work for me even after allowing remote Access on my computer ...
Can smby help me ?

Make sure you uncheck the box that says: Only allow connections from computers running Remote Desktop with Network Level Authentication... You won't be able to connect if that is ticked...

Yes you will, and that option is actually recommended. What it means is that it forces authentication at the time of connection rather than allowing the remote OS to show a list of users you can login as. Nothing that will stop you connecting.

Considering it was designed for PC's and not phones... And considering I just connected twice with it unticked, and was unable to connect on the time in between when it was ticked, I'm going to stand by my original statement...

Maybe that problem is with your login credentials than? I have problems with them as well. sometimes it displays the microsoft account.. sometimes the local user account.. sometimes not working at all :O

I connected to my PC with it ticked, so I'm not going to stand by your original statement.

That would be a problem with your configuration specifically. I have never had a problem over many setups (I use Remote Desktop for everything) and I wouldn't recommend leaving it off unless you have no pretty choice. If NLA is off then it enables someone to connect to your computer and see a list of user accounts (and then try to login to them) without needing to provide credentials.

Paul... I have network authentication checked and i get in fine.

In this day and age, require NLA. Do not uncheck the box. It does work.

This has nothing to do with it and is quite frankly bad advice. Microsoft has been pushing NLA for years because of a known vulnerability in RDP itself. NLA forces authentication before the session begins. NLA is enforced on all my gear by Group Policy. I had no issues connecting to my workstations or servers.

Here's a guide from Microsoft themselves: http://windows.microsoft.com/en-US/windows7/allow-remote-desktop-connections-from-outside-your-home-network

Are you connected to the same network with both your phone and computer? If not you will need to open the correct port (TCP & UDP 3306) on your router and forward it to your computer.

Yes , my PC is connecter with internet sharing of my 920 , i use win 8.1 pro , the allow connection only for Network Level Authentification is unchecked.
After i type the ip address of my compute in the remote desktop app , i get error 0x204 : Can't connect to the remote PC

Use your PC's name, not the IP address...

Well , it says enter host name or ip adress , and in both case i get an error : If i type the ip address i get the 0x204 error above and if i type my pc name i get another 0x104 error : This PC Name cannot be found ...

It's because you are internet sharing... This method is for when you are on the same Wi-Fi network... Your phone is not connected to the same Wi-Fi network because it is the Wi-Fi network...

I get the same problem here. Actually I use the school's Wi-Fi network. But I've opened the remote function even for the public/work network. How can I fix this? Phone: 920
WIndows 7 (Package 1)

Works for me at work if I provide my workstation's IP address. If the blasted app would allow <domain>\<machinename> I could probably connect using the name. But \ is among the list of banned characters, so I get a 0x104 error. The same thing happens with our wireless laptops, except that they allow connecting using <domain>\<machinename>.

turn off your windows firewall and try. if it work turn on your firewall and add a rule to the port used 3389

No need for that. Windows opens the firewall port for you automatically. His problem is that he's using tethering.

There's your problem: Internet Sharing. Most mobile data connections don't allow incoming data connections, and even if they did it would come to your phone rather than being routed through to your PC. Your computer and phone should both be on a LAN, or at least the computer on a LAN with the correct ports open to allow Remote Desktop to get in.

If you're going through the router make sure port 3389 is open for UDP traffic

Both UDP and TCP, and it needs to be on the router or premises firewall, not on your computer firewall.

Yeahhhhhhhhhhhhh. About time ms, keep up the speedy realeases. WP8.1 looks like the second(third) coming of wp :)

Cool! More sweetness form MSFT!

This stuff should really be as simple as logign in with a microsoft account.

No thank you I want to use my own login name and password. The cloud can fuck off in my opinion.

Wow, what did the cloud do to make you so cross? share with the group....

Sshh! - Theyre listening *right now*


Works fine with my Microsoft account. I do use dyndns since I do not have a static IP.

Except that most corporate environments do not use Microsoft Accounts.

Downloaded and it is good.

My first impressions are that this is very well done. The slickness of the UI and UX blows the alternatives out of the water. Nice to see all the edge gestures work too, as it disables the action centre like games do.
Very nice work.

I agree, it looks very well done indeed. However, on a 920, the screen is just too small in desktop mode. The only way I could get to the start screen was by hitting the windows key on the keyboard, or swiping left to pull up the charms. Trying to hit the logo on the bottom left was simply impossible. I suspect it would be a much better experience on the Icon or larger screen. Not sure I will have much of a use for it on my 920.

This is why I got myself a Lumia 1520

I notice some apps in the store show an icon that looks like a phone in front of a tablet or screen. Ideas on what this is? Xbox music is shown that way for one. Halo Spartan Assault is another.

Buy on one device, use it on all devices. Universal apps.

sometimes a swipe into details show details about something. give it a try!

Anyone out there use PC Remote? I haven't used this official Microsoft solution yet but I feel like PC Remote has been doing what I need as far as a remote client for my phone goes for a while.

Third party software running server services on my desktop, are you insane..

Seriously, even your avatar could use some anger managment, methinks..

I've used PC remote for years but I'm about to delete it as this is much more fluid, functional, and better designed. PC remote was a great app for me going all the way back to the wp7 days, but this finally trumps it.

Follwed MSFT's online guide to-the-letter but i get error 0x204 on my phone when trying to connect...

Same here , are You using internet sharing from your phone ?

Just tried it. It works great. For some reason couldnt connect with PC using name. Used IP address instead.

I don't think your phone does DNS so it cannot resolve the name. IP address just points to that service.

Of course every phone does dns-queries. :) But it most likely can't resolve plain hostnames via netbios or dns (think "Windows network"). I have Active Directory and DNS servers in my local network and this RDP client can connect using full dns-names (like hostname.domain.local).

I suppose this is only for 8.1? I'm still on 8.0 and the store states that the this app is not for my device (1020).. And yes, i am on the US region..

Maybe the first two sentences of the news will help you answering this question?

I read it was a beta, and i read it was in the context of 8.1. I didn't get that it was just meant for 8.1, hence my question. Thanks anyway..

Universal apps are not supported on WP8, require WP8.1

I guess this app was there in the store earlier. I downloaded it a few months back and found that I couldn't connect because I didn't have Windows 8.1 Pro. I uninstalled it then from my phone. Last week I upgraded to pro and tried looking for this app again. All I found was third party apps and not the official Microsoft app I had earlier. After upgrading to windows phone 8.1, I found it in my purchase history and downloaded it from there.

Finally i can open my azure virtual machines on the go :)

Was searching the store for that app last night, felt silly having on iPad and not on WP.

Teamviewer has been available since more than one year and it does the job well too.

Needs a server app on the PC though.

For the less technical user its a blessing though, no nasty router configs to play with...

No transparent tile :( Wish it sync'd with its Windows counter part as well so I didn't have to add all my connections again

When you pin the app to the start screen, the tile is not transparent. But the weird thing is that when you add the app to an App Folder, the tile becomes transparent.

It works but for me zoom work little strange - once it works and once not. Also cursor sometimes have something like accelerate mode - I touch it and it fly's far far away :) Third thing is keyboard – for me it could be little smaller but maybe it is first impression. Apart for this it looks good.

Anyone how to configure it ......

Damn! Is anybody having 'NOT FOUND' in the store after using link from the description? Is this preview limited only to some regions? I'm from Poland and usingg wp8.1 dev preview on my 1020 and it says 'not found' o.O

Doesn't work in Germany either.

Try this link http://www.windowsphone.com/s?appid=299b09ab-207e-441c-9e8e-c8d66c20b76b

No luck - thanks anyhow though

Change your region and download.

I rather wait and use it on my HTC One where it is availeble for me ;)

no workee at my side as well: not found. thanks anyway for your reply!

Glance screen is 180 degrees rotated after the install this app!! Resolve plz!! Lumia 1020 with 8.1 and Glance background

Soft reset fixes the issue. (hold power and volume down keys till your phone restarts)

Thanks!!! but deactivating and reactivating the glance screen then too. The problem occurs every time I open a remote desktop...OMG flip glance screen!!

Use your screen in flipped landscape mode when connecting to your PC. The glance screen doesn't flip then.

Thank you! But the same thing happens ... I resolve disabling the screen, restarting the phone and enabling the screen again ...

Won't connect.
Error 0x207 - session ended because of a protocol error.

Using this app and the same other remote desktop app give user name and password error even im using the correct one.

Finally it worked . the problem was that I was using the external IP , once I used the internal IP of my laptop in the network it worked

Make sure port 3389 is open for UDP traffic on your router to access from the internet.

well, I can't do that since I'm at work. also the public IP is shared among the network users ( NAT i guess or ...) THanks

OK, so open the port and route it to your PC IP.. sjees..

Teamviewer has done the job for me for many years, Microsoft has come late to the game again and again, hope Microsoft reads all these comments and step into the game

Yes this app is definitely late, but there is no "late to the game" here -- for the people that need RDP, teamviewer didn't replace it. it's a good solution for consumers sure, but for sysadmins... not so much.

Can I get it to work with lan? Like I have a computer and my Phone using the same router. I want that my phone should be able to use desktop using lan because its faster and wont use any bandwidth.

Sure, just type in the PC LAN IP address. The PC name will generally also work on LAN

This baby runs smooth as butter. I made a port forward in my routers NAT to my pc's IP port 3389, and woilla. Even runs good over 3G❕

They need to make to be able to plug your phone into your computer and it just sets up everything on it's own

Is there any way to connect to remote desktop via RDP Gateway with this app?

You should just be able to type in the rdp gateways ip adress. I could be wrong.

it's working for me. just use the gateway address, don't use the PC address. with standard RDP you'd put the PC address in the main address and go to advanced and put the gateway address in. in this case, you just use the gateway.

But where I need to provide PC address in this case? I need to be able to specify both RD gateway address and actual machine address. Behind the gateway it might be more than one PC. That is main purpose of gateway.

I hope that RDP on WP8.1 supports backing up my settings for all the sessions I'll use as a IT guy. We remote into many of our clients. I use ConnectMe and love how it backs up all my settings to OneDrive.

Can't download app
In India, Lumia 720 on wp8.0

Try changing your region to the US or UK and download.

Try the article title .. sjees

It would be great to be able to pin individual RDP sessions to the start screen !!!

TeamViewer is easier to use.

How so? How much more easy then enter IP and login credentials can you get?

Doesn't support RD Gateway, this needs adding to be any use for me.

Same here. Hopefully they will add it before final release. Without remote desktop gateway settings, this isn't very useful for corporations behind a firewall.

it does. just put the gateway address in instead of the PC address. this through me off at first, but it's working now.

Really, are you publishing 3389 as well as 443? We only publish 443 with a valid cert. Works using a browser, not using the app.

we use 3389, no 443. i suppose it all depends on how it's set up. it's definitely lighter on advanced features than RemoteDesktop (the app) or RDP (the application in W7), but it's more stable so far and it supports multitasking properly.

did you try 10.10.10.10:443 as the host? (obviously swaping out with your real ip?)

That won't (and doesn't) work. Using a gateway tunnels over SSL/TLS, it isn't just running RDP on a different port.

If you copy passwords from somewhere else and paste them in, make sure you click show password and check it. For some reason it kept adding Japanese letters to the end of all mine.

Yisssss..! I can stream all my 300 gigs of music in an instant, using the music player on my PC. Now that's sweet !

If you need remote desktop for that you are doing something wrong..

I don't technically need it, I just never thought about it this way. What else would you recommend to have all my music synced up for free and play it with no loading time? It's a pretty decent addition to an already nice service. :)

I used to do that with foobar, since there weren't any apps available that would decode VGM or XA audio.

Actually, he has a good point. Since Microsoft refuses to allow DLNA pull in the music and video aps across all the platforms, you have no choice but to start playing your media from your machine and then select send to from the machine. This would mean I would have to run down stairs to my desktop, start playing a playlist, and the select send to my Xbox. You could play directly from the cloud, but why waste your bandwidth on files you have stored in your house already? With Remote Desktop, you can log in to your desktop, pull up the music ap, play your song or play list, and stream to your device of choice all from your phone, tablet, or laptop.

hi guys help me. iam using win8.0(cracked) tried the methods still i am geting error code 0X207 error message is : session ended because of protocol error: please help me thanks in advance

I got the same but with 0x4 error code (on lumia 1520)

I wonder why Rich Edmonds wouldn't have just talked about actually setting up and using the app as part of the article. If it's something complex or beyond the average user (at least while it's still in the beta stage), then just say that so people don't waste their time.

Dowload inad install ap, open app, type IP followed by credentials .. Information on setting up your PC for remote desktop are widely available arond the net.. Try Google.. How hard can it be.

You completely miss the point. I'm not commenting on how difficult it is (or isn't) to set up and use the remote desktop app; I'm just wondering why Rich wouldn't have bothered to take an extra five minutes to comment on how easy/hard it is, described the basic setup or provided a link to MS documentation. If people are coming to the comments to ask how to use this, then there is obviously a desire for more information, regardless of how easy you might think it is. And yes, the setup information can be Googled. But so what? Much of what's published on this site is available through a Google or Bing search. In the article before this, Sam Sabri wrote about how to keep people from viewing your notifications when your phone is locked. That option is just about the first thing you see when you open the settings for notifcations+actions, which itself is visible as soon as you open system settings. In other words, it is dead simple and almost completely obvious to anyone who has taken any interest in Action Center. Yet WPC published an article on it. And I'm glad they did, because lots of people might not have gotten around to fiddling with Action Center yet. I'm always glad when they publish these basic tips, tricks and hints.

Tried and overall impresses. Gestures work as if you are holding a windows 8.1 pro/rt in your phone. :) i just want to know if i can enable to make the quality at high with all the animation.

Current version is 8.1 and Facebook the same thing :/

Does it works on Windows 7?

Now they just need pptp and Cisco ipsec support

Great that it's finally out, but it's flipping the glance screen on my 1020. Had to restart to fix it. Then used Remote Desktop again to duplicate and same thing happened. http://1drv.ms/1lELfQP

No RD gateway support...you have to be f-Ing kidding me MS.

just use the gateway address instead of the PC address. it worked for me and we use a TSGW

Nope, definitely does not work. I'm guessing someone left 3389 open to your TSGW.

yes, does not work using 443.

Agreed entirely. That, plus no virtual mouse support means that ConnectMe is a far better option at the moment.

... Oops, apparently there is mouse pointer support, it's just not very intuitive. You have to tap on the server name at the top to see that option.

This has bugs, if you use this and Nokia Glance Lock Screen http://youtu.be/jRHNm27DlzI

Confirming bug, full glance screen with notification, clocl etc turn it for 180 degree at least on my L920 with WP 8.1 developer preview, turn off/on phone return glance screen at original position.

yeah, i also got the 180 degree rotation of glace screen.

Excellent, great experience.

What a nice implamentation of an RDP client on a small screen. Instead of attempting to click on tiny little buttons and zooming in / out constantly they decided to give you a pointer and use the screen surface as a trackpad. You can throw the pointer across the screen and it feels pretty damn natural. I like it.

Ah.. finally! I've been using Remote Desktop on my Surface 2 to connect to my Win7 desktop and my win7 laptop since I first got my Surface.. can't imagine life without this functionality... Always wanted to be able to use my 1020 for it as well!

Finally. Only 6 months after iPhone and Android got it!

I'm curious if this uses one of their hidden forbidden secret APIs or if they created it with the dog-food method like the calendar app.

Got it set up and working for both my i7 desktop and my and dual core lappy. One question... how do we perform a right click with the cursor? Its a long press on the version I have on my surface.

Yay, Windows Phone is finally caught up feature-wise to Windows Mobile 2005!

0x108... Any luck with that?

Why bother including remote connection settings on Windows RT when you clearly can't use it there? Wanted to test with my Surface cause I'm not home. Meh

No remote gateway support. I'll stay with RemoteDesktop, which does support Microsoft Terminal Gateway, thank you.

Next is for Microsoft to "Sync" RDP computer connections and extend RDP to "just work" so you can connect to any other online device without tweaking firewalls etc. Even if that is an IPV6 only feature that would be neat. Edit: the phone even lists my other computers in the IE/tabs section. Just suggesting that users want to be able to click on those computers in the list to connect without the pain of having to play with firewalls etc.

Ya tied to our LIVE account I been saying this for years amen brother!

Totally agree! Windows 8/8.1 pc has been tied into microsoft account alreay, why not make it into good use? Put one more setting to allow the computer to be tied to our microsoft account and let us login in our microsoft account anywhere to access our own computers everywhere!

This has bugs, if you use this and Nokia Glance Lock Screen Video: http://youtu.be/dmTcS-CeMwo

A soft reset will fix this issue.

Rich, not to be the grammar police, but your second sentence implies that WP 8.1 is a beta program which, as I understand it, is not correct.

I was about to purchase one of the other two remote desktop apps. Glad this one finally arrived!

WARNING!!!! EXTREME DANGER!!! Using the Remote Desktop App in conjuntion with the Project My Screen app could produce an infinite loop that would tear a hole in virtual reality, bring down all networks, and revert us to the stone age. Please, do not use these two applications on the same devices. You have been warned!!!

Well, I just had to try that out and fair play to WP and my laptop, nothing broke. After accepting the second option to project the display, it did create an infinite loop. I wonder if I could pinch to zoom forever?....

The cool thing that I can miracast my Workstation screen on the conference rooms with this. Even it work fine with Power Point 2010.

Wow, this app is indeed much much better than the other RD apps. Controlling the mouse is natural, and clicking is just tap! Thank you Microsoft. Now I just need a pptp vpn support and my Windows Phone experience is complete.

I quite love the windows 8 app, so I am excited to see how this compares. 1520 makes it more feasible, though it would really be for emergency use hah.

What is the point of using a small screen to remote to a big screen?! I am not surprised that Microsoft does not put this app in their first priority list. Just a complete waste of man days here....

Well for one sysadmins to reboot servers when they're out and about. There are a thousand uses, just because you don't get it, hardly makes this a waste of time. Many have been waiting for this since WP7 was released. An RDP client has been a big missing piece for a lot of people for a long time.

Your concern has been noted. I have purchased Lenovo tablet 8 and miix 2. I remote to servers via WiFi sharing from my Lumia 920.

This is huge, Microsoft is on fire right now! I've been waiting for this literally since WP7.0 released and I've refused to pay for an alternative. I've just installed it and it works first time against my domain-joined laptop. Only need to support RD Gateways and I'll be in RDP heaven and since this is still a beta, I'm sure an update isn't far away. But in the meantime, I can just use the built-in VPN! WP8.1 rocks!!!

I can connect fine when I am on same network but not when I am on mobile network. What settings do I need to change for this. I have forwarded port 3389.

Your probably NAT'd so you need to route from your public IP to your private IP space. Once you open up 3389 to the world everyone whose a hacker starts playing EVIL KNOCK KNOCK jokes, so beware!!! Respectfully, if this makes NO sense turn off 3389 and forget about it.

Oh man this is awesome. I can now just bring my 1520 with me for business trips. To hell with my laptop.

I want a 1520 but that's still not big enough to replace my laptop!

Works fine when connect both devices on same network, but can't connect in different ones. It's needed to connect my PC and my phone on the same network?

You need a route to the device. Example: (Public IP) (Your Modem/Router A ) / (Private IP Local Interface) ------- (Your PC B) You have a public IP and the modem provides the route to your private IP, unless you're on IPV6, but that's another fairy tale. You cannot get from A to B without a route, or in this case a ROUTER. In some cases you have to set the ROUTE in the ROUTER in order to get from A to B. Hope that helps!

Could you make a tutorial please on how to set it up?

Agreed, there isn't much (anything, really) in terms of how to use this within the app or online since it was just released. Having some difficulties...

Bing is your best friend - search for "How to Enable Remote Desktop Protocol" videos. This won't work remotely without a bit more know how, which is somewhat complicated and often requires special hardware, unless you have IPV6 already.

Having a lot of trouble with this. Enabled remote access on my Win8.1 PC, but the settings window looks very different from those I've found in several tutorials online explaining how to do this. It never seems to connect, used PC Name and IP address, as well as my Microsoft account credentials. I am the admin on this PC, no other users. I've seen a few comments here and there about needing a pro pack for this to work. Does anyone know if this is true, do I need Win8.1 Pro on the remote PC to connect remotely?

Sure, you need Pro to enable remote access. A few months back I installed this app but couldn't connect to my regular Windows 8.1. Last week I upgraded to Pro and this app works now.

if u guys have issue, switch your SW firewall off..

Waiting for this since WP7! Clearly they were waiting for Universal Apps. They're kicking ass lately!

I can connect from my Surface (app) to my PC, from my PC (desktop app) to my Surface, but when I try to connect from my phone to either one, I get Error 0x108 (connection error, the session could not be established in time). I tried to uncheck this network checkbox, I set it all up in the settings, it wont work. What am I doing wrong?

This is definately a universal app. I just looked at it in the Windows Phone Store and it said I already owned the app and would I like to reinstall it.

It is a universal app now. It wasn't universal when this article was written. The banner image for the article doesn't show the universal icon. (and it wasn't there when I installed it)

Finally. Got connected. The problem was that, I have Windows 7 and I was using that on account which is not password protected, thats why in credentials page on app I was not able to login. Just set your user account password on Desktop and then login via those from app, it'll work. And also don't forget to enable Remote Desktop too from PC. :)

I agree they never make these very user friendly. Mine is saying it can't find my computer. The name is correct. The computer is set to allow connections. Whatever... Useless to me anyways

Well an app like this isn't really for end-users so it doesn't really need to be user-friendly. It's plenty user friendly for the people who know what they're doing with it.

If your computer is behind a router you need to make sure its internal IP address is always the same (reserve it in the DHCP table) and then forward port 3389 to this internal IP address. Now all you need to do is to connect with remote desktop app to your routers external IP, enter your credentials and you're done!

Doesn't work. Get a black screen.

hello everyone..im just finished update my 520 to 8.1....and i alrady installed RDP inside the device.., but im facing a trouble to established the connection between my laptop (windows 8.1) and my 520, could anyone explain me how to set up it? im using a same live email both on my phone and laptop + i already open a remote desktop setting and im not very clear about to add another user to gain access to remote my laptop... thank you in advance

I've found a rather annoying bug. App itself seems ok, works as expected, but after coming out of the app, my glance background and clock are upsidedown! The only way to get it back the right way is by rebooting the handset. Lumia 925 in my case.

No RD Gateway support as far as I can tell.

The app is scary fast and responsive- on par with the speed of using remote on a desktop. Well done!

This app would be so much more useful if the WP8.1 VPN supported PPTP like ios and android.

Wow..this works really well on my Server 2008 and Windows 8.1 Pro machines... On Windows 8 you can swipe the start screen, pinch to zoom and scroll apps. http://imageshack.com/a/img842/785/w0gd.jpg BTW..I also had the upside glance screen after installing. A reboot fixed it.

Surprised no one here uses mouse remote Pro??? It is 4.5 stars and the best app till now for me.

Great, now I can play Android games with BlueStacks through Remote Desktop!

After logging on it keeps getting stuck on Welcome screen , then it tries to reestablish the connection n ultimately meets the same fate.. :(

Not connecting to my (stand alone) laptop using IP address. Keep getting 0x204 (timeout) error. Can someone help ?? On my laptop, I use Win 7 Home Basic and on my L1520, I'm on WP8.1.
Pls help.

This is so cool!! It kind of make you think about what Windows 8.1 would be like on a phone.

steam gaming here i come!

Mine experience of this is fine, apart from it can only connect to my desktop machine if I'm logged in. The prob with this is that logging in through the RDapp causes my desktop machine to log out. This means I can only connect once, after disconnecting it can no longer find my desktop pc...

And my laptop is running Windows 7 Home Premium edition... Bad luck...

Okay after trial and error it worked on my Laptop using home wifi network. Will this work if my laptop is turned off? Other Scenarios are if I am away on my laptop at home, how do I remotely connect with it if I am not connected in the same network?

You can tell who is in IT and who isn't. This isn't a casual user app.

I think teamviewer stills better... On main aspects as it's more fluid and the options like keyboards and zoom are more friendly..

Been waiting forever for this app.. Love it!! - it's a bit small on my 1020, so I can't see myself using it a lot, but it's good to have in a pinch if I need to do something on my home workstation (usually copy files up to the onedrive to access on the phone)

UPDATE: It's officially a universal app in the Store!

Worthless when paired with the gimped VPN.

These are the one of great move to introduce windows phone and windows 8.1 to the crowd.

Awesome, works great! Works much better than the other RD clients that I have used for WP, IMO! Very easy to use once you get it set up, which is very easy as well (certificate error caught me a little off guard at first). Everything works exactly as expected. Add to that the fact that you only need the app on the device you are connecting from and that makes the easiest way to connect to another PC. Just remember, only for Windows Pro versions and up.

Woh, woh, WOH. Hold on a minute. Remote desktop streaming as a universal app? So an Xbox user could NATIVELY stream/use their xbox as a "second monitor" for a PC? If that is true, SteamOS is absolutely 100% dead in the water if that is true. Valve's in home streaming is pretty darn inefficient, and if MS make it so you have a games console that can play the exclusive console games and do various console things, then let you natively stream your PC... HOLY SHIT BATMAN

So I have the Original Surface RT (running 8.1) and a WindowsPhone (running 8.1), and I'm pretty sure RT isn't supported... Only Windows 8.1 full... Sad day... :'( Can anyone

This works really well, I'm actually leaving this comment using RDC on my phone, very neat! Only a little bit slow

Ok I'm having trouble connecting from outside my current network. I can connect normally within same network when my phone is connected to the same WIFI. Any ideas? Windows Pro 8.1 - Allow remote Assistance to this computer Windows Phone 8.1 Port Listening 3389 Router - Port Fwd to Internal Network 192.168.2.2 3389 Enabled Local Firewall to allow Remote Desktop Manually opened up port 3389 as well For the app under PC Name it works under the same network if I use 192.168.2.2, however when I disconnect from WIFI and try my ip addr or myipaddr:port all I get is 0x204 Is it because I'm using comcast and my IP is Dynamic? I even tried setting the IP address 192.168.2.X in IPV4 (TCP/IPv4) instead of 'Obtain IP address automatically. Am I doing something wrong?

Figured it out...went to canyouseeme dot org and noticed it wasn't seeing port 3389. I realized that I was changing my router settings. For those that have a modem such as myself, I went in and changed the comcasts (xfinity) modem settings as well and enabled port forwarding. Worked!

It works fine, I managed to connect my 520 to my laptop running Windows 7 Professional 64 bits while both were on the same WiFi network. I have to admit I am a little bit disapointed, I was hoping this app could work like a remote control for my laptop as well, but when the link is enabled between the phone and the PC, user's sesion on PC becomes inactive.

Is it supposed to work no matter where you are? Because for me it works like a charm but only when I'm home.

why is it i can only connect to pc from my 8x using wifi? is it possible to connect using my mobile data?

My machine runs Win8.1 (not Pro unfortunately), so I can forget about using Remote Desktop Preview? Cool to be a dirty peasant in front of the glorious Pro master race ;]

Well, it does what it says it will, and the setup is a snap as long as you know your computers IP address, your login name and your password. However, I have to question the usefulness of this on my Lumia 521. The image is so small that it practically has no value in real life. Maybe on a tablet running WP 8.1, this would have some value, but not on a small smart phone screen. I would be interesting to see if this could be done in reverse, where I could log into my smart phone from my Windows 8.1 computer. It might be interesting to add a "Wake on Lan" feature to this.

Shame there isn't a way to set a custom gateway.

Anyone know if there is an actual SHIFT key? CTRL and ALT are here and the WP keyboard shift key provides capitol letters, but it doesn't behave as actually pressing SHIFT in Windows...

Anyway to hide the keyboard?

Anyone know how to do an F4... keys on RDC? You can do C-A-D nit I see mo way to do say an Alt F4.

can you access your computer on your data connection if your computer is on a WIFi network ?

I am having a problem with this app. I cannot use the PC Name to connect to my Laptop. For computer name I used the exact name given under Computer name in Sustem. For Credentials I used my microsoft account. It all worked fone when I entered the IP address but usung the computer name would be more convenient. Please tell me where I went wrong and help me. Thanx!