Microsoft is purging a lot of low quality apps from the Windows Store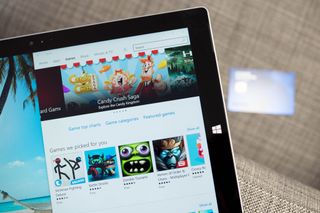 Microsoft is sending emails to some Windows Store developers informing them that their apps have been removed from the Store for violating its quality standards.
Neowin reports that app developers have been receiving these emails over the past couple of days:
Officially, the policies for the Microsoft Store says that apps must have "distinct and informative metadata" and "provide a valuable and quality user experience". There are also some specific standards that must be in the apps, including having a name that is not similar to another app or device, along with offering a description that is accurate about its features and functions.
There have certainly been many Windows Store users who have complained over the years about the large number of apps published that are clones of other apps or ones that are simply poorly made. Hopefully, this new move by Microsoft will help to curb these issues, at least for now.
KEEP IT CLASSY SANDIEGO!!! Posted via the Windows Central App for *********

Exactly what we need who needs numbers if you have the best quality store

They removed their own Facebook app and first party messenger

What's useless to you can be useful for me. Indie devs won't be pleased.

it's not about usefullness as far as i understand. it is about quality.

It's not "if its not useful to anyone"... its, "does it have the exact same purpose as another app but under a different name?" Or "has it got poor user quality". So indie developers really won't be too upset. Unless they haven't updated their apps in a while so it has a good quality, which if so, why would they be upset? MS had informed devs of this months in advance. It's not out of the blue :p

But there are some old apps which have been abandoned but work great.

Yes, there are. But i don't think it's about updates, It's about how well they work.

There you have your answer. "They work great". So they will not be thrown out :)

Clearing out the crap allows the decent apps more chance of being picked up on. Christ, if play store cleared the crap out, they would drop to a third of the apps they claim.

Hhahahahaha laughed so hard xD you made my day xDDDDD

A third? You're being very generous to them

I share your concern. I hope apps will removed purely for their quality and not because they solve obscure problems.

There are a lot of apps that simply don't work or were never finished that were publishd to the store; I.e Hello world apps.

That's not what they're talking about here. They're talking about apps that are literally just stolen code from other devs published under a different name, or completely useless apps with confusing names, like the hundreds of "[blank] features" apps.

Or Waze....
The best real time traffic navigator - soon to be delisted because it doesn't have an age rating. Posted via the Windows Central App for Android

I wish we had an alternative as good as waze, but the reality is it has abandoned Windows 10 mobile/WP since being acquired by google. In general I do think there are some apps that should stay even if they have been abandoned, as long as they work well, but I think an app like waze is more of an exception than the norm unfortunately. On the other hand, I was curious and read some of the recent reviews of waze and it seems pretty limited as it is even though there isn't a better alternative and the fact that it will never be updated...so I don't know, it's like a catch 22.

Hmmmm, Some local apps are bad but does the job, and I believe those devs won't update neither care...the app hasn't been updated since its first release...

This is a good idea, better to have 10000 quality apps than 50000 that are just rubbish Posted via the Windows Central App for Android

Microsoft should do that with the some of the rubbish they release also. They have no QA team anymore apparently, just us Insiders. Windows still has some of the same errors than Windows 8 had and still not fixed.

Can't be the 'same' errors technically speaking. W10 is a completely different beast, starting at its core

Of course they can be. Windows 10 is not a completely different beast, it's a newer version of Windows NT than Windows 8 is, but you can be sure both share lots of code.

Exactly!! They have chucked out some of the biggest loads of total rubbish over the last year in this ongoing forever 10 beta. They put out about every other week...."we have fixed an issue for this, we have fixed an issue for that, and the other, but.....oh, we don't want to tell you we've broken more than we've fixed, but we'll leave that to you to find out, we'll stick a plaster on it in the next build and try again, but, only maybe", and so it goes on and on!!!

Leave the Insider Program then if you can't deal with bugs on pre-release software. Sometimes life is simple after all.

But big bugs end up in the "stable" builds. Certain web cams no longer work, users can't plug in their Kindles to their PCs, and Powershell is missing functionality.

My Kindle connects just fine on Insider Builds since day one and PowerShell is a-ok. I simply don't crap on my PCs. Those "users" should too.
I remember the time when people attended courses and read books how to use computers properly. Now everyone's a power user and unplugs their PC to turn it off.

I did some time ago, simply because things that have been fixed long ago get 're-broken'. It's the culture. But the other side of the coin is when quality devs such as proshot try to put together really good and useful apps, MS can't deliver the services the guy needs to get his AP working, have a look, he has had to come into the thread several times to defend himself, so in the essence of that, It's a no win situation for up and coming and well established devs doing their best for us 'die hards' hanging in here hoping for better things, and trying to make the store better.
Don't take my word for it, go and study the thread on proshot here. So when you have a rather buggy platform such as this, It's no wonder they get so frustrated, or actually pull their apps,or stop updating, I'm not a rocket scientist, just merely observing , also more interestingly is the people on that thread who totally crack up at having to pay what amounts to pocket change/ price of a cup of coffee for a "quality" app. So again, It's a no win situation

If thats the case, then they should remove windows 10 and w10 mobile from stores because it, in itself is low quality. As well as their own office apps on windows 10. Just sayin.

Well then its great that you are not the one making that decision as there would be millions of people wanting your head on a stake for removing their OS of choice... oh but wait I forgot we all should use what YOU use... because you know... you are soooo smart and cool.. women just THROW themselves at you.. I assume a few men do also... tool!

What an ignorant comment...

While I don't agree with sipneat comment I also don't think windows 10 is that bad. All OS's have issues. iOS definitely does and several issues have shown up in the news lately. And have you read the changelog for the latest Android update? No OS is perfect. Just people have a preference over other OS. You don't have to like Windows 10 and I certainly don't care if you do or don't. I'm sure you like a different OS. Personally I like Windows 10 and Windows 10 Mobile. Even if it is low quality. It means a lot to me (and to others) to be involved in something as large as the building of an OS. Overall I really do see it improving. Even from just a year ago it has progressed. Are there things/decisions that make me upset? You bet! And I make sure to let them know. But I don't see Google or Apple having this kind of involvement in building their OS. Maybe if they did I might consider helping them out too. For now though Microsoft is making progress and I really enjoy the OS. I hope you are getting just as much enjoyment from your OS of choice (iOS or Android? I don't remember which one you chose. Either way, they are great OS's just not ones that I have a desire to use.)

Summer_Moon, I upvote you on that answer. I have issues with the way satya is taking 10. I was an early adapter of 10, both on my phones and surfaces, as well as all my notebooks. But as time went on, It was getting more and more relevant that MS is NOT going the consmer way, and I decided to bail. I think w10 is really headed in the wrong direction. You may not. Thank god there is choice!

I agree that no OS is perfect and I think microsoft/windows unfairly gets the stereotypes of "easily getting viruses" and that apple/macs "just work", for example. I disagree that either windows 10 and windows 10 mobile are low quality. Sure, bugs are correlated with perception of quality, but it's not a direct measure. If I had more time/money to get secondary devices I would definitely participate in the insider programs as I would enjoy helping to shape the development of an OS. At the same time, however, I sometimes feel like the insider program has become a double edged sword in the sense that consumers now experience what software development can be like (e.g. flip flopping of skype+messaging and now SMS being integrated into skype) and that some people particpate in the insider program for the wrong reasons (i.e. just wanting the newest capabilities and then judging a device or OS based on unofficial releases). Also, it's harder to recognize the overall progress that is made when you are participating at incremental stages.

It's a very good strategy. Keep on quality apps.

It is about time. If a device wants an app to stay they need to put in the work to make sure the Metadata is complete and detailed as outlined by Microsoft. There are so many absolutely horrible apps in the store that it hampers discoverability. Posted via the Windows Central App for Android

I like this idea. Be forewarned though, this might put us back to less than 100K apps in the store. (Yes, a lot of apps are clones or of very poor quality.) Not a bad thing overall, but could generate more negative press if taken out of context.

I'd rather have the 100k of quality apps. Clones are a blatant rip off of the original devs intellectual rights. If clones were booted from apple store and play store, there could be some kind of parity in the stores.

Do you make inventories of your garbage? Then why should garbage apps count at all? If it is so, then we already had only 100K apps in the store.

My guess is that it won't be a mass purge, at least not all at once. They can take out the low-hanging fruit, like poorly rated or misleading apps. They can slowly work their way up the line after that.

I would be okay with this. 100K apps is more than I need.

If they had done this last year they would have had to purge Xbox music. Bye.

It is purged, it's groove music now. There was nothing horribly wrong with Xbox music, it worked fine for what I needed it to do.

LOL people is so pressed. I love how groove is developing tbh. But Xbox music was terrible let's be real.

Groove app on Windows 10 is very impressive now, much better than what is on Android. I would say it's one of the best apps on Windows 10 now. And I agree Xbox Music app was pure garbage.

Microsoft and Apple are both onto something here...

Yup... Read about it. Maybe there's a Spyware! Haha

If they had done this last year they would have had to purge Xbox music. Bye. I think my grammar is terrible oh this comment, sorry and please correct me.

Also the store app itself was low quality for a long time. And Skype and maps and...

Good. First purge that useless PVR cinemas app. It is beyond useless.

Seconded. Totally useless.

This is what I'm talking about "quality"

They should also remove any app that allows illegal streaming/downloading of copyright material too

I'm for good quality apps regardless of the amount compared to other platforms. If I pay for an app I want quality and getting my moneys worth.

They announced this a year ago, this is how fast Microsoft acts, only a couple of years late on attempting to remove quality of the MS Apps Store.

This is good and bad sure all platform would rather quality apps but windows has barely any to begin with..... oh well

Awesome. Google play needs to do this aggressively as well. Far too much trash in that store.

If they do it, almost 75% of apps would be gone

As long as you know the requirements needed.That's not true

No dude most apps other than the big names have to be uninstalled within 24 hours because of incompatibility even tho compatibility is assured. A misbehaving app on an android phone causes misbehaviors not just in the app but system wide often times.

Same thing should be done to Facebook app for w10 because it is not function well. I mean removing it from store

I agree it doesn't function well at all, at least not on my 650 with its crappy little sd 212. Maybe on a 950? But let's not be hasty lol. We need a Fb app of some description.

Awesome! Better to have 100K good apps than 2 million apps with 90% bad apps Posted via the Windows Central App

I'm looking forward to more very good quality universal apps. Because I want to try something new... Do my work from my Windows Phone. I'll buy a 27inch Monitor and a wireless mouse and keyboard. Gogo!! :D

Yep, my "Placebo Antivirus" - so useless that it has 1.2 million downloads - is a victim of this. Guess somebody doesn't have a sense of humor.

loved windows 8 but losing apps with windows 10 is disheartening, here maps amazon etc, new apps like garmin connect won't sync with my 950, when is is the app problem going to pick up, i'm looking at Android now it's just i know I will miss the live tiles

So I had someone upgrade there 735 upto 10 and said the garmen connect worked great. So your telling me its not working with the 950 in general or just yours?

How'd you guys find this out, did you get the email saying your app was low quality?? ohhhhh.....you just got wrecked!!!


I'm really torn on this. I get it that a certain level of quality is needed, but the stated standards are so open and wide you could drive a fleet of semis through side by side.

So why I can still find amazons app crap in the store? This is one of the most useless apps, there are zero advantages over the website...so why keeping this crap(p)?

exactly even the facebook apps are slow, lots of the universal apps are much slower than they used to be

Ha ha...quality apps in MS store will be like 5 apps. The offical apps that are there are low quality compared to their ios/android counterparts. How do you judge quality......

I tend to judge quality the same way I judge intelligence... given that, you would have been purged a long time ago... ass hat!

I love that I get you so bent out of shape nipplesip. It make everything worth while.

"nipplesip" thats what you came up with.... really, thats it... wow! and im not bent... I just love messing with you... :)

Hey, its more original than ass hat. **** i have been using that term since the 80s! And it is obvious that you are getting bent every time you reply to me! you are not messing with me my friend. not at all!

Can we stop feeding the obvious trolls that don't even use Windows? Please?

Honestly, have you tried those 650.000+ apps to tell this thing???

Are there any quality apps in the store? So far, the only reason I have found to use the app store on my SP3 is it doesn't require admin access at my company. Otherwise the apps are all terrible. It is a tough sell when you have x86 available. Posted via the Windows Central App for Android

You've used every single app, so you know all apps are terrible? Again you show you have a poor concept of logic, and the fact that anecdotal data means nothing.

I have tried quite a few. So far, the games have been Ok, but those either work or they don't, there isn't much that can go wrong there. I used an OK video editor, but it still didn't compare to the x86 options. So far, I haven't found an app that was more compelling than its x86 or web counter part. Posted via the Windows Central App for Android

Apparently you glossed over the anecdotal data part. Also, how does not as good as an x86 counterpart automatically equal terrible quality. You really have to learn the difference between opinion and fact. None of that even includes the fact that the x86 programs are available to mobile phones.

To be honest as a Android Ios and Windows user, if Apple and Google did the same there would be a Lot less apps in their store. Do a search for an app and get pages and pages of similar apps.. Wade through to find a good one because ratings are useless... Depending on your needs, Windows has some very good apps. Same with ios and Android, just more crap to go through to find the gems. Posted via the Windows Central App for Android.. But waiting for the HP Elite so I can get rid of this junkie Galaxy S5...

Apple is also doing something about this problem: http://gizmodo.com/apple-s-app-store-is-about-to-get-soooooooo-much-bett...

Then half of the store have gone.

Excellent. Many people speak ill of Windows Store because of those developers who have no respect for Windows Store users and this shows that they need to do a good job.

Huh... Apple just announced they were doing the same thing yesterday. Guess devs abandoning apps is an industry-wide issue.

I look forward to see this change reflected in my searched for recommended apps by Windows Central and other IT news authors :)

Would be better to just throw everything out at once and then re-approve the few quality apps if there are any.

While your at it MS, how about letting us delete apps from our library? That mess needs sorting!

There are a lot of terrible apps in the Store that purport to be something they are not.

Folks since Microsoft is now trying to get Businesses and Developers to put MS "Universal Apps in the windows 10 store the kind that can run a Windows 10 mobile smart phone and well as on a Full Windows 10 OS Desktop/Laptop computer. Microsoft should take the time to really screen these new MS "Universal Apps" to make sure they are up to the tasks and good

My made a couple of apps with AppStudio that got cut for quality this month. I wonder if they will improve app studio to let apps created using it in? it was a useful app for an Auto restoration shop.

Stuff like this is the main reason why I prefer Microsoft over ANY other platform. iOS & Android stores have more crap than good... Like 70/30

Yes....but the total number of quality apps on iOS/Android are probably 10x the number of what is on Windows. Posted via the Windows Central App for Android

Sorry to say but Microsoft has about a ratio of about 90/10. Crap to good. Most everything on the ms store is half baked third party apps.

Half baked apps isn't the same as clone/crap apps.

In theory no, but in practice yes. Because most act the same way! The half baked 3rd party stuff do not work correctly like the official app on competing os'es.

Long over due MS made the fatal mistake of chasing quality over quality as all that mattered to tech media/investors was numbers, it's why the windows store is largely ignored by desktop users as it's seen rightly or wrongly as a dumping ground for inferior apps. Better quality UWP apps and more UWP/Win32 ports of well used desktop apps are needed to make the Win store a more credible and professional zone.

Agreed. I will probably never buy another windows device,. But apps are needed. Not the garbage that's in the ms store now,. But real apps. Half baked third party options are not the way to attract new users.

Ha ha ha, truth gets downvoted again. awesome.....I love the rose colored windows!

We don't really need plenty of useless apps but we expect some more advanced,built for windows 10, quality UI and up to dated Apps(AD less) .Seriously..... I bet windows 10 mobile can take the lead..!!

This is GOOD. They need this, even though its gotten better over the years. Look at the Yandex Store for Android as an example (its a separate app store like Google Play). It has TONS of apps, but the majority are total crap. That experience sucks, though its funny seeing some of the apps.

And...watch the number of store apps plummet by >3/4

Good. This may hurt short term but it will only boost the Windows Store's credibility in the long term which is needed if we want Windows 10 noobs to use the store.

This goes to all Microsoft devices?

I love the move Microsoft....

...and I was so looking forward to having 147000 crappy retakes on endless-runners just like the App/Play Stores ;)

Good for you MS! And I agree with everyone who said if they cleaned up the Play store they'd lose at least a third of the crap in there. Let's give MS credit when they move in the right direction. We are all pretty quick to slam them when things go awry. Their in a tough spot. There are some good apps in the store, but on a pc do you really need a particular news app? Or should you just go to the website? Do you really care if Amazon's new app is a web wrapper? My answer is no. We need a few critical things on mobile and everything I have on my phone right now works well. I did have to sift through some junk though. Just like I would have to do at the Play store. Some apps are useful, most are not, in my opinion. It doesn't matter the platform or the store. So good on you Microsoft.

They should do a yearly purge.

I am a strong supporter of most of the mentioned logic; unfortunately, the large number of apps that the opponents (iCrap & Android) have is because of all their duplicates, similar names & low quality. I don't know if I want Microsoft to do this or keep all apps possible in hopes that the numbers will attract the attention of people that don't pay attention to quality.

I agree 100%, I just hope everyone else does too and that quality wins in this battle of quality vs. quantity
Windows Central Newsletter
Get the best of Windows Central in in your inbox, every day!
Thank you for signing up to Windows Central. You will receive a verification email shortly.
There was a problem. Please refresh the page and try again.