Microsoft pushes update patch for Windows 10 build 9879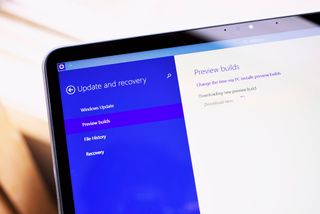 Users on the Windows 10 preview build 9879 are starting to see a patch being sent out via Windows Update. Dubbed the Windows Technical Preview November Update, the relatively small update clocks in at just 1.6 MB. At this time, it appears that the KB3019269 update is being pushed out to resolve the bluescreen error that some were experiencing.
According to Microsoft's Gabriel Aul on Twitter:
It looks like Microsoft wants to see how the update performs before pushing out build 9879 to Slow ring users:
Have you seen the update yet on your Windows 10 machines? Let us know.
Thanks to Paul for the tip.
Get the Windows Central Newsletter
All the latest news, reviews, and guides for Windows and Xbox diehards.
Chuong's passion for gadgets began with the humble PDA. Since then, he has covered a range of consumer and enterprise devices, raning from smartphones to tablets, laptops to desktops and everything in between for publications like Pocketnow, Digital Trends, Wareable, Paste Magazine, and TechRadar in the past before joining the awesome team at Windows Central. Based in the San Francisco Bay Area, when not working, he likes exploring the diverse and eclectic food scene, taking short jaunts to wine country, soaking in the sun along California's coast, consuming news, and finding new hiking trails.
When is vlc, denim, gdr 1 coming to windows phone??

See above...I don't understand why this question is always asked in comments. Do you really think any of us know? ;)

Give it a rest. If you want to know ask them, better yet don't ask and just wait until its ready. I suspect that once it is ready then they'll release it as that's generally how it works.

If they only were as quick with fixing the broken battery saver in WP 8.1... It's been broken since August!

What? Mine works flawlessly

Mine works okay, just wish phone can charge whilst off.

Called wireless charging ;)

I had the blue screen issue, too.

Windows Phone 10 please now :D

There won't be Windows Phone 10.

you mean "Windows 10 for phones"

No, it's not the same. Windows Phone 10 would be like a seperate OS, but there will be no more Windows Phone OS like Windows Phone 7/8, it's basically the same system like on desktop, it just recognizes the device and changes its looks and behavior.

So exe files on a phone yeah.... no
I know that and that wasn't what i meant, what i meant is that WP10/Windows phone 10 or whatever he called it is the same.
because you know, we don't call Android linux, do we ?

At the core, yes, it WILL be the same. They will even share the Market ffs. And Android IS Linux.

How did you even not understand my last comment is just beyond me
Android IS linux, but we don't say Linux Android and it's the same reason people will say WP AND W10, we both will understand what they are still talking about....


You call Android Android, because that is its name. The next version of OS for our phones is called Windows 10. I already said it changes its behavior (no exe-files).

Is it hard to understand when he said Windows phone 10 ? he clearly meant your W10
it's the same thing !

Obviously it wasn't hard for me to understand, that's why I knew what he meant and I corrected him just for the info. I didn't mean it in a bad way at all, I don't know why you seem so pissed about it. He didn't even say a thing about that, but you try to defend him here. (even though there is nothing to defend)

Not really, not pissed it's just that every time someone mention WP10 there have to be about 5-6 people telling him there is no such thing, while it's really the same thing.
I'm not defending anyone, just stating a fact about it being the same.

After denim theres windows 10 right?

Why now? Do you want a bricked phone?

Maybe the WP version is coming soon too :P I mean update 2

Windows 10 at all a daily driver?

Negative. I would highly recommend staying with your current working installation. The initial and second Insider builds were solid. This last build was so bad that I had to revert back to Windows 8.1. I will most likely wait until the Consumer Preview is out next year.

9879 made me go back to the slow ring for update builds. 9860 was solid and I wish I was still on it because the problems im having with 9879 are getting really obnoxious.

I did an in-place upgrade from Windows 8.1 to the initial Insider build. There some quirks that I was willing to put up with but with the latest release, my laptop (Yoga 2 Pro) became unstable and the screen flickering made me feel like I was on acid.

For me it is. But keep in mind that, when something is going wrong or bad, you're on your own.

Just wait for updated build 9879. I myself are switching after that. Should be out next week.

Faster with denim too i will say damnit.

Still waiting for a patch to make my keyboard working properly again. The last update just turned off the lights on my keyboard. Kinda boring

A bit fast , plus blue screen issue is gone . Thanks .appreciate.

explorer.exe is completely broken on my build, have to reboot a few times a day.

Me too, just have to restart explorer.exe, not a big deal ;)

No leaks of win 10 for phones....microsoft might be doing something Big...so much secrecy...

No problems for me. Very impressed.

Good-to-know information :-)

yep, one day too late. my pc kept giving Bluescreen until the point, yesterday, where it became fatal and everything got corrupted.. all files and Sites ive worked on, gone. Too Little too late.. even recuva cant recover them..

Just reverted back to 8.1 as well. Had to download recovery image for my surface pro 3. All good now.

I haven't gotten it yet...