Microsoft pushes Windows 10 build 15060 to Fast ring Insiders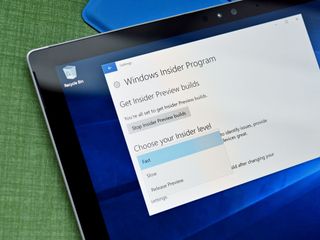 (Image credit: Windows Central)
Microsoft has started pushing out yet another Windows 10 Insider Preview build to the the Fast ring. This latest release packs build number 15060 and, like other recent builds, includes a number of bug fixes but no new features. We're getting very close to a full release for the Creators Update, so that's not much of a surprise. Here's a look at what's new in build 15060.
What's New for PC
We fixed an issue resulting in the Settings icon appearing plating in the taskbar. This issue also resulted in another issue now fixed, where if Settings had been pinned to Start, the tile would become greyed out after the first time it was clicked. Thank you all for your feedback on this.
We fixed an issue resulting in 3rd party IMEs not showing up in Settings after being installed.
We fixed an issue in Microsoft Edge where quickly typing and deleting characters into a website's search box while using the MS Pinyin IME might result in the IME becoming stuck and the website showing "Not responding".
Surface Pro 3 and Surface 3 devices should no longer fail to update to new builds if a SD memory card is inserted if you have the latest Surface drivers and firmware installed.
We fixed an issue where taskhost.exe might crash after pressing Tab while quickly typing in UWP app sign in fields, resulting in not being able to type for a few seconds.
We fixed an issue for Insiders where, after a crash, Microsoft Edge might fail to launch again for a few minutes because previous instances were still suspended in the background.
We fixed the issues occurring when exploring pages using the F12 Developer Tools in Microsoft Edge with cross-origin iframes (e.g. the DOM explorer shows only the iframe DOM, the Console frame selector doesn't list the iframes, etc.).
Known Issues for PC
You will be unable to download new (additional) language packs on this build. Currently installed language packs will not be impacted.
If your PC fails to install this build on reboot with the error 8024a112, reboot manually again. If your PC appears to hang during the reboot, power your PC off and back on and the install will proceed.
Some Insiders have reported seeing this error "Some updates were cancelled. We'll keep trying in case new updates become available" in Windows Update. If you encounter it, please try deleting the following registry key: HKEY_LOCAL_MACHINE\SOFTWARE\Microsoft\Windows\CurrentVersion\WindowsUpdate\Auto Update\RequestedAppCategories\8b24b027-1dee-babb-9a95-3517dfb9c552
Some apps and games may crash due to a misconfiguration of advertising ID that happened in a prior build. Specifically, this issue affects new user accounts that were created on Build 15031. The misconfiguration can continue to persist after upgrading to later builds. The ACL on the registry key incorrectly denies access to the user and you can delete the following registry key to get out of this state:HKCU\Software\Microsoft\Windows\CurrentVersion\AdvertisingInfo
There is a bug where if you need to restart your PC due to a pending update like with the latest Surface firmware updates, the restart reminder dialog doesn't pop up. You should check Settings > Update & security > Windows Update to see if a restart is required.
[GAMING] Certain hardware configurations may cause the broadcast live review window in the Game bar to flash Green while you are Broadcasting. This does not affect the quality of your broadcast and is only visible to the Broadcaster.
Dan Thorp-Lancaster is the Editor in Chief for Windows Central. He began working with Windows Central as a news writer in 2014 and is obsessed with tech of all sorts. You can follow Dan on Twitter @DthorpL and Instagram @heyitsdtl. Got a hot tip? Send it to daniel.thorp-lancaster@futurenet.com.
I'm just hoping for a new slow ring build. This last one works pretty good but it really messed up my navigation. Super jumpy!

I had the same problem with Maps, but after I downloaded offline maps it has fixed that problem.

I always have issues with Spotify when using a preview build. It complains about the audio driver or some nonsense

I hate how disgustingly slow Spotify is on WP. I quit using it in favour of Groove a few weeks now and I don't regret it one bit.

Groove doesn't have most of the EDM I listen to.

Same here. Reboot helps but it's annoying.

That's happened since I got my 950. Never happened on my 1520 or 640

It wasn't happening running release build on idol 4s, but regrettably moved to slow and even after a hard restart, it's still happening.

Lucky. It has always happened on my 950 without fail

What problem were you having? I'm curious, because i have an issue where Maps will get stuck, while navigating. It will sometimes get unstuck, but it is very annoying.

That's pretty much my problem. Voice prompts work good and next turn info at top works good. The location marker showing where you are and what road your on is what is broken for me.

But he didn't mention the problem.
How can you be certain its the same you're having.

Opera Mini has been removed from Windows phone..

If you're looking for a decent replacement, try Monument Browser. It's fast, keeps most of the page formatting and has a built in utility that's pretty neat.

Try it on desktop, too. Works nicely for tablets

I suspect that we will only see another two Insider updates, before release to the general public.

Perhaps tomorrow. Since the PC version is slated to be released first, they may be focusing more on that platform. Which makes sense.

BS. We mobile users far outweigh the PC users /s.

I see the sarcasm (/s) letters escaped you....

I need help from you guys I bought a new pc .running Windows 10 version 1151 and I want it to run version 1607 and I tried to join the windows insider program but it's refusing to download latest build..what can I do about this since I was running latest builds on my windows phone but had to recover it to windows 8.1??

IMO, don't. Just do a clean reset from within the Settings. After the OS is set up anew, just check for updates and you should see the latest Anniversary Update version pop up.

easiest way is to download the latest iso for windows insiders (aka.ms/wipiso) then try to update from thier. id recommend doing a clean install for windows insider, also recommend not using it on your main machine.

Give the Media Creation Tool a try: https://www.windowscentral.com/e?link=https2F%2Fclick.linksynergy.co...

Media tool will only download the current release build 14393

Easiest way is to try it with the update in the settings first. For about 20 computers here it worked after first selecting the checkbox to look for windows update updates (so the service itself). Then search for updates. It may not work the first time but try that again just after that without closing the dialog. In 1/20 cases i had to try it a third time but when you find any updates there you should be through.

Need no mobile builds, store is working fine...oh wait

It mostly is for me. Only Weather and a Store update won't go through

@cryio it can be reseted. setting/apps/weather/avanced options/ reset

Not downloading on my tablet. Keeps asking me to retry.

Wouldn't hurt to write 'for PC only' in the article title / opening paragraphs

They always say 'mobile' in the title if it is.

How big is update. See the known issue list is same as last build. Just need mobile version next to sort out quirky little bugs

I wish they enable renaming live tile folders for PC before they release Creator's Update. MS is infamous for this type of UX inconsistency which really need to be available right out of the gate. They need to change this mentality.

I think the cue is if they don't write mobile, its for PC, generally they write Mobile if the release is for mobile as well. At least that's what my observation has been.

man another day without a Mobile build. I really hope the next one is better, it has been flaky at times so I have to bounce between phones.

15055 is rather flawless Imo, albeit with Store not updating. EDIT: Lmao what's with my avatar? I didn't chose that pic.

Ugh i hate that its stuck with updates.

There can be only one......!

I hope to see a beta version of W10 for ARM released for the HP Elite X3 and the Alcatel Idol 4s. Mobile UI on phone, full desktop UI and Win32 app emulation in Continuum!

Same here. Been asking this question from Qualcomm to the Insider team since the WinHEC keynote and everyone is tight lipped as to what devices will be testing the Insider Builds on ARM.

This build slows my laptop down, unlike 15058. Did we mention the watermark is back?

Anytime I think that Android could be better than Windows 10, I read another article about Android malware and NSA backdoors. I love Windows 10.

Gosh I love windows, I still remember my struggles I'm my engineering degree ..lol with windows 3.5 if I'm not mistaking..lol

I stopped reading when i came across "but no new features"

It's been feature complete for weeks, MS confirmed this. New builds are just bug catching and cleaning up ready for release

So has the version changed to 1704 yet.

It changed to 1703 (not 04) on build 15055

Store app installation, a pain in the back side... Sigh 😏

I've four apps stuck in the store... Can't update. The latest mobile build is shyte

Microsoft should come out of the closet and tell us they are not supporting mobile OS anymore so we can move on to apple and droid. No new features for two years on. WM good as being dead rn

Again with these 2 years. We've got WP8.1 GDR2, W10M TH1, TH2 and RS1 in the last 2 years. And RS2 seems like a very minor polishing effort. It's ok

Windows 10 has gotten really good now. We just need all possible performance optimisations and a ton more UWP apps in many categories (especially productivity, 10-minute games and IM, which seem to be the most popular ones right now).

WhatsApp UWP
Spotify UWP
WeChat UWP on Mobile
Etc.

Downloading now. Will install later
Windows Central Newsletter
Get the best of Windows Central in in your inbox, every day!
Thank you for signing up to Windows Central. You will receive a verification email shortly.
There was a problem. Please refresh the page and try again.