Microsoft refunding rewards points spent on Groove Music passes
If you recently spent Microsoft Rewards points on a Groove Music pass, it looks like you can expect a refund.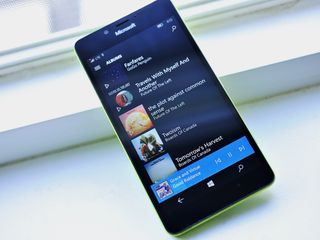 Following news that it will soon kill Groove Music Pass, Microsoft is looking to make amends to anyone who recently may have spent Microsoft Rewards points on a subscription. As spotted by OnMSFT, Microsoft is sending out emails to subscribers, apologizing for the shutdown and refunding any rewards points recently spent on a Groove Music Pass membership. As a bonus, Microsoft is throwing in 100 additional rewards points as well.
The refund applies to any points redeemed after July 1, 2017, as well of those that haven't yet been redeemed as of October 2, 2017. That's particularly good news for anyone who may have taken advantage of an August deal that offered three months of Groove music for 200 Microsoft Rewards points, just two months before Microsoft announced plans to kill off Groove Music Pass.
Groove Music Pass is set to be retired on December 31, with Microsoft pointing Groove users to Spotify instead. In addition to refunding rewards points, Microsoft previously announced (opens in new tab) it would issue a "prorated refund from December 31, 2017 onwards" for anyone with an annual recurring pass.
Windows Central Newsletter
Get the best of Windows Central in in your inbox, every day!
Dan Thorp-Lancaster is the former Editor-in-Chief of Windows Central. He began working with Windows Central, Android Central, and iMore as a news writer in 2014 and is obsessed with tech of all sorts. You can follow Dan on Twitter @DthorpL and Instagram @heyitsdtl.
I took advantage of that august deal the question is when

I've switched to Deezer instead, simply because the W10M Spotify app is complete trash and Spotify won't fix it even for those people paying for a premium subscription. That is NOT how you treat paying and potential customers.

Tell that to Satya Nadella

I'm on Android now but I'm gonna switch to Deezer as soon as my music pass expires in December. Not only it has a better UX (imo) and a good UWP app, but also supports mp3 uploading (on web). Oh and I don't have to pay for premium subscription, thanks to my carrier.

Yes... No matter what platform your service is on you should consider it as a representation of your organization. Bad products shouldn't be allowed anywhere.

Spotify came out a while back and said it was done with windows mobile...it's the customers fault if they did not switch platforms.

Exactly, which makes even less sense for Microsoft to partner with them as people still use Windows Phones even if they are no longer manufactured. All Spotify need to do is release a UWP which would also work on Windows 10 and Xbox One as well.

Use, how can MS post that they are migrating your playlists to Spotify???? WTF. MS madness. Please somebody purchase Groove off of MS and do great things with it. It never took off ONLY because they NEVER told anyone about it.!!!

Actually they should just pull the W10M app, problem solved.

@bub78. So your fiscal sense says you should pull a service from paying customers? 😶.

That's good, because my subscription was good until August... 2018.

Ingot the email, but can't see the points. I wonder when they get added.

That statement will be cancelled before it is put into effect or Apple will refund the money before MS does so they can get the business.

The email was a glitch. It was what they were going to do, but decided not to.

Tell that to Satya Nadella

When in toshdellapenna's country?

Anyone been able to get a refund on physical Groove Music Pass cards that haven't been redeemed yet? I tried contacting Xbox support and they didn't really know what was going on and now the rep I was working with stopped responding to my emails.

no luck here yet. They owe me somewhere between 2 and 3 years. I did wake up to the email about being refunded my rewards points for purchasing 4 months back in August

I did and it went well. The rep at MS customer service made a refund at 120% of the card value. It is often a case of who you talk to at customer service.

Thanks. Answered my question.

So are we going to be able to download movies when they close the movie & tv store?

Yeah, still a very sore wound in our household. Spotify app has not worked properly or mostly at all over the last month on mobile. Disgusting. MS can suck my butt for doing this - forcing us out for no alternative. Feeder is getting my business right now but I must say that it isn't great at all. Nutella, you're a donkey's arse.

Still waiting for my 10 month refund.🙄 And Spotify is terrible on Xbox. 😕

If Spotify isn't going to make a UWP app, they should make their web player a web wrapper app. This way tablet users can play music when the screen is off. Soundcloud app for Windows 10 can play while screen is off.

AFAIK that's what the UWP on Xbox One is, a web wrapper

The Spotify experience is awful. Doesn't matter what OS or format. Support is terrible, basic requests ignored for years on the Spotify community. Library management sucks.I've switched to deezer. So far the UWP app is barebones, but responsive and intuitive. Not nearly as good as groove but better than the Spotify train wreck.

Damn I was hoping to get store credit to the equivalent value of the 3 x Groove Music Months haha

I had 300 points from the reward scheme that all of a sudden they've disappeared. Talked to MS and was told as they were earned via a reward scheme, they will not be converted to Ms points. Anyone else been told that?

Switching to Pandora. I just received my new Fitbit and am able to use the Pandora service with it along with Bluetooth device connectivity. Will NOT ever trust Microsoft to deliver a consistant supported solution for my music going forward. I dont care if they offered some other service in its place. I am to the point where I want and need consistant services by a company with vision and flexibility. More and more Microsoft has dropped the ball. Don't get me wrong, some great stuff has been introduced these past couple of years...the operative word here is consistancy! Microsoft has been consistant in one area though...and that is "dropping the proverbial ball"

Should be refunding 950XL owners their $800.
Windows Central Newsletter
Thank you for signing up to Windows Central. You will receive a verification email shortly.
There was a problem. Please refresh the page and try again.