Microsoft releases build 14356.1000 for Windows 10 Mobile Fast Ring Insiders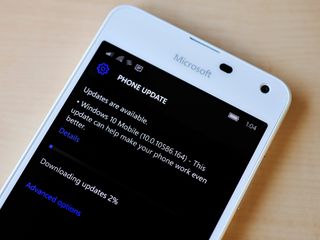 Microsoft has unexpectedly pushed out Windows 10 Mobile build 14356.1000 for those on the Fast Ring of the Insider program.
This update follows the one last week for Windows 10 on PC. The previous Fast Ring Mobile build was 14342.1004. There's no word yet from Microsoft on what's new in this version, and it's possible it's rolling out ahead of schedule. For now, just head to your Settings > Phone Update and Check for Updates to grab the new build.
Thanks to everyone for the tips!
Get the Windows Central Newsletter
All the latest news, reviews, and guides for Windows and Xbox diehards.
Daniel Rubino is the Editor-in-chief of Windows Central, head reviewer, podcast co-host, and analyst. He has been covering Microsoft since 2007 when this site was called WMExperts (and later Windows Phone Central). His interests include Windows, laptops, next-gen computing, and for some reason, watches. Before all this tech stuff, he worked on a Ph.D. in linguistics, watched people sleep (for medical purposes!), and ran the projectors at movie theaters because it was fun.
dan, the screenshot says 14356!

Well, lest go, downloading

Downloading now without realising, just hope the brokens are non-critical... Posted via the Windows Central App for Android

Did anyone else notice there's a "Gestures + touch" update, too?

Yes .. Got that update Yesterday morning itself..

Gestures & Touch update noticed as well, but nowhere to find, no app, no settings.

14356.1000 and not 14352.1000

Would that mean more features?

Logically, yes. Or rather more bug fixes

But, we know what happens when more features are added....stability goes down and other problems pop out!

seems like Dona did push the red button !!!!!
#ThanksDona
#RedHot

Hot Dona Posted from Windows Central for Windows 10

That's 70s show reference approved :)

Please windows central throughout this build report on any widely affecting bugs or issues. The last build had a serious battery drain and heat problem. This problem was reported on other sites/forum but largely ignored here. I love you guys and depend on you guys to get my source information. I won't jump on this build until I'm sure no super crazy issues will plaque it.

Sorry, that is not our job it's Microsoft's. We cannot possibly collect enough data across all the devices and reach some universal conclusion that would hold across the board for all users. Furthermore, if you do not want bugs or issues DO NOT JOIN FAST RING. Fast Ring by its nature will ALWAYS have bugs, hence WHY it is the Fast Ring. If you do not want the risk then join Slow or Release Preview.

Nice to see these problems on other sites. Same @ WindowsUnited with "Insiders" :-)

I hear you but that specific bug required a whole fix (.1004) for it, I tipped you guys about, I even tweeted you guys and not a mention. Imho I felt let down and like that bug was just ignored. From Windows Central New App

" Imho I felt let down and like that bug was just ignored."

We get a lot of tips, every day. Some are legit, lots are junk, some do not affect all users. I'm sure you'll be fine, I believe in you.

I believe in me too. See, I stuck with the issue on 2 phones (my 830 and my Icon which is my daily driver) I didn't whine about it, I reported to Microsoft cause I'm a real insider. I also let Windows Central know about it through various means because that was a bug that wasn't mentioned in the release logs. It was a complete surprise to many and I just wanted the best source of all Microsoft news to be aware and report on it. It was missed and I understand, but I believe in you guys and know the next one will be caught. From Windows Central New App

Stop whining and get informed. As it was said above: If you depend on your phone as a daily driver and you can't tolerate bugs, don't use the fast ring. And if you want to report problems, report them with the Insider Feedback app. That's where MS looks for feedbac.

You must be a special sort of retard to not have read that I put up with it on two phones and dis not whine. I reported the **** out the problem to Microsoft and beared with it like a true insider. Only because I felt that that was a huge bug affecting a lot of folks is why I am writing about reporting on those show stopping bugs. Go back to bed now. From Windows Central New App

Try here: http://forums.windowscentral.com/windows-10-mobile-insider-preview/42668... Users helping each other. :)

Thanks. From Windows Central New App

Without the Insider Program Users' feedback, those bugs and issues can only discovered after production. As we all knew that Microsoft start seriously their mobile journey late, perhaps this the only and the fastest way to pickup and make the Mobile OS better. Microsoft had suggested not to use the daily phone for the program and had stated clearly all the known and possible issues on each of the release log, we should take the responsibility to read through all and take our own risks, try it or not at al.

Right on all accounts and that's why I'm an insider and have 2 phones on insider (my icon and an 830) both which experienced this issue which unfortunately in this case was actually not mentioned in the release log. This was a total shocker. Of course I did my part and reported to Microsoft and held tight while I waited for a fix. From Windows Central New App

Re: Arnold Andino,
Thank you for your efforts to improve Windows 10 Mobile. I appreciate your (and everyone on the fast ring) contributions.

Gabe was showing Dona how the button works

lol could be try or Gabe was handing over the button and Dona pushed it playfully not realizing the update would be released..... or did she??? lolol

Downloading ... ! fingers crossed .. !

Wow a new build, new messenger beta, new 'news' on Terraria for W10M, new update on Doom&Destiny Advanced..what a great time to be alive

Now in the forums: http://forums.windowscentral.com/windows-10-mobile-insider-preview/42668...

Oh man, you got my vote PrimaDona.

Official Announcement: https://blogs.windows.com/windowsexperience/2016/06/01/announcing-windows-10-mobile-insider-preview-build-14356/

Late night mobile builds. Whateves, I'll take it :D

Dona posted update log...a ton of fixes!

TG MS Health battery drain fixed....70% in 2 hours was way too much..lol

So late lol. Accidental push of the red button?

".1000" sums up build no + best start for Dona !

This build is amazing. #DailyDriverWorthy Lumia950

WTF, my phone was too dead to update this morning so I got to work and plugged it in. Charged it to 45% then gone to run the install, I reboot, get to the Windows logo on and then it comes striaght back to Windows. Go to update, tells me an update is available so I click update, it then tells me there is not enough battery life, check battery and it is 36%. This has happened twice now, how does battery go from 45% to 36% is roughly 30 seconds...!!

Why would you try updating without charging your battery fully and preferably leave connected to charger.

Been stuck on 62% for about 30 minutes will head to meeting then check back on it. The fixes look awesome can't wait!

I too have been stuck at "migrating your data" at 63% for what seems like an hour now. Anyone else experiencing this? Should I soft reset to get pass this or wait it out? Thanks!

Done finally! Had to wait it out!

DItto started update at 7:35 lol finished at 9:15 oh well I didn't have to do any recovery so that is a win!!!

I just did the update and what do you know, all of those updates were exactly as they described. Plus I got back my automatic brightness option back in the notiication area. I tried rearranging the notification icons, and they actually worked. Phone feels faster as well. Battery drain, still watching it, but so far so good. My phone is a Lumia 640! I would say go Dona, just one more issue I would pray that they can fix, is the issue where my phone can't connect to a PC via USB, or even charge. This all happened when i just upgraded to Windows 10 on build 10586.128 (i think). Another issue i am looking out for, is the constant rebooting since build 104322. I am praying that is actually resolved.. It really is crappy and embarrassing to see my phone just reboot for no good reason. At this point nuff said, so Go Dona!!

You know it seems i spoke too soon! The Crappy piece of phone just stopped working. I tried to switch from WIFI to Data when it froze and i ended up having to do the usual restart as it stopped responding. Also quite a few of my other applications have stopped working as well, like my VPN Hotspot app. Here is hoping things will get better, which i doubt, will have to continue holding my breath.