Microsoft releases an update for Extras + Info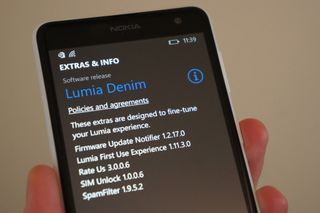 Microsoft has rolled out an update for Extras + Info on Windows Phone. The system app provides detailed version numbers for various advanced features available on Lumia Windows-based smartphones.
Today's update bumps Extras + Info up to 3.15.4.28, though unfortunately we're not entirely sure what this release includes (aside from changes to feature version numbers). Here are the changes we've spotted after updating:
Grab the latest update from the Windows Store.
A big thanks to everyone who sent tips in!
Windows Central Newsletter
Get the best of Windows Central in in your inbox, every day!
Rich Edmonds was formerly a Senior Editor of PC hardware at Windows Central, covering everything related to PC components and NAS. He's been involved in technology for more than a decade and knows a thing or two about the magic inside a PC chassis. You can follow him on Twitter at @RichEdmonds.
Which cannot be downloaded in Windows 10 yet!

Just updated on Lumia 1520 insider build 10586

I just checked for updates, downloaded and installed on Windows 10.

I still get 0x803F8006 error for some lumia , here and setting apps including extras and info. Perhaps I am the unlocky one!

Yup! same for me! got 0x803F8006 on here maps since first i got the new build. and now i'm getting it on extras and info.

add mix radio + lumia camera to that list. Lumia camera now doesnt work because of the error and had to uninstall :(

Same here on windows mobile 10 lumia 1020

Same here! :/ Even the new Touch update gives me the same error...

This error magically fixed for me 2 days ago.

No I get them error on 13 items

I bought the 950 and I have two items that error on install. Advanced Info 0x803F8006 and Lumia Help and Tips. I just checked for update and the update for extras and info does not list.

Mine updated... It also says Lumia Windows 10 in the place of Denim. But then again its said that since I updated to 586 last week...

Mine has said that for the last few builds

I have a fix for this error.. Set new apps install as 'This Device' in storage.. Go to store close all the error apps.. Check for updates and then download.. It should install now.. Worked for me..

maybe toggling over to "this device" means it re-downloads without the corrupt part? and so works. I assume uninstalling would also help but not if the store wont let you download it again and also if your device (1020) only has internal storage

If it has no external storage then to try selecting this device and then press apply.. I mean reselect.. And press apply

Unfortunately, this tip doesn't work. Lumia 640 with latest Build Win 10 (Hard Reset). Still gives me the infamous error code.

Tried that on my Lumia Icon (10586), and it still has extras & info, device hub, nokia account, and motion data stuck on a 0x803F8006 error when I try to update.

Same for my Lumia Icon. I have the following apps with the error: Extras & info HERE Maps MixRadio touch

yes, you can, I just got it.

Yeah, same., I have another 7 here and lumia apps in error...!!

Updated fine for me, Lumia 930 on 10586

Then get back to Win 8.1..

There's also an Extras & info equivalent app in the Store called 'Advanced Info' for Windows 10. It is exactly same as this one but has just got a new name it seems.

Really? Can you share the link?

Advanced info: https://www.microsoft.com/en-us/store/apps/juggernaut/9nblggh5xn6p

Tried the Advance Info link provided and get "not compatible with this device".

Yup, it doesn't work on every phone. Still doesn't matter. The app has nothing great to offer. Even if you install it, both 'Extras & info' and the other one will coexist under "Extras" in the Settings app. So, don't bother :)

Yes Its now Advance info on W 10

Installed this a few days ago. Advanced Info on my 1520

I wonder why I should use this when I got an "Extras + Info" update on my windows 10 mobile, instead of Advanced Info. It installed and works fine.

Advanced Info will eventually replace the Extras & info app in the near future. Microsoft will inevitably get rid of everything that contains elements from the WP7 era for good.

I can install Advanced Info on my Lumia 640 WP8.1.2 though

What is that "silent installer"??

It's most likely a system app that handles unattended system app updates.

advanced info update won't install on my 950

Btw how's ur experience with ur 950?

I personally love mine. Great little phone. Was going to switch to iPhone, glad I didn't. I'm 41. Windows, has all the apps I need. I'm not picky...could use my bank though.

Won't update on mine either. I said wasn't going to buy it, but I flipped a coin, heads, so I bought it yesterday.

won't install on 1020 just like HERE Maps last week

My software version says "Lumia windows 10"

Got it on my 920...with windows 10 10586 insider build update

They are preparing for ota update of win 10

Yea usually when this type of update released, something serious will come afterwards. Edit: Installed on my 930 moment ago.

This "new" update has been released months ago.

Yes - this is not a new update. Has to be at least six months old.

MixRadio update also been avaiable there..... :) :p

I got the mixradio update too. I've only had a quick look and it looks the same.

But still the same error with service i can't use it

That's because Microsoft or the developer of the app is somewhat stupid while doing things...
If you search for MixRadio in the Store, you see that there is a new app that you can install. Instead of updating, they made a new one that conflicts with the old one you had on your phone! Just delete the old and install the new.

I think that the update won't install on device Microsoft...can install on (Nokia) Lumia phones...I have Lumia 640 w10m last build and can't update here maps, extra e info and rate my device...on lumia 820, 630 everything is ok...

*coff* downloading and installing on my Lumia 640xl (but still on wp 8.1 u2)

I hope this fixes bluetooth issues with the band losing the ability to sync.

Any news on new firmware updates? Or does Microsoft not do that anymore?

It is advance info for me in W10 Build 10586

Downloading 640xl with wp8.1

So is it the information listing changed or the firmware softwares got an update? Is this update for win10 or win8.1? ​Something unrelated; can anybody help me with lumia recovery tool, i keep on getting setup fail error since they prompt me to update (for months now)?

Won't download on 640 with W10 latest build.

It has to be downloaded on Phone memory not sd card. Change the stoirage setting to Phone....still for me it shows error dowloading.

W10 has Advance info instead of ex+ info

I can download even Advanced Info on my 640 WP8.1,2

Downloaded on L520 wp8.1 hope win 10 coming

Hmm..They either removed the "Silent installer" or amalgamated it. I wonder if app installs from the store work differently after this update?

I downloaded this at 5:15am this morning it was work fine for me.

Now that's one useful post wpcentral!! Let's all download it and rock this!!!! Yaayy!!! Crap. -_-

As the details of it shows like "Windows 10 Mobile compatible" in the New in this version info of extras & info in Store, lets hope that MS is going to push the Win 10 Mobile update soon. #Waiting

How exactly does this benefit me?

Just did check refresh and that as well as the other 4 apps still won't update. 0x803f8006 on W10586.11

Look at my reply above on 1st cmt.. Hope it helps.. :)

thanks but its a lumia icon. no external storage. all options default to This Device.

Still select the apps install as This Device and press apply..

On my icon I can go to storage and select This Device (which was already selected), but there is no apply button. Just the backout.. I have 14 apps that are 'stucl'...

Then wait for the fix.. Gabe knows this issue.. Will be fixed with a store update or a new build

haha store update .. my store update gives me that error too :p

Its Extras & info instead of Extras + info since the last update and this update states that it makes the app Windows 10 mobile compatible.

Downloaded on windows 10, but when i click on the info link it takes me to Lumia Denim on the Nokia site:-)

950 here. No luck. Same error. Also tried reselecting this device for apps.

Loaded.
A Lumia 1520 running 10586 is a wicked little Beast. A classic. Legend, even.

I totally agree...speedy, smooth, works perfectly!

I know you don't want to hear this. But if your phone is giving you errors and won't download update. You have to bring it back to 8.1 then open windows insider and then update to windows 10. Then hard reset. And boom perfect phone. I have zero problems. This is an amazing build running on my 1520 :)

Sometimes I won't get messages and the messaging app is very glitchy... I upgraded from 8.1 / didn't Daniel say that resetting 10586 can create issues? Maybe I'll just try it.

That's right I don't want to hear this. Because it doesn't work. Persistent errors.

I'm not exactly sure when but this update was installed on my L928 some time ago. I can't even recall the last time I did an update but its there. Pretty sure this is an update for Windows Phone 8.1 and not Windows 10 Mobile.

How are ppl finding "advanced info"? Searched in store with no luck e.e

There, mate: Advanced info - Windows Apps on Microsoft Store

Am I the only one experiencing messaging app issues (1520 on 10586 upgraded from 8.1). At times I won't receive texts. !!! Scary since my clients text me and this is how I get paid. Messaging app is very buggy

Mine crashes and freezes all the time. Sometimes have to reboot to get it running again. Very frustrating. Not sure i've actually missed any texts though. Although sometimes delayed due to the crashes/freezes.

Did you do a hard reset? I just did finally and will report back if this fixes the issues

Granted I have 90,000 text messages (used "contact+message backup" app to restore texts since the OS sucks at this) the app says I have nearly 90k. That's insane

In preparation for the next firmware update to go with windows 10.

It gave me the error and I tried to uninstall it and reinstall it after through the link on this page.
No use, when it redirects me to the Store, it says the App is not available to my device!! Like... why??? Advanced options isn't available too...
Some things are really fucked up in this OS... *sigh* And about MixRadio, if you search in the Store for it, you see there's a new App to install. Just delete the old one from your storage and there will be no more stupid error! (I know, the offline mixes are deleted too, but at least you can manage to download again the mix with no problem.) Lumia 640 LTE here with latest W10M build.

It's says:Compatible with Windows 10.

1020 w/ 8.1 and I have both Extras+Info and Advanced Info in Settings.. both appear the same but the latter does not show the spam filter version

Can't download on my L640 10586.:(

Well I got Extras & Info and Touch update. Touch update looks different now, more Win10 like ;-)

Can't update Touch too... The same f****ng error as the Extras+Info!! Good job MS.

At first when I saw this I thought it was a fix for "Hey Cortana". I can't enable the feature on my 930 yet as the settings are missing under "Extras" - Last I asked on Twitter that issue was know and being looked into. If it doesn't come back in a couple of builds more I'll just do another hard reset to get it back I guess - Going to make sure it's staying in before I take the time to do that.

For me open seting page too fast.

Where is the silent installer?

I'm unable to update that..

On Windows 10 the firmware edition "Denim" is not displayed anymore, it sows "Windows 10 " as software release instead, and "silent installer" is not listed either. I also noticed this prior to the Extras update.

Silent installer.. Waiting for the conspiracy nuts

Is everyones glance working after formatting the latest build. 10586. Mines stopped. L925

Please click "me too" for error 0x803F8006 here http://answers.microsoft.com/en-us/insider/forum/insider_apps-insider_ot...
Windows Central Newsletter
Thank you for signing up to Windows Central. You will receive a verification email shortly.
There was a problem. Please refresh the page and try again.