Microsoft releases Windows 8.1 user guides for businesses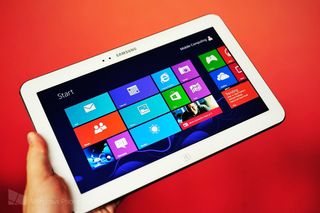 Microsoft has announced the availability of Windows 8.1 end user readiness content for businesses. The user guide package provides a range of guides and video tutorials that will ensure users take full advantage of Windows 8.1.
While the content and the medium is aimed at business users, the videos and print-ready assets are great resources to demonstrate or learn about Windows 8.1 capabilities and features in general.
The Windows 8.1 Quick Guide for Business (opens in new tab) for online distribution is a 16 page brochure-type quick guide which provides a basic introduction to key Windows 8.1 features and capabilities in business settings. Aimed as the first introduction of Windows 8.1 to business users, it showcases how to get around, navigate, manage apps, work on desktop, and personalize Windows 8.1.
The package includes raw files (opens in new tab) of the Windows 8.1 Quick Guide for Business for printing as well. These allow business to produce their own hard copies of the guide and distribute as training assets to the end users. The content is available in PDF, PowerPoint, and Adobe InDesign formats that you can use as-is or customize to match the requirements of your organization.
Apart from that, there is Windows 8.1 Power User Guide for Business (opens in new tab) that is designed for end-users who want to learn more about the advanced features of Windows 8.1. The 20 pages brochure-type guide will help power users to get the most out of their Windows 8.1 devices.
There's also a series of short videos (opens in new tab) designed to educate business end-users on basic Windows 8.1 features and capabilities via guided, step-by-step instruction. Each video consists of real-world business scenarios, a full-screen demo with touch, mouse, and keyboard guided by a voiceover providing additional information.
The user guides and the videos are great self-learning tools for end users and intended to facilitate Windows 8.1 adoption in the organizations. Microsoft has indicated plans to release more readiness content over the coming months, especially which enables IT departments to communicate, educate, and evangelize the Windows 8.1 experience to end-users.
Source: Springboard Series Blog
Get the Windows Central Newsletter
All the latest news, reviews, and guides for Windows and Xbox diehards.
Is this for Fox News and their huge computers?

im sitting on my sofa with my surface rt on my lap and nokia lumia 920 on my hand, im drinkin cola because i have promised to not drink bear this week, im watchin wp news an i like this site, im a bit sad because not 3 column on my nokia lumia 920 but im happy for this amazing phone i have, i go to play on weekends volleyball because i like to playing volleyball. i like watching football and formula, kimi räikkönen best driver ever

What about long walks on the beach, and a good romance novel?

Does he like pina coladas?

Yes, but he's not into Yoga.

How do you drink bear? Do you have to get a giant blender and turn it into a bear-smoothie? Or can you buy bear-juice from the shops?

sorry im abit drunk, bye bye love u guys.. i like to write an article for you guys but later because i feel like to sleep now. my sheep is missing if u fint it call me bye

Well, he did say he promised not to drink beer this week. Didn't say anything about what might be mixed with cola. Speaking of which, it's time for happy hour somewhere in the world.

You're drunk? So, instead of drinking beer are you pouring vodka into that cola?

Source link is erroneous. http//blogs.windows.com/windows/b/springboard/archive/2014/01/22/announcing-windows-8-1-end-user-readiness-content.aspx

Microsoft really should have included something like this for consumers in Win 8. Just talked to a coworker about their new laptop yesterday. They love Win 8, but find it a little confusing.