Microsoft reportedly delaying some Windows 10 'Redstone' update features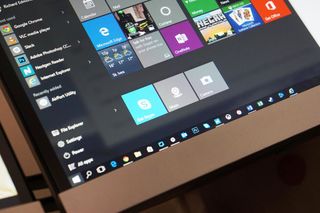 Microsoft is reportedly making some changes in its plans for "Redstone", the code name for the major update to Windows 10 that's due for release in the first half of 2016. The report says that some features planned for Redstone have been delayed so that Microsoft can improve some of its internal systems.
Microsoft released a new preview version of Windows 10, build 11099, last week to members of the Windows Insider program. At the time, Microsoft's Gabriel Aul wrote that it contained optimizations for OneCore, which is the shared code that is in all Windows 10 versions. According to a new report from Petri, Microsoft's Windows 10 team has also been making changes and improvements in how it compiles updates.
The story says that these improvements will help the team test new builds of the OS and find bugs faster so that they can eventually be released. However, it adds that these internal changes came at a cost:
The article doesn't state what specific features have been delayed for the Redstone update.
Source: Petri
Windows Central Newsletter
Get the best of Windows Central in your inbox, every day!
I think things like this are really cool. I like front facing features and everything, but I also find backend stuff fascinating! Plus, if it helps with troubleshooting and finding bugs, what's there to be mad about?

Agreed, a solid foundation is important.

And then the world would have moved on and microsoft will reset the strategy and start fresh. Their customers wait until enternity for the new features each time!!

Is there another OS out there on parity feature/support wise with Windows 10?

This is the risk of having all your OS's tightly bound to each other. A delay in the core will slow down development and feature releases for all; desktop, mobile, and xbox. Sure, the desktop has nice features, but mobile is still playing catch up. iOS and Android are gaining new features while these delays occur. I understand the benefits, no need to list them. However, there is also a risk, and this is it.

Sure, there are risks in every approach. The reverse argument could just as easily be made that having to maintain three separate core is causing delays for reason xyz as well... Long term my view is the one core strategy will pay off and allow for quicker feature implementation across all devices. Essential to obtaining these results is a solid foundation so I'm happy to hear they are doing some house keeping.

I don't agree. Most of the major innovation in smartphones has already happened. And 90% of that was 2007 with the first iPhone. We now have phones that are broadly the same hardware across the board (i.e. slab of gorilla glass, same SoCs) with OSes with mostly feature parity. The last issue for MS was relevance in a world where consumers drives demand, and where "full" PCs are not the main game in town, mobile/tablet is. So, close the app gap, and what really is any different from iPhone or Android or WP, not very much indeed. MS played the long game, hope that this partiy would come. There largest issue is brand awareness/desriability (who some would argue here is advertising/marketing, but I suspect its more than that) - but Surface phone might be enough. Timing seems right as well, do Surface phone after Win10/OneCore and UWP have settled down. But backing off from features I doubt will have a material impact on Win10 mobile.

It's called OSX. It's a full-featured OS and it has one key feature that completely eludes Win 10; STABILITY! I bought a Surface Pro and I am committed to Win 10. Right now it is less stable than any beta software I can recall using. I live in hope it will improve

Windows 10 is competed by who ??? It's the most complete OS you can find on the earth. I would take stabilty 1st and features then after anyday as far as Windows 10 is concerned.

Exactly. Make sure the foundation is properly made before building the house or problems will occur in the future :)

Integration within does not mean completed;). In fact, is the most uncompleted of them all. An seams like while all move forword...ms fixes bugs;).

W10M lacks one very import feature on contacts where we are not allowed to put our own labels on contacts with more than one phone numbers. (referring to mobile 1, mobile 2 etc) they removed an option to put PIN on OneDrive that was there on 8.1 after several users voted for it.

OneDrive still has password, go to Settings>Additional device sign-in

I'd go so far as to say that backend and UI issues are far more important right now than adding new features to the desktop. I'd rather see new features show up in Mobile before worrying about the desktop.

I think the importance of UI issues is way overblown by enthusiasts. The vast majority of users out there have no idea about "UI inconsistencies". Not that they shouldnt be improved - just that they arent neccessarily priority #1. Even iOS was a wreck when they switched to the new UI. It took a few updates to really iron it out.

Yeah, well. Apparently windows has passt those few updates. It is already at thr 4th and still not reliable.

Glad to see there are those so willingly to drink the Kool Aid. I would have said the same thing too if I were running behind. Give any plausable reason and the Kool Aid drinkers will believe. :)
As Mulder would say... "The truth is out there". :)

I expected to get down voted. Because I'm not simple minded enough to think any one program or system will ever be bug free. Forgive me for working with programs for the past 40 years and no matter how old or new the program or system there will ALWAYS BE BUGS and glitches. ALWAYS! So yes! If you feel Microsoft can't chew gum and work on features at the same time that's your right. I believe it's a stalling tactic. Maybe if they would concentrate and put more resources on Microsoft software for Windows devices rather than worrying what's being released on other platforms they wouldn't have such a predicament. I said it! Thanks for playing! Glad to except more down votes. :)

Forgive me to contradict you but. You say 40, i say none. Of corse there are bugs, but... A big but! Their is a possibility to solve them as long as you don't want to implement more futures and capabilities... First build the ground, a strong one. Then build on it!

You can contradict. It's your right. This notion about "First build the ground, a strong one." sounds like the old refrain. "Wait till Windows 8". Oh forgive me, "Wait till Windows 8.1". Sorry, I was mistaken. "Wait till Windows 10" and it will all be better! It's Windows 10 and nothing is really better. ---------- Again, their reasoning might sound sensible so therefore most poeople will hail it as this is the way to go while depriving many with new features now. But oh well, most of you are well engrained with the "Wait till sometime in the future mantra" that you'll soak up any excuses. I'm just not buying it!

Glad this was the first comment people see...

Agree. For once, first is good. ;-)

Agree Jas, refinement of what we have now first then new features.

The "backend stuff" is the most important. First and foremost, I want a platform that's stable across all form factors.

"what's there to be mad about?" People will find some reason.

Yeah, MS could've launched tons of new features yesterday and people would still be whining

Truth is, they know better than we do. If OneCore is important right now, let it be. I have seen windows experience get better over time. So trust them. As long as they're working, I'm happy.

I'm glad this is happening. windows 10 has tons of performance issues on my dell venue 8 pro. It used to be very quick on windows 8. my laptop runs windows 10 great though.

@Jas00555:
Yeah. F*ck features....

Hope all these delays would be worth it. Microsoft step up

Pretty soon, quite soon, soon, almost soon, meah, probably soon, somewhere in the future, well... Will definatly come....sometime!

Maybe, but if PC gets delayed...I expect mobile to be even more delayed...again...

@vilkna:
Nothing will happen, especially in mobile, as long as Nadella ru(i)ns this company.

All very well and these changes may indeed be worth it eventually, but if MS could just focus on getting feature parity with W8 first, and shovel over all the stuff they forgot to get in there, they could focus on this new stuff afterwards and we would have a fully functional OS to be going on with. This constant playing catch up to MS's own OS offerings that W10 is mired in is what makes it feel so unfinished.

I excuse you, 2020-2400. Somewhere in beneath

Brad Sams...... I woulden't believe anything that guy says. With his so called insider information, his been wrong so many times.

He's actually generally super accurate

Every time Microsoft speeds up development immediately crash and burn delays scrapped skipped or something stupid reason from Microsoft never to make actual headway then they rewrite windows and call it revolutionary

It's true for for every company, not just MS. Software development isn't a precise science, it's also an art. No one should rush the coding, take the time to make sure you measure twice and cut once with the code, test it throughly and so on. Apple's QA for an example went down quickly after they switched to annual release cycles.

As long as extensions are not delayed, all will be well. Robustness in the rest of the OS is more important. And vnext needs some work to stabilize that whole mix of compatibility too.

Microsoft is the only company out of the big three (Apple and Google) that is always delaying things because they always say coming soon in quarter blank then don't deliver or release a buggy mess like W10M.

Oh shut up, so edgy. You don't even know what's coming in Redstone, so how exactly do the alleged delays affect you?

He knows. What's coming is Redstone, Onestone, Nostone... Therefore nothing.

Does Google or Apple even talk about new features in the OS head of time or just when they announce the beta or actual release? Microsoft seems to announce features a head of the actual build and I think that's their down fall. STFU until the feature is in the actual code :p

some of the said features are the ones they removed and some left out when they took over from Symbian/Nokia, certain features we used to enjoy on symbian are no longer there on W10M.

Maybe that's because the others wait until things are ready to announce them? You can be absolutely sure both Apple and Google have delayed several features sometime.

That's not possible with Microsoft's insider program.

Which is exactly my point.

Apple and Google both have Beta programs. They just don't release all the features. Posted via the Windows Central App for Android

You obvously have NO idea what its like to work in software.

It's really obvious who understands it and who doesn't.

What exactly are they delaying? Unannounced features? Then it's not really a delay.

But... But... But... WAAAH! WAAAAAAAH!

Well, I just read that apple watch 2 is being delayed. And remember apple maps? How's that for released mess? Then again, you might be too young to remember

Wrong! Along with being part of the Windows Insider Program I have been involved in Apple OSX beta and Androids early developer releases (and keep current with iOS) Both Apple and Google fall in this coming soon and not delivering when expected all the time. Either the expected features (either announced earlier as coming or rumored from legitmate or not sources) never see the light of day or are moved foward to a future release. Functions and applications, like in all software development, from both Microsoft, Google, and Apple systems have always been cut forever, slimmed down (maybe to expanded later) or completely reimagined to work differently from previous expecations, etc... This is all part of the design process. Windows just has a larger group of people who pay closer attention to future plans and thus more noticeable complaints when things don't go as planned. For example, iOS multiasking/split screen was removed (even though it was in the early test release and announced through insiders) from 8 only to make it's way to a later release. There are several planned features that were moved to the next release of Android (from Ice Cream Sandwhich to Jelly Bean, from Jelly Bean to KitKat and so on) Additionally, we don't know what features they are delaying. Were those delayed features announced or rumored coming to this first Redstone release or promised as part coming to Windows this year? If a feature was just rumored or promised at a future release (no time specified) we really shouldn't start getting the pitchforks out just yet. Now if things like plugins for Edge are delayed they may see a $hit storm from users and yes I will be joining in if that is true.

You need to visit Apple forums after a new OS release or update. There are always tons of complaints about bugs and problems with updates. I run a Mac lab at a high school (for 28 years) and we have lot's of problems everytime there's an update or new OS release. The idea that Google and Apple do a better job than Microsoft with OS releases is fiction.There are no perfect OSes, except perhaps in the fantasy world that you live in.

Delay in PC bcoz most of people use Windows.. Don't do same in phones.. Bring as soon as possible... If not people will switch to better platform

Now that's ok. Need the most rock solid and stable Windows rather than buggy features before the free upgrade offer closes.

That's make me think they should at least extended the free upgrade offer for another year. Windows 10 isn't as rock solid or polished at the moment, it seems Redstone is starting to polish Windows 10 but at that time the offer is ending.

I really hope they don't delay the Messaging integration between phone and PC.

You can already send a text from win 10 if you tell Cortana to send a text. You just can't view your threads or reply to anything directly without saying send a text again... Ha. Works really well for the parts that are integrated though!

"You can already send a text from win 10 if you tell Cortana to send a text. You just can't view your threads or reply to anything directly without saying send a text again... Ha. Works really well for the parts that are integrated though!" I keep hearing you can do this, but I've never gotten it to work, (I've tried sending multiple messages and the recipient never receives them) have you?

It sends messages from my Nexus 6. I have Cortana installed on it. Pretty slick if you left your phone elsewhere in your house or it is charging and you need to text someone. Posted via the Windows Central App for Android

your phone isnt on w10m, is it?

Yeah no, not if you're in any of the many countries where Cortana is not available... Sooo they better f..ing bring it ;-)

Yeah.....it only works with Cortana that's the catch. What they've should've done is to actually integrate it through the Messaging and Phone apps to sync with the W10M device, without a need for Cortana. ​Cortana should've been implemented later instead and give better function like actually manage those missed calls and text like reminding missed notifications from important contacts and other Cortana's more unique capability as a virtual assistant.

That's what I'm really excited for as well. I don't care about Google, but we need something to reply to those dang self-righteous Apple folks who are alway touting their iMessage.

Delaying features? Microsoft? You must be wrong!

You act as if the other companies never delay or remove features. The difference is that Microsoft is an enterprise company and have to be fairly transparent about things they want to add so that enterprise customers can prepare. Apple and Goole are primarily consumer companies and don't need to notify consumers about anything. They talk about features after they release their bata for developers. You never know what features they originally had planned, what features got delayed, and what features got abandoned.

Microsoft just can't get it together...so much potential, but they can't seem to deliver...

Not any old school talents, brain-drain or lack of motivation slow down things in MS. We gotta accept the fact that innovation should not be end game of humanity, that's why MS re-thinks twice before bringing anything to market unlike Google! Hail MS guys!


Any word on Interactive Tiles?

We will probably hear more about that at build.

Soon. Posted via the Windows Central App for Android

MS is the master of delay things until SOON​TM

As if there was any question. This is how every OS release from Microsoft seems to be now, half-finish it, release it, promise no date for completion, and continue on. It's so old it's a cliche now.

The terms 'delay' and 'coming soon' are the most used words in Windows/Microsoft...

Not nearly s used as that old song. Talk about beating a dead horse

Soon they will be gone. Posted via the Windows Central App for Android

You can expect it for mid 2018 in beta form

I guess Microsoft is running short off engineer's. Hire more people on contract basis at least!!

Yeah like that Nadella should make a developer do something unique and remove some bugs we don't need it.

They have so many bugs to fix before they start adding new features. So frustrating they don't fix those.

Working on the core sounds like they are addressing bugs and stability before introducing new features.

If Microsoft sang the Coke jingle "I'd like to buy the world a ............." The comments would still be the same here.

Eugh. Classic Microshaft..

Bring back Sinofsky. Now!

hope the come back of placeholder for OneDrive is not one of them...

YEAH!!! They've promised us that they will bring it back last year and it didn't happened. We need features they've removed to reimplement and OneDrive Placeholder is one of them.

Let's have a skeuomorphic UI. By the time MSFT ships that'll be back in fashion.

That's delay #4, I think? Is anybody keeping track?

Delay of what exactly? You don't even know. From reading the article, Redstone is still going. Only with a few less features that we don't even know about.

I would say 'new' in quotation marks, why 1, can't edit contact labels (mobile 1, Mobile 2) 2, OneDrive no longer have PIN as it was on 8.1 3, gestures no longer working 4, Calendar doesn't have all Country holidays but an individual was able to do that on an application - Chronos calendar. 5, Cortana works only in few Countries, why forcing users to change region that affect applications rather than having a non region dependent cortana - some would never have Cortana in their region any time(in years) soon. I don't mind the so called lack of applications because those applications are done by other companies and i am not missing any that i like. Again i wonder why after charging your battery to 100% before you sleep only to workup up in the morning with around 70% or less power remaining?

Instead of delaying , hire more devs ..

Redstone will be in two waves so still the features might come with the second half...
Looking forward to seeing more ;)

Still not installing Windows 10 until interactive tiles are added, in the least.

Will it affect Windows 10 Mobile? Who knows?
Make it run faster, at least! Candy Crash Saga was not so laggy on WP8.1! (((((((( Posted via the Windows Central App for Android

Mobile is the most affected here. Thats why its still not release. Posted via the Windows Central App for Android

Good, I am glad they are finally acknowledging there are too many bugs in W10 that require to be dealt with first (before creating the new ones). MS needs to get quality back on the level before W10 when bugs were in obscure parts of the OS and not in the main parts. It suggests their testing got worse.

I've invested heavily into Windows ecosystem by buying a Lumia and now this! What a letdown. I demand that Microsoft step up their efforts and work 80 hour weeks in order to provide everything that I, their loyal fan, deserve. /s

Same old Microsoft going back on their word and missing deadlines.

I'm pretty darn happy with the featureset now and am pleased if they focus on improving what is already there.

Panos will be gutted his Surface Phone will launch with a lame OS and a handful of apps, just like the 950/XL he blanked.

Good, the software needs spit and polish, then new features can follow.

How can it be bad that they want to ensure stuff works right when released. I would much rather wait a little and get fully baked releases than half baked ones that then require updates to work right. Based on the whining here and some other Windows sites, Microsoft may be learning that not everybody seems to grasp the concept of the Insider Program. It's a BETA at best and complaining about bugs just gives the anti Windows crowd ammunition to slam Microsoft.

I don't think this is about Insider Program, one should expect bugs there. It's when bugs happen in the public release. MS is delaying the new features and moving their resources to bug hunting. When this happens in a software company, it means things are getting serious.

As long as the extensions for Edge will make it in, I will be happy.

I feel like extensions keep getting delayed to keep adblock away. Cause people are making money on advertising again. Really sucks cause theres way to much advertising going on.

The thing is that I am sure Google and Apple trimmed planned features too, MS is just much more transparent about their builds. Even in Linux environments you saw Gnome and KDE scale back plans at different times.

Delaying some features to ensure it is released on time and more stable is a DAMN good move I think, still, it is a shame some will whine what ever MS announce... like it's rushed, it's buggy, it's lacking features - Just get a grip and embrace the goodness of TEN !!! :D

Maybe if they had fewer teams working on Android and Ios $hit they could accomplish more.... Js

Well stop laying people off and get to work! Lol. Such is life I suppose.

I have the feeling most of what Microsoft promised will not be fulfilled.

Well this normal in software development anyways but its also quite sad. At they reimplement features they've removed from Windows 8.1 with some completely new features like Interactive Live Tiles, Call+SMS integration, Task View features (its still incomplete), Full Snap resizing even on apps snapped vertically, and few more minor features (mostly from W8.1 and WP8.1). All of those along with much needed UI polish and stability.

Just try and make it bug free.

I believe that MS has finally realised that the OS sells phones and not the other way around. Right now I'm on insider program for mobile running 10586.63 on a L920 and today I was pleasantly surprised to see after an adjustmen of 2 processes on phone I was able to go an entire day on a charge doing what I normally do that would've required at least a charge or two. Still issues as usual but if MS concentrates on making the OS rock solid, that only ensures features that would "gloss" the OS over its rivals. What IOS nad Android has is their stability and features that consumers are saitsfied with for now and that's what MS doesn't have at the moment. What MS needs to stop doing is announcing "gifts" today and then have the recipients wait almost a year to receive them. STFU!!! do your thing, then when ready broadcast it from the roof-tops.

How regular have your parents promised you icecream and when about to step outside to go get it they turn back and cancel?

I've always thought some childhood trauma was to blame for the way some people react to these (well, any) stories

I am still waiting for windows 10 for my Lumia 1520. I am still not sure if I will get the update by the end of 2020 when iPhones will be running iOS 14 and google will launch Android 10. I would have sold the phone, but no one wants to buy it even for $200; believe me I have been trying on Craigslist and Offerup for a month. Everyone wants a smooth experience with the latest updates. Why should I still be loyal and keep using a phone with an outdated OS for the price of an iPhone!

Depending on your carrier you simply won't get win10 on the 1520. It is a good phone, but an old phone and carriers want you to move on to a newer device... which they will sell you.
This is why it is free to get into the Insider Program where you can subvert your carrier and install Win10 on your device.

Well, I am not going to complain too much. Whatever they did in the last update, it fixed my Xbox One controller so that it works with Dragon Age Inquisition now! Yay for no more having to use the mushy x360 controller!

IM STILL WAITYING FOR MY LUMIA 930 TO HAVE A PROPER WINDOWS 10 MOBILE RELEASE, IM WAITING FOR SKYPE TO RING ON MY PHONE WHEN SOMEONE SKYPES ME INSTEAD OF HAVING SKYPE ON, IM WAITING FOR GESTURES AND SOME FORM OF APPLE PAY THAT IS UP AND RUNING, I REALLY COUNDT CARE LESS ABOUT REDSTONE WHEN WE HAVENT EVEN COVERED THE BASICS AT THIS STAGE.

please dont shout so early in the morning

Microsoft delaying in every updates!! You going to loose your customers!! We are waiting for widows 10 for mobile but still no news??ridiculous

Give me interactive live tiles. Pls don't cancel them. Posted via the Windows Central App for Android

Windows on mobile is dead if not window 10 one core tech. We need PC users to have Developers be interested (not really) in Windows mobile.