Microsoft reportedly snags Qualcomm's marketing leader for new gig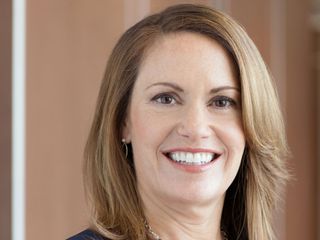 A new report claims that Microsoft has hired Peggy Johnson, Qualcomm's executive vice president and its head of global market development, for a new high level executive position. Detail of what Johnson's new role at Microsoft will be have yet to be revealed.
Officially, neither Microsoft nor Qualcomm have confirmed Johnson's move, but Re/code, using unnamed sources, claims that the deal is done. Johnson has worked at Qualcomm for 24 years, starting as an engineer and worked her way up the ranks before settling in her current position. She was previously the vice president of Qualcomm's wireless technology unit and its VP of business development for its consumer products.
This report comes even as Microsoft recently announced plans to lay off 18,000 of its workers in the next year in an effort to restructure its business. If Microsoft or Qualcomm issue an official statement on Johnson's new role we will post an update.
Source: Re/code
Get the Windows Central Newsletter
All the latest news, reviews, and guides for Windows and Xbox diehards.
Who the heck is Oualcomm? (Still trying to wrap my head on how you accidentally type O instead of Q...) Edit: Ouickly corrected!

I know RIGHT. I was like who is Oualcomm

Qualcomm makes CPUs for Windows phone, Android and blackberry. ( except Samsung*)

He was joking about the misspelled name.

She'll maybe design some Windows RT/Phone-optimized chips for Surfaces and Lumias.

It's marketing so probably nope she won't , but she'll be making you wanting to buy them .

She is also an engineer as it says in the article you clearly didn't read

I'm an engineer and I can't design SoCs... who would have thought?

It says she started as an engineer. After 24 years she probably doesnt do much of that anymore. I started as a programmer but am now in marketing and after 30 years I barely remember any code.

They are the people that make the processors in you technology especially the Lumia family

Qualcomm is intel of the mobile processors , basically if you have a lumia or a high-end galaxy your phone probably has a qualcomm ship , it's also responsible for one of the most useless and frustrating invention there is , CDMA :p the only thing I hate more than different gsm bands , why can't they all use the same ******** technology and be done with it !

There was a typo at first place?

Lets all ship away folks to Oualcomm land!

she better be .... Seriously , MS really needs some good marketing , they can't afford WP / W8 to become the next zune

I miss my Zune :'( its dead

Just please, no more of this -

I'm not Born Mobile, dammit!

Wow!!! That was bad... just terrible...

Generation BM. So self-absorbed, they probably post every one they have on Instagram and Facebook.

Then who's intel on mobile?

Qualcomm=Intel
NVIDIA=AMD

I get the point you are trying to make, but that really doesn't work that way.

Marketing...sounds nice...feels much needed..

I think this is a good news

I don't get it, what experience does she have at marketing consumer electronics?? I think I've seen only one Qualcomm ad in my life. Be on the lookout for more boring mundane ads. Should have poached someone from Samsung.

Is it really inappropriate to say "she'd get it"? Because, well - that.

Not sure if Qualcomm does a lot of marketing to consumers, they're mostly focused on getting device manufacturers. It could be Microsoft's hiring her to lead efforts to bring back its OEM partners and possibly even developers or app/services vendors.

Maybe Microsoft is setting the players in place for a future buyout... Hmmm... Nokia comes to mind as an example.

They'd have to send someone to Qualcomm to make happen, not bring someone in from there.

Good to see they're finally addressing their marketing issues

Just what Microsoft needs to vitalize it's limp and ineffective mass market campaigns. An engineer who's spent years selling chips to companies. In sure they snapped her up just before Apple did.

Is she responsible for those crazy Qualcomm keynotes!?!?

I can't believe that some of the people on here haven't heard of Qualcomm.

Because mirasol and toq did so well, right? Perhaps she is leaving to MS because Qualcomm doesn't do enough of what she wants it to be. But in fairness Qualcomm chips are amaze-za-zing for mobile devices and their cdma was always better than GSM.

As long as she gets rid of the Scroogled campaign and keeps up the good marketing I'll be happy!

Ohhhhhh John... Don't get me started on WP marketing!!!!!!