Microsoft reportedly teased dual-screen Surface 'Centaurus' for employees
Microsoft employees reportedly got an early look at a dual-screen Surface laptop-tablet hybrid codenamed "Centaurus" at a recent internal meeting.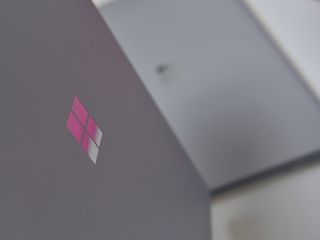 (Image credit: Windows Central)
What you need to know
Employees from Microsoft's devices team reportedly got an early look at a dual-screen Surface prototype at an internal meeting recently.
The device, codenamed "Centaurus," is a laptop-tablet hybrid with two screens.
We first reported on Centaurus in December, noting at the time that it may run Microsoft's Windows Core OS.
Microsoft employees in the company's devices team reportedly got an early look at a dual-screen Surface device at a recent meeting. The Verge reports that the laptop-tablet hybrid, codenamed "Centaurus," was teased to the employees as part of a sizzler video for upcoming Surface devices, and "formed long lines to get a closer glimpse at this new Surface device."
Windows Central Senior Editor Zac Bowden first reported on Centaurus in December, describing it as "the first of what Microsoft calls a dual-screen 2-in-1, a new device form factor for Windows that utilizes two screens for productivity, inking, and more." As opposed to Microsoft's Andromeda device, which was a rumored small form-factor dual-screen device now believed to be on hold, Centaurus is reported to be a larger, similar to Microsoft's cancelled Courier concept from years ago.
Reporting indicates that Microsoft has been working on Centaurus for nearly two years and is aiming for a potential release this fall. The company is reportedly working close with Intel, which has unveiled its fair share of dual-screen laptop prototypes in recent years. Like Surface devices before it, Centaurus is expected to act as an example for other PC manufacturers to show what is possible for laptops with two screens.
Centaurus is expected to run a version of Windows Core OS (or Windows Lite), developed to work specifically with dual-screen devices. The OS is expected to support legacy Win32 apps, but only if they have been containerized for the Microsoft Store.
That Microsoft is showing off the Centaurus device internally hints that it could be building towards a release soon. However, plans can and often do change, so it's best not to read into things too much here. However, if Centaurus is close to launching, we'll likely see it this fall, which has become Microsoft's typical launch period for new Surface devices.
Our favorite Surface accessories from Microsoft
Every one of these valuable Surface accessories is Windows Central Approved and guaranteed to please.
Surface Precision Mouse (opens in new tab) ($77 at Amazon)
The Surface Precision Mouse is not only one of favorite Surface accessories, it's one of our favorite mice for any PC. It's packed with valuable features and customizable buttons. Its scrolling and tracking are seamless and spot-on. And it's rechargeable so you never have to buy new batteries for it.
Surface Pen (opens in new tab) (From $72 at Amazon)
Every Surface owner needs this Pen. Period. It supports 4,096 levels of pressure sensitivity, tilt support for shading density, and enjoys supremely low latency. When paired with a Surface PC, the potential is endless. And it comes in a bunch of cool colors.
Surface Dock (opens in new tab) ($136 at Amazon)
With two Mini DisplayPorts, four USB-A 3.0 ports, an Ethernet port, and a 3.5mm audio jack, this dock gives you the ports you need to stay connected to all your favorite devices. Plus, it easily turns your Surface into a desktop power hub. We highly recommend it.
Windows Central Newsletter
Get the best of Windows Central in in your inbox, every day!
Dan Thorp-Lancaster is the former Editor-in-Chief of Windows Central. He began working with Windows Central, Android Central, and iMore as a news writer in 2014 and is obsessed with tech of all sorts. You can follow Dan on Twitter @DthorpL and Instagram @heyitsdtl.
Awesome news anytime a new Surface product is about to become reality..
I bet this device would be basically like looking at a large Andromeda device. Being designed in the same era, and being of similar functionality, this device is probably similar to any Andromeda prototypes they have laying around. I'm really interested to see what the hinge system comprises of.

It will be a hinge, just like every laptop ever has. Replacing the keyboard with another screen is pointless. Rumors are saying that the keyboard covers the second screen and uses part of it as the track pad! It you cannot have both screens with a keyboard, that will be rediculous!

Well, we will wait and see.
If it has LTE and is always connected it might replace my Envy X2 Snapdragon which is getting a little slow, although it is still my favorite on the go device.

Even if it won't be a phone. I wish someone will make one small enough to be pocket able. I know if the bigger ones catch on then it'll be a possibility.

It's not a question of IF, it's simply a question of WHEN we will see a pocketable Surface device. Come on Panos! Step it up.

Nope, I would say IF is still very much in play. A common reason for this type of broader internal reveal is that there is both a strong yes group and a strong no group among the people in charge. The reveal is to see if it makes a better case for going ahead.

Yeah, they did the same thing with the Surface Mini.

Are you saying that MS doesn't release Surface products?

I'm saying they didn't release the Surface Mini, which also ended up in the hands of MS employees. I didn't think my comment was cryptic in any way.

I know.. I just think tue Surface team is more in tune with what needs to happen now, for example, they probably never showed masses at MS Andromeda, because they were not as sure about it. Mini was almost a decade ago. They most definitely have a different way of doing things now. I bet, now, if they go so far to show it to employees they're pretty solid on releasing it.

Hopefully they stick to the initial MS Courier form factor and idea (but now with current state of the art technology and specs). Very very very niche product but I suspect there is a profitable market for this kind of device (an electronic Moleskine for collecting ideas, jot, sketch, draw, notate and annotate) for creative people who do not want to carry a paper alternative. Imho the number of apps truly needed for this kind of device is short, I think about MS office, 3D Paint, an agile OS, Scrivener, Outlook, Scapple, XMind etc.

Microsoft I hope puts a built in basic 4/5 G feature phone into a "Centaurus" model to
make it a more useful device. The original 2010 "Courier" had 2 separate 7 inch touch screens
and some innovative software but was not Marketed because it's software was not in
line with the Windows software Microsoft was designing for Desktop PC's & Laptops.
If Microsoft puts a built in 4/5 G Feature phone into the"Centaurus" I will buy one.
no doubt Microsoft showed the "Centaurus" Prototype to certain employees to get them to
write software for i.t

folks the "Centaurus device probably will not debut until a special version of the Windows
core- Windows- "Lite" OS is ready. Microsoft software Engineers have been working to get
it ready. The "Centaurus" device will showcase Windows "Lite" & how it's OEM Partners
can use it on their devices

Really excited about this. With the proven Surface name you know it's going to be high quality. Should this new form factor be accepted we are going to have some really cool devices coming out in the next few years - and yes, this includes phone sized devices.

I like this concept but i'm still expecting more.
Windows Central Newsletter
Thank you for signing up to Windows Central. You will receive a verification email shortly.
There was a problem. Please refresh the page and try again.